Old War on New Deal
The new book Invisible Hands reveals how quickly conservatives organized to challenge New Deal liberalism.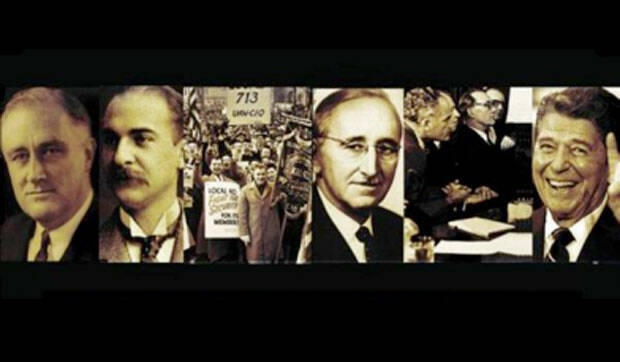 Aca­d­e­m­ic his­to­ri­ans tend to write about mod­ern U.S. polit­i­cal his­to­ry as a ​"great unrav­el­ing." The Great Depres­sion, the sto­ry goes, cre­at­ed oppor­tu­ni­ties for pro­po­nents of social democ­ra­cy in the Unit­ed States. FDR's New Deal – which grass­roots social move­ments pushed to the left – estab­lished the basic con­tours of a nation­al wel­fare and reg­u­la­to­ry state, and in the process solid­i­fied a polit­i­cal coali­tion around the ​"secu­ri­ty" for work­ing- and mid­dle-class Americans.
Yet this pro­gram con­tained the seeds of its own demise. Per­va­sive racism and anti-com­mu­nist para­noia among the Demo­c­ra­t­ic Party's core con­stituen­cy allowed Repub­li­cans to lure white work­ing-class vot­ers – grad­u­al­ly at first, then rapid­ly after 1964 – away from the so-called lib­er­al con­sen­sus of the post­war era.
This nar­ra­tive has enjoyed remark­able stay­ing pow­er. Where con­ser­v­a­tives enter the sto­ry, it is usu­al­ly as race-bait­ing oppor­tunists who exploit­ed pre-exist­ing racial ten­sions for their own elec­toral ben­e­fit. Yet Amer­i­can con­ser­vatism has always been more than sim­ply a pol­i­tics of backlash.
In her new book Invis­i­ble Hands: The Mak­ing of the Con­ser­v­a­tive Move­ment from the New Deal to Rea­gan (Nor­ton, Jan­u­ary), New York Uni­ver­si­ty his­to­ri­an Kim Phillips-Fein offers a counter-nar­ra­tive that focus­es on ​"those deter­mined few" – busi­ness­men and lib­er­tar­i­an intel­lec­tu­als – who dreamed about repeal­ing New Deal lib­er­al­ism from its conception.
Rather than an ​"unrav­el­ing," hers is a time­ly account of the tri­umph of a move­ment that nev­er dis­ap­peared from Amer­i­can politics.
Lead­ers of big busi­ness began their assault on lib­er­al­ism when the New Deal was bare­ly a year old. In 1934, the du Pont broth­ers found­ed the Amer­i­can Lib­er­ty League to wage a pub­lic rela­tions cam­paign against FDR. When their strat­e­gy failed – Roo­sevelt trounced Kansas Gov. Alf Lan­don in the 1936 elec­tions, in part by point­ing to the league's sup­port for Repub­li­cans as evi­dence of an elite plot against the pub­lic wel­fare – the du Ponts chal­lenged New Deal leg­is­la­tion through the courts.
"Even at its zenith," Phillips-Fein writes, ​"lib­er­al­ism was far less secure than it appeared to be."
Although lib­er­al­ism was embat­tled from the start, its ear­ly oppo­nents had lit­tle hope of return­ing to a time when busi­ness­men were the heroes of Amer­i­can politics.
But in 1944, a young Aus­tri­an econ­o­mist named Friedrich von Hayek trans­formed con­ser­vatism from a mud­dled polit­i­cal phi­los­o­phy into ​"a defense of the free mar­ket [that used] the lan­guage of free­dom and rev­o­lu­tion­ary change," writes Phillips-Fein.
While some busi­ness lead­ers adapt­ed to the Key­ne­sian poli­cies that drove post­war eco­nom­ic growth, many oth­ers latched on to Hayek's ideas about the con­nec­tion between mar­kets and indi­vid­ual free­dom. The first free-mar­ket think tank, the Foun­da­tion for Eco­nom­ic Edu­ca­tion, was found­ed in 1946 with the finan­cial sup­port of the Nation­al Asso­ci­a­tion of Man­u­fac­tur­ers and the U.S. Cham­ber of Commerce.
In sub­se­quent decades, busi­ness lead­ers exper­i­ment­ed with ways of imple­ment­ing free-mar­ket ide­ol­o­gy. Cor­po­ra­tions, such as Gen­er­al Elec­tric, hop­ing to con­vince work­ers not to join unions, invest­ed in new man­age­ment tech­niques that entrenched ​"mar­ket cul­ture" with­in the workplace.
When gov­ern­ment agen­cies like the Nation­al Labor Rela­tions Board got in the way of such attempts at ide­o­log­i­cal engi­neer­ing, com­pa­nies fun­neled mon­ey toward upstart con­ser­v­a­tive politi­cians who promised to rein in fed­er­al pro­tec­tions for orga­nized labor. When leg­is­la­tors began pass­ing new envi­ron­men­tal and con­sumer safe­ty reg­u­la­tions in the ​'70s, busi­ness lead­ers under­wrote eco­nom­ic research that point­ed to reg­u­la­tion as an imped­i­ment to growth and invest­ed in a legal strat­e­gy that they hoped would pre­serve their ​"rights" against arbi­trary state authority.
What­ev­er the means by which busi­ness­men put free-mar­ket ide­ol­o­gy into prac­tice, they were fan­tas­ti­cal­ly suc­cess­ful. ​"The mun­dane yet pow­er­ful pres­ence of busi­ness" in late-20th cen­tu­ry cul­ture, Phillips-Fein argues, sig­ni­fies ​"the ful­fill­ment … of the long-ago vision of the Lib­er­ty League."
The world of indus­tri­al tycoons makes for a com­pelling his­tor­i­cal read, and the tim­ing of the book's release couldn't be bet­ter. With the cur­rent finan­cial cri­sis push­ing cul­ture war­riors to the mar­gins of polit­i­cal dis­course, Phillips-Fein should find an unusu­al­ly recep­tive audi­ence to a book about schem­ing busi­ness elites.
Yet the nature of her sub­jects also lends itself to con­spir­a­to­r­i­al over­tones. One can't help but con­jure images of smoke-filled rooms where malev­o­lent cap­i­tal­ists plot against the work­ing class. Phillips-Fein makes a fee­ble (albeit com­mend­able) effort to dis­cour­age such a car­toon­ish read­ing of his­to­ry, but with­out a broad­er pic­ture of the peo­ple and ideas that gen­er­at­ed the con­ser­v­a­tive move­ment, such a dis­claimer would like­ly fall on deaf ears.
Minor short­com­ings aside, Invis­i­ble Hands refo­cus­es our atten­tion on the debates over polit­i­cal econ­o­my that make up the core of Amer­i­can pol­i­tics. In our own trans­for­ma­tive polit­i­cal and eco­nom­ic moment, Phillips-Fein pro­vides a reminder of the influ­ence that pow­er­ful indi­vid­u­als can wield over the nation­al debate.
Alexan­der Gourse
is a doc­tor­al stu­dent in the his­to­ry depart­ment at North­west­ern Uni­ver­si­ty. Before return­ing to grad­u­ate school, he worked as a para­le­gal, defend­ing home­own­ers against preda­to­ry mort­gage lenders, and did free­lance writ­ing for
In These Times
and oth­er publications.