The Subprime Bait and Switch
Under the guise of extending home ownership to all, predatory lenders undermine community reinvestment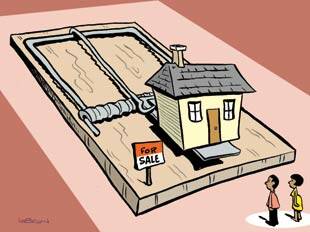 When the hous­ing mar­ket began its rapid ascent in the mid-'90s, many observers waxed rhap­sod­ic about the poten­tial of high-inter­est, sub­prime loans to merge the finan­cial inter­ests of investors and low income and minor­i­ty com­mu­ni­ties. The hope for sub­prime boost­ers was that such loans would allow the mort­gage indus­try to con­tin­ue busi­ness as usu­al while at the same time meet­ing gov­ern­ment man­dates for fair and afford­able hous­ing. As recent­ly as April 2005, Alan Greenspan praised the dereg­u­la­tion of the bank­ing and lend­ing indus­tries for hav­ing ​"vast­ly expand­ed cred­it avail­abil­i­ty to vir­tu­al­ly all income classes."
At closing, subprime borrowers are often presented with terms that do not match those previously offered, and then pressured into signing documents they have not had time to review.
It's true that the num­ber of minor­i­ty home­own­ers increased at a sim­i­lar rate to that of all home­own­ers dur­ing the last decade, but the hous­ing market's recent slump has brought to light seri­ous weak­ness­es in the sub­prime mod­el, rais­ing doubts about its via­bil­i­ty as a tool for com­mu­ni­ty rein­vest­ment. The Wall Street Jour­nal recent­ly report­ed that Greenspan's zeal for dereg­u­la­tion may have caused him to turn a blind eye to preda­to­ry prac­tices with­in the sub­prime lend­ing indus­try, and con­sumer advo­cates are now pre­dict­ing that near­ly 20 per­cent of sub­prime mort­gage loans made since 2005 will end in fore­clo­sure, at a loss to the con­sumer of around $164 billion.
The home mort­gage indus­try divides would-be bor­row­ers into two basic types. Prime bor­row­ers are those who have ade­quate income and good cred­it his­to­ries. Sub­prime bor­row­ers are those with prob­lem­at­ic cred­it his­to­ries and, often, less-than-ade­quate incomes. The loans are inher­ent­ly risky for the lender, as such bor­row­ers are more like­ly to default on pay­ments, requir­ing high­er inter­est rates to off­set this risk.
Before the mid-'90s, sub­prime lenders oper­at­ed on a lim­it­ed scale, but the rapid growth in the hous­ing mar­ket brought with it more mort­gage com­pa­nies that spe­cial­ized in sub­prime lend­ing. The sub­prime indus­try grew from a $35 bil­lion per year indus­try in 1994 to more than $330 bil­lion in 2003, and from 2004 to 2006 the vol­ume of sub­prime loans near­ly dou­bled to more than $600 billion.
"These loans keep being made because investors make a prof­it," says Geoff Smith, research direc­tor at the Wood­stock Insti­tute, a Chica­go-based non­prof­it that spe­cial­izes in issues of com­mu­ni­ty eco­nom­ic devel­op­ment. ​"Investors can tol­er­ate a cer­tain num­ber of loss­es, because fail­ures are priced into the risk assess­ment. As long as investors are still prof­it­ing, mort­gage com­pa­nies will do what­ev­er they can to make more loans, and to max­i­mize the total sums loaned out."
While indus­try rep­re­sen­ta­tives have laud­ed their own suc­cess in offer­ing cred­it to finan­cial­ly under­served pop­u­la­tions, recent stud­ies sug­gest that sub­prime loans have only a mar­gin­al effect on home­own­er­ship rates. Orig­i­nal pur­chase loans com­prise only a small por­tion of sub­prime mort­gages, and an even small­er per­cent­age – about 9 per­cent – go to first-time home­buy­ers. A major­i­ty of sub­prime loans are refi­nances, with home­own­ers look­ing to low­er their month­ly pay­ments or to draw out the equi­ty in their homes to pay off their con­sumer debt or oth­er per­son­al expens­es. If fore­clo­sure rates con­tin­ue to rise as pre­dict­ed, the Cen­ter for Respon­si­ble Lend­ing esti­mates that though some peo­ple will become first time home­own­ers due to sub­prime loans, there will be sig­nif­i­cant­ly more bor­row­ers that will lose their homes to foreclosure.
Indus­try rep­re­sen­ta­tives typ­i­cal­ly cite the poor cred­it his­to­ries of most sub­prime bor­row­ers to explain increas­ing fore­clo­sure rates. Con­sumer and com­mu­ni­ty advo­cates, how­ev­er, paint a dark­er pic­ture. ​"Preda­to­ry lend­ing is def­i­nite­ly a sys­temic prob­lem with­in the sub­prime mort­gage indus­try," says Al Hofeld Jr., a lit­i­ga­tion attor­ney and chair of the South Side Com­mu­ni­ty Fed­er­al Cred­it Union in Chica­go (SSC­FU). ​"There are very few sub­prime lenders who will make a sub­prime loan where the inter­est rate actu­al­ly reflects the risk involved."
Accord­ing to Smith, preda­to­ry lenders put bor­row­ers into loans that they can­not afford. While bla­tant fraud, such as the fal­si­fi­ca­tion of a borrower's income to jus­ti­fy a larg­er loan, is becom­ing less com­mon, the mis­rep­re­sen­ta­tion of a loan's char­ac­ter­is­tics, like the con­ceal­ment of a fixed rate ​"teas­er" peri­od that adjusts upward after two years, is a grow­ing problem.
Hofeld says sub­prime mort­gage com­pa­nies rou­tine­ly use bait-and-switch tac­tics to lure in poten­tial bor­row­ers and max­i­mize the amount of mon­ey loaned out. At clos­ing, bor­row­ers are often pre­sent­ed with terms that do not match those pre­vi­ous­ly offered by the com­pa­ny, and then pres­sured into sign­ing doc­u­ments which they have not had time to review. Ameriquest Mort­gage Com­pa­ny is cur­rent­ly fac­ing hun­dreds of law­suits which allege that they rou­tine­ly bait­ed poten­tial cus­tomers by promis­ing fixed inter­est rates, low or no fees, low­er month­ly pay­ments, no pre­pay­ment penal­ties, or by rep­re­sent­ing to bor­row­ers that they qual­i­fy for a par­tic­u­lar set of terms.
In 2005, Bet­ty and Tyrone Walk­er, a cou­ple liv­ing in the Park Manor neigh­bor­hood on the south side of Chica­go, took out a refi­nance loan with Ameriquest. ​"All we want­ed to do was to make our house more liv­able," says Walk­er, who is legal­ly dis­abled and is rais­ing a 12-year-old adopt­ed daugh­ter on her husband's salary as a mail clerk at a local med­ical school. After being solicit­ed by Ameriquest through the mail, the Walk­ers decid­ed to use some of the equi­ty in their home to refur­nish their basement.
The Walk­ers request­ed infor­ma­tion about the loan numer­ous times, and were con­fi­dent that they knew what the terms of the loan would be when they went to sign the clos­ing doc­u­ments. ​"We just kept ask­ing them whether we were going to remain on a fixed rate, and they just kept lying to us, telling us we'd get a fixed rate," Mrs. Walk­er alleges in a law­suit against Ameriquest.
As they lat­er dis­cov­ered, how­ev­er, the terms of the loan were not as they expect­ed. Not only did the loan have an adjustable rate that can go as high as 13.4 per­cent, but the Walk­ers allege that Ameriquest false­ly told them that their home had dou­bled in val­ue since they had bought it a few years ear­li­er, thus qual­i­fy­ing them for a larg­er loan amount. Ameriquest didn't give them copies of their loan doc­u­ments at clos­ing, and as a result the Walk­ers did not real­ize that the terms had been changed until well after the three-day peri­od dur­ing which they could legal­ly can­cel the loan. They have since tried to refi­nance, but have been unable to find anoth­er lender will­ing to lend them the amount cur­rent­ly owed to Ameriquest; the arti­fi­cial­ly inflat­ed appraisal val­ue has in effect trapped them in a loan with a ris­ing inter­est rate.
"I felt so stu­pid after I real­ized that I had been tak­en advan­tage of," says Walk­er. ​"I made them a lunch! I'm always cook­ing, so I offered them food. I thought they were doing such a swell job of help­ing us that I cooked for these peo­ple, oh lord."
The race factor
The Walk­ers' sto­ry is all too famil­iar. Preda­to­ry lend­ing is a par­tic­u­lar­ly wide­spread prob­lem in low-income and minor­i­ty com­mu­ni­ties, where a com­plex his­to­ry of hous­ing dis­crim­i­na­tion, racial seg­re­ga­tion and a lack of access to afford­able cred­it have left bor­row­ers with few options. Though redlin­ing, block­bust­ing and oth­er dis­crim­i­na­to­ry prac­tices were banned in stages between 1968 and 1977, most banks are reluc­tant to open branch­es in black neigh­bor­hoods, a vac­u­um that is filled by cur­ren­cy exchanges, pay­day lenders and now sub­prime mort­gage companies.
"Sub­prime lenders," says Smith, ​"are tak­ing advan­tage of the fact that they're the only game in town." Indi­vid­ual bro­kers and loan offi­cers make mon­ey by tak­ing ​"points" – that is, charg­ing per­cent­age points of the loan amount, which are added to the borrower's clos­ing costs – giv­ing them an incen­tive to max­i­mize the loan amount, regard­less of the borrower's abil­i­ty to pay for it.
Accord­ing to ​"Pay­ing More for the Amer­i­can Dream," a joint report from six nation­al hous­ing pol­i­cy orga­ni­za­tions, in 2005, black bor­row­ers were 3.8 times more like­ly than whites to be placed in a high cost loan, while His­pan­ic bor­row­ers were 3.6 times more like­ly than whites to receive such a loan. Income dis­par­i­ties between white and minor­i­ty com­mu­ni­ties account for some of this dif­fer­ence, but Smith says the dis­par­i­ty is too large to be account­ed for by income alone. Low-income black bor­row­ers in the Chica­go area were four times as like­ly to be put in high cost loans than low-income white borrowers.
—— PAGE SPLIT —–
But the largest dis­par­i­ty was in the high­est income brack­et, where blacks were five times as like­ly as whites to be placed in a high cost loan. Fore­clo­sure rates in heav­i­ly minor­i­ty neigh­bor­hoods across the nation fol­low these trends, with black and Lati­no neigh­bor­hoods expe­ri­enc­ing sig­nif­i­cant­ly high­er fore­clo­sure rates than their white counterparts.
Reg­u­la­tion and alternatives
Con­sumer fraud laws, includ­ing require­ments that lenders dis­close the terms of a loan and bor­row­ers' can­cel­la­tion rights, have been impor­tant tools for attor­neys fight­ing preda­to­ry lenders. But with thou­sands of law­suits filed on behalf of sub­prime bor­row­ers across the coun­try, many con­sumer advo­cates are call­ing for gov­ern­ment reg­u­la­tion of the sub­prime industry.
"Ide­al­ly, what we need is a fed­er­al law to make sure lenders are using appro­pri­ate qual­i­fy­ing stan­dards so that bor­row­ers can repay the loans," says Smith. Groups like the Cen­ter for Respon­si­ble Lend­ing have also sup­port­ed a ban on pre­pay­ment penal­ties and a reform of the ​"per­verse com­pen­sa­tion incen­tives" for ​"haz­ardous" loan products.
Con­gress how­ev­er is unlike­ly to pass com­pre­hen­sive leg­is­la­tion that deals with preda­to­ry lend­ing, says Smith. ​"Real­is­ti­cal­ly, we should be focus­ing on the state laws cur­rent­ly under debate." In 1999, North Car­oli­na was the first state to reg­u­late preda­to­ry lend­ing prac­tices and dozens of oth­er states and munic­i­pal­i­ties have fol­lowed suit. This year alone leg­is­la­tion deal­ing with sub­prime and preda­to­ry lend­ing has been intro­duced in 26 states.
Hofeld, how­ev­er, sees reg­u­la­tion as only a par­tial solu­tion. ​"Some of the laws reg­u­lat­ing preda­to­ry lenders could be improved, but some of the prob­lems we see are very dif­fi­cult to reg­u­late. You can't con­trol what sales­peo­ple tell prospec­tive borrowers."
What's more, warn­ings from the mort­gage indus­try that reg­u­la­tion will cut off cred­it to low income and minor­i­ty neigh­bor­hoods have cre­at­ed a pan­ic among some com­mu­ni­ty lead­ers and politi­cians. In Illi­nois, a bill man­dat­ing cred­it coun­sel­ing for bor­row­ers in sev­er­al Chica­go zip codes was sus­pend­ed due to fears that it was racist and would slow real estate sales in those areas.
The seem­ing­ly no-win choice between dis­in­vest­ment in low-income com­mu­ni­ties or allow­ing preda­to­ry lenders to oper­ate freely might not be as bleak as it appears. A net­work of Com­mu­ni­ty Devel­op­ment Finan­cial Insti­tu­tions (CDFIs) has emerged in some cities, pro­vid­ing afford­able finan­cial ser­vices to low-income indi­vid­u­als who might oth­er­wise be prime tar­gets for preda­to­ry lenders. Although their resources are lim­it­ed, such insti­tu­tions offer an alter­na­tive mod­el for low-income com­mu­ni­ty development.
"Our biggest prob­lem is one of scale," Hofeld says about the SSC­FU. ​"We want to get to the point where we have a large enough num­ber of deposits so that we're mak­ing enough loans to be self sufficient."
With around 1,800 mem­bers and $3 mil­lion in assets, the SSC­FU serves 33 neigh­bor­hoods on the south side of Chica­go with a pop­u­la­tion of approx­i­mate­ly 854,000 peo­ple. A self-described ​"finan­cial insti­tu­tion with a social mis­sion," the SSC­FU is one of approx­i­mate­ly 225 mem­bers of the Nation­al Fed­er­a­tion of Com­mu­ni­ty Devel­op­ment Cred­it Unions, a nation­al orga­ni­za­tion work­ing to estab­lish a finan­cial infra­struc­ture in poor com­mu­ni­ties and empow­er low-income peo­ple through asset development.
While much of the cap­i­tal required to oper­ate the SSC­FU has come from foun­da­tions and mem­ber deposits, fed­er­al mon­ey has been impor­tant as well. Estab­lished in 1994, the CDFI Fund with­in the Trea­sury Depart­ment has made resources avail­able for com­mu­ni­ty devel­op­ment to cred­it unions, banks and microen­ter­prise funds.
"The CDFI Fund real­ly is the sin­gle largest source of fund­ing for these insti­tu­tions," says Cliff Rosen­thal, the exec­u­tive direc­tor for the Nation­al Fed­er­a­tion of Com­mu­ni­ty Devel­op­ment Cred­it Unions. ​"Though they can grow slow­ly on their own, the Fund is the only source of major invest­ment that allows these insti­tu­tions to make quan­tum leaps in their work."
Since the Bush admin­is­tra­tion took office, how­ev­er, the CDFI Fund has decreased by more than 50 per­cent. As a result, not only is fund­ing hard­er to come by, but the max­i­mum grants award­ed by the Fund have decreased from around $3 mil­lion to $585,000.
Despite the lack of resources, com­mu­ni­ty devel­op­ment cred­it unions like the SSFCU are prov­ing that the usu­ri­ous prac­tices of preda­to­ry lenders are not a nec­es­sary evil in the fight for fair and afford­able housing.
"The prob­lems in the sub­prime mort­gage indus­try should be framed as an afford­able hous­ing issue," says Hofeld. ​"We often com­part­men­tal­ize the way we think about issues, but I real­ly think that preda­to­ry lend­ing is some­thing that is decreas­ing the sup­ply of afford­able hous­ing. And the lack of access to mort­gage cred­it on fair terms is some­thing that pre­vents peo­ple from get­ting into homes."
Alexan­der Gourse
is a doc­tor­al stu­dent in the his­to­ry depart­ment at North­west­ern Uni­ver­si­ty. Before return­ing to grad­u­ate school, he worked as a para­le­gal, defend­ing home­own­ers against preda­to­ry mort­gage lenders, and did free­lance writ­ing for
In These Times
and oth­er publications.