History We Can Use
The Lower Eastside Tenement Museum in New York City is a founding member of the International Coalition of Historic Sites of Conscience.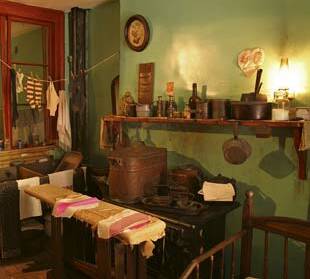 Stand­ing in the kitchen of a rehabbed Man­hat­tan ten­e­ment, a tour guide at the Low­er East Side Ten­e­ment Muse­um tells vis­i­tors the sto­ry of the Baldizzis, a Sicil­ian-Catholic fam­i­ly who lived in the build­ing from 1928 to 1935. Amid typ­i­cal anec­dotes of self-help in hard times, the guide dis­cuss­es aspects of the immi­grant family's expe­ri­ence that are usu­al­ly glossed over in muse­ums. Both par­ents came ille­gal­ly to the Unit­ed States. When Home Relief inspec­tors vis­it­ed the apart­ment, the fam­i­ly would hide belong­ings that might make them inel­i­gi­ble for pub­lic aid. The father, a skilled cab­i­net­mak­er, found work through WPA pro­grams until jobs in war indus­tries became available.
The expe­ri­ences of the Baldizzis give vis­i­tors a chance to think about the long his­to­ry of cur­rent hot top­ics such as immi­gra­tion and wel­fare in the Unit­ed States. And dur­ing the ​"Kitchen Con­ver­sa­tion," a post-tour pro­gram ini­ti­at­ed by the Ten­e­ment Muse­um in 2004, vis­i­tors are encour­aged by the museum's staff to talk about the con­nec­tions between past and present.
The Ten­e­ment Muse­um was found­ed by schol­ar-activist Ruth Abrams in the late ​'80s. From its incep­tion, Abrams want­ed the Ten­e­ment Muse­um to be more than a place of pas­sive reflec­tion. Today, the muse­um attempts to cre­ate a dis­cus­sion about the past and present not only dur­ing tours, but also through pro­grams includ­ing ESOL (Eng­lish for Speak­ers of Oth­er Lan­guages) class­es, after-hours com­mu­ni­ty work­shops that address con­tem­po­rary immi­gra­tion issues and pub­lic art exhi­bi­tions fea­tur­ing works by neigh­bor­hood res­i­dents. The muse­um is becom­ing a neigh­bor­hood institution.
Walk­ing a fine line between muse­um work and social ser­vice advo­ca­cy, the Ten­e­ment Muse­um felt iso­lat­ed from the larg­er muse­um and pub­lic his­to­ry com­mu­ni­ty for years. That's why, in 1999, Abrams and Liz Sev­cenko, the museum's vice pres­i­dent of pro­grams, sent out a mes­sage in a bot­tle, ask­ing muse­ums around the world whether they felt their own work had ​"a fun­da­men­tal social mis­sion." The eight muse­ums that respond­ed became the found­ing mem­bers of the Inter­na­tion­al Coali­tion of His­toric Sites of Con­science, an orga­ni­za­tion that, as Sev­cenko explains, serves as ​"a kind of a sup­port group for mis­fit museums."
"To us," she says, ​"the con­nec­tions between past and present, between his­to­ry and civic par­tic­i­pa­tion, were absolute­ly nat­ur­al. Our goal is to trans­form his­toric site muse­ums from places of pas­sive learn­ing to places of active cit­i­zen engage­ment. We seek to use the his­to­ry of what hap­pened at our sites – whether it was a geno­cide, a vio­la­tion of civ­il rights, or a tri­umph of democ­ra­cy – as the foun­da­tion for dia­logue about how and where these issues are alive today, and about what can be done to address them."
Since 1999, mem­ber muse­ums have shared resources and strate­gies on how to pro­mote democ­ra­cy and human rights through his­tor­i­cal analy­sis. At the Dis­trict Six Muse­um in Cape Town, South Africa, vis­i­tors are pre­sent­ed with street signs and maps from a neigh­bor­hood that was grad­u­al­ly demol­ished after the South African gov­ern­ment declared it a whites-only area in 1965. Through its Dia­logue for Democ­ra­cy pro­gram, the muse­um takes chil­dren on a tour of the neighborhood's his­to­ry and insti­tu­tions in hopes of help­ing them to assume the ​"rights and … respon­si­bil­i­ties as full and equal cit­i­zens in a new­ly demo­c­ra­t­ic country."
At the site of Perm-36, a restored Stal­in­ist labor camp in Rus­sia, the Gulag Muse­um uses struc­tures from the old prison to dis­cuss issues such as total­i­tar­i­an­ism, state ter­ror and the role of dis­si­dents in an open polit­i­cal sys­tem. The muse­um asks its vis­i­tors, ​"What insti­tu­tions or activ­i­ties are fun­da­men­tal to a democ­ra­cy?" and ​"Is it pos­si­ble that Rus­sia could return to a repres­sive form of government?"
Not all of the Coali­tion muse­ums use tragedy to dis­cuss their top­ics. Although the Nation­al Civ­il Rights Muse­um in Mem­phis is locat­ed at the site of Mar­tin Luther King, Jr.'s assas­si­na­tion, it cel­e­brates the Civ­il Rights Move­ment through inter­ac­tive pre­sen­ta­tions of sit-ins and the 1963 March on Wash­ing­ton. ​"Explor­ing the Lega­cy," the Civ­il Rights Museum's newest exhib­it, encour­ages vis­i­tors to think about con­tem­po­rary issues like gen­der inequal­i­ty, pover­ty and the racial dis­par­i­ty in the U.S. crim­i­nal jus­tice system.
But with so much of their ener­gy focused on pro­mot­ing pub­lic dia­logue about human rights, democ­ra­cy and social activism, do Coali­tion muse­ums forego the tra­di­tion­al role of a his­to­ry muse­um? Such insti­tu­tions risk becom­ing exces­sive­ly polem­i­cal – and anti-intel­lec­tu­al – in their inter­pre­ta­tion of com­plex his­tor­i­cal phe­nom­e­na, says his­to­ri­an Richard John of the Uni­ver­si­ty of Illi­nois at Chica­go. ​"His­to­ry and social activism in my view are dis­tinct activ­i­ties," he says. ​"There is noth­ing wrong with the lat­ter, but it is often not history."
Sev­cenko has heard such crit­i­cisms before. She points out the years of painstak­ing his­tor­i­cal research that have gone into the Ten­e­ment Muse­um – as well as oth­er Coali­tion sites – as evi­dence that ​"we're not so post­mod­ern as to believe there's no sep­a­ra­tion" between the roles of edu­ca­tor and activist. Sep­a­rat­ing his­tor­i­cal truth from a sea of dif­fer­ing inter­pre­ta­tions while still encour­ag­ing open dis­cus­sion can be a chal­leng­ing task. How­ev­er, Sev­cenko explains, ​"edu­ca­tors" at the Ten­e­ment Muse­um are specif­i­cal­ly trained to encour­age an egal­i­tar­i­an dia­logue between vis­i­tors and muse­um staff while pro­vid­ing con­crete his­tor­i­cal ref­er­ence to the top­ics being discussed.
So far, edu­ca­tors at Coali­tion sites have medi­at­ed con­tro­ver­sial and emo­tion­al dis­cus­sions with rel­a­tive suc­cess. The Coali­tion cur­rent­ly includes 17 accred­it­ed sites, and four new muse­ums are poised to join them in 2006, includ­ing Con­sti­tu­tion Hill in Johan­nes­burg, South Africa, the site of the Old Fort prison that once held Nel­son Man­dela and Mahat­ma Gandhi.
The Ten­e­ment Muse­um recent­ly won first prize from the Amer­i­can Asso­ci­a­tion of Muse­ums' Brook­ing Paper on Cre­ativ­i­ty in Muse­ums for its Shared Jour­neys Pro­gram. This series of after-hours work­shops designed by edu­ca­tion direc­tor Mag­gie Rus­sell-Cia­r­di helps new immi­grants com­pare their expe­ri­ences to those of ear­li­er waves of immi­grants and migrants in the Unit­ed States.
Unit­ed by a belief that ​"stim­u­lat­ing dia­logue on press­ing social issues and pro­mot­ing human­i­tar­i­an and demo­c­ra­t­ic val­ues" should be the pri­ma­ry func­tion of his­toric sites, the mem­ber insti­tu­tions of the Coali­tion are grad­u­al­ly carv­ing out a niche in the muse­um world.
Alexan­der Gourse
is a doc­tor­al stu­dent in the his­to­ry depart­ment at North­west­ern Uni­ver­si­ty. Before return­ing to grad­u­ate school, he worked as a para­le­gal, defend­ing home­own­ers against preda­to­ry mort­gage lenders, and did free­lance writ­ing for
In These Times
and oth­er publications.