On National Day of Action to Reclaim Public Education, Some Chicago Politicians Get Lumps of Coal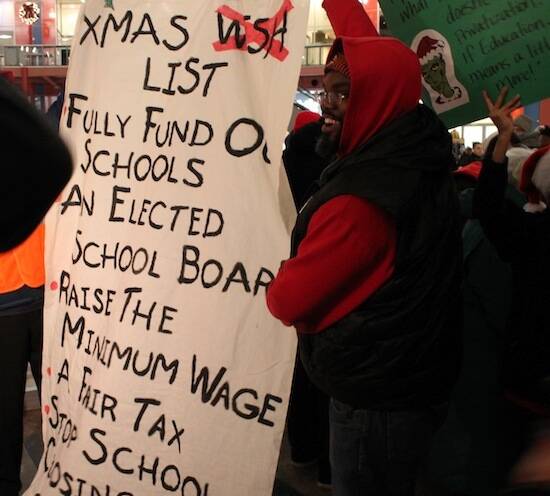 ​"Those alder­men who sup­port the TIF sur­plus ordi­nance: They are on our good list," Michael Brun­son, record­ing sec­re­tary for the Chica­go Teach­ers Union, declared to a few dozen pro­test­ers on a freez­ing Mon­day after­noon out­side Chica­go City Hall. ​"How­ev­er, we're going to tell those who reject­ed the TIF sur­plus ordi­nance they have been naughty."
The hol­i­day-themed sham­ing was part of a Nation­al Day of Action to Reclaim Pub­lic Edu­ca­tion held by the Amer­i­can Fed­er­a­tion of Teach­ers on Decem­ber 9 in some 60 cities. The day was con­ceived as a way for union locals and com­mu­ni­ty groups to act togeth­er on shared edu­ca­tion goals. In New York City, for exam­ple, the call was for uni­ver­sal pre-kinder­garten; in Hous­ton, fair­er teacher evaluations.
In Chica­go, the main push was to revive the Tax Incre­ment Finance (TIF) sur­plus ordi­nance, a union-sup­port­ed school-fund­ing bill that was shot down in the City Coun­cil last month. The bill called for about $100 mil­lion in local prop­er­ty tax mon­ey to be divert­ed from city TIF dis­tricts — where the mon­ey is used for projects select­ed by the may­or and local alder­men — to Chica­go Pub­lic Schools, which suf­fered $100 mil­lion in cuts to com­mu­ni­ty schools and 3,000 lay­offs this summer.
The bill and the protest were backed by the Chica­go Teach­ers Union, which raised the pro­file of its AFT par­ent in Sep­tem­ber 2012 with a sev­en-day teach­ers strike and this May with fierce oppo­si­tion to May­or Rahm Emanuel and his appoint­ed school board clos­ing 49 ele­men­tary schools.
Well over a year of repeat­ed pub­lic protests have sharp­ened the mes­sage of CTU and its allies into a well-defined wish list of city and state leg­isla­tive actions. In addi­tion to the TIF bill, these include mov­ing the state of Illi­nois to a pro­gres­sive income tax from its cur­rent flat tax in order to improve Illi­nois' per-pupil fund­ing, which is cur­rent­ly the low­est in the nation. Also, CTU has called for an elect­ed instead of appoint­ed Chica­go school board and a mora­to­ri­um on char­ter school expansion.
CTU orga­niz­ers pre­sent­ed these ideas Mon­day on giant posters and on one-page fact sheets hand-deliv­ered to aides of May­or Emanuel and Gov. Pat Quinn in their down­town offices.
Brun­son and a few dozen advo­cates pro­ceed­ed to march into City Hall and deliv­er can­dy canes to Alder­man Robert Fioret­ti of the 2nd Ward, the spon­sor of the TIF bill, and Alder­man John Are­na of the 45th Ward, author of a bill push­ing an elect­ed school board in Chicago.
Then CTU mem­bers dis­trib­uted lumps of coal to city leg­isla­tive offi­cials who had the mis­for­tune of being present when pro­test­ers arrived. Two offi­cials glum­ly col­lect­ed lumps of coal intend­ed for alder­men who did not want to vote on the TIF bill.
Chica­go alder­men, often accused of being Emanuel's lap­dogs, vot­ed 38 – 11 last month against putting the TIF ordi­nance to a vote. Emanuel indi­cat­ed oppo­si­tion to the TIF sur­plus ordi­nance and divert­ed a more mod­est $24 mil­lion in TIF mon­ey to CPS this year.
The use of TIF dol­lars to sub­si­dize pri­vate projects, such as a new sta­di­um for the DePaul Uni­ver­si­ty bas­ket­ball team, has become a flash­point of con­tro­ver­sy over the last few years. ​"We need to redi­rect that mon­ey the right way — to our pub­lic schools," Fioret­ti tells Work­ing In These Times.
When alder­men vot­ed against con­sid­er­ing the ordi­nance, many voiced frus­tra­tion with Fioret­ti for using a par­lia­men­tary maneu­ver to con­sid­er the mat­ter after it had lan­guished in com­mit­tee. Alder­man Patrick O'Connor (40th Ward), Emanuel's floor leader, warned of a return to the ​"Coun­cil Wars" of the ​'80s, when black May­or Harold Wash­ing­ton per­pet­u­al­ly feud­ed with pow­er­ful white aldermen.
Asked if the lumps of coal might cause fur­ther divi­sions with his col­leagues, Fioret­ti replied that alder­men ​"who do the mayor's bid­ding … need to face some accountability."
The alder­man added that he sup­port­ed the day of action, because mak­ing his col­leagues pub­licly account­able will even­tu­al­ly push them to chal­lenge Emanuel's edu­ca­tion poli­cies. ​"The coals are going to keep the winds of change burn­ing here," Fioret­ti said. ​"We are going to see change."
Jitu Brown, an edu­ca­tion orga­niz­er at the Ken­wood Oak­land Com­mu­ni­ty Orga­ni­za­tion on the city's South Side, said that Monday's event was part of a strat­e­gy toward long-term change.
​"It's not about doing action and then by mag­ic con­di­tions change," Brown told Work­ing In These Times out­side of City Hall. ​"We're set­ting the tone change by hav­ing par­ents, teach­ers and com­mu­ni­ties come togeth­er around a com­mon set of prin­ci­ples. It's a marathon, not a sprint."
Matthew Blake
is a free­lance jour­nal­ist based in Chica­go. He has writ­ten for the
Chica­go Jour­nal, Wash­ing­ton Month­ly, Wash­ing­ton Inde­pen­dent
and
The Nation
, among oth­er publications.