On the Streets of New York: Compassion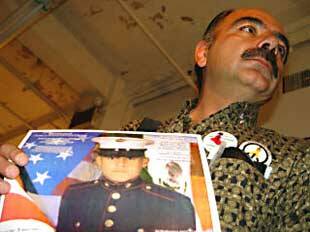 Celeste Zap­pala marched alone hold­ing the pho­to of her son, killed this April in Iraq. He was the first com­bat death in the Penn­syl­va­nia Nation­al Guard since 1945. Near tears, she said, ​"I have to be here, I won't be qui­et." Fer­nan­do Suarez del Solar, whose son died in Iraq, blames the Bush admin­is­tra­tion for lying to the coun­try and pur­su­ing an unjus­ti­fied war.
At Union Square, the Amer­i­can Friends Ser­vice Com­mit­tee lined up near­ly 1000 pairs of boots and shoes to com­mem­o­rate Iraq's mil­i­tary and civil­ian dead.
Tarek Abdel-Muhti also lost a loved one: his father Faruk was a long-time Pales­tin­ian activist jailed under the Patri­ot Act. Tarek charges that author­i­ties has­tened his father's death, by repeat­ed­ly ​"los­ing his high blood­ed pres­sure meds" and sub­ject­ing him to the ter­ri­ble stress­es of unlim­it­ed con­fine­ment, includ­ing 250 days in soli­tary, Short­ly after his release, Faruk died of a heart attack. Tarek spoke out against pro­fil­ing and abus­es of the Bush admin­is­tra­tion against immigrants.
On the Streets of New York: patri­o­tism | com­pas­sion | courage | secu­ri­ty | oppor­tu­ni­ty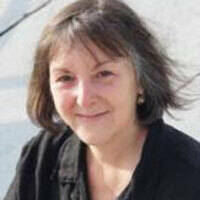 Ter­ry J. Allen
is a vet­er­an inves­tiga­tive reporter/​editor who has cov­ered local and inter­na­tion­al pol­i­tics and health and sci­ence issues. Her work has appeared in the
Guardian, Boston Globe, Times Argus, Harper's
, the Nation​.com, Salon​.com, and
New Sci­en­tist
. She has been an edi­tor at Amnesty Inter­na­tion­al,
In These Times
, and Cor​p​watch​.com. She is also a pho­tog­ra­ph­er. Her por­traits of peo­ple sit­ting in some of the
1900
cars lined up out­side a New­port, Vt., food drop can be seen on www​.flickr​.com/​p​h​o​t​o​s​/​t​e​r​r​y​a​l​l​e​n​/​a​lbums. Ter­ry can be con­tact­ed at tallen@​igc.​org or through www​.ter​ry​jallen​.com.