On The Streets of New York: Courage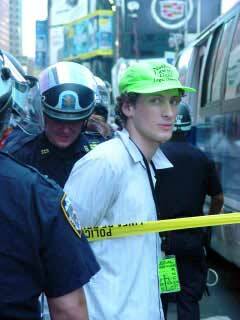 Dur­ing the week­long protests, New York City Police arrest­ed more than 1700 peo­ple, includ­ing bystanders, jour­nal­ists, and legal observers, many of whom were swept up in pre­emp­tive strikes on law­ful gatherings.
After police dis­rupt­ed a Tues­day march from Ground Zero to Madi­son Square Gar­den, a splin­ter group reformed and made its way as far as 28th St. and Broad­way before being inter­cept­ed and sur­round­ed by scores of police. The group held its die-in on the spot. Before mak­ing arrests police cleared the streets and barred media from the scene.
Some detainees were held for more than a day in a con­vert­ed bus garage dubbed ​"Guan­tanamo on the Hud­son." The floor of the facil­i­ty is soaked with oil, caus­ing some of those impris­oned to devel­op chem­i­cal burns, accord­ing to legal representatives.
On the Streets of New York: patri­o­tism | com­pas­sion | courage | secu­ri­ty | oppor­tu­ni­ty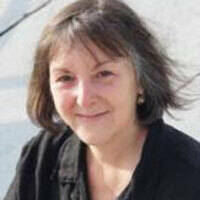 Ter­ry J. Allen
is a vet­er­an inves­tiga­tive reporter/​editor who has cov­ered local and inter­na­tion­al pol­i­tics and health and sci­ence issues. Her work has appeared in the
Guardian, Boston Globe, Times Argus, Harper's
, the Nation​.com, Salon​.com, and
New Sci­en­tist
. She has been an edi­tor at Amnesty Inter­na­tion­al,
In These Times
, and Cor​p​watch​.com. She is also a pho­tog­ra­ph­er. Her por­traits of peo­ple sit­ting in some of the
1900
cars lined up out­side a New­port, Vt., food drop can be seen on www​.flickr​.com/​p​h​o​t​o​s​/​t​e​r​r​y​a​l​l​e​n​/​a​lbums. Ter­ry can be con­tact­ed at tallen@​igc.​org or through www​.ter​ry​jallen​.com.