Organic Farmer: 'There Are a Lot of Things I Can't Control'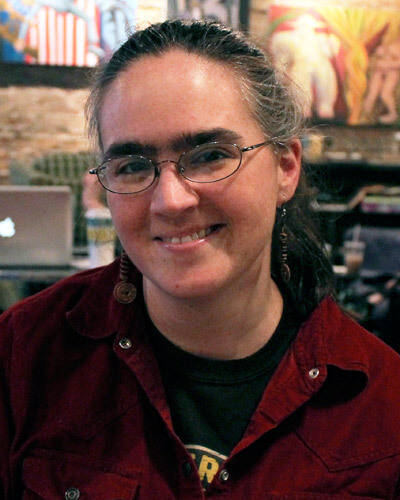 For three years in the ear­ly 1970s, jour­nal­ist Studs Terkel gath­ered sto­ries from a vari­ety of Amer­i­can work­ers. He then com­piled them into Work­ing, an oral-his­to­ry col­lec­tion that went on to become a clas­sic. Four decades after its pub­li­ca­tion, Work­ing is more rel­e­vant than ever. Terkel, who reg­u­lar­ly con­tributed to In These Times, once wrote, ​"I know the good fight — the fight for democ­ra­cy, for civ­il rights, for the rights of work­ers — has a future, for these val­ues will live on in the pages of In These Times." In hon­or of that sen­ti­ment and of Working's 40th anniver­sary, ITT writ­ers have invit­ed a broad range of Amer­i­can work­ers to describe what they do, in their own words. More ​"Work­ing at 40" sto­ries can be found here.
–
In Work­ing, Terkel inter­viewed Pierce Walk­er, a corn and soy­bean farmer in Indi­ana who told him, ​"for a farmer, the return on your invest­ment is so small now that it isn't real­ly worth­while." He described farm­ing as ​"a gam­ble," refer­ring to the expense of the machin­ery and depen­dence on the weath­er as well as the shrink­ing small-farm indus­try. In fact, he said, ​"A younger per­son can­not start farm­ing unless they have help from the father or somebody."
In 2010, Mol­ly Bres­lin, now 34, did just that: She moved from Chica­go to Ottawa, Illi­nois to start an organ­ic farm with her father on land that Breslin's moth­er inher­it­ed. They called it ​"Bres­lin Farms."
​"My dad and I got along real­ly well, and then we start­ed farm­ing togeth­er. We had some real­ly rough times, but now we're get­ting along again," Bres­lin says. ​"But there have been times when I did­n't think this was worth it — not if it was going to make us behave like this."
On a late April after­noon, In These Times caught up with Bres­lin in Chica­go, where she'd just fin­ished par­tic­i­pat­ing in a DuPage Col­lege pan­el on women farm­ers. This inter­view has been abridged and edited.
I'm a cer­ti­fied organ­ic farmer near Ottawa, Illi­nois, an hour and a half's dri­ve south­west of Chica­go. This year, we're grow­ing three kinds of corn, five kinds of dried beans, soy­beans, wheat, rye and gar­lic. We're a small farm of 100 acres. A typ­i­cal small grain farm would be some­where between 400 and 1,000 acres.
Nei­ther my dad nor I is inter­est­ed in non-organ­ic, chem­i­cal farm­ing. I am of child­bear­ing age, so that's just stu­pid. My Dad has real­ly bad aller­gies and asthma.
How did you start farming?
My Mom grew up out by Ottawa, a cou­ple of farms down. She had got­ten the farm as part of her inher­i­tance, but it wasn't under her con­trol until the grow­ing sea­son of 2010. So it belongs to my Mom, but she's not farm­ing. She's just our landlord.
When we start­ed, my Dad might have had an idea of what we were get­ting into, but I had no idea. We decid­ed that we'd just grow grains on it for a cou­ple of years, then tran­si­tion to organ­ic. And now we have three grain bins and around a quar­ter of a mil­lion dol­lars of equip­ment. Now, we've rent­ed oth­er land and we're grow­ing some­thing like 32,000 pounds of dry beans this year, not even count­ing the wheat or the rye or the soy­beans or the corn.
If I had known what we were get­ting into — if I had known how much equip­ment we would real­ly need to buy — I nev­er would have start­ed. Espe­cial­ly when it comes to the debt. Every year we buy a lit­tle more equip­ment, but every year we need more equipment.
It's most­ly just my Dad and I work­ing on the farm. Every once in a while we hire some­one to come in for a cou­ple of days. We have a neigh­bor who helps us out, and I occa­sion­al­ly give him a gift card to a local diner.
Can you describe a typ­i­cal day on the farm?
You nev­er know on any giv­en day. You could have a plan, but depend­ing on what the weath­er is, your plan might total­ly change. Some­times it's too wet to do some­thing when you get up in the morn­ing, but you can do it by two in the after­noon. So you real­ly have to just wait and see. Which is why I total­ly regret hav­ing to do this event today: It got too late in the sea­son. I should have nev­er agreed to do an event on April 21. Today our neigh­bors were cul­ti­vat­ing their field, which means we prob­a­bly could have been cul­ti­vat­ing our field.
I feel like a job is a thing that you do for a cer­tain num­ber of hours a day, and then you go home. But that's not what farm­ing is.
What is it like to be depen­dent on the weather?
It's frus­trat­ing for some­one who wants to have a life. On the oth­er hand, it's the most ele­men­tal way to con­nect to the land.
There's a lot about farm­ing that's not under the farmer's con­trol — such as the com­modi­ties mar­ket, which depends on what the stock mar­ket is doing. A very large per­cent­age of the grain that's trad­ed every day doesn't actu­al­ly exist. The pol­i­tics in Ukraine will affect our prices for wheat here. The weath­er in Argenti­na will affect how much mon­ey I make this year.
So it's scary to start some­thing like this. I basi­cal­ly start­ed the year I turned 30. At that point, I sort of had my own sep­a­rate iden­ti­ty that wasn't tied to the farm. I wasn't used to hav­ing to plan things a decade ahead. We bought this trac­tor, and I have to fig­ure out how long that's going to last. I'm expect­ing it to last around 10 or 15 years. In my for­mer life, I didn't know what I was going to be doing 15 years, 20 years down the line.
Now I always have to know what my plan will be.
There are a lot of unknowns, and there are a lot of things that are out of my con­trol — I have con­fi­dence that I'll fig­ure them out, but I haven't yet. It must be kind of the same feel­ing as get­ting mar­ried. I'm com­mit­ted to this and I'm doing it. But I also have to admit that there are a lot of things I can't control.
I real­ly enjoy spend­ing the bulk of my time doing some­thing that's real­ly basic to sur­vival, though. I don't think that I could han­dle being, say, a con­sul­tant, where I wouldn't be pro­duc­ing any­thing. I want to have some­thing tan­gi­ble. I want to be get­ting on the ground to squish pota­to bee­tles, or putting beans in a bag and then tak­ing them to some­body for them to cook and eat — that's very sat­is­fy­ing to me. Plus, every year we get to start again.
On the oth­er hand, as the cli­mate is chang­ing, I think it's going to present new chal­lenges that we haven't had to deal with. In any giv­en area, there are gen­er­a­tions' worth of knowl­edge about how to work with the cli­mate and that's going to start chang­ing. It's already changing.
So things are chang­ing. There's just more stuff I can't control.
Matthew Blake
is a free­lance jour­nal­ist based in Chica­go. He has writ­ten for the
Chica­go Jour­nal, Wash­ing­ton Month­ly, Wash­ing­ton Inde­pen­dent
and
The Nation
, among oth­er publications.