Organic Farmer: 'There Are a Lot of Things I Can't Control'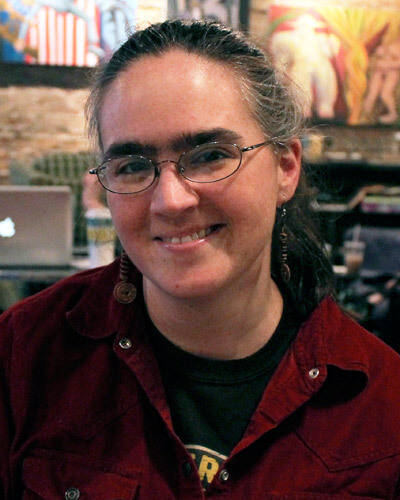 For three years in the early 1970s, journalist Studs Terkel gathered stories from a variety of American workers. He then compiled them into Working, an oral-history collection that went on to become a classic. Four decades after its publication, Working is more relevant than ever. Terkel, who regularly contributed to In These Times, once wrote, ​"I know the good fight — the fight for democracy, for civil rights, for the rights of workers — has a future, for these values will live on in the pages of In These Times." In honor of that sentiment and of Working's 40th anniversary, ITT writers have invited a broad range of American workers to describe what they do, in their own words. More ​"Working at 40" stories can be found here.
–
In Working, Terkel interviewed Pierce Walker, a corn and soybean farmer in Indiana who told him, ​"for a farmer, the return on your investment is so small now that it isn't really worthwhile." He described farming as ​"a gamble," referring to the expense of the machinery and dependence on the weather as well as the shrinking small-farm industry. In fact, he said, ​"A younger person cannot start farming unless they have help from the father or somebody."
In 2010, Molly Breslin, now 34, did just that: She moved from Chicago to Ottawa, Illinois to start an organic farm with her father on land that Breslin's mother inherited. They called it ​"Breslin Farms."
​"My dad and I got along really well, and then we started farming together. We had some really rough times, but now we're getting along again," Breslin says. ​"But there have been times when I didn't think this was worth it — not if it was going to make us behave like this."
On a late April afternoon, In These Times caught up with Breslin in Chicago, where she'd just finished participating in a DuPage College panel on women farmers. This interview has been abridged and edited.
I'm a certified organic farmer near Ottawa, Illinois, an hour and a half's drive southwest of Chicago. This year, we're growing three kinds of corn, five kinds of dried beans, soybeans, wheat, rye and garlic. We're a small farm of 100 acres. A typical small grain farm would be somewhere between 400 and 1,000 acres.
Neither my dad nor I is interested in non-organic, chemical farming. I am of childbearing age, so that's just stupid. My Dad has really bad allergies and asthma.
How did you start farming?
My Mom grew up out by Ottawa, a couple of farms down. She had gotten the farm as part of her inheritance, but it wasn't under her control until the growing season of 2010. So it belongs to my Mom, but she's not farming. She's just our landlord.
When we started, my Dad might have had an idea of what we were getting into, but I had no idea. We decided that we'd just grow grains on it for a couple of years, then transition to organic. And now we have three grain bins and around a quarter of a million dollars of equipment. Now, we've rented other land and we're growing something like 32,000 pounds of dry beans this year, not even counting the wheat or the rye or the soybeans or the corn.
If I had known what we were getting into — if I had known how much equipment we would really need to buy — I never would have started. Especially when it comes to the debt. Every year we buy a little more equipment, but every year we need more equipment.
It's mostly just my Dad and I working on the farm. Every once in a while we hire someone to come in for a couple of days. We have a neighbor who helps us out, and I occasionally give him a gift card to a local diner.
Can you describe a typical day on the farm?
You never know on any given day. You could have a plan, but depending on what the weather is, your plan might totally change. Sometimes it's too wet to do something when you get up in the morning, but you can do it by two in the afternoon. So you really have to just wait and see. Which is why I totally regret having to do this event today: It got too late in the season. I should have never agreed to do an event on April 21. Today our neighbors were cultivating their field, which means we probably could have been cultivating our field.
I feel like a job is a thing that you do for a certain number of hours a day, and then you go home. But that's not what farming is.
What is it like to be dependent on the weather?
It's frustrating for someone who wants to have a life. On the other hand, it's the most elemental way to connect to the land.
There's a lot about farming that's not under the farmer's control — such as the commodities market, which depends on what the stock market is doing. A very large percentage of the grain that's traded every day doesn't actually exist. The politics in Ukraine will affect our prices for wheat here. The weather in Argentina will affect how much money I make this year.
So it's scary to start something like this. I basically started the year I turned 30. At that point, I sort of had my own separate identity that wasn't tied to the farm. I wasn't used to having to plan things a decade ahead. We bought this tractor, and I have to figure out how long that's going to last. I'm expecting it to last around 10 or 15 years. In my former life, I didn't know what I was going to be doing 15 years, 20 years down the line.
Now I always have to know what my plan will be.
There are a lot of unknowns, and there are a lot of things that are out of my control — I have confidence that I'll figure them out, but I haven't yet. It must be kind of the same feeling as getting married. I'm committed to this and I'm doing it. But I also have to admit that there are a lot of things I can't control.
I really enjoy spending the bulk of my time doing something that's really basic to survival, though. I don't think that I could handle being, say, a consultant, where I wouldn't be producing anything. I want to have something tangible. I want to be getting on the ground to squish potato beetles, or putting beans in a bag and then taking them to somebody for them to cook and eat — that's very satisfying to me. Plus, every year we get to start again.
On the other hand, as the climate is changing, I think it's going to present new challenges that we haven't had to deal with. In any given area, there are generations' worth of knowledge about how to work with the climate and that's going to start changing. It's already changing.
So things are changing. There's just more stuff I can't control.
Matthew Blake
is a freelance journalist based in Chicago. He has written for the
Chicago Journal, Washington Monthly, Washington Independent
and
The Nation
, among other publications.