Organized Labor Should Spend the Rest of 2015 Training Workers How to Fight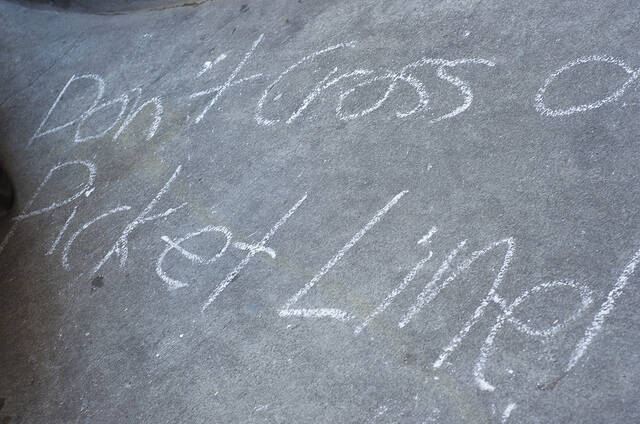 While the labor move­ment is in some of its more dire straits in over a cen­tu­ry, 2015 is also shap­ing up to be a big year for unions. The ​"Fight for $15" strikes held in over 200 cities on April 15 indi­cate that a mass move­ment for work­er jus­tice may be on the verge of explod­ing, one that blends the best of orga­nized labor, com­mu­ni­ty orga­niz­ing, Occu­py Wall Street and #Black­Lives­Mat­ter. Oil work­ers, truck dri­vers, and dock­work­ers also went on wide­ly pub­li­cized, con­fronta­tion­al strikes this year, and LA teach­ers at both pub­lic and char­ter schools are prepar­ing to take action on the job, as are grad­u­ate stu­dents at the Uni­ver­si­ty of Wash­ing­ton and sev­er­al oth­er campuses.
Today, May 1, a Bay Area local of the Inter­na­tion­al Long­shore and Ware­house Union shut down its ports to protest the racism and police bru­tal­i­ty against black and brown peo­ple, pro­vid­ing a clas­sic exam­ple of what ​"social move­ment union­ism" looks like in practice.
Unions are also fight­ing hard to block loom­ing pen­sion cuts and derail fast track for the Trans-Pacif­ic Part­ner­ship trade agree­ment. But labor's ​"Right to Work" defeat in Wis­con­sin in March was a huge set­back, while the results of the April 7 Chica­go mayor's race were mixed, at best. Tak­en as a whole, the small upsurge in labor unrest in recent months has not been enough to slow down, much less stop and reverse, the steep his­tor­i­cal decline of the trade union movement.
Giv­en all this, labor needs to take seri­ous stock of the cur­rent pop­ulist moment, ana­lyze which strate­gies are actu­al­ly work­ing and which are not, and start to con­sid­er what it's real­ly going to take to change course and rebuild a fight­ing work­ers move­ment from the ground up. Dump­ing hun­dreds of mil­lions of dol­lars down the rab­bit-hole of Demo­c­ra­t­ic Par­ty elec­toral pol­i­tics dur­ing the next pres­i­den­tial elec­tion cycle is unlike­ly to get the job done.
In the long run, labor would be bet­ter off scal­ing back its elec­toral work and instead dou­ble down on new and inter­nal orga­niz­ing, with a spe­cial empha­sis on bring­ing back the wide­spread and pro­lif­ic use of the strike—a weapon that, unlike the cam­paign con­tri­bu­tion, actu­al­ly has the pow­er to change the polit­i­cal cal­cu­lus on the job and in Washington.
Pop­u­lar­iz­ing the use of the strike as a tac­tic again (which in some ways is already hap­pen­ing, just not wide­ly enough or quick­ly enough) could not only lead to more vic­to­ries on the job; it could also help grow the con­fi­dence of the work­ing class as a whole to take on big­ger polit­i­cal chal­lenges and see the val­ue in join­ing mass move­ments for trans­for­ma­tion­al social change.
Unions should start mak­ing this tran­si­tion now and use the rest of the year to accom­plish an ambi­tious goal to train its mem­bers, in every bar­gain­ing unit across the coun­try, in how to orga­nize and imple­ment a suc­cess­ful strike campaign.
Orga­nized work­ers going on strike to win bet­ter wages, hours and work­ing con­di­tions may sound like com­mon sense — ​"bread and but­ter" union­ism. But decades of sus­tained defeats at the hands of cor­po­rate pow­er — com­bined with the dom­i­nant busi­ness union­ism mod­el that eschews work­er mil­i­tan­cy, shop floor strug­gle and open con­fronta­tion in favor of back­room deal-mak­ing and so-called ​"labor-man­age­ment part­ner­ships" — has cre­at­ed an envi­ron­ment where all too many labor unions have for­got­ten their true source of pow­er and how to effec­tive­ly use it.
Luck­i­ly, a group of inno­v­a­tive demo­c­ra­t­ic union reform­ers at SEIU Local 1021 in Cal­i­for­nia have devel­oped a new train­ing cur­ricu­lum called the Strike School that could serve as a nation­wide mod­el for action and be eas­i­ly adapt­ed to fit local needs by action com­mit­tees made up of union stew­ards, shop floor lead­ers, rank and file work­ers and orga­niz­ing staff.
Local 1021's mod­el Strike School, which In These Times has obtained and post­ed online (links below) as an open source doc­u­ment, is designed to edu­cate work­ers about the true nature of class pol­i­tics and class con­flict, the pow­er of the strike, how to orga­nize and win a strike and how to use the strike as part of a larg­er social move­ment. It is divid­ed into three mod­ules: ​"Eco­nom­ic Pow­er," ​"Strik­ing for Our Com­mu­ni­ties," and ​"Strate­gic Plan­ning," and uses the 1937 sit-down strike in Flint, Michi­gan, as well as the 2012 Port of Oak­land and Chica­go Teach­ers strikes as case stud­ies. Pow­er­Points, video doc­u­men­taries, guid­ed dis­cus­sions, mock sce­nar­ios and work­er role-plays are all part of the curriculum.
"We took office just as aus­ter­i­ty was hit­ting in the after­math of the Great Reces­sion, and the employ­ers had a strat­e­gy of impo­si­tion," said Lar­ry Brad­shaw, a rank-and-file para­medic who joined a bot­tom-up slate call­ing for demo­c­ra­t­ic union reform and is now a Vice Pres­i­dent at Local 1021.
"They were impos­ing on us left and right. Well, the only way to fight impo­si­tion is to strike. Take the employ­ers on and say, ​'We are not going to be imposed upon,'" Brad­shaw said. ​"The prob­lem was the major­i­ty of our 54,000 mem­bers had no expe­ri­ence going on strike. We quick­ly real­ized we had no insti­tu­tion­al knowl­edge of how to win a strike. So we devel­oped the Strike School as a way of teach­ing those lessons."
Accord­ing to Brad­shaw, more than 1,000 work­ers in Cal­i­for­nia have com­plet­ed the Strike School train­ing, and sev­er­al bar­gain­ing units have gone on strike — and won.
"Always assume nego­ti­a­tions will break down and that your bar­gain­ing unit will be forced to go on strike, then work back­wards from there to fig­ure out how," Brad­shaw said.
Of course, decades of hos­tile labor laws and court prece­dents have made going on strike a lot eas­i­er said than done, and labor will need to be ready to com­mit civ­il dis­obe­di­ence and start going on brazen­ly ille­gal strikes, in open defi­ance of the law when nec­es­sary, and either refuse to pay the cor­re­spond­ing fines and penal­ties or pony up the mon­ey from its elec­tion cam­paign cof­fers instead.
Labor also needs to con­tin­ue to build strate­gic alliances with oth­er social move­ment actors fight­ing aus­ter­i­ty and racial injus­tice. The inter­sec­tion of the Fight for $15 and #Black­Lives­Mat­ter is an impor­tant start.
Imag­ine if a tidal wave of work­er strikes for eco­nom­ic and social jus­tice began to rock job sites across the coun­try in the months and years to come. Such strikes, as part of a shift to more mil­i­tant and com­mu­ni­ty-mind­ed action, could help shake the labor move­ment from its cur­rent beat­en-down stupor.
The ​"Strike School" mate­ri­als can be found below:
Mod­ule 2: Strate­gic Planning
Mod­ule 3: Strik­ing for Our Communities
David Good­ner
is a writer, orga­niz­er and Catholic Work­er from Iowa City.