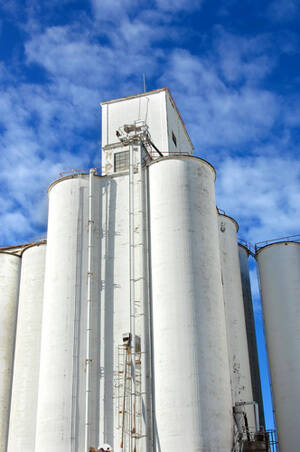 Bartlett Grain fined $400,000 for 13 safety violations, but will appeal — and likely avoid criminal prosecution
WASHINGTON, D.C. — According to the Department of Labor, grain dust is nearly nine times as explosive as coal dust, and often leads to massive explosions. Over the last 35 years, there have been more than 500 explosions caused by grain dust in U.S. grain handling facilities, resulting in the deaths of more than 180 people.
On October 29, 2011, an explosion rocked the Bartlett Grain elevator in Atchison, Kan., resulting in the deaths of six workers — four of whom were younger than 25. Last week, the Occupational Safety and Health Administration (OSHA) cited Bartlett Grain Co. L.P. for five willful and eight serious safety violations of OSHA workplace safety laws. Among the violations, OSHA found that Bartlett Grain willfully allowed dangerous amounts of grain dust to accumulate. The federal agency, part of the Department of Labor, also found that Bartlett would suck up that grain dust using a compressed air system without first shutting down electrical devices that could cause ignition. It also found that Bartlett Grain was ​"using electrical equipment inappropriate" for the work environment.
In a citation unrelated to the cause of the explosion, OSHA also found that Bartlett willfully failed to provide safety equipment to workers to prevent them from being drowned in silos of grain. The lack of proper safety equipment provided to workers unclogging grain silos, a common safety violation, led to two teenagers being trapped and suffocated to death while working in a corn silo in Mt. Carroll, Ill., in 2010.
In addition, OSHA cited a contractor employed by the Bartlett — Kansas Grain Inspection Services Inc. — for one willful violation for not providing proper fall protection for workers working on the top of rail cars, and for a serious violation for not having a hazard communication program.
​"The deaths of these six workers could have been prevented had the grain elevator's operators addressed hazards that are well known in this industry," Secretary of Labor Hilda L. Solis said in a statement. ​"Bartlett Grain's disregard for the law led to a catastrophic accident and heartbreaking tragedy for the workers who were injured or killed, their families and the agricultural community."
The company denies that safety violations caused the fatal explosion in October.
​"While all of the citations are flawed, none of the citations even assert a relationship to the cause of the accident, and indeed the cause cannot be determined," Bartlett Grain President Bob Knief said. ​"Some of the citations alleged ​'willful' misconduct by Bartlett Grain. We adamantly disagree with OSHA's assertions, and we take extreme exception to the willful characterization."
OSHA fined Bartlett Grain a total of $406,000 for the incidents and the Kansas Grain Inspection Services Inc. $67,000. Both will appeal.
​"This is a substantial fine," Ron Hayes, a workplace safety advocate whose son suffocated to death in 60 tons of corn in a silo 19 years ago, told the Kansas City Star. ​"But if this is a willful violation, OSHA should follow through and seek criminal charges, as they have historically done in cases like this."
But a criminal prosecution in this case seems unlikely. Since the adoption of the Occupational Safety and Health Act in 1970, more than 360,000 workers have died on the job in mostly preventable workplace accidents, but only 84 criminal prosecutions have been brought against employers for the willful violation of safety rules resulting in a worker's death. Even if an employer is convicted, the maximum penalty for wrongfully killing a worker on the job is only six months.
​"All of the investigations that determine willful violations will be considered for criminal prosecutions. This is something that the Solicitor's office within the Department of Labor will make a decision on… That decision hasn't been made," OSHA spokesman Scott Allen said. ​"Ultimately, the Department of Justice still has the final determination whether they will seek criminal prosecution. They have done it in the past, but they don't do it often."
The Department of Justice was criticized for agreeing not to prosecute Massey Energy for its role in the 2010 explosion that killed 29 at the Upper Big Branch Mine in West Virginia. The Department of Justice, though, did not rule out going after individuals for their role in the mine disaster, and is prosecuting several individuals connected to Massey for a variety of federal offenses.
Workplace safety advocates are watching to see if Bartlett Grain elevator explosion case will be prosecuted.
​"Cases like this should be prosecuted much more often. The number of prosecutions under the OSHA Act is ridiculously low. They simply do not provide a realistic deterrent to the highly abusive corporate behavior," says Eric Frumin, Health and Safety Coordinator with the labor federation Change to Win. ​"If more cases were prosecuted it would represent a real deterrent. Even a misdemeanor is a real deterrent to a corporate executive. They can't afford the shame of any criminal prosecution."