Oxford University to Divest from Fossil Fuels
Oxford climate activists are the latest to notch a victory against fossil fuel companies.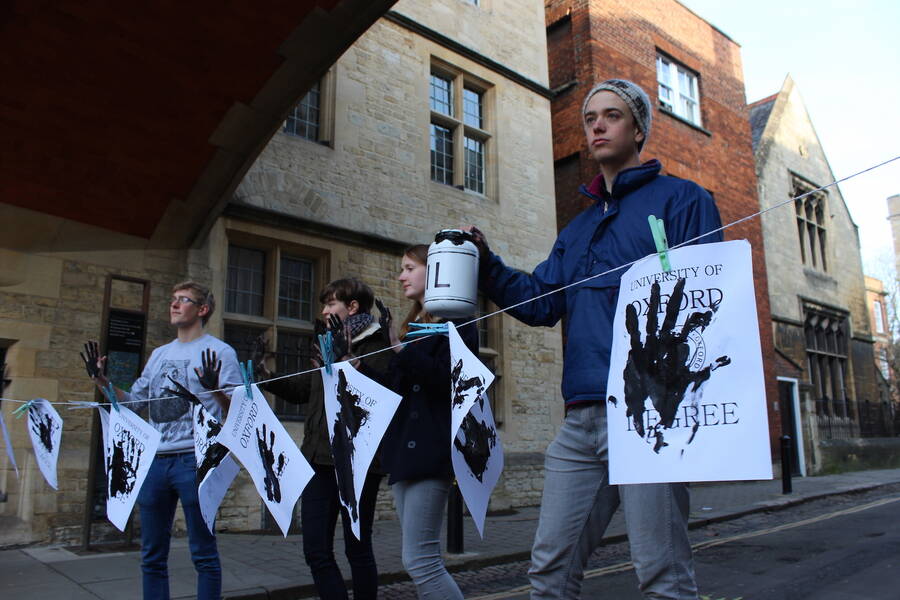 In a state­ment released Mon­day morn­ing, Oxford Uni­ver­si­ty offi­cials announced the uni­ver­si­ty will no longer be invest­ing in fos­sil fuels. The announce­ment is a major vic­to­ry in the stu­dent divest­ment move­ment and the broad­er bat­tle against cli­mate change.
Since 2013, the Oxford Uni­ver­si­ty Stu­dent Union (OUSU) Envi­ron­ment & Ethics group has devot­ed their time to a divest­ment cam­paign, demand­ing that the uni­ver­si­ty refrain from invest­ing in fos­sil fuels. They had three rec­om­men­da­tions for the uni­ver­si­ty, out­lined on their website:
A neg­a­tive screen­ing process (or divest­ment) should be applied to fos­sil fuel invest­ments, a pos­i­tive screen­ing process (invest­ment) should be applied to ​"fos­sil free" invest­ments, and a list of Uni­ver­si­ty invest­ments should be pub­lished in the inter­ests of trans­paren­cy and stu­dent engagement.
The push from OUSU helped to con­vince the university's exec­u­tive gov­ern­ing body, Coun­cil, to become more social­ly respon­si­ble with the university's invest­ment port­fo­lio by divest­ing from fos­sil fuels. The uni­ver­si­ty has agreed to con­tin­u­al­ly assess the envi­ron­men­tal and social risks attrib­uted to invest­ments, include a broad range of ener­gy invest­ments and be com­plete­ly trans­par­ent in invest­ment assets through an annu­al report. The university's Envi­ron­men­tal Sus­tain­abil­i­ty team will also mon­i­tor and report car­bon usage on cam­pus in order to decrease their car­bon emissions.
The divest­ment vic­to­ry at Oxford is part of a grow­ing push for action on cli­mate change at uni­ver­si­ties around the world. 350​.org is an orga­ni­za­tion found­ed in 2008 that is build­ing a glob­al cli­mate move­ment. One of its founders, author Bill McK­ibben, works to pro­mote the cli­mate cam­paign at uni­ver­si­ties across the Unit­ed States and the Unit­ed King­dom, not­ing the uni­ver­si­ty endow­ments' hold­ings com­pa­nies that dam­age the cli­mate. ​"If it's wrong to wreck the cli­mate, then it's wrong to prof­it from the wreck­age," McK­ibben has written.
In recent years, groups affil­i­at­ed with 350​.org have helped uni­ver­si­ties in the Unit­ed States to divest in fos­sil fuels. Most notably, Stan­ford Uni­ver­si­ty divest­ed from coal in May 2014 and Syra­cuse Uni­ver­si­ty divest­ed its endow­ment from coal min­ing and fos­sil fuels in March 2015. In the 1980s and 1990s, stu­dent activists played a role in bring­ing about the end of apartheid in South Africa through sim­i­lar divest­ment cam­paigns tar­get­ed at com­pa­nies invest­ed in the coun­try; today, stu­dent cli­mate change activists are hop­ing for sim­i­lar results in work­ing towards cli­mate justice.
Lau­ren Gaynor
is a Sum­mer
2015
In These Times edi­to­r­i­al intern. She is a senior Eng­lish and Pro­fes­sion­al Writ­ing major at Michi­gan State Uni­ver­si­ty and enjoys the­ater, music and every­thing that Chica­go has to offer.