Oxford University to Divest from Fossil Fuels
Oxford climate activists are the latest to notch a victory against fossil fuel companies.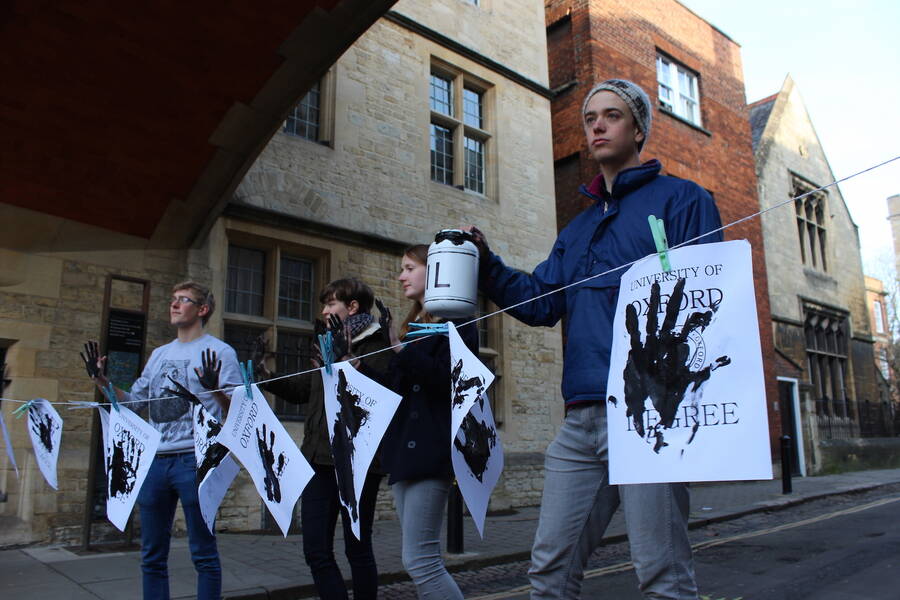 In a statement released Monday morning, Oxford University officials announced the university will no longer be investing in fossil fuels. The announcement is a major victory in the student divestment movement and the broader battle against climate change.
Since 2013, the Oxford University Student Union (OUSU) Environment & Ethics group has devoted their time to a divestment campaign, demanding that the university refrain from investing in fossil fuels. They had three recommendations for the university, outlined on their website:
A negative screening process (or divestment) should be applied to fossil fuel investments, a positive screening process (investment) should be applied to ​"fossil free" investments, and a list of University investments should be published in the interests of transparency and student engagement.
The push from OUSU helped to convince the university's executive governing body, Council, to become more socially responsible with the university's investment portfolio by divesting from fossil fuels. The university has agreed to continually assess the environmental and social risks attributed to investments, include a broad range of energy investments and be completely transparent in investment assets through an annual report. The university's Environmental Sustainability team will also monitor and report carbon usage on campus in order to decrease their carbon emissions.
The divestment victory at Oxford is part of a growing push for action on climate change at universities around the world. 350​.org is an organization founded in 2008 that is building a global climate movement. One of its founders, author Bill McKibben, works to promote the climate campaign at universities across the United States and the United Kingdom, noting the university endowments' holdings companies that damage the climate. ​"If it's wrong to wreck the climate, then it's wrong to profit from the wreckage," McKibben has written.
In recent years, groups affiliated with 350​.org have helped universities in the United States to divest in fossil fuels. Most notably, Stanford University divested from coal in May 2014 and Syracuse University divested its endowment from coal mining and fossil fuels in March 2015. In the 1980s and 1990s, student activists played a role in bringing about the end of apartheid in South Africa through similar divestment campaigns targeted at companies invested in the country; today, student climate change activists are hoping for similar results in working towards climate justice.
Lauren Gaynor
is a Summer
2015
In These Times editorial intern. She is a senior English and Professional Writing major at Michigan State University and enjoys theater, music and everything that Chicago has to offer.