South Korean Strikers Withstand Paratrooper Assault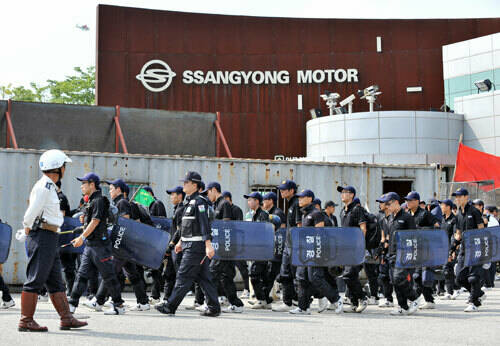 The South Korean police sent paratroopers in helicopters to roust strikers occupying an auto plant in Pyeongtaek yesterday. A crane even lifted more shipping container full of officers onto the roof of the factory.
Hundreds of members of the Korean Metal Workers' Union had been occupying the Ssangyong Motors plant for over 10 weeks. They've been laid off, and want their jobs back.
As the Associated Press reported this morning,
Dozens of strikers and police were injured in clashes this week. Police dropped tear gas from helicopters at workers, who shot nuts and bolts at riot police on the ground using large sling shots. The strikers also lobbed firebombs.
Police cleared most of the plant, but 500 workers in the paint shop held on. Surrounded, the workers barricaded themselves inside a warehouse and announced they were willing to die together.
Apparently, that was the push needed to get the two sides back to the bargaining table. The union and management had met seven or eight times during the preceding weeks, but were unable to come to an agreement.
This morning, KMWU and Ssangyong, Korea's fifth-largest automaker, announced an end to the strike. The company agreed to keep 48 percent of the 1,000 workers who opposed the job cuts, up from their last offer of 40 percent. (Those 48 percent will be placed on unpaid leave while the company gets its finances in order.)
Wednesday's raid, which police said injured 50 people, wasn't the first time Korean forces tried to forcibly evict the workers.
On July 22, the police sent in 3,000 riot police backed by helicopters, but the strike continued. At the time, the International Trade Union Confederation sent a letter to the President of South Korea deploring police brutality against the strikers. Some strikers allegedly fought the police with slingshots and firebombs.
Investors were very pleased with the news that the 77-day strike had finally come to an end: The company's stock price rose 15 percent yesterday, the maximum allowed by Korea's stock market.
Lindsay Beyerstein
is an award-winning investigative journalist and In These Times staff writer who writes the blog Duly Noted. Her stories have appeared in Newsweek, Salon, Slate, The Nation, Ms. Magazine, and other publications. Her photographs have been published in the Wall Street Journal and the New York Times' City Room. She also blogs at The Hillman Blog (http://​www​.hill​man​foun​da​tion​.org/​h​i​l​l​m​a​nblog), a publication of the Sidney Hillman Foundation, a non-profit that honors journalism in the public interest.