Why Parents Hate Summer Break
The U.S. has a summer childcare crisis.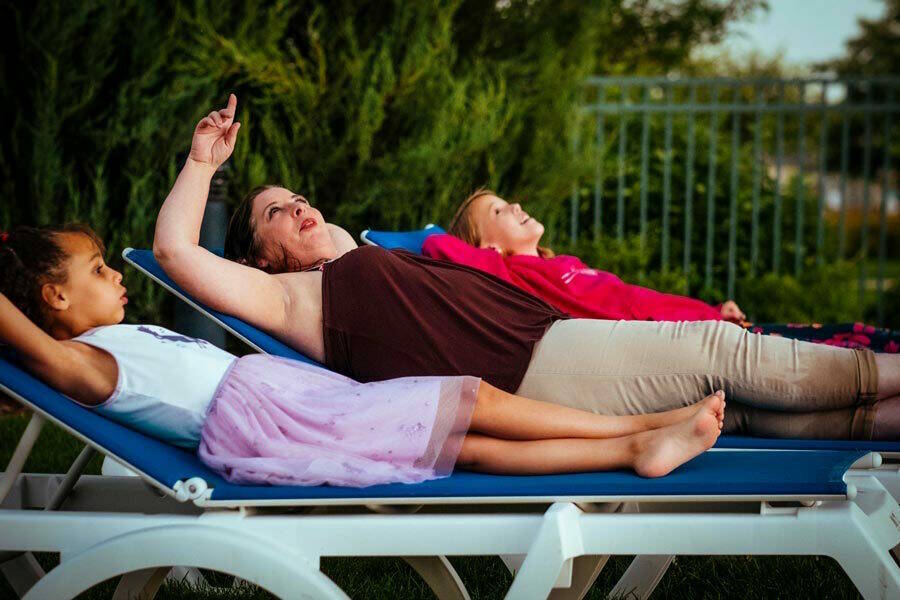 Chil­dren across Amer­i­ca are spend­ing mem­o­rable sun­ny days splash­ing at the pool, doing arts and crafts or attend­ing STEM camps, but 6‑year-old Jaelyn's sum­mer has not been as event­ful. Much of it has been spent indoors.
Summer childcare is especially tricky—difficult to find, expensive and misaligned with the schedules of working parents.
Since her ele­men­tary school let out in May, she's been shut­tled among rel­a­tives and fam­i­ly friends. The far­thest lives 27 miles away, a 40 to 60-minute dri­ve. Occa­sion­al­ly — for $25 — her for­mer preschool teacher watch­es her for the day.
Jaelyn's moth­er, Sheila Cus­tard, says the best she can man­age is to keep her daugh­ter safe and occu­pied while she, a sin­gle par­ent, works Mon­day through Fri­day as a pay­roll spe­cial­ist for a human resources man­age­ment com­pa­ny in Auro­ra, Colo. Like most par­ents who work out­side the home, her sched­ule does not change dur­ing the sum­mer months.
There is a sum­mer camp that serves Jaelyn's age group less than two miles away. The $100 a week tuition is mod­est in com­par­i­son to many spe­cial­ty camps—day camp costs aver­age $199 a week and can go as high as $800 a week, accord­ing to the Amer­i­can Camp Asso­ci­a­tion. Still, the price is too high for Cus­tard, who is sad­dled with med­ical debt. Cus­tard would also have to dole out an addi­tion­al $50 a week for before and after care to accom­mo­date her 8:45 a.m. to 5:15 p.m. work schedule.
Since accept­ing a pro­mo­tion that came with a mod­est raise in March, Cus­tard is $86 over the income lim­it for the Col­orado Child Care Assis­tance Pro­gram, which would have cov­ered part or all of Jaelyn's camp costs.
So, for now, Jae­lyn spends most days in the care of the 12-year-old daugh­ter of near­by fam­i­ly friends, who babysits Jae­lyn alone at their home while they, too, are away at work. Cus­tard checks in by phone sev­er­al times a day. For safe­ty rea­sons, the girls are for­bid­den to play out­side or walk to the neigh­bor­hood pool. They pass the time with tablets and smart­phones, or goof around danc­ing to YouTube music videos.
"With­out [these fam­i­ly friends] I don't know what I would have done," says Cus­tard, who pays the tween babysit­ter what she can afford: $30 a week.
"Keep­ing up with all of the dif­fer­ent places that I have to take her is so exhaust­ing," Cus­tard adds, exas­per­a­tion evi­dent in her voice. ​"It's not just the finan­cial piece that over­whelms me. The men­tal stress also takes its toll."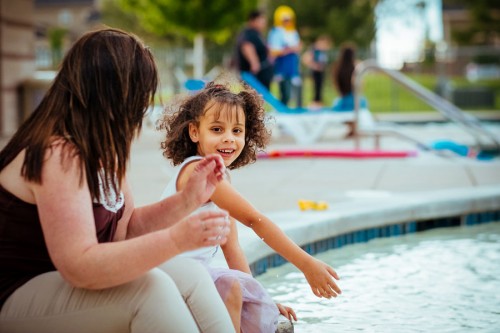 (This pool vis­it is a rare treat with mom. On sum­mer week­days, Jae­lyn is babysat by a local 12-year-old. For safe­ty rea­sons, they aren't allowed to walk alone to the pool. Pho­to by Sebas­t­ian Fortuño)
BY THE NUMBERS
Custard's predica­ment is the norm for many work­ing par­ents in the U.S.: Two in three ele­men­tary-aged chil­dren have no stay-at-home par­ent, the aver­age school day is 6.5 hours and the aver­age work­day is 8 hours, mak­ing high-qual­i­ty child­care a year-round neces­si­ty. Sum­mer child­care is espe­cial­ly tricky — dif­fi­cult to find, expen­sive and mis­aligned with the sched­ules of work­ing par­ents, even those like Cus­tard who work the tra­di­tion­al 9 to 5.
A Cen­ter for Amer­i­can Progress (CAP) analy­sis of data from the After­school Alliance's Amer­i­ca After 3PM sur­vey, released in 2018, con­clud­ed that a typ­i­cal fam­i­ly of four could expect to pay more than $3,000 for sum­mer pro­grams — about 20% of that family's aver­age take-home pay for the summer.
"That's more than dou­ble the U.S. Depart­ment of Health and Human Ser­vices' child­care afford­abil­i­ty thresh­old of 7%," notes Cristi­na Novoa, a senior pol­i­cy ana­lyst for ear­ly child­hood pol­i­cy at CAP, a lib­er­al D.C. think tank. ​"The sur­vey find­ings were eye-pop­ping, to say the least."
Novoa was the lead researcher on last year's analy­sis and a May 2019 CAP study that asked 1,000 par­ents of chil­dren ages 0 to 13 in all 50 states about sum­mer child­care. Three in four report­ed at least some dif­fi­cul­ty find­ing care and 57% said they had to make dif­fi­cult trade-offs, such as short­ened work hours or unpaid time off, that result­ed in sub­stan­tial income loss­es and, many felt, threat­ened their job security.
Costs and afford­abil­i­ty ranged great­ly by state. Wis­con­sin was the most afford­able: A fam­i­ly of four earn­ing the state medi­an income could expect to pay just over $1,400 for sum­mer care for two chil­dren, 9% of the aver­age income of a two-par­ent fam­i­ly in those months. The same fam­i­ly in Neva­da could expect to spend more than $6,700 on sum­mer child­care — more than half of its income over the sum­mer months.
Chil­dren left home alone ​"are often scared and lone­ly," says Marie Hartwell-Walk­er, Ed.D., a retired mar­riage and fam­i­ly ther­a­pist and con­trib­u­tor to Psy​ch​Cen​tral​.com. ​"In order to keep them safe, their par­ents don't allow them to be out play­ing with oth­er kids. As a result, many kids left alone don't prop­er­ly devel­op the social skills that come from being engaged with their peers."
They're also at high­er risk of obe­si­ty, she says: ​"When kids are inside and alone most of the time, many eat for enter­tain­ment and as a way to deal with the bore­dom and lone­li­ness they feel." And research shows chil­dren often do not respond safe­ly in emer­gen­cies like fires.

​"We also know that when chil­dren are bored, they can become very inquis­i­tive in both pos­i­tive and neg­a­tive ways," says Mimi LeClair, pres­i­dent and CEO of the Boys & Girls Clubs of Chica­go, whose 20-plus Chica­go-area clubs cur­rent­ly pro­vide low-cost sum­mer pro­gram­ming for near­ly 20,000. ​"There is so much risk for our young peo­ple to become vic­tims — or per­pe­tra­tors — of vio­lence, espe­cial­ly if they're left unat­tend­ed for extend­ed peri­ods." Experts also say a lack of expo­sure to some aca­d­e­m­ic pro­gram­ming over the sum­mer can widen an exist­ing achieve­ment gap for chil­dren in low­er-income fam­i­lies.
MEET­ING SPE­CIAL NEEDS
Kim­ber­ly Willis Green lives in sub­ur­ban Hen­ry Coun­ty, Ga., and is a divorced moth­er of three boys (14, 13 and 9). She says that par­ents, like her, of chil­dren with spe­cial needs face par­tic­u­lar sum­mer care chal­lenges. In 2013, her son Capers was abrupt­ly released from a spe­cial-needs sum­mer camp. He has mild cere­bral pal­sy and Lennox-Gas­taut syn­drome, a rare form of epilepsy.
"I thought I had a [sum­mer] plan for him that week, and basi­cal­ly it fell apart after two days," recalls Green. ​"I was told he could not stay because the program's staff was not ade­quate­ly trained to admin­is­ter his emer­gency seizure med­ica­tion Dia­s­tat, which is sim­i­lar to an EpiPen."
Green, who vol­un­teers with the non­prof­it Par­ent 2 Par­ent of Geor­gia, a parental advo­ca­cy group for chil­dren with spe­cial needs, says many com­pete for a minis­cule num­ber of slots in ​"inclu­sive" sum­mer pro­grams. The few who get their chil­dren in, she says, are often sad­dled with high­er fees, usu­al­ly for extra staffers or oth­er spe­cial­ized support.
Green's mid­dle son, Kyle, has Asperg­er syn­drome, a con­di­tion on the autism spec­trum. Despite record num­bers of diag­noses in recent years, she says many sum­mer pro­grams are still ill-equipped.
"I call it the ​'invis­i­ble dis­abil­i­ty,'" Green says. ​"He strug­gles with social inter­ac­tion and some behav­ioral issues. And because of those issues, kids like him are [often] dis­missed from camp."
SEEK­ING SOLUTIONS
Nina LeMieux, a sin­gle mom of three in the sleepy town of Barre, Vt., shared an emo­tion­al sto­ry with Ver­mont leg­is­la­tors in April. When the child­care facil­i­ty her three chil­dren attend­ed abrupt­ly closed with only 20 days notice, it set off a chain reac­tion. LeMieux had to resign from her full-time state job with ben­e­fits to stay home with them, then ages 6, 4 and 5 months. She found replace­ment care in six months, but lost her sav­ings, much of her retire­ment mon­ey and, final­ly, her apartment.
Tes­ti­mo­ny from LeMieux and oth­ers helped inspire the state leg­is­la­ture to pass a bud­get that includ­ed $7.4 mil­lion in child­care invest­ments, includ­ing a boost for the Child Care Finan­cial Assis­tance Pro­gram (CCFAP), which sub­si­dizes both year-round and sum­mer care.
LeMieux now works a tem­po­rary, part-time posi­tion with no ben­e­fits or paid time off with the state of Ver­mont. This sum­mer, she'll receive a CCFAP sub­sidy for child­care — but her out-of-pock­et costs remain $165 for her three chil­dren, 31% of her month­ly gross income. She's con­sid­er­ing mov­ing her old­er kids to a school dis­trict clos­er to their father's home for more child­care options.
The child­care quandary has emerged as a hot talk­ing point among many of the 2020 pres­i­den­tial race con­tenders, includ­ing Demo­c­ra­t­ic Sen. Eliz­a­beth War­ren (Mass.) and Sen. Kamala Har­ris (Calif.), who have pro­posed sweep­ing fed­er­al inter­ven­tions. In Feb­ru­ary, Sen. Pat­ty Mur­ray (D‑Wash.) and Rep. Bob­by Scott (D‑Va.) rein­tro­duced the Child Care for Work­ing Fam­i­lies Act.
The mea­sure, orig­i­nal­ly intro­duced in 2017, would guar­an­tee child­care assis­tance for low-income and mid­dle-class fam­i­lies with chil­dren younger than 13. The bill would ensure that child­care cost no more than 7% of their income. Sup­port­ers are opti­mistic about its fate with a Demo­c­ra­t­ic House majority.
CAP's report also cites oth­er poten­tial solu­tions, such as the expan­sion of the fed­er­al Child Care and Devel­op­ment Block Grant pro­gram, which pro­vides fund­ing to states for after-school or sum­mer care.
Novoa says 21st Cen­tu­ry Com­mu­ni­ty Learn­ing Cen­ters (21st CCLCs), the only fed­er­al­ly fund­ed com­mu­ni­ty-based after-school and sum­mer pro­grams, are an under­uti­lized resource that could be tapped. CCLCs cur­rent­ly serve 2 mil­lion chil­dren year-round and more than 300,000 over the sum­mer. But Novoa believes ​"that is just a frac­tion of what is need­ed," not­ing that 21 mil­lion youth are eligible.
Chica­go moth­er Wan­da Noyes agrees that pol­i­cy­mak­ers should look at expand­ing the 21st CCLCs, as well as sub­si­diz­ing afford­able pro­grams like the YMCA and the Boys & Girls Clubs of Amer­i­ca. Noyes' sev­en chil­dren ​"grew up" in Boys & Girls clubs, which kept them out of trou­ble and engaged aca­d­e­m­i­cal­ly and social­ly, she says. Two of her chil­dren, one a ris­ing high school senior and the oth­er a soon-to-be col­lege fresh­man, com­plet­ed a tran­sit author­i­ty intern­ship and a phar­ma­cy tech train­ing pro­gram, respec­tive­ly, that they land­ed through the pro­grams. Now the direc­tor of the same branch her chil­dren attend­ed, she says she is con­vinced America's child­care acces­si­bil­i­ty prob­lem won't change until those in pow­er make a point of it.
"There should be a viable place for all of our kids to go, to be safe and to learn, instead of get­ting into trou­ble and being out on the streets," she says. ​"It should be everybody's busi­ness to make this a priority."