Bernie Is Right: The Military-Industrial Complex Is Alive and Well
For some, the Paris attacks were a windfall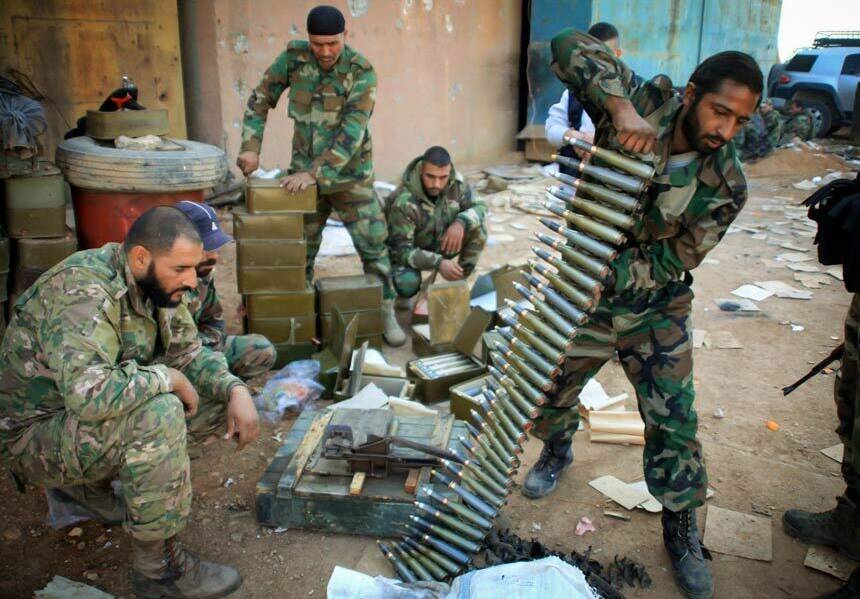 Dur­ing the last Demo­c­ra­t­ic debate, the pres­i­den­tial can­di­dates pledged to make defeat­ing ISIS a pri­or­i­ty. But more sig­nif­i­cant was the ques­tion raised by Bernie Sanders about front-run­ner Hillary Clinton's cor­po­rate donors ​"from Wall Street, from the mil­i­tary-indus­tri­al com­plex" and ​"what they're gonna get" for their money.
The Paris attacks occurred on a Friday. When the markets opened on Monday, "defense" industry stocks—Boeing, Raytheon, Northrop Grumman, Lockheed Martin, General Dynamics, Booz Allen Hamilton—soared in anticipation of the coming weapons sales and security contracts.
As long as we con­tin­ue to allow cor­po­rate fund­ing of can­di­dates for high office, we will con­tin­ue to have cor­po­rate-dri­ven poli­cies. Big Oil sup­ports a strong U.S. mil­i­tary pres­ence in the Mid­dle East and North Africa to prop up repres­sive regimes that serve its inter­est and to stamp out demo­c­ra­t­ic or nation­al­ist gov­ern­ments that might seek to expel for­eign investors and U.S. mil­i­tary bases. This fuels insta­bil­i­ty, anti-West­ern anger and ter­ror­ism. That ter­ror­ism, in turn, boosts prof­its for the mil­i­tary-indus­tri­al com­plex. The Paris attacks occurred on a Fri­day. When the mar­kets opened on Mon­day, ​"defense" indus­try stocks — Boe­ing, Raytheon, Northrop Grum­man, Lock­heed Mar­tin, Gen­er­al Dynam­ics, Booz Allen Hamil­ton—soared in antic­i­pa­tion of the com­ing weapons sales and secu­ri­ty con­tracts. Any for­eign pol­i­cy with the poten­tial to sta­bi­lize the region is bad for busi­ness and won't get cor­po­rate back­ing, and thus won't get a fair hear­ing in the Pen­ta­gon, the halls of Con­gress or the cor­po­rate press.
The results of poli­cies that cater to Big Oil and the mil­i­tary-indus­tri­al com­plex come as no sur­prise. Since 9⁄11, five coun­tries in the region — Afghanistan, Iraq, Libya, Syr­ia and Yemen — have dis­in­te­grat­ed as nation states. Three were the focus of direct Amer­i­can inter­ven­tions. The fourth (Yemen) was desta­bi­lized by an Amer­i­can drone war. The fifth (Syr­ia) suf­fered from the chaos and may­hem in neigh­bor­ing Iraq and from a flood of U.S. arms to so-called mod­er­ate rebels.
Bernie Sanders, who has shunned cor­po­rate fund­ing for his cam­paign, deserves cred­it for dis­cussing our dis­as­trous his­to­ry of régime change. Dur­ing the debate, in addi­tion to Iraq, Sanders men­tioned the 1953 CIA-ini­ti­at­ed coup to over­throw Moham­mad Mossadegh, the demo­c­ra­t­i­cal­ly elect­ed leader of Iran, which caused untold suf­fer­ing for the Iran­ian peo­ple and spurred decades of con­flict between the Unit­ed States and Iran. Sanders failed to men­tion that the coup was ini­ti­at­ed for the direct ben­e­fit of Big Oil. (Mossadegh had nation­al­ized Iran's oil reserves in 1951.)
Sanders' mes­sage is mud­died by his sup­port for régime change in Afghanistan, which result­ed in a cost­ly and bloody 13-year U.S. occu­pa­tion that failed to weak­en the Tal­iban, and has pro­duced a flood of refugees and poten­tial ISIS recruits. Why was it nec­es­sary, after 9⁄11, to oblit­er­ate the Tal­iban because they ​"har­bored" ter­ror­ists, while leav­ing a régime in Sau­di Ara­bia that fund­ed that very same terrorism?
The dis­par­i­ty is easy to under­stand. The Sau­di régime may be fund­ing the ene­mies of the Amer­i­can peo­ple, but they are a friend to its cor­po­ra­tions, and thus a reli­able U.S. ally. Sau­di Ara­bia is one of the largest buy­ers of U.S. weapons, which it is present­ly using to bomb its neigh­bor, Yemen. Again, on behalf of the arms indus­try, our lead­ers are ignor­ing evi­dence of Sau­di war crimes in Yemen in order to ensure con­gres­sion­al sup­port of a $1.29 bil­lion arms sale (approved by the State Depart­ment the Mon­day after the Paris bomb­ing) that includes thou­sands of ​"smart" and gen­er­al-pur­pose bombs.
On top of which we have the puz­zle of the Nation­al Secu­ri­ty Agency and oth­er spy agen­cies that receive tens of bil­lions of dol­lars (their exact bud­gets are secret) to col­lect and ana­lyze Amer­i­cans' per­son­al data. Yet every large-scale ter­ror­ist attack from Bali to Madrid, Lon­don, Mum­bai, Boston, Kenya, Paris and most recent­ly, San Bernardi­no, comes as a com­plete sur­prise. Such fail­ures are easy to under­stand. Cor­po­rate-dri­ven poli­cies favor lucra­tive con­tracts over demon­strat­ed effec­tive­ness. Thus, rather than hire a rea­son­able num­ber of intel­li­gence pro­fes­sion­als to inves­ti­gate actu­al threats, we hire for-prof­it cor­po­ra­tions to col­lect the data, oth­ers to store it all in huge data ware­hous­es, and still oth­ers to write and run algo­rithms to try and find the ter­ror­ists. The result is a bureau­crat­ic morass of ana­lysts drown­ing in data — and tax­pay­er dollars.
Until we can find a way to end the illic­it union between cor­po­rate pow­er and for­eign pol­i­cy, Amer­i­ca will con­tin­ue to play the dual roles of arson­ist and fire brigade, and tax­pay­ers will con­tin­ue get­ting burned on both ends.