Pebble Mine: "One More Indicator That We Are Undoubtedly the Dumbest Species on the Planet"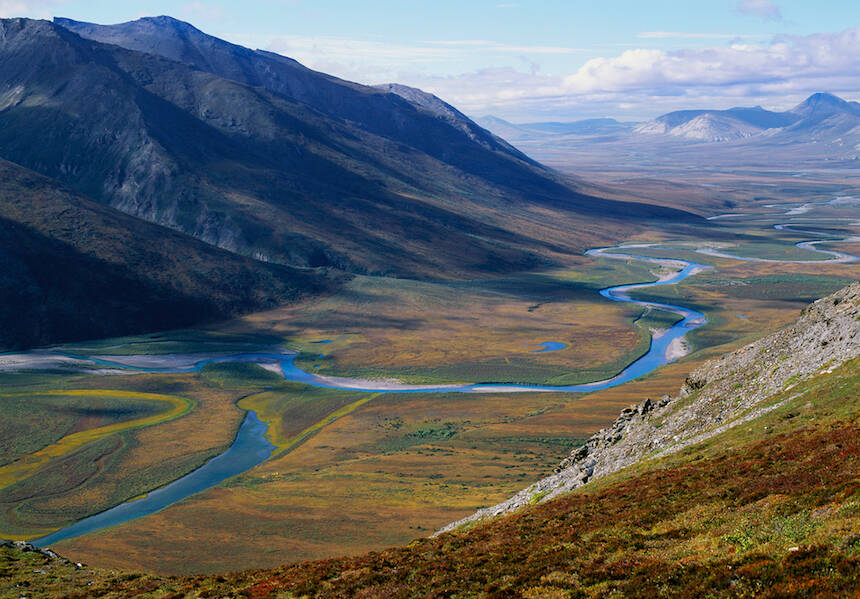 Fun­ny how projects that would be holo­causts for Earth nev­er seem to stay dead.
Look no fur­ther than the pro­posed Peb­ble Mine in south­west­ern Alaska's Bris­tol Bay. In 2002, after deposits of cop­per, gold, and molyb­de­num were con­firmed to the tune of $300 bil­lion, the dream of a huge open pit mine was born — with a pro­pos­al to remove 10 bil­lion tons of rock, cre­ate two arti­fi­cial lakes over four miles long, and con­struct a mine as deep as the Grand Canyon and as big as Manhattan.
Dur­ing the Oba­ma Admin­is­tra­tion, Alaskans and oth­er groups suc­cess­ful­ly fought to get the Envi­ron­men­tal Pro­tec­tion Agency (EPA) to declare the area off-lim­its to min­ing under a rarely-used pro­vi­sion of the Clean Water Act. The agency even­tu­al­ly declared that the mine would result in the ​"com­plete loss of fish habi­tat" due to the destruc­tion of 22 miles of streams and more than six square miles of wetlands.
But it only took an hour after a meet­ing between Pres­i­dent Trump's EPA-head Scott Pruitt and the CEO of the Peb­ble Lim­it­ed Part­ner­ship for Pruitt to reverse that deter­mi­na­tion. His deci­sion now allows the per­mit appli­ca­tion process to move forward.
Prob­lem is, that part of Alas­ka is the last place in the world that a mine should be built. Fifty-six mil­lion sock­eye salmon call Bris­tol Bay home — mak­ing it one of the last, great salmon fish­eries on Earth. Near­ly half of the world's sock­eye catch comes from this one region, sup­port­ing some 14,000 jobs, gen­er­at­ing about $480 mil­lion annu­al­ly, and feed­ing 4,000 year-old Alas­ka native communities.
Sock­eye salmon swim­ming in Alaska's Bris­tol Bay. Note: their bod­ies only turn red when they reach their spawn­ing grounds. When in the ocean, sock­eye are a blue or sil­ver col­or.
(Image: Ben Knight /
earth​jus​tice​.org
)
Of course, it's not just the Peb­ble Mine pro­tec­tions that are here today and gone tomor­row. Whether it's ura­ni­um min­ing in cen­tral Vir­ginia, coal ship­ping ter­mi­nals in Wash­ing­ton, or fed­er­al land pro­tec­tions in the West, ecosys­tems and nature are just polit­i­cal foot­balls; always one elec­tion away from being tram­pled to death.
Enough Already
We treat the nat­ur­al envi­ron­ment with less legal pro­tec­tions than we treat our own right to car­ry firearms. And that is just one more indi­ca­tor that we are undoubt­ed­ly the dumb­est species on the plan­et. While our very lives depend on clean air, clean water, and the sus­te­nance pro­vid­ed by this plan­et, we con­tin­ue to treat Earth as some­thing that can be sold off to the high­est bid­der with­out consequence.
Enough already. The kind of change we need won't come about because we ​"raise con­scious­ness," recy­cle more, take short­er show­ers or write more let­ters to Con­gress. We need a plain old rev­o­lu­tion that ele­vates nature and ecosys­tems to the high­est form of pro­tec­tion avail­able under our law — that of rights. And we need to give up hope that the fox­es in charge of the cur­rent hen­house will do any­thing to move in that direction.
Three dozen com­mu­ni­ties in the Unit­ed States, includ­ing the City of Pitts­burgh, have been lead­ing the way — adopt­ing local laws that rec­og­nize that ecosys­tems have rights to exist, flour­ish, regen­er­ate, and to be restored when dam­aged. Courts in India, Colom­bia, and Ecuador have held that rivers, glac­i­ers and oth­er ecosys­tems pos­sess inde­pen­dent­ly enforce­able rights of their own. At least two coun­tries have placed con­sti­tu­tion­al pro­tec­tions for nature direct­ly into their nation­al constitutions.
In the Unit­ed States, with the help of those who care about the riv­er, the Col­orado Riv­er ecosys­tem recent­ly sued the State of Col­orado for the gross malfea­sance of gov­er­nance that has almost killed off the River.
Bring It On
Rivers with a right to flow? Yes. Forests with the right to exist? Absolute­ly. Wet­lands with a right to do what wet­lands do? With­out a doubt. The cli­mate with a right to exist with­out fos­sil fuel emis­sions? Bring it on.
Let's dance. And let the naysay­ers explain why it's okay some­how to con­tin­ue to treat places like Bris­tol Bay as just anoth­er dump­ing ground. They're the same idiots that defend­ed slav­ery, denied women the right to vote and stopped African-Amer­i­cans from vot­ing. They're the same venal morons who brought us ​"cor­po­rate rights," ​"what's good for Gen­er­al Motors is good for Amer­i­ca," and ​"nuclear pow­er: too cheap to meter." They'll say any­thing to any­one to con­tin­ue to clutch at their avenues of wealth, con­trol and power.
If now isn't the time to have that fun­da­men­tal bat­tle to remove their cold dead hands from our sus­tain­able future, then I think we've for­got­ten com­plete­ly what bat­tles are for.
Time to put our big boy pants on, and gid­dyup. Let's go.
(​"Peb­ble Mine: Risen from the Dead" was orig­i­nal­ly pub­lished on the Com­mu­ni­ty Envi­ron­men­tal Defense Fund's (CELDF) web­site and is repost­ed on Rur­al Amer­i­ca In These Times with per­mis­sion. For more infor­ma­tion on the Rights of Nature move­ment, click here.)
A trail­er for ​

"

We the Peo­ple

2

.

0

" — the

2016

fea­ture-length doc­u­men­tary about cor­po­rate pow­er in the Unit­ed States and the com­mu­ni­ty rights move­ment fight­ing against it.
(Video:
TreeTV
/ YouTube)