'People's Board' Takes On Rahm Emanuel's Handpicked School Board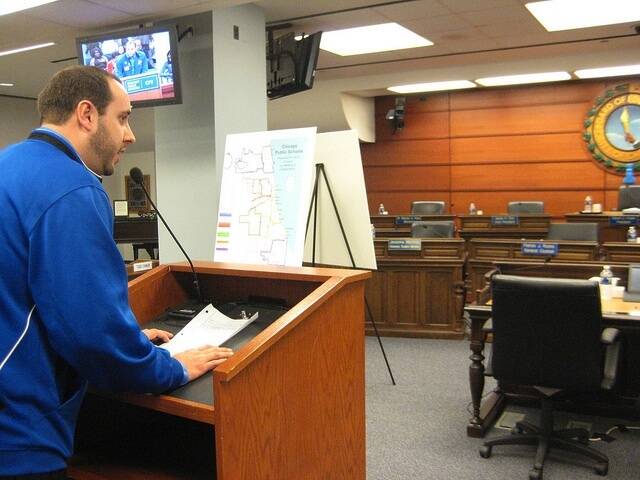 Jitu Brown, an edu­ca­tion orga­niz­er at Chicago's Ken­wood Oak­land Com­mu­ni­ty Orga­ni­za­tion, has been a fix­ture at Chica­go Board of Edu­ca­tion meet­ings for the last few years. Almost every month, he exco­ri­ates the board for sign­ing off on poli­cies like the unprece­dent­ed clo­sure of 50 pub­lic schools this May or bud­gets that drain mon­ey from neigh­bor­hood schools.
But Brown says his days of com­plain­ing to deaf ears are over.
Ken­wood Oak­land Com­mu­ni­ty Orga­ni­za­tion and groups such as Action Now, many of which are loose­ly allied with the Chica­go Teach­ers Union through shared city­wide activist coali­tions, were con­spic­u­ous­ly absent from Wednes­day morning's Board of Edu­ca­tion meet­ing in down­town Chica­go. Instead, these advo­cates con­vened Wednes­day night at Mt. Carmel Mis­sion­ary Bap­tist Church in Chicago's Bronzeville neigh­bor­hood to hold the inau­gur­al ​"People's Board of Education."
The few dozen atten­dees — includ­ing sev­er­al high school stu­dents, mem­bers of the teach­ers union, and rep­re­sen­ta­tives of Chica­go neigh­bor­hood orga­ni­za­tions — were there to try out a new orga­niz­ing strat­e­gy. Instead of engag­ing a Board of Edu­ca­tion that is appoint­ed by May­or Rahm Emanuel and serves entire­ly at the plea­sure of the may­or (Emanuel appoint­ed a com­plete­ly new board when he took office in April 2011), they will fight for leg­is­la­tion in the state of Illi­nois that would ush­er in a school board decid­ed by Chica­go voters.
Brown says that his recent orga­niz­ing efforts to get par­ents, teach­ers, stu­dents and com­mu­ni­ty mem­bers to attend offi­cial Chica­go Pub­lic Schools events, like the month­ly board meet­ings and hear­ings this spring on the school shut­downs, amount­ed to wast­ed energy.
​"We went to school clos­ing hear­ings orga­nized by CPS as opposed to steer­ing peo­ple away from those meet­ings and toward the fight for an elect­ed school board," Brown said in an inter­view with Work­ing In These Times after the People's Board of Edu­ca­tion meet­ing. ​"We had furi­ous anger but it was mis­di­rect­ed. It was like pour­ing water into a glass with a hole in the bottom."
The People's Board of Edu­ca­tion actu­al­ly decid­ed to design their meet­ing sim­i­lar to an offi­cial CPS event. Com­mu­ni­ty activist board mem­bers gave brief open­ing remarks about the need to ​"fight a focused fight," in the words of Brown, and per­suade state law­mak­ers to sup­port an elect­ed school board. The people's board then turned the meet­ing over to short talks by audi­ence mem­bers, much like the Chica­go Board of Edu­ca­tion lets reg­is­tered pub­lic speak­ers address the board for up to two minutes.
Ani­ta Orakoff, a res­i­dent of the Hyde Park-Ken­wood neigh­bor­hood, empha­sized the need to increase the vis­i­bil­i­ty and pull of Local School Coun­cils — elect­ed bod­ies at each Chica­go pub­lic school that have the pow­er to hire the school's prin­ci­pal and make some bud­get deci­sions. Orakoff point­ed out that the mem­bers of LSC's are cur­rent­ly the only edu­ca­tion offi­cials in the city that are direct­ly account­able to voters.
Juani­ta Dou­glas, a teacher at Lin­coln Park High School, said that she would like CPS cen­tral office offi­cials to spend more time in the schools. ​"I would tell the board to come under­cov­er. Come see what's going on, sit with the teach­ers," Dou­glas said. ​"It's not all ugly; I love every­thing about teach­ing my kids to grow."
Pauline Lip­man, an edu­ca­tion pro­fes­sor at the Uni­ver­si­ty of Illi­nois-Chica­go who attend­ed the meet­ing, said that while the struc­ture was sim­i­lar to Board of Edu­ca­tion meet­ings, the dif­fer­ence was that the People's Board mem­bers listened.
​"I have gone to the Board of Edu­ca­tion and stood in line start­ing at 6:00 in the morn­ing only to speak for two min­utes to peo­ple who are tex­ting and read­ing the news­pa­per while we're talk­ing to them," Lip­man said.
Lip­man co-authored a 2011 Uni­ver­si­ty of Illi­nois-Chica­go study that com­pared elect­ed to appoint­ed school boards across the coun­try. The study cit­ed exam­ples such as school boards in Mil­wau­kee and San Fran­cis­co, where elect­ed boards vot­ed against mat­ters pro­posed by dis­trict offi­cials, such as school clos­ings, after a com­mu­ni­ty input process.
Lip­man says that while an elect­ed school board is ​"no mag­ic bul­let," it is a ​"nec­es­sary con­di­tion to restore democ­ra­cy in edu­ca­tion to Chicago."
Still, the strat­e­gy of giv­ing up on the cur­rent board and fight­ing for a new one is risky.
Intro­duced in Jan­u­ary 2013 by State Rep. Elgie Sims, a South Side Chica­go Demo­c­rat who says that he works close­ly with edu­ca­tion activists, Illi­nois House Bill 2793, which calls for an elect­ed Chica­go school board, is cur­rent­ly in the state's House Rules Com­mit­tee. Brown not­ed that com­mit­tee is tra­di­tion­al­ly where ​"bills go to die."
Demo­c­ra­t­ic Gov. Pat Quinn, a Chica­go res­i­dent who is up for re-elec­tion next year, sup­ports an elect­ed Chica­go school board, putting him at odds with Emanuel. But state leg­isla­tive lead­ers like House Speak­er Mike Madi­gan, also a Chica­go Demo­c­rat, have stayed qui­et on the matter.
Brown says he will try and per­suade down­state law­mak­ers that the law is one way to bet­ter align Chica­go — the only dis­trict in the state with an appoint­ed, instead of elect­ed, school board — with the rest of Illinois.
Sims says that ​"before we push for­ward" on get­ting a Rules Com­mit­tee vote, he will wait and see if advo­cates are suc­cess­ful in get­ting more law­mak­ers to sup­port the measure.
Mean­while, oth­er Chica­go edu­ca­tion advo­cates, like the ​"Com­mon Sense Coali­tion of LSC's," are still try­ing to engage the appoint­ed board. Coali­tion mem­ber Kate Bolduc said that the group is push­ing the may­or and CPS offi­cials to tour schools hit by recent bud­get cuts that evis­cer­at­ed art and music pro­grams. The coali­tion is also push­ing the city to invest sur­plus Tax Incre­ment Finance dol­lars—prop­er­ty tax rev­enue cur­rent­ly divert­ed to eco­nom­ic devel­op­ment projects of City Hall's choos­ing — in Chica­go schools.
​"We have no posi­tion yet on an elect­ed school board," Bolduc says. ​"We're focus­ing on fis­cal reform right now."
Matthew Blake
is a free­lance jour­nal­ist based in Chica­go. He has writ­ten for the
Chica­go Jour­nal, Wash­ing­ton Month­ly, Wash­ing­ton Inde­pen­dent
and
The Nation
, among oth­er publications.