"Our Biggest Enemy Is PG&E": Inside the Fight to Put Utilities Under Public Control
Evacuees of the Kincade Fire and members of the Democratic Socialists of America are demanding PG&E be dismantled.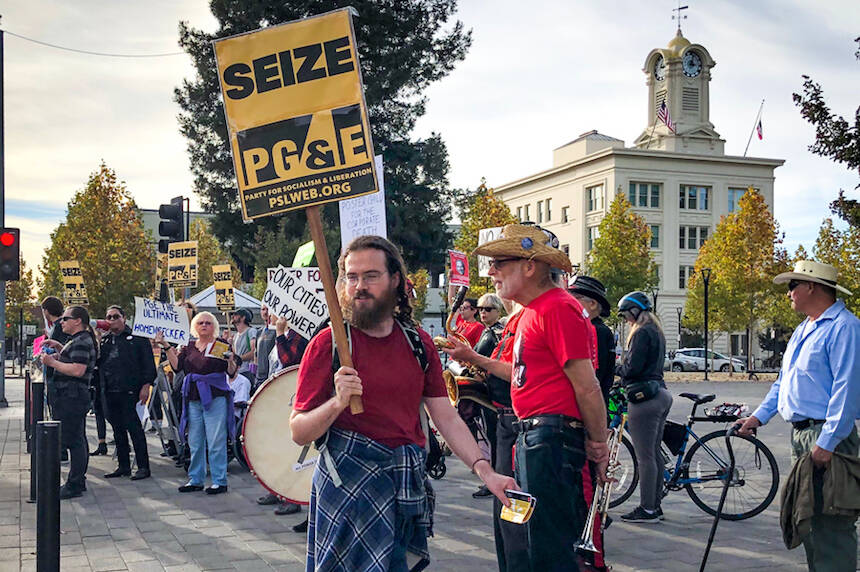 SAN­TA ROSA, Calif. — ​"We've been evac­u­at­ed twice in the past five years," J.D. Opper­man tells a small crowd of around 30 who had gath­ered to protest Pacif­ic Gas and Elec­tric Com­pa­ny (PG&E) in down­town San­ta Rosa on Nov. 16, 2019. Among the pro­test­ers were mem­bers of the Marin, North Bay and East Bay chap­ters of the Demo­c­ra­t­ic Social­ists of Amer­i­ca (DSA). They held hand­made signs read­ing ​"PG&E: The ulti­mate home­wreck­er" and ​"PG&E: Poster child for the cor­po­rate death penalty."
Opper­man explained the first time he was evac­u­at­ed, dur­ing the Tubbs Fire that hit San­ta Rosa in 2017, it was ​"ter­ri­bly fright­en­ing. I had to pack every­thing I owned, shove it into my car. I was in school, a stu­dent, wor­ried about exams and every­day things. I have a child."
After the fire, Opper­man sought cheap rent in Guerneville, a small town in the red­woods on the edge of the Russ­ian Riv­er. It's not sur­round­ed by a tin­der box of dry fields like San­ta Rosa, but when the Kin­cade Fire broke out in Octo­ber 2019, Opper­man was again forced to evacuate.
"This time around was even more fright­en­ing," he told the crowd as it stood solemn­ly in Old Cour­t­house Square. ​"The fire forced the evac­u­a­tion of my two 80-year-old grand­par­ents, one of whom end­ed up in the hos­pi­tal for a stom­ach ulcer from the stress. My fam­i­ly and I called around but every hotel was booked, we had nowhere to go. My girl­friend had a pan­ic attack about mon­ey; our busi­ness­es [were] closed and we [couldn't] earn the mon­ey we need­ed to sur­vive. My daugh­ter had a pan­ic attack as well. She was over­whelmed by the situation."
Opper­man was just one of the atten­dees who per­son­al­ly expe­ri­enced the stress of last-minute evac­u­a­tions — from San­ta Rosa, Guerneville and Wind­sor. But the protest wasn't just for peo­ple to share trau­ma; there was a strong call to dis­band PG&E, par­tic­u­lar­ly from local demo­c­ra­t­ic socialists.
"We are here today to voice our col­lec­tive out­rage" against PG&E's cor­po­rate inter­ests, says Bran­di Chalk­er of North Bay DSA. ​"Our biggest ene­my is PG&E itself. The losers in this game? That's us, folks. We stand against PG&E as a cor­po­rate, for-prof­it entity."
Opperman's fam­i­ly mem­bers were just a few of the near­ly 200,000 peo­ple forced to flee the Kin­cade Fire, which burned more than 77,000 acres — mak­ing it the largest wild­fire ever in Sono­ma Coun­ty. An inves­ti­ga­tion is ongo­ing, but it appears to have start­ed from a spark from a bro­ken cable on a high trans­mis­sion pow­er line. It's not the first time the util­i­ty has been blamed for a blaze, includ­ing the Camp Fire in 2018, which killed 85 peo­ple in Par­adise, Calif.
While cli­mate change and drought have made Cal­i­for­nia par­tic­u­lar­ly vul­ner­a­ble to fast-mov­ing, pow­er­ful fires, the sit­u­a­tion has been exac­er­bat­ed by PG&E's fail­ure to secure all of its pow­er lines and trans­form­ers. Trim­ming over­grown trees near pow­er lines is a proven pre­ven­ta­tive mea­sure, but the com­pa­ny has been slow to nego­ti­ate with tree-trim­ming con­trac­tors. Of the 2,455 miles of veg­e­ta­tion along pow­er lines iden­ti­fied as high risk, PG&E has only trimmed 760 miles of it. In June 2019, the bank­rupt util­i­ty announced plans to shell out $11 mil­lion in per­for­mance bonus­es to its executives.
As wild­fires have become a sea­son­al norm, pres­sure has risen for a pub­lic takeover of the share­hold­er-owned PG&E, mir­ror­ing calls across the nation for util­i­ties to be placed under pub­lic con­trol. Many util­i­ty coop­er­a­tives do exist: The Delaware Elec­tric Coop­er­a­tive, for exam­ple, was found­ed in 1936 and serves 101,000 peo­ple, and Blue­bon­net Elec­tric Coop­er­a­tive has served 14 Cen­tral Texas coun­ties since 1939. In addi­tion to pro­vid­ing cus­tomers with added trans­paren­cy over deci­sions and finances, co-op util­i­ty com­pa­nies can also pro­vide local eco­nom­ic opportunities.
But 2019 marked a shift in Cal­i­for­nia as homes and busi­ness­es con­tin­ued burn­ing and mass evac­u­a­tions and pow­er shut-offs hit an unprece­dent­ed scale. By ear­ly Novem­ber, PG&E shut off near­ly 2.5 mil­lion cus­tomers, the largest such event in state his­to­ry, and politi­cians are pay­ing atten­tion. More than 20 Cal­i­for­nia may­ors, led by San Jose May­or Sam Lic­car­do (D), signed on to a plan to turn PG&E into a cus­tomer-owned coop­er­a­tive. Pres­sure is on for Gov. Gavin New­som (D) to take a stance on what will cer­tain­ly become a key vot­er issue.
The exact logis­tics of a takeover are still unclear. Despite fil­ing for Chap­ter 11 bank­rupt­cy, PG&E declined to sell in Sep­tem­ber 2019 after San Fran­cis­co offi­cials made a $2.5 bil­lion offer for the city's elec­tric grid.
Mean­while, PG&E CEO Bill John­son says the pub­lic should expect rolling black­outs for a decade. Hours after the San­ta Rosa protest, news emerged that high winds ensured more pow­er out­ages on the imme­di­ate horizon.
"Pub­lic own­er­ship of this util­i­ty is a def­i­nite neces­si­ty," Opper­man told the crowd at the San­ta Rosa protest. ​"There is no rea­son that some­thing that is so crit­i­cal to the mod­ern world and the func­tion­ing of dai­ly life should be owned by a pri­vate industry."
Nuala Bishari
is an award-win­ning free­lance reporter based in San Fran­cis­co, where she cov­ers pol­i­tics, home­less­ness and pub­lic health.