Phil Ochs: The Forgotten Man of the '60s Protest Era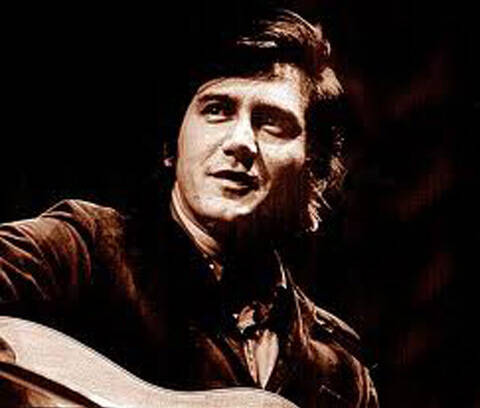 "A migrant worker sweats underneath the blazin' sun. He's fallen on his knees but his work is never done. He begs someone to listen but nobody seems to care, And I know that couldn't happen here. Oh, it must have been another country — Yes, it must have been another land. That couldn't happen in the U.S.A. We'd never treat a man that way." —Phil Ochs
With street protests on the rise across America, right now is a perfect time to remember folk singer and songwriter Phil Ochs. Ochs' prolific contributions have been largely overlooked in documentaries about the turbulent protest era of the ​'60s and ​'70s.
We've all heard the songs of Bob Dylan, Joan Baez and Pete Seeger. But somehow Ochs is ​"written out of history," says Ken Bowser, director of the feature-length documentary ​"Phil Ochs: There But For Fortune," which examines the life and times of the brilliant and iconic musician, who dealt with the escalating turmoil of mental illness. The film took Bowser 20 years to make.
He got permission from Ochs' family to make the film, ​"but I couldn't get it off the ground. No one was interested. They wanted to know, why make a film about a dead folksinger?" Browser told In These Times. ​"We can debate where he stands in the artistic pantheon of singer/​songwriters from the period. But he was second to none on the protest movement."
Recalls Bowser, ​"PBS did a documentary on the protest movement. He was not mentioned. His mental illness makes people uncomfortable. He didn't die of a drug overdose or in a plane crash. He killed himself. He regularly bit the hand that fed him. He called the left on shortcomings as regularly as he did the right."

Browser's film is not just about Ochs, but about an era. Ochs penned ​"I Ain't Marchin' Anymore," which became the anthem of the protest movement, but his prolific contributions from anti-war anthems to labor issues and racism are largely overlooked. Although Billy Bragg, the British songwriter, did pen this song in tribute to Ochs:

Beneath a Youtube video of Ochs singing ​"There But for Fortune," one viewer wrote: "…Phil would be appalled at the state of oppression, disenfranchisement and corruption to which we have sunk. Ochs was unique, committed to the degree that is nearly impossible today. Dylan may be a genius, and Seeger a national treasure, but Ochs stands alone in some sacred space."

In the film, his brother Michael says: ​"You'd hear about all these causes that needed help. He'd go to the South and do 
civil rights things. Phil would turn down a commercial job for a benefit because a benefit would reach more people."

Abbie Hoffman remembers in the film that ​"No matter how small or how big the group was, I can never remember him turning down anybody. Any chance to sing for a cause he believed in, Phil Ochs was there." Arthur Gorson, a friend of Ochs and a political organizer, says:
Phil went down to Kentucky because there was a miner's strike. We got to sleep in bathtubs (because) they came and shot up the rooms at night. He had politics with a sincere feeling that people should be treated equally.
Bowser's luck making the documentary changed when his project sparked the interest of producer Michael Cohl, producer of the Broadway rendition of ​"Spiderman. It was Browser's good fortune that Cohl remembered Ochs, who had played at his small nightclub in Toronto back in the day and had loved his music.

​"It's a great story and reflects the time he grew up in. What I didn't realize over 20 years ago was how prescient he was, and how much of his music would reflect what's going on up to this day," Browser says.

His career charted the politics of the times, and his own moods. ​"The first half was outward, biographic music about what's going on in the U.S. and his commitment and passion about the world. But the ​'60s roiled on. The Kennedy assassinations, Martin Luther King, the Kent State shootings, the ​'68 Chicago Convention, ​"kicked the heels out from under him," said Bowser. ​"He turned inward and burned out. His music became autobiographical. He left America like he ran away from a broken love affair — but he couldn't get away."

While in Chile, Ochs developed a friendship with protest singer Victor Jara. After returning to to the states, Ochs learned that Jara had been murdered during the 1973 Chilean military coup that toppled the democratically elected socialist government of Salvador Allende. Jara was shot to death as he defiantly sang to the 5,000 Chileans who had been rounded up as political dissidents and packed into a stadium that had been turned into a detention and torture center.

It was one of the final incidents that marked Ochs' downward spiral into severe depression.
Ochs went to South Africa and tried to record there, but an attack on the beach left his vocal cords damaged.

​"Doing the film, I spent a lot of time reading about manic-depressives and bipolar, a quality that many artists suffer from. On one level it was a gift to Phil. When they're in manic phase there's nothing they can't do. The problem is — there's a heavy cost for that on the other side." Added Brower: ​"The brutality of the times, combined with his mental illness and with drinking, turned into a perfect storm." Ochs died on April 9, 1976.

There But for Fortune, which has been showing at cinemas throughout 2011, following its initial release in late 2010, is available on DVD.
Socialism ... Seriously
"The most fun and accessible introduction to socialist ideas I've ever read."—Anand Gopal
For a limited time, when you donate $20 or more to support In These Times, we'll send you a copy of the new, expanded edition of Socialism ... Seriously by Danny Katch.

Rose Arrieta
was born and raised in Los Angeles. She has worked in print, broadcast and radio, both mainstream and community oriented — including being a former editor of the Bay Area's independent community bilingual biweekly El Tecolote. She currently lives in San Francisco, where she is a freelance journalist writing for a variety of outlets on social justice issues.