Police Are Still Getting Surplus Army Gear—and They're Using it to Crack Down on Standing Rock
The armored vehicles used during mass arrests of water protectors last week likely came from a controversial Defense Department program.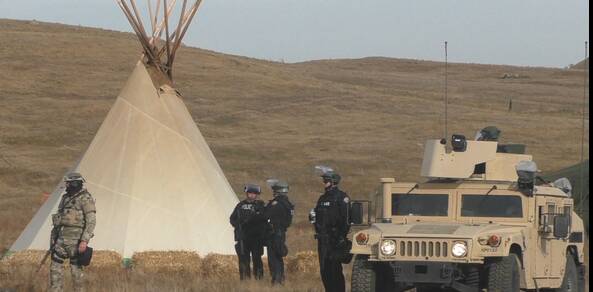 Last Thurs­day, hun­dreds of police and sheriff's deputies from eight states moved in to break up an encamp­ment of demon­stra­tors seek­ing to block con­struc­tion of the $3.8 bil­lion Dako­ta Access Pipeline near Can­non­ball, N.D. Hours of livestream and images from the scene show police offi­cers dri­ving mas­sive armored vehi­cles and bran­dish­ing assault rifles. They also used pep­per spray, rub­ber bul­lets and Tasers on demon­stra­tors and pur­sued them in ATVs.
Widely circulated images showed police using rifles and armored vehicles to confront protesters in Ferguson, Miss. following the killing of Black teenager Michael Brown. Now, local police are employing similar gear against the resistance movement led by the Standing Rock Sioux.
By the end of the day, more than 141 peo­ple had been arrest­ed. They lat­er report­ed being locked up in what appeared to be dog ken­nels. ​"It goes back to con­cen­tra­tion camp days," Mekasi Camp-Horinek, a Pon­ca tribe mem­ber who was among those detained, told the Los Ange­les Times.
Fol­low­ing the inci­dent, Stand­ing Rock Trib­al Chair­man David Archam­bault II called for the Jus­tice Depart­ment to inves­ti­gate police tac­tics. The demon­stra­tors, who fre­quent­ly refer to them­selves as ​"water pro­tec­tors," have for weeks accused the Oba­ma admin­is­tra­tion of stand­ing by while local police and pri­vate secu­ri­ty intim­i­date and attack them.
That's not the only way the fed­er­al gov­ern­ment may be enabling the crack­down. Police like­ly obtained much of the heavy equip­ment used to remove pro­test­ers through a Depart­ment of Defense (DOD) pro­gram that ships sur­plus mil­i­tary gear to local law enforce­ment depart­ments nationwide.
The con­tro­ver­sial sys­tem of mil­i­tary trans­fers, known as the 1033 pro­gram, has pre­vi­ous­ly been scru­ti­nized in con­junc­tion with aggres­sive polic­ing of Black Lives Mat­ter demon­stra­tions. In 2014, wide­ly cir­cu­lat­ed images showed police using rifles and armored vehi­cles to con­front pro­test­ers in Fer­gu­son, Miss. fol­low­ing the killing of Black teenag­er Michael Brown, rais­ing con­cerns about grow­ing police mil­i­ta­riza­tion. In addi­tion to the 1033 pro­gram, fed­er­al gov­ern­ment agen­cies includ­ing the Depart­ments of Jus­tice and Home­land Secu­ri­ty pro­vide sup­port to local law enforce­ment through grants or excess equip­ment trans­fers. Police depart­ments can also use their own fund­ing to buy equip­ment direct­ly from man­u­fac­tur­ers, though the hefty price tag for items like armored vehi­cles often pre­cludes this.
Now, local police are employ­ing sim­i­lar gear against the resis­tance move­ment led by the Stand­ing Rock Sioux and oth­er Native nations and tribes. Accord­ing to In These Times' review of avail­able data, the sheriff's depart­ment in Mor­ton Coun­ty, N.D., which is coor­di­nat­ing law enforce­ment efforts against demon­stra­tors, has received $300,000 worth of Pen­ta­gon hard­ware since 2006. Data from the DOD's Defense Logis­tics Agency, which man­ages the 1033 pro­gram, shows that the sheriff's office has received a Humvee, 19 assault rifles and a vehi­cle called a ​"tracked exca­va­tor," among oth­er gear. At least 15 out-of-state agen­cies have trav­elled to North Dako­ta at the request of the Mor­ton Coun­ty sher­iff, many of which have also been repeat recip­i­ents of mil­i­tary gear from the DOD.
As In These Times report­ed in Sep­tem­ber, the fed­er­al give­aways to local police have con­tin­ued unabat­ed in the last year, despite pledged reforms. Fol­low­ing a pub­lic out­cry over mil­i­ta­rized polic­ing in the wake of Fer­gu­son protests, Pres­i­dent Oba­ma announced changes to the pro­gram in May 2015, includ­ing a ban on the dis­tri­b­u­tion of items such as grenade launch­ers and weaponized air­craft to police.
But crit­ics charged that these changes were no more than win­dow dress­ing, in part because most of the banned items were rarely hand­ed out to police to begin with. Unless real reforms were made, they warned, police would be free to con­tin­ue using mil­i­tary-grade equip­ment against demon­stra­tors and vul­ner­a­ble communities.
The chaot­ic scenes com­ing out of Stand­ing Rock appear to val­i­date this con­cern. The extent of the involve­ment of the North Dako­ta Nation­al Guard, which deployed along­side local police, was ini­tial­ly unclear. A pub­lic affairs spe­cial­ist told In These Times that while all of the Humvees at the scene were the prop­er­ty of the Guard, the oth­er equip­ment was not.
Among the oth­er equip­ment in use dur­ing last week's mass arrests was a mine-resis­tant armor-pro­tect­ed vehi­cle (MRAP), which In These Times con­firmed is the prop­er­ty of the sheriff's depart­ment in Stutsman Coun­ty, N.D. Accord­ing to DLA data, Stutsman Coun­ty received this vehi­cle through the 1033 pro­gram in 2013, when it was val­ued at $658,000.
MRAPs are 15-ton vehi­cles orig­i­nal­ly designed to with­stand road­side bombs in war­zones. As of Sep­tem­ber, at least 84 police depart­ments had received sur­plus armored vehi­cles from the DOD this year. More than 100 oth­er depart­ments have been approved and are wait­ing to receive MRAPs, even though they are on a list of ​"con­trolled" items that law enforce­ment agen­cies must take spe­cial mea­sures to receive.
Tara Hous­ka, an activist affil­i­at­ed with the Native envi­ron­men­tal jus­tice group Hon­or the Earth, was in the crowd last Thurs­day and says that mil­i­ta­rized polic­ing aggra­vat­ed an already tense sit­u­a­tion. ​"Direct­ly across from us there was a police offi­cer sit­ting on top of the MRAP with his gun trained right at us the entire time," she recalls. Mount­ed on the MRAP was a long-range acousti­cal device (LRAD), a sound canon that can cause long-term hear­ing loss.
Stutsman Coun­ty sent per­son­nel and equip­ment, includ­ing the MRAP, to Stand­ing Rock in late Sep­tem­ber as part of a call for assis­tance made through an inter­state agree­ment called the Emer­gency Man­age­ment Assis­tance Com­pact. Law enforce­ment agen­cies from sev­en states respond­ed by send­ing their per­son­nel and equip­ment. Some of them stayed for up to two weeks, with North Dako­ta tax­pay­ers foot­ing the bill for all asso­ci­at­ed costs, includ­ing over­time, food and lodg­ing. That bill totaled $6 mil­lion, and the North Dako­ta Depart­ment of Emer­gency Ser­vices is now request­ing an addi­tion­al $4 mil­lion in order to con­tin­ue the police operation.
A spokesper­son at the North Dako­ta Depart­ment of Emer­gency Ser­vices told In These Times that at least 15 out-of-state agen­cies have sent assis­tance to the protest site, includ­ing the Wyoming State Patrol, the sheriff's office in Hen­nepin Coun­ty, Minn. and the Nebras­ka High­way Patrol. Data shows that many of these agen­cies have received sub­stan­tial quan­ti­ties of gear through the Pentagon's give­away program.
That includes the South Dako­ta High­way Patrol, which sent troop­ers to North Dako­ta for two weeks. The patrol is one of the 1033 program's biggest ben­e­fi­cia­ries in the Mid­west. Since 2006, it has received more than $2 mil­lion worth of mil­i­tary gear, includ­ing dozens of assault rifles, five armored vehi­cles — includ­ing an MRAP — two bomb dis­pos­al robots, a pair of heli­copters and more. In an email to In These Times, a pub­lic infor­ma­tion offi­cer for the South Dako­ta Depart­ment of Pub­lic Safe­ty said he could not con­firm whether any of this spe­cif­ic equip­ment was used by South Dako­ta troop­ers who trav­elled to Stand­ing Rock.
Accord­ing to media reports, the Lake Coun­ty Sheriff's Office in north­west Indi­ana also sent four deputies to North Dako­ta. The sheriff's depart­ment has obtained near­ly $1.5 mil­lion worth of mil­i­tary gear since 2006, includ­ing three heli­copters, two armored trucks and near­ly 100 assault rifles and ​"riot-type shot­guns." The office did not respond to a query about whether this deputies brought any of this gear to Stand­ing Rock. At least one Lake Coun­ty deputy brought a rifle to North Dako­ta, because media reports note that he acci­den­tal­ly shot him­self in the foot while prepar­ing the weapon.
At least six oth­er out-of-town law enforce­ment agen­cies involved in last week's arrests also received assault rifles through the 1033 pro­gram. They include the Pen­ning­ton Coun­ty sheriff's office in South Dako­ta, the Anoka Coun­ty sheriff's office in Min­neso­ta and the Grif­fith, Ind. police department.
Hon­or the Earth's Hous­ka notes that many pro­test­ers are dis­turbed by the now-stan­dard sight of ​"offi­cers and Dako­ta access pipeline secu­ri­ty folks car­ry­ing assault rifles."
Nev­er­the­less, Eryn Wise of the Inter­na­tion­al Indige­nous Youth Coun­cil tells In These Times that the water pro­tec­tors will not be deterred: ​"What­ev­er they plan for us, what­ev­er intim­i­da­tion tac­tics they plan to use, we're going to be here with our feet on the ground and our hands to the sky pro­tect­ing the earth."
Edi­tor's note: This arti­cle has been updat­ed to clar­i­fy that police depart­ments can obtain grants or excess equip­ment through sev­er­al fed­er­al agen­cies, in addi­tion to the 1033 program.
Seth Ker­sh­n­er
is a writer and researcher whose work has appeared in out­lets such as Rethink­ing Schools, Sojourn­ers, and Boul­der Week­ly. He is the co-author (with Scott Hard­ing) of
Counter-Recruit­ment and the Cam­paign to Demil­i­ta­rize Pub­lic Schools
(Pal­grave Macmil­lan,
2015
).