Police Are Still Getting Surplus Army Gear—and They're Using it to Crack Down on Standing Rock
The armored vehicles used during mass arrests of water protectors last week likely came from a controversial Defense Department program.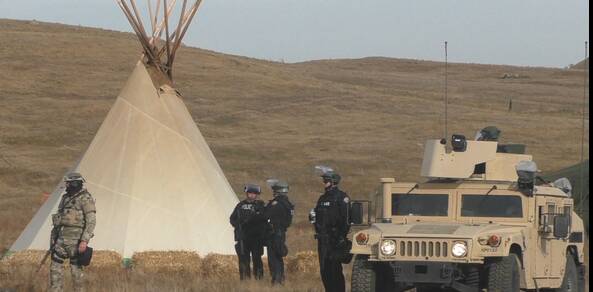 Last Thursday, hundreds of police and sheriff's deputies from eight states moved in to break up an encampment of demonstrators seeking to block construction of the $3.8 billion Dakota Access Pipeline near Cannonball, N.D. Hours of livestream and images from the scene show police officers driving massive armored vehicles and brandishing assault rifles. They also used pepper spray, rubber bullets and Tasers on demonstrators and pursued them in ATVs.
Widely circulated images showed police using rifles and armored vehicles to confront protesters in Ferguson, Miss. following the killing of Black teenager Michael Brown. Now, local police are employing similar gear against the resistance movement led by the Standing Rock Sioux.
By the end of the day, more than 141 people had been arrested. They later reported being locked up in what appeared to be dog kennels. ​"It goes back to concentration camp days," Mekasi Camp-Horinek, a Ponca tribe member who was among those detained, told the Los Angeles Times.
Following the incident, Standing Rock Tribal Chairman David Archambault II called for the Justice Department to investigate police tactics. The demonstrators, who frequently refer to themselves as ​"water protectors," have for weeks accused the Obama administration of standing by while local police and private security intimidate and attack them.
That's not the only way the federal government may be enabling the crackdown. Police likely obtained much of the heavy equipment used to remove protesters through a Department of Defense (DOD) program that ships surplus military gear to local law enforcement departments nationwide.
The controversial system of military transfers, known as the 1033 program, has previously been scrutinized in conjunction with aggressive policing of Black Lives Matter demonstrations. In 2014, widely circulated images showed police using rifles and armored vehicles to confront protesters in Ferguson, Miss. following the killing of Black teenager Michael Brown, raising concerns about growing police militarization. In addition to the 1033 program, federal government agencies including the Departments of Justice and Homeland Security provide support to local law enforcement through grants or excess equipment transfers. Police departments can also use their own funding to buy equipment directly from manufacturers, though the hefty price tag for items like armored vehicles often precludes this.
Now, local police are employing similar gear against the resistance movement led by the Standing Rock Sioux and other Native nations and tribes. According to In These Times' review of available data, the sheriff's department in Morton County, N.D., which is coordinating law enforcement efforts against demonstrators, has received $300,000 worth of Pentagon hardware since 2006. Data from the DOD's Defense Logistics Agency, which manages the 1033 program, shows that the sheriff's office has received a Humvee, 19 assault rifles and a vehicle called a ​"tracked excavator," among other gear. At least 15 out-of-state agencies have travelled to North Dakota at the request of the Morton County sheriff, many of which have also been repeat recipients of military gear from the DOD.
As In These Times reported in September, the federal giveaways to local police have continued unabated in the last year, despite pledged reforms. Following a public outcry over militarized policing in the wake of Ferguson protests, President Obama announced changes to the program in May 2015, including a ban on the distribution of items such as grenade launchers and weaponized aircraft to police.
But critics charged that these changes were no more than window dressing, in part because most of the banned items were rarely handed out to police to begin with. Unless real reforms were made, they warned, police would be free to continue using military-grade equipment against demonstrators and vulnerable communities.
The chaotic scenes coming out of Standing Rock appear to validate this concern. The extent of the involvement of the North Dakota National Guard, which deployed alongside local police, was initially unclear. A public affairs specialist told In These Times that while all of the Humvees at the scene were the property of the Guard, the other equipment was not.
Among the other equipment in use during last week's mass arrests was a mine-resistant armor-protected vehicle (MRAP), which In These Times confirmed is the property of the sheriff's department in Stutsman County, N.D. According to DLA data, Stutsman County received this vehicle through the 1033 program in 2013, when it was valued at $658,000.
MRAPs are 15-ton vehicles originally designed to withstand roadside bombs in warzones. As of September, at least 84 police departments had received surplus armored vehicles from the DOD this year. More than 100 other departments have been approved and are waiting to receive MRAPs, even though they are on a list of ​"controlled" items that law enforcement agencies must take special measures to receive.
Tara Houska, an activist affiliated with the Native environmental justice group Honor the Earth, was in the crowd last Thursday and says that militarized policing aggravated an already tense situation. ​"Directly across from us there was a police officer sitting on top of the MRAP with his gun trained right at us the entire time," she recalls. Mounted on the MRAP was a long-range acoustical device (LRAD), a sound canon that can cause long-term hearing loss.
Stutsman County sent personnel and equipment, including the MRAP, to Standing Rock in late September as part of a call for assistance made through an interstate agreement called the Emergency Management Assistance Compact. Law enforcement agencies from seven states responded by sending their personnel and equipment. Some of them stayed for up to two weeks, with North Dakota taxpayers footing the bill for all associated costs, including overtime, food and lodging. That bill totaled $6 million, and the North Dakota Department of Emergency Services is now requesting an additional $4 million in order to continue the police operation.
A spokesperson at the North Dakota Department of Emergency Services told In These Times that at least 15 out-of-state agencies have sent assistance to the protest site, including the Wyoming State Patrol, the sheriff's office in Hennepin County, Minn. and the Nebraska Highway Patrol. Data shows that many of these agencies have received substantial quantities of gear through the Pentagon's giveaway program.
That includes the South Dakota Highway Patrol, which sent troopers to North Dakota for two weeks. The patrol is one of the 1033 program's biggest beneficiaries in the Midwest. Since 2006, it has received more than $2 million worth of military gear, including dozens of assault rifles, five armored vehicles — including an MRAP — two bomb disposal robots, a pair of helicopters and more. In an email to In These Times, a public information officer for the South Dakota Department of Public Safety said he could not confirm whether any of this specific equipment was used by South Dakota troopers who travelled to Standing Rock.
According to media reports, the Lake County Sheriff's Office in northwest Indiana also sent four deputies to North Dakota. The sheriff's department has obtained nearly $1.5 million worth of military gear since 2006, including three helicopters, two armored trucks and nearly 100 assault rifles and ​"riot-type shotguns." The office did not respond to a query about whether this deputies brought any of this gear to Standing Rock. At least one Lake County deputy brought a rifle to North Dakota, because media reports note that he accidentally shot himself in the foot while preparing the weapon.
At least six other out-of-town law enforcement agencies involved in last week's arrests also received assault rifles through the 1033 program. They include the Pennington County sheriff's office in South Dakota, the Anoka County sheriff's office in Minnesota and the Griffith, Ind. police department.
Honor the Earth's Houska notes that many protesters are disturbed by the now-standard sight of ​"officers and Dakota access pipeline security folks carrying assault rifles."
Nevertheless, Eryn Wise of the International Indigenous Youth Council tells In These Times that the water protectors will not be deterred: ​"Whatever they plan for us, whatever intimidation tactics they plan to use, we're going to be here with our feet on the ground and our hands to the sky protecting the earth."
Editor's note: This article has been updated to clarify that police departments can obtain grants or excess equipment through several federal agencies, in addition to the 1033 program.
Seth Kershner
is a writer and researcher whose work has appeared in outlets such as Rethinking Schools, Sojourners, and Boulder Weekly. He is the co-author (with Scott Harding) of
Counter-Recruitment and the Campaign to Demilitarize Public Schools
(Palgrave Macmillan,
2015
).