How Police Unions Pushed Trump to Greenlight More Military Gear for Cops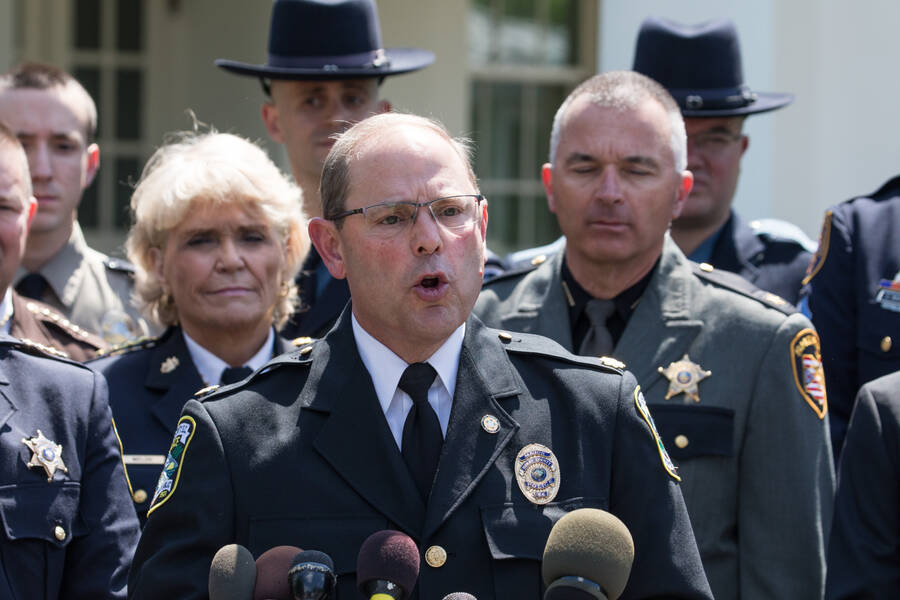 This week, in an address to the bien­ni­al con­fer­ence of the Fra­ter­nal Order of Police (FOP), Attor­ney Gen­er­al Jeff Ses­sions announced that Pres­i­dent Don­ald Trump had issued an exec­u­tive order allow­ing local law enforce­ment to, once again, receive bay­o­nets, tracked armored vehi­cles and grenade launch­ers from the Pen­ta­gon. For free.
Fed­er­al trans­fers of cer­tain types of mil­i­tary hard­ware, but cer­tain­ly not all, had pre­vi­ous­ly been banned as part of for­mer Pres­i­dent Barack Obama's efforts to reform a con­tro­ver­sial Depart­ment of Defense (DOD) pro­gram known as 1033.
Since the 1990s, the DOD has dis­trib­uted sur­plus equip­ment to law enforce­ment agen­cies through its Law Enforce­ment Sup­port Office. While the major­i­ty of the equip­ment includes gear like com­put­ers and office sup­plies, the 1033 pro­gram also sup­plies weapons and tac­ti­cal vehi­cles to local police for just the cost of shipping.
The sys­tem of dis­trib­ut­ing sur­plus gear to local police large­ly flew under the radar until the sum­mer of 2014. That was when assault rifles and armored vehi­cles were used to con­front pro­test­ers in Fer­gu­son, Mo. fol­low­ing the killing of Black teenag­er Michael Brown. Although none of the armored vehi­cles used in Fer­gu­son had been obtained through the 1033 pro­gram, the spec­ta­cle sparked a nation­al debate over police mil­i­ta­riza­tion and led to new scruti­ny of the Pentagon's part­ner­ship with local police. The Black Lives Mat­ter move­ment pushed the demand to demil­i­ta­rize police depart­ments into pub­lic discourse.
In May 2015, Oba­ma issued an exec­u­tive order that led to an out­right ban on fed­er­al trans­fers of cer­tain mil­i­tary-grade weapon­ry, includ­ing bay­o­nets, .50 cal­iber guns, and tracked armored vehi­cles. The order estab­lished a new list of ​"con­trolled items" that police could obtain only after fol­low­ing an addi­tion­al pro­to­col. The restric­tions also applied to pro­grams admin­is­tered by fed­er­al agen­cies, such as the Depart­ments of Jus­tice and Home­land Secu­ri­ty, which also pro­vide sup­port to local law enforce­ment through grants or sur­plus equip­ment transfers.
Some argue that Obama's restric­tions were large­ly cos­met­ic. In 2015, Peter Kras­ka, an aca­d­e­m­ic who has done exten­sive research on police mil­i­ta­riza­tion, crit­i­cized the ​"decep­tive" pack­ag­ing of these reforms. After all, sev­er­al of the banned items — like weaponized air­craft — had nev­er been dis­trib­uted to local law enforce­ment to begin with.
Regard­less, the pow­er­ful FOP has vig­or­ous­ly opposed Obama's exec­u­tive order from the out­set. In a press state­ment released this week, the FOP's senior leg­isla­tive liai­son, Tim Richard­son, not­ed that the union had been ​"work­ing to roll back these restric­tions since the day they were announced."
The world's largest law enforce­ment offi­cers' union, the FOP rep­re­sents more than 330,000 mem­bers in the Unit­ed States and has staff who work full-time lob­by­ing Con­gress on issues of concern.
The FOP has not been shy about its oppo­si­tion to restric­tions on police weapon­ry. In a 2016 issue of the quar­ter­ly FOP Jour­nal, Jim Pas­co, a senior union offi­cial who spear­head­ed the lob­by­ing effort, slammed as ​"offen­sive and absurd" the notion that some­thing like an MRAP would ever be ​"strict­ly con­trolled" by the fed­er­al gov­ern­ment. Yet, the Oba­ma-era reforms are lim­it­ed, requir­ing, for exam­ple, that per­son­nel receive train­ing before han­dling mil­i­tary-grade equip­ment, like MRAPs.
In real­i­ty, the flow of ​"con­trolled equip­ment" like MRAPs has hard­ly slowed down in the wake of the reforms. In con­trast to state­ments from police offi­cials and Attor­ney Gen­er­al Jeff Ses­sions, who some­times imply that 1033 had been ​"evis­cer­at­ed" by Obama's exec­u­tive order, the reforms made hard­ly a dent in the pro­gram. The most recent fig­ures, pro­vid­ed to In These Times by Defense Logis­tics Agency spokesper­son Susan Lowe, show that $460 mil­lion worth of excess DOD equip­ment has been trans­ferred to police depart­ments so far this year.
In Jan­u­ary, the FOP began push­ing for new leg­is­la­tion in Con­gress that would undo the Oba­ma-era restric­tions on the 1033 pro­gram. While the union was work­ing behind the scenes, it kept push­ing its mes­sage to union mem­ber­ship and the wider pub­lic. In May, the cov­er sto­ry of the FOP Jour­nal made the organization's pri­or­i­ties per­fect­ly clear: ​"Mod­ern­ized, Not Mil­i­ta­rized: Why Law Enforce­ment Needs Advanced Equipment."
The FOP was not alone in its push to green­light police mil­i­ta­riza­tion. David Grif­fith, the edi­tor of one of the lead­ing trade pub­li­ca­tions in polic­ing, claimed last year that restrict­ing the 1033 pro­gram may ​"cost lives." Mean­while, a PoliceOne edi­to­r­i­al pub­lished in May 2015 spec­u­lat­ed that crowds would now be allowed to ​"run amok because police don't have the nec­es­sary pro­tec­tive equip­ment" to quell a riot.
Yet, research indi­cates that a mil­i­ta­rized police force — with its accom­pa­ny­ing garb and hard­ware — may lead to more aggres­sive encoun­ters with the pub­lic. Sup­port for this the­o­ry came last fall, when a heav­i­ly mil­i­ta­rized police force hosed, tear­gassed and tack­led water pro­tec­tors at Stand­ing Rock.
In case the leg­isla­tive path should fail, the FOP's Pas­co held out hope for an exec­u­tive action on the mat­ter. But it was far from a sure thing. In May, when the FOP exec­u­tive board met with Pres­i­dent Don­ald Trump, a range of top­ics was dis­cussed, but the 1033 pro­gram did not come up due to time constraints.
Com­ment­ing on the Attor­ney General's speech this week, FOP Pres­i­dent Chuck Can­ter­bury expressed thanks for ​"such good news" com­ing out of the White House.
Kanya Ben­nett, leg­isla­tive coun­sel for the Amer­i­can Civ­il Lib­er­ties Union, wrote on August 28 that, as a result of Trump's action, ​"Weapons of war will again be used to police our com­mu­ni­ties, no ques­tions asked." She under­scored that con­cerned indi­vid­u­als can ask their elect­ed rep­re­sen­ta­tives to sup­port the Stop Mil­i­ta­riz­ing Law Enforce­ment Act, which would elim­i­nate fed­er­al trans­fers of MRAPs and oth­er gear to police. Accord­ing to Ben­nett, ​"Com­mu­ni­ties must call out the fed­er­al gov­ern­ment for insti­gat­ing police militarization."
Seth Ker­sh­n­er
is a writer and researcher whose work has appeared in out­lets such as Rethink­ing Schools, Sojourn­ers, and Boul­der Week­ly. He is the co-author (with Scott Hard­ing) of
Counter-Recruit­ment and the Cam­paign to Demil­i­ta­rize Pub­lic Schools
(Pal­grave Macmil­lan,
2015
).