Trump and the GOP Want to Make It Even Easier for Police to Get Military Gear
Should police get rifles, riot gear and armored vehicles from the Pentagon? The nation's largest police union thinks so—and it has the ear of the Trump administration.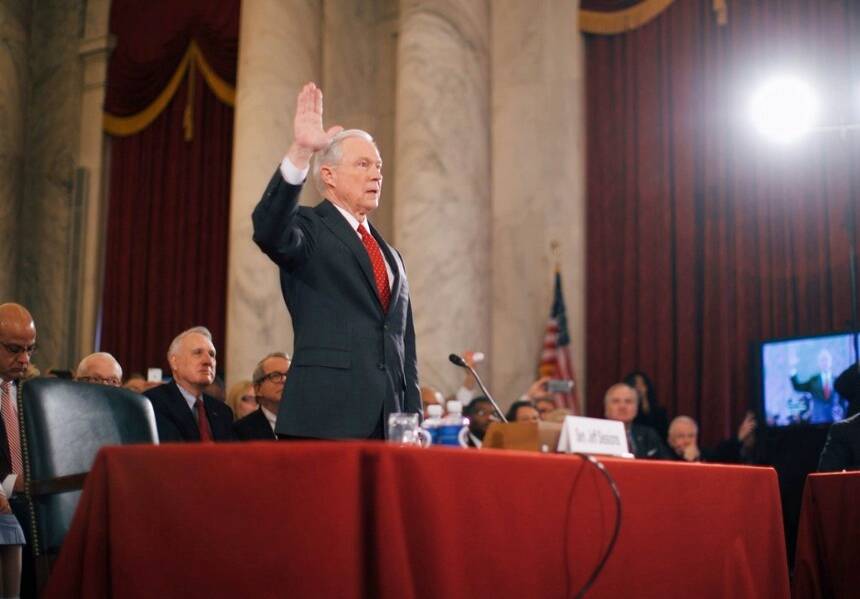 In his first speech as attor­ney gen­er­al last month Jeff Ses­sions sig­naled that he intends to ​"pull back" on fed­er­al over­sight of local law enforce­ment, revers­ing course on a key police reform strat­e­gy of the Oba­ma admin­is­tra­tion. ​"We need, so far as we can, in my view, help police depart­ments get bet­ter, not dimin­ish their effec­tive­ness," said Ses­sions in remarks to the Nation­al Asso­ci­a­tion of Attor­neys General.
The announce­ment hard­ly came as a sur­prise to police account­abil­i­ty activists, who warned from the out­set that Ses­sions' nom­i­na­tion could weak­en police reform efforts. Anoth­er devel­op­ment, fly­ing below the radar, could spell fur­ther trou­ble for efforts to reign in poten­tial abus­es by local police.
In Jan­u­ary 2017, Con­gress­man John Rat­cliffe (R‑TX) intro­duced a bill would make it eas­i­er for local police to get their hands on sur­plus mil­i­tary equip­ment. The bill now has 16 co-spon­sors in the House and was referred last month to the Sub­com­mit­tee on Crime, Ter­ror­ism, Home­land Secu­ri­ty, and Investigations.
Since the 1990s, the Depart­ment of Defense (DOD) has been giv­ing away excess gear through a fed­er­al pro­gram known as 1033. Most of the equip­ment is fair­ly mun­dane — office com­put­ers, tread­mills and the like — but 1033 also makes weapons and tac­ti­cal vehi­cles avail­able to local police for just the cost of ship­ping. The pro­gram became the sub­ject of nation­wide scruti­ny in 2014, when police used rifles and armored vehi­cles to con­front pro­test­ers in Fer­gu­son, Mis­souri fol­low­ing the killing of Black teenag­er Michael Brown.
Grow­ing con­cern over police mil­i­ta­riza­tion led Pres­i­dent Oba­ma to announce, the fol­low­ing year, that law enforce­ment agen­cies would be banned from receiv­ing cer­tain items — includ­ing armed heli­copters, grenade launch­ers and tracked armored vehi­cles — through fed­er­al pro­grams. A new set of guide­lines also des­ig­nat­ed gear such as mine-resis­tant ambush pro­tect­ed vehi­cles (MRAPs), 15-ton vehi­cles that can with­stand road­side bombs, as ​"con­trolled" items sub­ject to addi­tion­al restric­tions. The restric­tions apply to the 1033 pro­gram, as well as pro­grams admin­is­tered by fed­er­al agen­cies such as the Depart­ments of Jus­tice and Home­land Secu­ri­ty, which also pro­vide sup­port to local law enforce­ment through grants or excess equip­ment transfers.
The ​"Pro­tect­ing Lives Using Sur­plus Equip­ment (PLUS) Act" would essen­tial­ly undo Obama's 2015 exec­u­tive order, which is deeply unpop­u­lar among law enforce­ment asso­ci­a­tions and police unions. Such groups have charged that the restric­tions put police offi­cers' lives at risk — even though, as In These Times report­ed last year, the changes have done lit­tle to stem the over­all flow of sur­plus gear to cops. The most recent fig­ures, pro­vid­ed to In These Times by Defense Logis­tics Agency (DLA) spokesper­son Susan Lowe, show that $544 mil­lion worth of excess DOD equip­ment was trans­ferred to police depart­ments in 2016. This actu­al­ly rep­re­sents an increase from the pre­vi­ous year's total of $518 mil­lion. (Lowe stress­es that these rep­re­sent the orig­i­nal acqui­si­tion val­ue of the property.)
Police depart­ments in some states were able to sig­nif­i­cant­ly bulk up their armories after the Oba­ma-era changes went into effect. In Mis­sis­sip­pi, sev­en of the eight MRAPs cur­rent­ly in use by police in the state were acquired in the 2016 cal­en­dar year. In North Car­oli­na, eight of that state's 13 MRAPs were deliv­ered to local agen­cies between Octo­ber and Decem­ber 2016. And 13 of the 14 law enforce­ment agen­cies with MRAPs in New Jer­sey obtained their vehi­cles in the sec­ond half of last year alone. Togeth­er these are just a frac­tion of the more than 200 MRAPs that were shipped to local police in cal­en­dar year 2016, accord­ing to the DLA's Lowe). Even Amer­i­can Police Beat, a respect­ed trade jour­nal, can­did­ly observed in a March 2016 report that fol­low­ing Obama's exec­u­tive order, ​"it was back to busi­ness as usu­al in a mat­ter of months."
In an inter­view with In These Times, Jim Pas­co, exec­u­tive direc­tor of the Fra­ter­nal Order of Police (FOP), the nation's largest police union, said this char­ac­ter­i­za­tion was ​"non­sense." Instead, he charged, small­er police depart­ments have endured finan­cial stress dur­ing the past year as a result of the changes, giv­en that they now have to pay for ​"vital" equip­ment out of their own budgets.
Pas­co acknowl­edged that armored vehi­cles were still avail­able to local police depart­ments, but crit­i­cized the new require­ment that all such acqui­si­tions go through a civil­ian review process. To receive restrict­ed items, law enforce­ment agen­cies must sub­mit a request out­lin­ing why the items may be need­ed. The request must be approved by a may­or, city coun­cil or oth­er elect­ed body. That amounts to a judge­ment ​"being made by a per­son who has absolute­ly no law enforce­ment expe­ri­ence," said Pasco.
The FOP was an ear­ly endors­er of Don­ald Trump's can­di­da­cy, and Pas­co is hope­ful that the orga­ni­za­tion will have the ear of his new admin­is­tra­tion. In the pre-elec­tion sur­vey giv­en by the FOP to all pres­i­den­tial can­di­dates, Trump described 1033 as an ​"excel­lent pro­gram that enhances com­mu­ni­ty safe­ty" and promised to rescind Pres­i­dent Obama's exec­u­tive order. ​"We take him at his word," said Pasco.
Until a vote is sched­uled on the PLUS Act, the FOP will be ​"talk­ing to any­body who will lis­ten about the prob­lem with the exec­u­tive order," said Pas­co. While he hopes that bill will sail through, he also invokes a pos­si­ble exec­u­tive action by Pres­i­dent Trump. One way or anoth­er, he says, ​"the sit­u­a­tion will be remedied."
This sto­ry has been updat­ed to clar­i­fy the scope of Pres­i­dent Oba­ma's exec­u­tive order.
Seth Ker­sh­n­er
is a writer and researcher whose work has appeared in out­lets such as Rethink­ing Schools, Sojourn­ers, and Boul­der Week­ly. He is the co-author (with Scott Hard­ing) of
Counter-Recruit­ment and the Cam­paign to Demil­i­ta­rize Pub­lic Schools
(Pal­grave Macmil­lan,
2015
).