Positive HIV Test Puts Porn Valley on Ice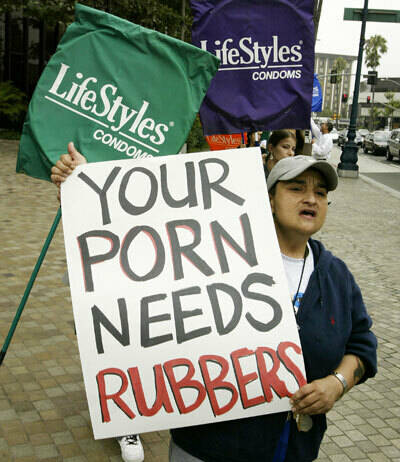 At least five California porn studios have shut down since an actor tested positive for HIV this week. The studios decided to take time out while an industry-allied clinic attempts to locate and test the man's sexual partners.
At this point, no one knows how many people the infected actor may have exposed to HIV, or whether he got infected at work. News of the positive test sparked widespread alarm in the industry because the infected man is reportedly a big star who's dating another big star. Despite its flamboyant public image, the porn industry in Southern California is still a pretty small world. An estimated 1,200−1,500 performers work on-camera.
A positive test in the industry is especially alarming because the vast majority of straight porn is shot without condoms, despite the fact that California law requires condoms or equivalent protection on porn sets. (By contrast, the gay porn industry is largely condom-compliant.)
In the latest case of HIV, the actor tested positive through an industry-sanctioned program administered by the Adult Industry Medical Healthcare Foundation. If you've heard of AIM, you probably know it as the ​"clinic for porn stars." AIM does provide medical and social services to porn performers, but AIM's true niche in the ecosystem of ​"Porn Valley" is much more complicated.
AIM is also the STD testing and record-keeping clearinghouse of the San Fernando Valley's multi-billion dollar straight porn industry, according to Dr. Alexandre Padilla, a professor of economics at Metropolitan State College of Denver, who analyzed the structure of AIM in a 2008 working paper.

​"With the help of the Adult Industry Medical Healthcare Foundation (AIM), the adult film industry developed a corporate culture to facilitate widespread coordination among members and to make the industry similar to a private club," Padilla writes.

AIM is a private nonprofit whose primary function is to test performers for STDs and make the results available directly to producers, directors, agents, potential co-stars and other industry insiders. Working actors are required to test every 30 days for HIV and other sexually transmitted infections.

Testing isn't a panacea, even if everyone does everything right. The latest infection ​"shows how testing just isn't equivalent to protection," according to Deborah Gold, a senior safety engineer at Cal-OSHA.
The industry justifies barebacking by saying that AIM does such a good job of keeping HIV out of the talent pool and containing the virus if it somehow finds its way in.

The problem is that there's a window of at least several days between being exposed to HIV and testing positive, during which time the patient is highly infectious. So, a patient can test negative during the most infectious phase of their illness. That's what happened in 2004 when porn star Darren James came back from Brazil with a fresh HIV infection. He tested with AIM and was cleared to go back to work. Before his next test, James had unprotected sex with 14 actresses, 3 of whom contracted the virus.
In 2009, an actress worked in the industry with HIV before testing positive. Luckily, she didn't infect any of her partners, but she easily could have.

The industry claims that AIM does such a good job that it's safer to have sex with a porn star than with an average person off the street. Even if that dubious statistic is accurate, unprotected sex with a stranger is a risky thing to do. Porn performers are workers in a legal industry. No matter what you do for a living, your typical day at work should be way less risky than unprotected sex with one or more strangers. Hence the condom rule.
AIM: Gatekeeper, tester, promoter
AIM maintains a database of all performers and the scenes they've done for each company. If a performer later tests positive for HIV, AIM can look up all that actor's partners. AIM then contacts those people, gets a list of their on- and off-camera partners and tests them.

AIM says it ​"quarantines" actors who may have been exposed, but the group has no legal power. Some studios have shut down during the investigation, but others are still making movies, presumably without condoms.

AIM officials routinely appear in the media and at public hearings to advance the industry's laissez faire approach to safety, citing their own work as evidence that no further regulation is needed.

So, AIM does the testing, AIM does the PR about how well the testing works, and AIM investigates positive tests. Does anyone see a potential problem?

Cal-OSHA and county public health officials find themselves looking on in frustration. Only AIM can investigate HIV outbreaks within the industry because only AIM knows who worked with whom. AIM can extract this information because there's an industry-wide understanding that no one gets into the Porn Valley Club except through AIM.

AIM says it won't share the scene information out of concern for client privacy.

However, AIM has also refused to provide Cal-OSHA with information about the employers with the actors' names redacted. Ironically, AIM itself is being sued by two former performers who say that the nonprofit violates their medical privacy rights by forcing them to sign overly broad waivers and failing to keep sensitive information away from prying eyes.

AIM has a vested interest in not getting its funders in trouble, irrespective of patient privacy. The group is funded by the industry, many of whom are accustomed to ignoring safety laws. AIM doesn't have to disclose its funders, but its financial dependence on the industry is no secret. Hustler publisher Larry Flynt, a noted opponent of condoms in porn, held a fundraiser for AIM earlier this year. AIM was co-founded by the leading lobby group for the porn industry as a response to an HIV outbreak in 1997.

If Cal-OSHA got ahold of AIM's database of producers and scenes, inspectors could track down the lawbreakers and fine them. Right now, a lot of porn companies literally get away with selling DVDs of their own safety violations because it's so difficult to trace an unprotected anal sex scene in a porno to the person responsible for making it.

It's legal to shoot hardcore porn in California, but despite growing mainstream legitimacy and healthy profits, the porn industry hasn't completely outgrown the habits of an underground enterprise.

The latest HIV case is sure to revive the debate about whether condoms should be mandatory. This is a red herring. Condoms are already mandatory in porn in California. The question is why the industry is allowed to break the law with impunity.
Cal-OSHA can only do so much. Obviously, the state legislature needs to get tough with the porn industry and introduce a condom law that's both tougher and easier to enforce.

The industry is fighting tougher rules, citing AIM's testing program as proof that barrier protection is unnecessary. But AIM is responsible for investigating itself if the system fails. If the system wasn't working, would we trust them to tell us?
It's too soon to tell whether the latest case of HIV in the industry represents a triumph or a tragedy for AIM. Maybe the testing program caught the virus before it could spread, in which case this would be a success story. Or maybe the positive test came too late. Given the limitations of the tests, successful containment is a heavily dependent on luck and timing.

Bottom line: Worker safety is too important to be left to chance. The porn industry should not be an exception to that rule.
Lindsay Beyerstein
is an award-winning investigative journalist and In These Times staff writer who writes the blog Duly Noted. Her stories have appeared in Newsweek, Salon, Slate, The Nation, Ms. Magazine, and other publications. Her photographs have been published in the Wall Street Journal and the New York Times' City Room. She also blogs at The Hillman Blog (http://​www​.hill​man​foun​da​tion​.org/​h​i​l​l​m​a​nblog), a publication of the Sidney Hillman Foundation, a non-profit that honors journalism in the public interest.