These Private Prison Companies Are Already Profiting Off of Trump's Order on Family Separation
By ordering that immigrant families be detained together indefinitely, Trump has provided a windfall to private prison operators.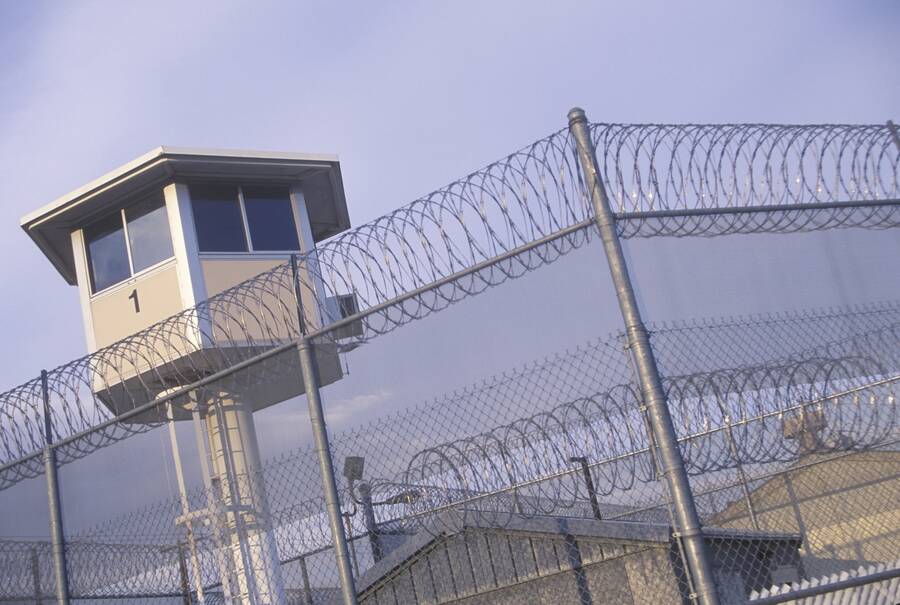 The south­ern bor­der has been a site of mass con­fu­sion since June 20, when Pres­i­dent Trump released his exec­u­tive order osten­si­bly end­ing the prac­tice of fam­i­ly sep­a­ra­tion for undoc­u­ment­ed immi­grants. Senior Cus­toms and Bor­der Pro­tec­tion offi­cials said they would stop refer­ring par­ents cross­ing ille­gal­ly for crim­i­nal pros­e­cu­tion. The Jus­tice Depart­ment denied that shift, but also dropped charges on 17 migrant par­ents in McAllen, Texas before a sen­tenc­ing hearing.
The Trump administration has the goal, expressed in the order, of detaining families together indefinitely, until their immigration cases are complete.
Whether pros­e­cut­ing or not, the Trump admin­is­tra­tion still has the goal, expressed in the order, of detain­ing fam­i­lies togeth­er indef­i­nite­ly, until their immi­gra­tion cas­es are com­plete. That goal is con­tin­gent on con­vinc­ing a fed­er­al judge to rip up the Flo­res set­tle­ment, a 1997 agree­ment that says migrant chil­dren can only be kept up to 20 days in non-secure, licensed facil­i­ties. On June 21, Trump's Depart­ment of Jus­tice asked a judge to change the rules, but the Oba­ma admin­is­tra­tion asked for the same changes in 2016 and was rebuked.
Trump's plan is also con­tin­gent on find­ing enough beds to house as many as 19,000 women and chil­dren in deten­tion facil­i­ties. Mil­i­tary bases have been float­ed as a pos­si­bil­i­ty, but that's like­ly a tem­po­rary solu­tion. And wher­ev­er they are held under Trump's plan, some­one will still have to per­form day-to-day over­sight of the fam­i­lies, and trans­port them around — and do the same for the 2,300 chil­dren already sep­a­rat­ed from their families.
All of which may explain why the stock prices of oli­gop­oly pri­vate prison com­pa­nies Geo Group and Core­Civic have been ris­ing ever since the Trump announce­ment, a pure expres­sion of the sacks of cash await­ing pri­vate com­pa­nies if they con­tribute to caging immi­grant fam­i­lies. These com­pa­nies already run two mas­sive fam­i­ly deten­tion cen­ters in south Texas that would be primed for indef­i­nite deten­tion. They also run immi­gra­tion jails for indi­vid­ual bor­der crossers with­out chil­dren. And they can con­struct more — in fact, that has become their busi­ness model.
Geo Group and Core­Civic are actu­al­ly real estate com­pa­nies, as a new report from the anti-pri­va­ti­za­tion group In The Pub­lic Inter­est explains. In 2013, both com­pa­nies con­vert­ed into Real Estate Invest­ment Trusts (REITs), which exempts them from cor­po­rate-lev­el tax­a­tion as long as they meet a cer­tain thresh­old of real estate assets. This tax shel­ter saved Geo Group $43.6 mil­lion in 2017 alone.
Instead of being con­tract­ed to man­age facil­i­ties, Geo Group and Core­Civic want to build and own the facil­i­ties them­selves. Top exec­u­tives of both for-prof­it com­pa­nies have stressed this desire in investor calls. This not only saves on tax­es, it's far more lucra­tive than oper­a­tions man­age­ment. Esti­mates from CoreCivic's finan­cial dis­clo­sures show they earn 71 per­cent more rev­enue per pris­on­er in owned and man­aged facil­i­ties than in ones they sole­ly man­age — and six times more prof­it per prisoner.
Trump's new exec­u­tive order sig­nals the administration's desire for far more immi­grant deten­tion con­struc­tion. This is already in play; Geo Group is com­plet­ing work on a 1,000-bed facil­i­ty in Con­roe, Texas, under a 2017 con­tract with ICE. Just today, ICE issued a request for infor­ma­tion on ​"poten­tial facil­i­ties to accom­mo­date up to 15,000 beds," some­thing the pri­vate prison firms are well-posi­tioned to deliver.
When a pri­vate com­pa­ny owns a deten­tion facil­i­ty, they have the incen­tive to lob­by the gov­ern­ment to keep it open. And as pri­vate financ­ing deals charge high­er inter­est rates, that sunk cost may keep the gov­ern­ment inter­est­ed in using the asset long term. It all amounts to entrench­ing a puni­tive mod­el of immi­gra­tion enforce­ment at the high­est lev­els, for pri­vate gain.
The day-to-day oper­a­tions can go to the pri­vate prison firms or a net­work of pri­vate con­trac­tors han­dling shel­ters in bor­der regions, like South­west Key, which has made at least $955 mil­lion on immi­grant shel­ter con­tracts since 2015. These sites, inci­den­tal­ly, are awful, with a his­to­ry of abuse of migrants and bil­lions of dol­lars in set­tle­ment pay­ments. By spend­ing less mon­ey on per­son­nel and main­te­nance these firms are able to increase their prof­its. That any­one would see these de fac­to jails as appro­pri­ate places for fam­i­lies await­ing out­comes of immi­gra­tion cas­es is shameful.
Almost as lucra­tive as the shel­ter­ing con­tracts are the con­tracts to trans­port and deport migrants, either by air or by land. If minors ever get reunit­ed with their fam­i­lies, some com­pa­ny will have to trans­port them as well. The need for this ser­vice ramped up sig­nif­i­cant­ly with the Trump administration's ​'zero tol­er­ance' pol­i­cy at the border.
Com­mer­cial air­lines have balked at shut­tling around minors ripped apart from their fam­i­lies. Defense con­trac­tors have become a plan B, includ­ing weapons man­u­fac­tur­er Gen­er­al Dynam­ics and MVM, a long­time con­trac­tor for ICE and the U.S. Mar­shals. MVM has earned close to $200 mil­lion since 2014 for trans­porta­tion ser­vices. Recent job list­ings from MVM detail accom­pa­ny­ing chil­dren on air and ground trans­porta­tion. CSI Avi­a­tion also char­ters a num­ber of flights for depor­ta­tion, under the ban­ner ​"ICE Air."
Some­body has to finance all this activ­i­ty, and that pre­dictably falls to the big banks. A 2016 In The Pub­lic Inter­est report iden­ti­fied Bank of Amer­i­ca, JPMor­gan Chase, BNP Paribas, U.S. Ban­corp, Wells Far­go and Sun­Trust Bank as the pri­ma­ry lenders to pri­vate prison com­pa­nies Geo Group and Core­Civic, pro­vid­ing $900 mil­lion in lines of cred­it for real estate financ­ing and oth­er busi­ness oper­a­tions. Because of the cor­po­rate struc­ture of these com­pa­nies, they depend heav­i­ly on bank lend­ing to survive.
Sun­Trust Bank, a large region­al based in Flori­da, also has a sig­nif­i­cant lend­ing deal with MVM, secured by all of the company's assets. Sun­Trust has a sim­i­lar deal with Com­pre­hen­sive Health Ser­vices, Inc., one of the pri­vate con­trac­tors oper­at­ing shel­ters for unac­com­pa­nied minors.
There's a bet­ter and far cheap­er way to han­dle the Trump-cre­at­ed cri­sis at the bor­der. Instead of blow­ing mon­ey on pri­vate com­pa­nies to ware­house peo­ple, a case man­age­ment pilot pro­gram, since dis­con­tin­ued, pro­vid­ed direct super­vi­sion and access to legal coun­sel after fam­i­lies were released. It was 99 per­cent effec­tive in get­ting fam­i­lies to court and through the asy­lum process, at about one-tenth of the cost. The Trump admin­is­tra­tion dis­con­tin­ued case man­age­ment last year, but it would be a far bet­ter and more humane solution.
There's only one catch — the com­pa­ny that ran the case man­age­ment pro­gram was a sub­sidiary of the Geo Group.