Progressive Chicagoans Take Budget Hearings into Their Own Hands—No Emanuel Necessary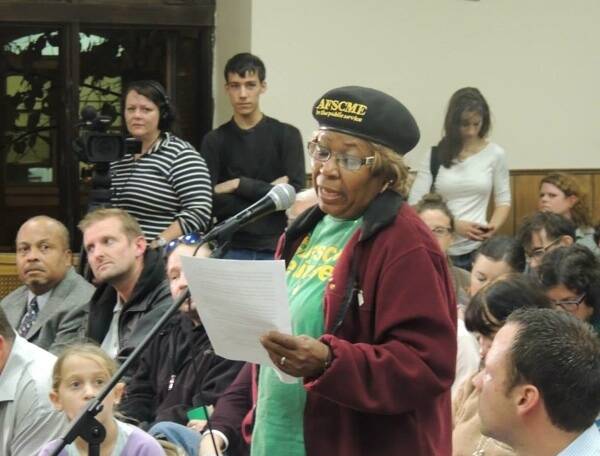 Many Chica­go pro­gres­sives might remem­ber Richard M. Daley, the Windy City's may­or between 1989 and 2011, as rul­ing with an iron fist, ram­ming through poli­cies like the mid­night demo­li­tion of an air­port or the pri­va­ti­za­tion of city park­ing meters with lit­tle pub­lic discussion.
But Daley did make one demo­c­ra­t­ic ges­ture that his suc­ces­sor, Rahm Emanuel, has yanked. Through­out his tenure, Daley was present at com­mu­ni­ty hear­ings where Chica­go res­i­dents could direct­ly ques­tion him and oth­er city offi­cials about the mayor's annu­al pro­posed bud­get and some­times oth­er city matters.
Emanuel, mean­while, did away with the prac­tice last year, after hold­ing hear­ings about his first bud­get. So there are no com­mu­ni­ty hear­ings to review the $6.98 bil­lion bud­get that Emanuel unveiled on Octo­ber 23.
Even with­out an offi­cial hear­ing, how­ev­er, Chica­go res­i­dents are still eager to air their con­cerns. That much was clear on Wednes­day night, when the sev­en of the eight alder­men who com­prise the city council's pro­gres­sive cau­cus, the Chica­go Pro­gres­sive Reform Coali­tion, con­vened a packed meet­ing at the Unit­ed Elec­tri­cal Work­ers Hall in West Town to hear pub­lic com­ment on the bud­get before the city council's vote on it next month.
Alder­man Scott Wagues­pack, who over­sees the city's 32nd ward, opened the meet­ing by explain­ing, ​"Today we're here to lis­ten to your con­cerns about this year's 2014 bud­get, in part because the may­or decid­ed he did not want to have pub­lic meetings."
For his part, Wagues­pack pre­sent­ed four items the cau­cus has pro­posed that the may­or include in the 2014 bud­get: $50 mil­lion for 1,000 more police offi­cers on the street, $2.2 mil­lion to reopen six Chica­go men­tal health clin­ics, an expan­sion of the city's cor­po­rate tax base and a redi­rec­tion of unspent prop­er­ty tax mon­ey from the city's con­tro­ver­sial Tax Incre­ment Finance pro­gram to schools and oth­er pub­lic bodies.
Police attri­tion and its impact on vio­lent crime are fre­quent points of con­tention between Emanuel and Chicagoans, includ­ing oth­er city coun­cil mem­bers and local media. But the may­or has arguably escaped wide­spread scruti­ny on the oth­er mat­ters pro­posed by the pro­gres­sive cau­cus on Wednes­day, par­tic­u­lar­ly the men­tal health clinics.
Matt Gins­berg-Jaeck­le and oth­er activists affil­i­at­ed with the advo­ca­cy orga­ni­za­tion Men­tal Health Move­ment claimed that the city has not kept count of hun­dreds of patients that were in the Chica­go Depart­ment of Health's men­tal health care sys­tem in 2012 but were required to trans­fer clin­ics due to the closings.
​"We need to re-open these clin­ics," Gins­burg-Jaeck­le said. ​"Men­tal health care is the glue that holds com­mu­ni­ties together."
After the meet­ing, 6th Ward Alder­man Rod­er­ick Sawyer said, ​"The one thing that real­ly hit me from the pub­lic com­ments is the men­tal health cuts that we're all respon­si­ble for." Sawyer was refer­ring to the fact that coun­cil mem­bers vot­ed 50 – 0 in Novem­ber 2011 to approve Emanuel's first bud­get, which includ­ed the men­tal health clin­ic closings.
Oth­er pub­lic speak­ers, like preschool teacher Kim­ber­ly Cot­ton, lament­ed that the city stores some prop­er­ty tax rev­enue in spe­cial Tax Incre­ment Finance eco­nom­ic devel­op­ment dis­tricts. Cot­ton wants that mon­ey fun­neled to the schools where she sees ​"over­worked teach­ers" and ​"stu­dents who can't get field trips" and oth­er edu­ca­tion­al ser­vices that sub­ur­ban Chica­go school dis­tricts take for granted.
Emanuel's bud­get includes $
8
.
7
mil­lion in unspent TIF sur­plus mon­ey (after allo­cat­ing $
24
mil­lion to the schools). But edu­ca­tion advo­cates sus­pect that more than $
100
mil­lion could con­ceiv­ably be from these TIF dis­tricts. Advo­ca­cy groups Raise Your Hands and the Com­mon Sense Coali­tion of Local School Coun­cils have filed a Free­dom of Infor­ma­tion Act request with the city to find out how much TIF sur­plus mon­ey actu­al­ly exists.
Beyond elab­o­rat­ing on the pro­gres­sive caucus's talk­ing points, a few res­i­dents also used their allot­ted two min­utes of open mic to speak about Emanuel's report­ed plans to phase out health care sub­si­dies for retired city workers.
Mary Jones, who worked in the Chica­go Pub­lic Library sys­tem for 32 years, between 1973 to 2004, tes­ti­fied that city work­ers who start­ed at their jobs before 1985 are inel­i­gi­ble to receive Medicare. Con­se­quent­ly, these work­ers rely on city sub­si­dies for gen­er­al health care ser­vices, sub­si­dies that cov­er up to 55 per­cent of their total health care costs.
​"I can tell you from per­son­al expe­ri­ence that the health care sub­sidy is very impor­tant," Jones said, explain­ing that she recent­ly used the city mon­ey for mam­mo­gram ser­vices. AFSM­CE Coun­cil 31, which rep­re­sents thou­sands of city work­ers, has sued Emanuel's office in fed­er­al court to block the sub­sidy phase out.
Emanuel defends the sub­sidy phase out by say­ing retirees can now apply for fed­er­al sub­si­dies offered on the Afford­able Care Act health exchange. Jones coun­ters that the city is break­ing a con­trac­tu­al promise with AFSCME, and that ​"it seems clear that many retirees will not get as much assis­tance from fed­er­al sub­si­dies" as from the 55 per­cent city subsidy.
Oth­er speak­ers drew atten­tion to issues like the city's plan to con­struct a bus rapid tran­sit sys­tem, issues that the may­or has not addressed in his bud­get remarks.
Amisha Patel, exec­u­tive direc­tor of the Grass­roots Col­lab­o­ra­tive coali­tion of city activist and labor groups, said after the meet­ing that Emanuel cre­at­ed a fatal­ly flawed bud­get process by not hold­ing com­mu­ni­ty hear­ings. ​"How can the may­or make poli­cies that rep­re­sent the needs of the peo­ple when he's not lis­ten­ing to us?" Patel says. ​"Daley was no hero, but I think May­or Emanuel is actu­al­ly even more removed than May­or Daley.
Removed from the vot­ers or not, Emanuel — like Daley — seems to have a firm con­trol on the city coun­cil. Though they're pub­licly elect­ed, alder­men depend on the may­or for city coun­cil lead­er­ship appoint­ments, the mayor's work with cor­po­ra­tions to put busi­ness­es in their ward, and a vari­ety of oth­er ser­vices.
After alder­men vot­ed 50 – 0 to approve his first bud­get in 2012, the city coun­cil green light­ed Emanuel's 2013 bud­get 46 – 3 last Novem­ber. The three no votes were cast by pro­gres­sive cau­cus mem­bers Wagues­pack, Robert Fioret­ti (2nd Ward) and John Are­na (45th), but oth­er cau­cus mem­bers ulti­mate­ly vot­ed ​'yes.'
​"Right now, the real­i­ty is that alder­men are much more fear­ful of the may­or than they are of their own vot­ers," Patel says. ​"That's the dynam­ic we're work­ing to change."
The Grass­roots Col­lab­o­ra­tive is doing that by phone bank­ing and door knock­ing on vot­ers' doors, ask­ing them to pres­sure alder­men to move bills for­ward, like a pri­va­ti­za­tion account­abil­i­ty ordi­nance and bill to release fur­ther TIF sur­plus mon­ey, despite may­oral opposition.
In the short term, it is not clear to what degree the city coun­cil will oppose the pro­posed bud­get. Even Pro­gres­sive Cau­cus mem­bers are hope­ful they can still nego­ti­ate with Emanuel rather than reject the bud­get alto­geth­er
Asked if he would vote ​'no' on the bud­get, Alder­man Rick Munoz of the 25th Ward said that, ​"We're still look­ing at what the options are — We're try­ing to work with the may­or." Munoz and oth­er pro­gres­sive cau­cus mem­bers said that they hoped the hear­ing indi­cat­ed sup­port for their sug­gest­ed bud­get change – and a pub­lic appetite to revive the com­mu­ni­ty hear­ing process.
Matthew Blake
is a free­lance jour­nal­ist based in Chica­go. He has writ­ten for the
Chica­go Jour­nal, Wash­ing­ton Month­ly, Wash­ing­ton Inde­pen­dent
and
The Nation
, among oth­er publications.