Progressives Are the New Silent Majority
Most Americans actually prefer progressive policies—so how did we get here?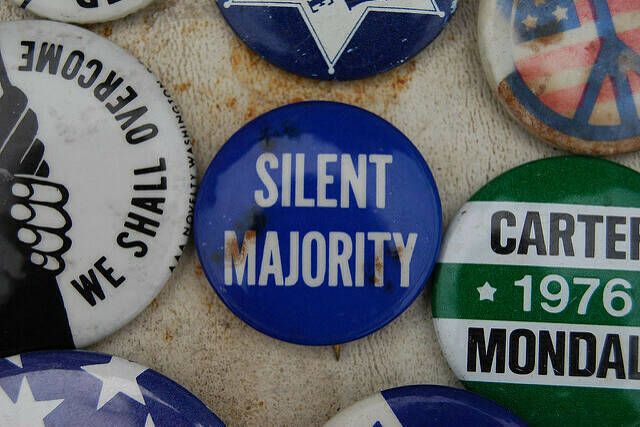 Some­thing remark­able has hap­pened over the past few years: A new silent major­i­ty has emerged, decades after Richard Nixon made that phrase famous. Nixon meant the peo­ple whose val­ues were, he said, dom­i­nant in Amer­i­can cul­ture, but under­rep­re­sent­ed in Amer­i­can pol­i­tics. Call­ing them the silent major­i­ty was a way of chan­nel­ing the white back­lash against the civ­il rights movement.
"There is no easy answer. But for Democrats looking for a path back to power, lifting up the grievances of the forgotten, silent majority—and focusing on the economic and electoral structures that stifle and suppress its voice and vote—would be a good place to start."
The new silent major­i­ty is defined by the broad con­sen­sus that has emerged in the Unit­ed States around pro­gres­sive poli­cies. This con­sen­sus isn't wide­ly report­ed. In fact, it's obscured by the oft-repeat­ed idea that the nation is deeply polar­ized, as if Amer­i­cans are torn between sup­port for con­ser­v­a­tive and pro­gres­sive poli­cies. They aren't. On the bat­tle­field of ide­ol­o­gy, con­ser­v­a­tives have been routed.
The pro­gres­sive con­sen­sus cuts across eco­nom­ic and social issues and includes even tra­di­tion­al cul­ture-war flash­points. On most pol­i­cy ques­tions, polling shows that about three-fifths or more of the pub­lic prefers pro­gres­sive positions.
Con­sid­er some examples.
Health­care reform: In a Gallup sur­vey last year, rough­ly half of respon­dents favored repeal­ing Oba­macare, while half favored keep­ing it. But 58 per­cent sup­port­ed a third option: replac­ing it with ​"a fed­er­al­ly fund­ed health­care sys­tem pro­vid­ing insur­ance for all Amer­i­cans." The word­ing is vague, but that sounds a lot like the sin­gle-pay­er, ​"Medicare for All" sys­tem that pro­gres­sives have lob­bied for.
Unions: Fifty-eight per­cent of respon­dents to a 2015 Gallup sur­vey said they ​"approve of" labor unions — and 72 per­cent said unions should have either more influ­ence than they now have, or at least the same amount. His­tor­i­cal­ly, the approval rate was in the 70s through the mid-1960s. It declined to rough­ly 60 per­cent in the ear­ly 1970s and dipped to the high 40s in the wake of the finan­cial melt­down of 2008, but has steadi­ly recov­ered since then.
Cam­paign finance reform: Sev­en­ty-sev­en per­cent of the pub­lic sup­ports lim­its on cam­paign spend­ing, accord­ing to a 2015 Pew poll. Vot­ers in the deep-red state of South Dako­ta made that clear last Novem­ber by approv­ing a sweep­ing cam­paign-finance reform ini­tia­tive. The mea­sure passed despite strong oppo­si­tion from the state chap­ter of Amer­i­cans for Pros­per­i­ty, a PAC fund­ed by the Koch brothers.
Cli­mate change and renew­able ener­gy: There was a sharp spike in peo­ple who report­ed that they are at least ​"a fair amount" wor­ried about cli­mate change last year — from 55 to 64 per­cent—accord­ing to Gallup. The share of peo­ple who believe that the effects have already begun also rose, from 55 to 59 per­cent. It's true that opin­ions about cli­mate change fluc­tu­ate sig­nif­i­cant­ly based on cur­rent events, the word­ing of the ques­tion and oth­er fac­tors. A recent Pew poll, for exam­ple, found that only 48 per­cent of respon­dents believed human activ­i­ty caus­es cli­mate change, ver­sus 65 per­cent in the Gallup poll. But what­ev­er they believe about the caus­es, Amer­i­cans over­whelm­ing agree about solu­tions. In the Pew poll, sup­port for solar pan­el and wind tur­bine farms was more than 80 per­cent. A major­i­ty opposed every oth­er poten­tial ener­gy source: off­shore drilling, nuclear pow­er plants, frack­ing and coal. And a post-elec­tion poll found that even peo­ple who vot­ed for Don­ald Trump are on board with tak­ing some action against cli­mate change. Six­ty-one per­cent said that com­pa­nies should be required to reduce car­bon emis­sions, and 78 per­cent sup­port air-pol­lu­tion regulations.
Repro­duc­tive rights: Fifty-six per­cent of Amer­i­cans believe abor­tion should be legal in ​"all or most cases."
LGBT rights: In 1996, 27 per­cent of Amer­i­cans thought same-sex mar­riages should be legal. Last year, 61 per­cent did. And, by a nar­row major­i­ty, most Amer­i­cans believe that trans­gen­der peo­ple should be able to use the pub­lic bath­room of the gen­der they iden­ti­fy with.
The list of issues on which rough­ly 60 per­cent of Amer­i­cans agree with pro­gres­sives could go on at length. It would include, for exam­ple, a high­er min­i­mum wage, legal­ized mar­i­jua­na and free child care. The trend holds true even on Trump's sig­na­ture issue of immi­gra­tion. Last sum­mer, Gallup found that 84 per­cent of Amer­i­cans sup­port­ed a path to cit­i­zen­ship for undoc­u­ment­ed immi­grants, while only 33 per­cent sup­port­ed build­ing a wall along the U.S.-Mexico bor­der. Among Repub­li­cans, 62 per­cent sup­port­ed build­ing the wall — but 76 per­cent also sup­port­ed a path to citizenship.
An uneven play­ing field
Amer­i­cans pre­fer pro­gres­sive poli­cies near­ly across the board, yet the fed­er­al gov­ern­ment and a major­i­ty of state gov­ern­ments are con­trolled by a par­ty that aims to under­mine, over­turn and resist those policies.
How did this happen?
Democ­ra­cy plays a minor role. White, elder­ly peo­ple vote at high­er lev­els than any oth­er demo­graph­ic bloc, and they vote Repub­li­can, espe­cial­ly if they iden­ti­fy as Christian.
That advan­tage would make the GOP a com­pet­i­tive but dis­tinct­ly minor­i­ty par­ty if the play­ing field were lev­el. But the play­ing field isn't lev­el. Increas­ing­ly, the GOP uses anti-demo­c­ra­t­ic tools to tilt the field to its advan­tage. Those tools include rad­i­cal ger­ry­man­der­ing of Con­gres­sion­al dis­tricts, vot­er sup­pres­sion in com­pet­i­tive states and flood­ing the polit­i­cal process with dark mon­ey from cor­po­ra­tions and wealthy donors. These are in addi­tion to the strong bias toward small, pre­dom­i­nant­ly white Repub­li­can states built into the Sen­ate and the Elec­toral Col­lege, and the use of pre­emp­tion laws by state leg­is­la­tures to block pro­gres­sive pol­i­cy in urban centers.
Togeth­er, these mea­sures rad­i­cal­ly inflate the pow­er of the GOP's com­par­a­tive­ly small base of white reli­gious con­ser­v­a­tives, trans­form­ing it into an elec­toral jug­ger­naut. At the same time, they pull the Demo­c­ra­t­ic Par­ty to the right, mak­ing it ever-more reliant on cor­po­ra­tions and wealthy donors in an attempt to remain com­pet­i­tive in a rigged system.
A path back to power?
The worst exam­ple of the process to date is North Car­oli­na, where the GOP-dom­i­nat­ed leg­is­la­ture is so cor­rupt that the state is ​"only slight­ly ahead of the failed democ­ra­cies that con­sti­tute much of the devel­op­ing world," as Andrew Reynolds, a pro­fes­sor of polit­i­cal sci­ence at the Uni­ver­si­ty of North Car­oli­na, recent­ly wrote.
Reynolds not­ed that the state's ger­ry­man­der­ing is espe­cial­ly obscene. It's not only the worst case of unfair dis­trict­ing in the Unit­ed States; it's the worst case ​"ever ana­lyzed by the Elec­toral Integri­ty Project," which ​"has mea­sured 213 elec­tions in 153 coun­tries and is wide­ly agreed to be the most accu­rate method for eval­u­at­ing how free and fair and demo­c­ra­t­ic elec­tions are across time and place."
The rig­ging works as intend­ed, giv­ing the GOP a ham­mer­lock on the North Car­oli­na leg­is­la­ture: ​"One par­ty wins just half the votes but 100 per­cent of the pow­er," Reynolds wrote. ​"The oth­er par­ty wins just a hand­ful of votes less and 0 per­cent of the leg­isla­tive power."
It's the same sto­ry across the nation. Trump's vic­to­ry is the anti-demo­c­ra­t­ic sys­tem in micro­cosm: The GOP wins with a minor­i­ty of votes and claims a man­date to push through poli­cies that a major­i­ty of the nation oppos­es. Vot­ers feel, right­ly, that their voic­es don't count. They become more cyn­i­cal and dis­en­gage, while the Repub­li­can minor­i­ty feels ever-more empow­ered. There is noth­ing in their way and no author­i­ty that can derail their pow­er grab. Our ​"polar­iza­tion" is more like a hostage-taking.
We've heard a lot since the elec­tion about white work­ing class vot­ers who feel dis­en­fran­chised and put Trump over the top. That sto­ry is cer­tain­ly worth telling. But it pales by com­par­i­son with a much big­ger, large­ly untold sto­ry: the 60 per­cent of Amer­i­cans who sup­port pro­gres­sive poli­cies and have lit­tle voice in the nation's politics.
The prob­lem has been decades in the mak­ing. There is no easy answer. But for Democ­rats look­ing for a path back to pow­er, lift­ing up the griev­ances of the for­got­ten, silent major­i­ty — and focus­ing on the eco­nom­ic and elec­toral struc­tures that sti­fle and sup­press its voice and vote — would be a good place to start.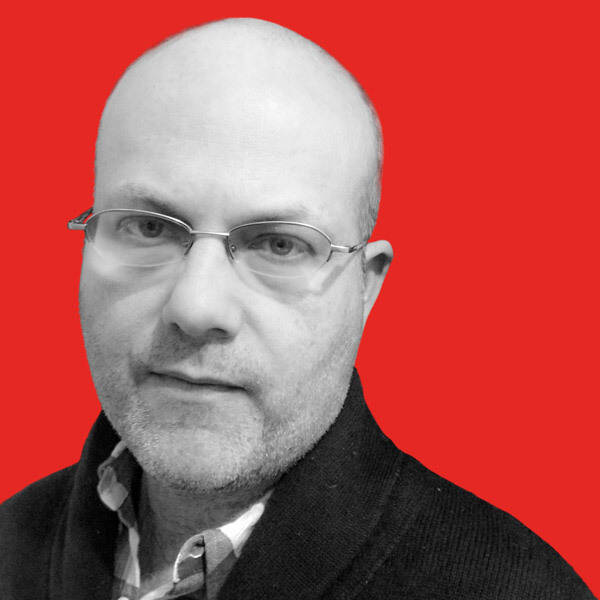 Theo Ander­son
is an In These Times con­tribut­ing writer. He has a Ph.D. in mod­ern U.S. his­to­ry from Yale and writes on the intel­lec­tu­al and reli­gious his­to­ry of con­ser­vatism and pro­gres­sivism in the Unit­ed States. Fol­low him on Twit­ter @Theoanderson
7
.