It's Not Enough to Fight Trump—Progressives Need a Vision for the Future
Either decorporatize the Democrats or create a viable third party.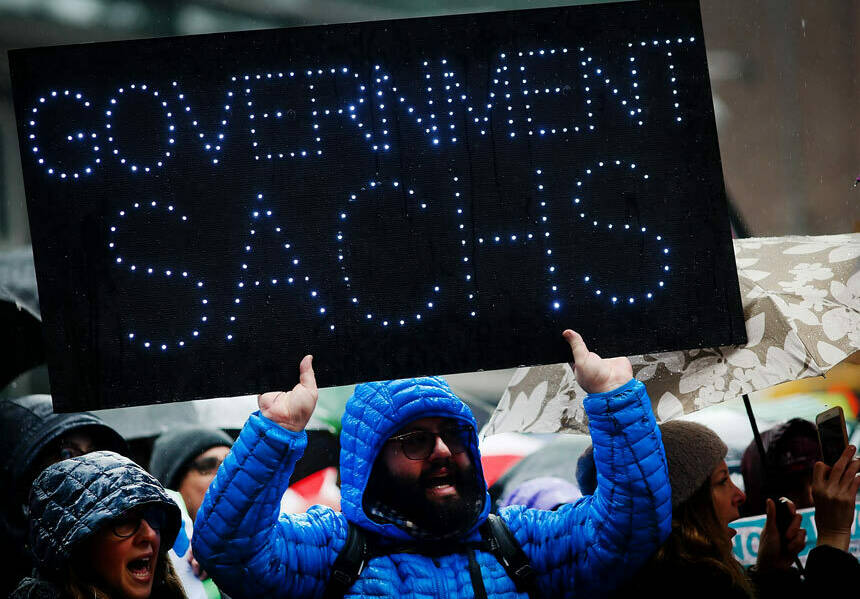 It's heart­en­ing to see so many folks out in the streets stand­ing up to our new pres­i­dent and his pro­posed team of racists and plu­to­crats. It is also worth remem­ber­ing that Trump was elect­ed by less than 25 per­cent of eli­gi­ble vot­ers and has some of the low­est approval num­bers in his­to­ry for an incom­ing president.
Opposing Trump is necessary but not sufficient to move the country in a progressive direction.
The elec­tion of such an unpop­u­lar and unqual­i­fied leader is a symp­tom of some­thing even more dan­ger­ous than Trump: a sys­temic rot at the heart of our nation­al pol­i­tics. Trump was elect­ed because a record num­ber of eli­gi­ble vot­ers stayed home, includ­ing some 2 mil­lion African Amer­i­cans who vot­ed for Oba­ma in 2012.
Ordi­nary Amer­i­cans under­stand what the pun­dits and polit­i­cal oper­a­tives liv­ing in the D.C. bub­ble fail to com­pre­hend: The sys­tem is rigged. Our nation­al pol­i­tics is con­trolled by a duop­oly of cor­po­rate-owned Repub­li­cans and Democ­rats. To be sure, with the Democ­rats you get more rea­son­able rhetoric, the occa­sion­al grilling of a Wall Street vil­lain on C‑SPAN, and even a few votes of con­science by law­mak­ers in safe seats. But in the end, both nation­al par­ties make sure that the inter­ests of cor­po­ra­tions will be advanced while the inter­ests of the poor and work­ing class are brushed aside. Busi­ness own­ers win over work­ers; cred­i­tors win over debtors; war prof­i­teers win over the safe­ty and secu­ri­ty of every­one on the planet.
I say this as some­one who stood in Chicago's Grant Park in Novem­ber 2008, cel­e­brat­ing the elec­tion of Barack Oba­ma. Inspired by his mes­sage of hope and change, I ignored that he had accept­ed more mon­ey from Wall Street inter­ests than any can­di­date in his­to­ry. Then I watched as Oba­ma spent eight years serv­ing his Wall Street financiers.
To cite just one exam­ple, Obama's Depart­ment of Jus­tice (DOJ) chose not to pros­e­cute a sin­gle banker for the sys­temic mort­gage fraud that wrecked our econ­o­my and caused many mid­dle-class peo­ple to lose their homes and fall into pover­ty. Then, to deep­en the insult, the DOJ pros­e­cut­ed and jailed hun­dreds of low-income Amer­i­cans for lying to the banks on their mort­gage appli­ca­tions. The DOJ ignored that it was banks that devel­oped these ​"liar loans," which encour­aged home buy­ers to inflate their income num­bers, sad­dling them with unaf­ford­able hous­ing while the banks sold the loans to unwit­ting investors. As a lawyer, I have rep­re­sent­ed many of these folks. In every one of my cas­es, fed­er­al pros­e­cu­tors demand­ed both lengthy prison sen­tences for my clients and resti­tu­tion to the preda­tor banks upon release — assum­ing my clients can find some­one to hire them with a felony fraud conviction.
And of course, Oba­ma, with the coop­er­a­tion of a Demo­c­ra­t­ic-major­i­ty House and Sen­ate, con­tin­ued George W. Bush's mas­sive tax­pay­er bailout of the nation's finan­cial elite. Apol­o­gists for the Demo­c­ra­t­ic Par­ty say that Oba­ma had to bail out the banks to avoid a depres­sion. This is true only if you apply cor­po­rate media's def­i­n­i­tion of a ​"depres­sion": an eco­nom­ic col­lapse that caus­es wealthy cap­i­tal­ists to suf­fer. But if you con­sid­er the fates of ordi­nary peo­ple, we did have a depres­sion. Accord­ing to a Fed­er­al Reserve study, African Amer­i­cans and Lati­nos who grad­u­at­ed from four-year col­leges lost 60 per­cent and 72 per­cent of their wealth, respec­tive­ly, after the 2008 finan­cial crisis.
The out­size influ­ence of cor­po­rate inter­ests on our pol­i­tics is noth­ing new. But one impor­tant dif­fer­ence today is that the inter­ests of cor­po­ra­tions have grown more opposed to the inter­ests of work­ing peo­ple and the poor. It once could be said that ​"What's good for Gen­er­al Motors is good for Amer­i­ca." Back then, cap­i­tal­ists relied on Amer­i­can work­ers to pro­duce their prod­ucts and Amer­i­can con­sumers to buy them — so they cared about things like pub­lic schools, infra­struc­ture and wages. Today's plu­to­crats out­source their fac­to­ries and earn wealth through com­plex finan­cial schemes. They live in gat­ed com­mu­ni­ties and fly on pri­vate jets.
I don't mean to min­i­mize the men­ace that is Pres­i­dent Trump. Oppos­ing Trump is nec­es­sary but not suf­fi­cient to move the coun­try in a pro­gres­sive direc­tion. We must fight to either dis­en­gage the Demo­c­ra­t­ic Par­ty from its cor­po­rate mas­ters, or to devel­op a viable third par­ty. If the 2016 pres­i­den­tial elec­tion has taught us any­thing, it's that Amer­i­cans need more than a vil­lain to vote against, they need a polit­i­cal par­ty to vote for.