From Sewer Socialism to Server Socialism: Appalachia's Internet Revolution
Chattanoogans are pioneering public broadband.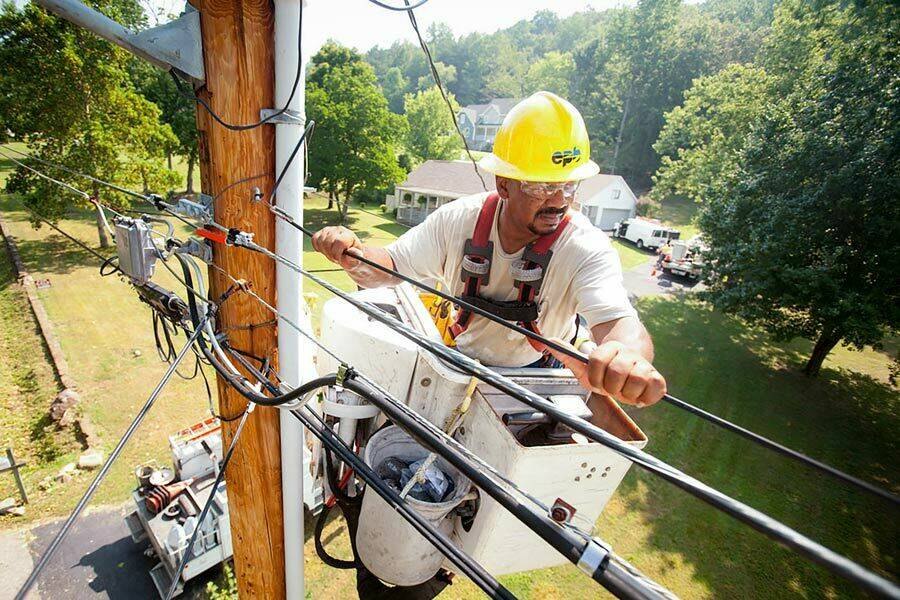 MCDON­ALD, TENN. — Life in the small unin­cor­po­rat­ed com­mu­ni­ty of McDon­ald, which sits among the rolling rivers and smoky moun­tain ridges of Appalachia, was sup­posed to be par­adise for Tri­na Pyke and her family.
Even as lack of internet service affordability is widening America's digital divide, it may also be laying a foundation for a new kind of politics.
Pyke, a 60-year-old grand­moth­er who moved to the Unit­ed States from Venezuela at age 9, lives in a pic­turesque three­sto­ry log cab­in built by her hus­band. ​"I wouldn't live any­where else," says Pyke. ​"This is Eden."
But life in Eden is a dig­i­tal hell.
Because no one has invest­ed in lay­ing fiber optic cables through the moun­tains, Pyke, like many rur­al Amer­i­cans, must rely on rel­a­tive­ly slow satel­lite inter­net with data caps. This made return­ing to school a night­mare for Pyke, who just grad­u­at­ed with her master's degree in nurs­ing edu­ca­tion. When her fam­i­ly met their month­ly data lim­it of 15 giga­bytes, down­load and upload times plummeted.
For nurs­ing school, ​"We had to trans­fer data and upload papers," Pyke says. ​"Fif­teen giga­bytes just evap­o­rat­ed in a few days."
Pyke spent hours at the library access­ing the inter­net, away from home and her 85-year-old moth­er, who has Parkinson's dis­ease and Alzheimer's dis­ease, and requires dili­gent care.
Now, Pyke is one of a num­ber of activists across the state part­ner­ing with pub­licly owned inter­net providers to push for expand­ing fiber optic ser­vices to rur­al com­mu­ni­ties. Pyke is work­ing with the Elec­tric Pow­er Board (EPB), a pub­lic util­i­ty run by the neigh­bor­ing city of Chat­tanooga, which dou­bles as an inter­net ser­vice provider.
EPB got into the inter­net busi­ness in 1999, after the state gov­ern­ment passed a law mak­ing pub­lic inter­net util­i­ties legal. Unfor­tu­nate­ly, that same law had a last-minute pro­vi­sion ban­ning pub­lic util­i­ties from expand­ing com­mu­ni­ty broad­band into areas where they don't sell electricity.
EPB could pro­vide Pyke with inter­net access with no data cap at speeds at least four times as fast as what she cur­rent­ly has — and for the same price. At that speed, ​"My broth­er in Colom­bia could Face­Time our moth­er," Pyke says.
The EPB's mis­sion as a pub­lic util­i­ty includes address­ing the insti­tu­tion­al bar­ri­ers that main­tain the ​"dig­i­tal divide" — the gap between those who have inter­net access and those who do not. In 2015, EPB part­nered with near­by Hamil­ton County's depart­ment of edu­ca­tion to launch the Net­Bridge Stu­dent Dis­count Pro­gram, which pro­vides low-cost, high-speed inter­net to house­holds with chil­dren in the Free and Reduced Meals Pro­gram. J. Ed. Marston, EPB's vice pres­i­dent for mar­ket­ing, says EPB would have pro­vid­ed the ser­vice at an even low­er price, but was again ham­strung by a dif­fer­ent state law, this one bar­ring util­i­ties from sell­ing ser­vices below cost.
But even as lack of inter­net ser­vice afford­abil­i­ty and the repeal of net neu­tral­i­ty are widen­ing America's dig­i­tal divide, they may also be lay­ing a foun­da­tion for a new kind of politics.
Dar­ren Hodge, a 49-year-old union sheet met­al work­er and turkey hunt­ing enthu­si­ast, is run­ning for coun­ty com­mis­sion­er in neigh­bor­ing Rhea Coun­ty, Tenn.
Hodge, who says he was raised ​"ultra-con­ser­v­a­tive Repub­li­can," became a ​"run-of-the-mill Demo­c­rat" with the elec­tion of Oba­ma, whose ​"upbeat inclu­sive mes­sage spoke hope to a dis­mal econ­o­my" at a time when he and his fam­i­ly were suf­fer­ing finan­cial­ly. Chang­ing par­ties was a pret­ty big change, but not near­ly as big as what hap­pened after he heard Bernie Sanders speak in the last pres­i­den­tial primary.
"It was like a lightswitch was flipped," says Hodge. ​"Bernie spoke to my heart. Medicare for all, liv­able wages, get­ting rid of TPP — those issues were like a wake-up call for me."
Hodge was inspired to run on a pop­ulist plat­form that includes eschew­ing cor­po­rate dona­tions, sup­port­ing unions, rais­ing wages and elim­i­nat­ing the legal bar­ri­ers to expand­ing EPB ser­vice to his county.
"We have out­ages, slow inter­net," he says. ​"There are some places in this coun­ty that don't have any inter­net access at all. We need to boost our infra­struc­ture, includ­ing high-speed inter­net for students."
Pro­mot­ing pub­licly owned com­pa­nies and expand­ing infra­struc­ture invest­ment in poor, rur­al com­mu­ni­ties — all while wear­ing camo and dri­ving a truck? Sounds like the right ingre­di­ents for a resur­gence of South­ern socialism.
Chris Brooks
is a staff writer and labor edu­ca­tor at
Labor Notes,
where he cov­ers the Unit­ed Auto Work­ers. He is a mem­ber of the Nation­al Writ­ers Union (UAW Local
1981
).