Disaster Capitalism Strikes Puerto Rico's Schools
The government's plan to close 179 public schools and open charters has residents alarmed.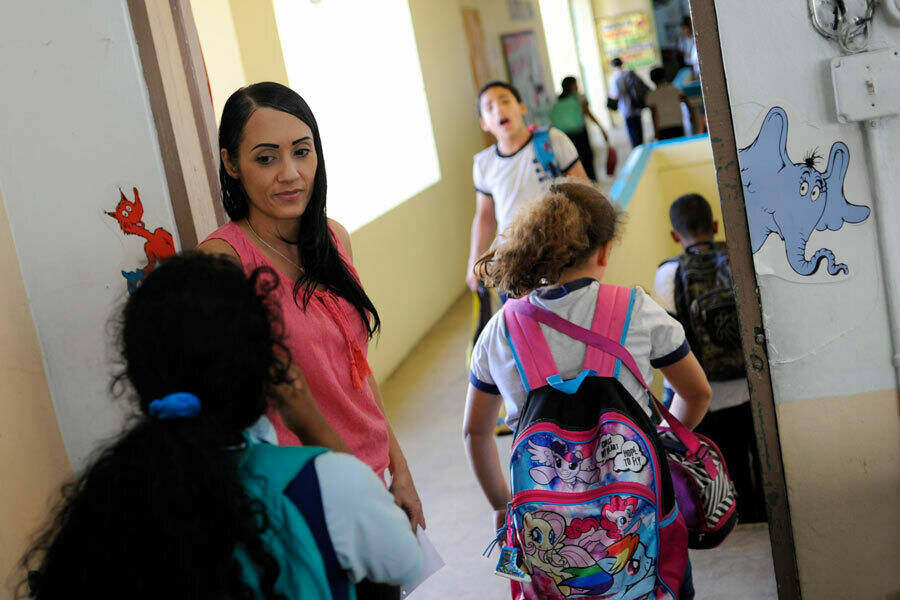 SAN JUAN, PUER­TO RICO — It's Valentine's Day at Eleanor Roo­sevelt ele­men­tary, and choco­late good­ies and Krispy Kreme donuts sit in the back of Axa­m­a­ra Pérez's class­room. Her first-graders are eager to fin­ish their assign­ment so they can start the party.
Since Hur­ri­cane Maria hit in Sep­tem­ber 2017, ​"to get them excit­ed about some­thing, you real­ly have to do a lot," says Pérez.
It's almost impos­si­ble to for­get real­i­ties on the island, which include hur­ri­cane recov­ery, a 12-year finan­cial cri­sis and dev­as­tat­ing aus­ter­i­ty mea­sures. The island owes bond­hold­ers $75 bil­lion, a result of mis­man­age­ment and a cen­tu­ry under a colo­nial super­pow­er. To save mon­ey, 179 schools have been shut­tered, and Puer­to Rico Edu­ca­tion Sec­re­tary Julia Kele­her announced in April that a quar­ter of the 1,100 remain­ing schools will close this summer.
Morale is low in the Eleanor Roo­sevelt com­mu­ni­ty, where some stu­dents still live with­out elec­tric­i­ty. Let­ters to par­ents receive no response, requests for par­ent-teacher meet­ings are ignored, home­work goes unfin­ished and teach­ers feel pres­sure to keep the school from closing.
"Even though we are try­ing to get back to nor­mal — emo­tion­al­ly, we are not back to nor­mal," Pérez says. She has worked at Eleanor Roo­sevelt for 19 years and is one of the ded­i­cat­ed staff mem­bers who have helped keep the school off the clos­ings list. Puer­to Rico's pub­lic schools lost 8 per­cent of their stu­dents in the post-hur­ri­cane exo­dus. But Eleanor Roo­sevelt still has 279 stu­dents, well above the thresh­old of 150 that Kele­her sug­gest­ed could trig­ger a closure.
Kele­her saw in Hur­ri­cane Maria what she calls ​"a real oppor­tu­ni­ty to press the reset but­ton." In a sweep­ing ​"edu­ca­tion reform" plan unveiled by Gov. Ricar­do Rossel­ló on March 29, Puer­to Rico is simul­ta­ne­ous­ly open­ing char­ter schools. Crit­ics wor­ry the plan will repli­cate what hap­pened to New Orleans after Hur­ri­cane Kat­ri­na: With the char­ter­i­za­tion of that school sys­tem, thou­sands of AfricanAmer­i­can teach­ers were fired to make way for a pre­dom­i­nant­ly white and inex­pe­ri­enced work­force. Kele­her has promised not to lay off per­ma­nent teach­ers, but about a sixth of Puer­to Rico's teach­ers are on year-to-year con­tracts. Oth­ers wor­ry that their job descrip­tions will change or they will face long com­mutes over moun­tain­ous roads.
"We are not like books that you move from this school to anoth­er school because they need them in anoth­er library," says Noralis Med­i­na, who was trans­ferred when her small pub­lic school in Vega Baja closed three years ago.
The edu­ca­tion reform plan adds insult to injury for teach­ers who have seen their pen­sions repeat­ed­ly cut. In an NPR inter­view, Aida Diaz, pres­i­dent of the Puer­to Rico Teach­ers' Asso­ci­a­tion, expressed anger that ​"we are hav­ing mon­ey tak­en from our bud­get" for charters.
Teach­ers have led a wave of anti-aus­ter­i­ty protests and now, anti-char­ter protests. In a one-day strike on May Day, teach­ers protest­ing out­side the Depart­ment of Edu­ca­tion were tear-gassed.
At Ramon Luis Rivera, the only school in the rur­al town of Juan Asen­cio, par­ents voice their con­cerns about char­ters almost dai­ly, accord­ing to third-grade teacher Mil­itza Ramos Alicea. Enroll­ment is down and the school is slat­ed for clo­sure. Ramon Luis Rivera has a large spe­cial edu­ca­tion pop­u­la­tion, and par­ents fear their kids will be inad­e­quate­ly served at char­ter schools, or turned away entire­ly. They cite reports of main­land char­ters push­ing out low performers.
Ivette Del­ga­do is a retired uni­ver­si­ty pro­fes­sor who does com­mu­ni­ty work in Areci­bo, a city of 43,000 with an almost 50 per­cent pover­ty rate. She dri­ves past a closed school near­ly every day, a reminder of what was once a com­mu­ni­ty pil­lar. The depart­ment has not yet said what char­ter mod­els will be imple­ment­ed, but Del­ga­do and oth­ers fear that Keleher's plan is to bring char­ter oper­a­tors and teach­ers from the main­land, cut­ting out local input and sev­er­ing the trust built between par­ents and teachers.
Del­ga­do sees the plan as yet anoth­er lega­cy of colo­nial­ism: ​"We have to ask from down here: What are you doing with the money?"
Han­nah Wiley
is a reporter in Chica­go and a master's can­di­date at Northwestern's Medill School of Journalism.