Should Rahm Emanuel Be Exempt From Ethics Laws?
Executives at firms managing Chicago pension money have made more than $600,000 in donations to the mayor, despite a city ordinance—and an executive order by Emanuel himself—restricting contributions from city contractors.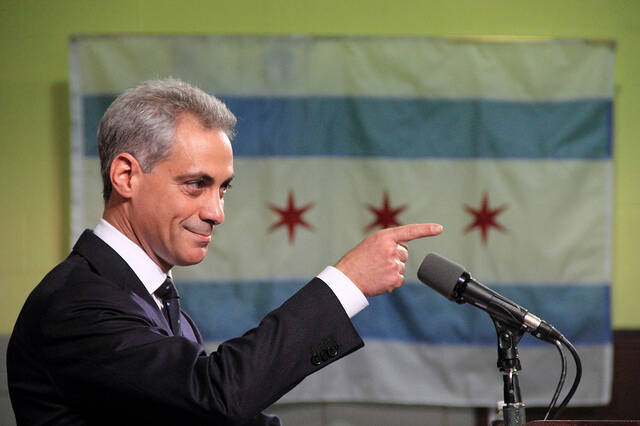 On its face, Chicago's munic­i­pal pen­sion sys­tem is an inte­gral part of the Chica­go city gov­ern­ment. The sys­tem is includ­ed in the city's bud­get, it is direct­ly fund­ed by the city, and its var­i­ous boards of trustees include city offi­cials and may­oral appointees. Yet, when it comes to enforc­ing the city's anti-cor­rup­tion laws in advance of the Chicago's close­ly watched 2015 munic­i­pal elec­tion, May­or Rahm Emanuel's admin­is­tra­tion is sud­den­ly argu­ing that the pen­sion funds are not part of the city gov­ern­ment at all.
The Emanuel-appointed commission was unusually frank about its motives: It said the release of its opinion was designed "to attempt to ensure that no ethical clouds are hanging over any candidate's head."
The coun­ter­in­tu­itive dec­la­ra­tion came last month from the may­or-appoint­ed ethics com­mis­sion, respond­ing to Chica­go aldermen's request for an inves­ti­ga­tion of cam­paign con­tri­bu­tions to Emanuel from the finan­cial indus­try. The request fol­lowed dis­clo­sures that exec­u­tives at firms man­ag­ing Chica­go pen­sion mon­ey have made more than $600,000 worth of dona­tions to Emanuel. The con­tri­bu­tions flowed to the may­or despite a city ordi­nance—and an exec­u­tive order by Emanuel him­self — restrict­ing may­oral cam­paign con­tri­bu­tions from city contractors.
Brush­ing off the law­mak­ers' com­plaint about Emanuel's dona­tions from the finan­cial indus­try, the mayor's ethics com­mis­sion issued a non­bind­ing legal opin­ion argu­ing that Chicago's pen­sion sys­tems are ​"not agen­cies or depart­ments of the city, and thus firms that con­tract with them are not doing or seek­ing to do busi­ness with the city." The commission's inter­pre­ta­tion means finan­cial firms' busi­ness with Chica­go pen­sion funds should be con­sid­ered exempt from city ethics laws.
With the aldermen's com­plaint about cam­paign con­tri­bu­tions gen­er­at­ing head­lines and poten­tial­ly com­pli­cat­ing Emanuel's already tough race for re-elec­tion, the Emanuel-appoint­ed com­mis­sion was unusu­al­ly frank about its motives: It said the release of its opin­ion was designed ​"to attempt to ensure that no eth­i­cal clouds are hang­ing over any candidate's head."
In an era of mon­ey-dom­i­nat­ed pol­i­tics, it isn't par­tic­u­lar­ly sur­pris­ing that the Windy City hap­pens to be the place where gov­ern­ment is pio­neer­ing such an inno­v­a­tive method of help­ing a cor­po­rate-backed incum­bent. It also isn't sur­pris­ing that the city com­mis­sion charged with mak­ing sure the may­or is fol­low­ing city ethics laws is itself appoint­ed by the may­or, thus mak­ing it more Emanuel's polit­i­cal weapon rather than an inde­pen­dent enforce­ment mech­a­nism. It is Chica­go, after all — a place syn­ony­mous with polit­i­cal chicanery.
But that doesn't mean the sto­ry has to end there.
In response to Emanuel's move, one alder­man said the legal opin­ion was a ​"weak attempt at split­ting hairs."
"Eth­i­cal­ly and intu­itive­ly, the city's own pen­sion funds war­rant over­sight by the city, and all the finan­cial advis­ers who do busi­ness with the city should be held account­able by our board of ethics," said Alder­man Scott Wagues­pack. ​"There should be over­sight, and the pay-to-play rules apply to these firms."
With the may­or attempt­ing to exempt the pen­sion sys­tem from the city's ethics rules, Wagues­pack says the law­mak­ers are count­ing on the fed­er­al gov­ern­ment to enforce a 2011 Secu­ri­ties and Exchange Com­mis­sion rule aim­ing to restrict con­tri­bu­tions to pub­lic offi­cials from exec­u­tives at finan­cial firms that man­age pub­lic pen­sion mon­ey. To that end, Wagues­pack and two oth­er law­mak­ers have filed a for­mal com­plaint with the SEC, which respond­ed with a let­ter say­ing the agency will review their com­plaint ​"in con­nec­tion with our statu­to­ry and reg­u­la­to­ry responsibilities."
Will the SEC ulti­mate­ly act? It is anyone's guess.
As a for­mer chief of staff to Pres­i­dent Oba­ma, Emanuel is wired in to the same fed­er­al gov­ern­ment that is respon­si­ble for enforc­ing the pay-to-play laws — so in one sense it is dif­fi­cult to imag­ine the Oba­ma admin­is­tra­tion train­ing its law enforce­ment sights on him.
Then again, the SEC recent­ly vowed to inten­si­fy its enforce­ment of pay-to-play rules — and there would be few bet­ter ways to prove it is seri­ous than by scru­ti­niz­ing a scan­dal-plagued metrop­o­lis like the president's hometown.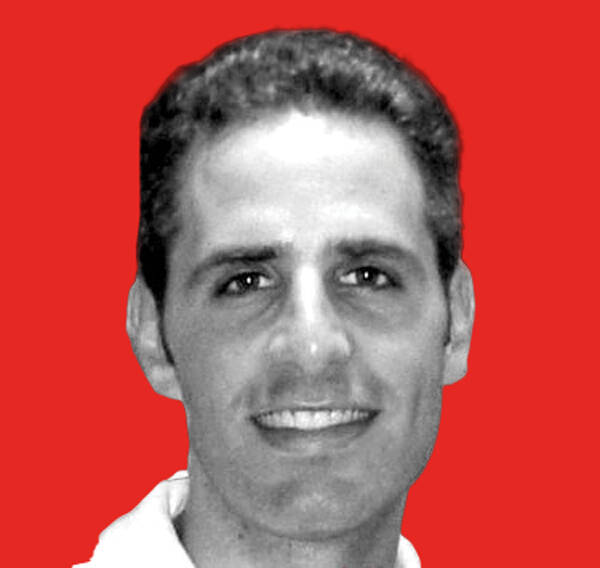 David Siro­ta
is an award­win­ning inves­tiga­tive jour­nal­ist and an
In These Times
senior edi­tor. He served as speech writer for Bernie Sanders'
2020
cam­paign. Fol­low him on Twit­ter @davidsirota.