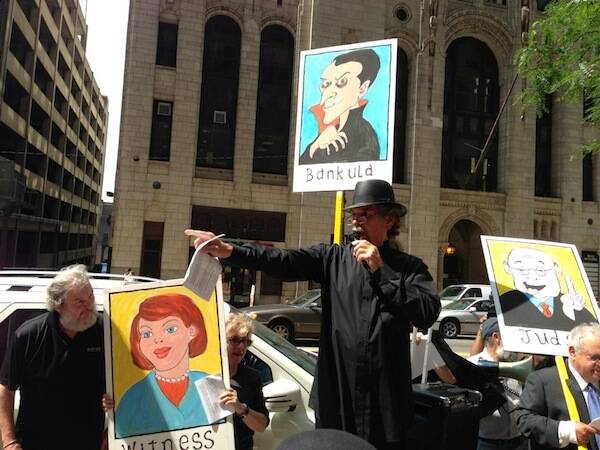 ​"Work is the curse of the drink­ing class," 62-year-old folk singer Anne Feeney told me as our car encoun­tered heavy rush hour traf­fic ear­ly Mon­day morn­ing on Pitts­burgh's Park­way West.
Feeney was tired from a day of play­ing songs and moon­ing scabs dur­ing a ral­l­ly on the pick­et line at Pittsburgh's locked-out Neville Chem­i­cal plant dur­ing the sec­ond stop of the ​"Sum­mer of Sol­i­dar­i­ty," a 17-day tour of 13 cities across the coun­try. Now she, along with Cana­di­an rap­per Michael Fras­er O'Brien of Kill the Auto­crat and five oth­er union activists, was mov­ing on to the next leg of the tour, in Detroit.
Unlike the typ­i­cal largescale labor events orga­nized by inter­na­tion­al unions' cen­tral staff, the tour is being put on by locals and rank-and-file mem­bers of var­i­ous unions, includ­ing Unit­ed Elec­tri­cal Work­ers (UE), the Bak­ery, Con­fec­tionary, Tobac­co Work­ers and Grain Millers union (BCT­GM), UNITE HERE, the Inter­na­tion­al Long­shore and Ware­house Union (ILWU) and Unit­ed Steel­work­ers (USW). And instead of being bankrolled by a large union with the finan­cial resources to eas­i­ly cut a check for tens of thou­sands of dol­lars, the car­a­van has been fund­ed through crowd­sourc­ing efforts on IndieGoGo. The aim, the activists say, is to con­nect ​"the grass­roots" of var­i­ous unions.
The ulti­mate goal, Sum­mer of Sol­i­dar­i­ty orga­niz­ers say, is to con­nect with com­mu­ni­ty groups engaged in strug­gles that all too often are over­looked by union activists mired in the day-to-day work of griev­ances, arbi­tra­tion and con­tract bargaining.
​"All of these strug­gles are con­nect­ed. This tour is all about a life-or-death strug­gle against cor­po­rate greed," says Sum­mer of Sol­i­dar­i­ty orga­niz­er Mike Zielin­s­ki, a mem­ber of Unit­ed Steel­work­ers Local 3657 in Pitts­burgh. ​"So it's con­nect­ing strug­gles on the job, con­tract fights, labor dis­putes, com­mu­ni­ty bat­tles over hous­ing and edu­ca­tion and ensur­ing that our soci­ety meets its promise. We are orga­niz­ing to bring these strug­gles togeth­er into an irre­sistible force of change."
At its third stop in Detroit, the car­a­van linked up with labor and com­mu­ni­ty activists hold­ing a people's tri­al of Bank of Amer­i­ca for its role in the eco­nom­ic decline of the city. The dire straits of Detroit's econ­o­my were under­scored by a recent bank­rupt­cy filed by the city's unelect­ed emer­gency finan­cial man­ag­er, Kevyn Orr, who was appoint­ed by Michigan's Repub­li­can Gov­er­nor Rick Snyder.
Orr has indi­cat­ed that he intends to cut the pen­sions of retired pub­lic employ­ees as part of the restruc­tur­ing of Detroit's finances. On Mon­day, the Michi­gan Chap­ter of AFSCME argued in fed­er­al court that Orr's move was an ​"uncon­sti­tu­tion­al, unlaw­ful­ly autho­rized Chap­ter 9 pro­ceed­ing seek­ing the haven of bank­rupt­cy to ille­gal­ly attempt to slash pen­sion and oth­er post-employ­ment ben­e­fit oblig­a­tions and cram such reduc­tions down the throats of cur­rent and for­mer city employees."
Out­side of the fed­er­al cour­t­house where the hear­ing was held, the people's tri­al argued that it should be Bank of Amer­i­ca, and not pub­lic-sec­tor unions, in court defend­ing themselves.
​"It's all the banks, includ­ing Bank of Amer­i­ca, that have destroyed Detroit," said Chris Driscoll, a local mem­ber of the Unit­ed Steel­work­ers who, despite the swel­ter­ing heat, was dressed in a black garbage bag to play the role of the trial's defen­dant, the vam­pire-cum-bank Banku­la. ​"They fore­closed on so many homes, leav­ing the homes emp­ty, reduc­ing the tax base of the city and then turn­ing it around and lend­ing mon­ey to the city at exor­bi­tant rates and help­ing cre­ate this bank­rupt­cy cri­sis in which pri­va­tiz­ers want to come in and buy half of Detroit."
​"We don't owe them," said Dave Sole, a 65-year-old retired chemist with the Detroit Water and Sew­er­age Depart­ment. ​"The banks should pay Detroit for the crim­i­nal activ­i­ty that destroyed it…. Any cut in our pen­sions — and my wife is a retired City of Detroit Depart­ment of Trans­porta­tion work­er – would cause us to lose our home."
Sole says the work­ers will put a seri­ous fight for the ben­e­fits they were promised.
​"Every­one on the pick­et line this morn­ing, we are all vet­er­ans of the civ­il rights move­ment, the union move­ment and the anti-war move­ment, and if we have to, we can show them some­thing they haven't seen for years. Let me leave at it that," says Sole.
He adds that their fight will have reper­cus­sions far beyond Detroit.
​"They are hop­ing that com­mu­ni­ties around Detroit will not lend sol­i­dar­i­ty to Detroit," says Sole. ​"They're count­ing on racism. ​'Oh, the hell with black peo­ple, Detroit, poor peo­ple…' But if they get it in Detroit, it opens it up every­where in the coun­try…. They want to make an exam­ple of Detroit."
Orga­niz­ers with the Sum­mer of Sol­i­dar­i­ty tour hope they can illu­mi­nate how the seem­ing­ly iso­lat­ed strug­gle in Detroit is part of a larg­er bat­tle against work­ers. Hon­ey­well ura­ni­um plant work­er Stephen Lech, whose Unit­ed Steel­work­ers Local 7 – 699 in Metrop­o­lis, Ill., was engaged in a 14-month lock­out from 2010 to 2011, says that the sol­i­dar­i­ty his local received from oth­er unions was vital.
​"We were always look­ing to oth­er strug­gles when we were locked out," says Lech. ​"Now we are always look­ing for ways that we can sup­port oth­er strug­gles because in our strug­gle it was so crit­i­cal to us."
The tour also hopes to high­light not only the ugli­ness of what is hap­pen­ing to so many work­ers, but the beau­ty of the means by which they com­mu­ni­cate their strug­gle. Feeney and O'Brien dis­played that beau­ty at a con­cert put on with sev­er­al Detroit bands at the art gallery Swords Into Plow­shares. Activists shared ​"class war sto­ries," beers, and laughs as they dis­cussed the state of their struggle.
Feeney, who has par­tic­i­pat­ed in dozens of sim­i­lar tours through­out her decades in the labor move­ment, says that the 1986 march for peace car­a­van that went through Pitts­burgh inspired her to take part in so many tours herself.
​"There is some­thing about trav­el­ers com­ing into a place that makes peo­ple vul­ner­a­ble in a way that they nor­mal­ly would not be," says Feeney. ​"High ener­gy peo­ple com­ing into a place, play­ing music and doing stops has a real rip­ple effect. Some peo­ple will get inspired to do even more as activists. We will nev­er know tru­ly what impact this may have on peo­ple, but it may change people's lives forever."
This is the first in a series by Mike Elk, who is trav­el­ing for two weeks with the Sum­mer of Sol­i­dar­i­ty tour. To help In These Times cov­er his trav­el expens­es and to send more reporters to cov­er grass­roots activism around the coun­try, donate here.