Reach Out and Rob Someone
After federal investigations into the $4 billion prepaid phone card industry found deceptive practices, state officials and Capitol Hill are finally cracking down on companies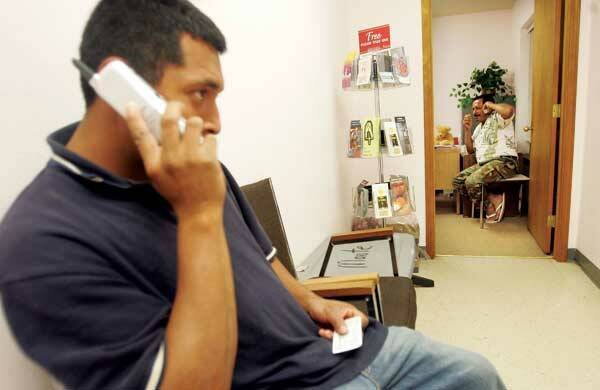 We wanted to make sure you didn't miss the announcement of our new Sustainer program. Once you've finished reading, take a moment to check out the new program, as well as all the benefits of becoming a Sustainer.

Heliodora Vera frequently uses phone cards to call her family in Mexico, but she and many other customers often suspected they weren't getting all of the minutes they paid for. Now government and consumer studies back their suspicions.
Investigations by the Federal Trade Commission (FTC), several state attorney generals' offices and consumer advocacy groups have found that many calling card companies practice deceptive advertising and deduct calling minutes through hidden fees.
"The cards always end before the minutes that [are] stated on the cards," says Vera, a Spanish Harlem resident who frequently phones abroad to speak with her daughters. ​"It's bad because they're robbing us. They give us certain minutes to call and it's not true. They're stealing our minutes."
Prepaid phone cards are a $4 billion annual industry. Domestic and international prepaid cards are sold for $2 to $20 at convenience stores, gas stations and newsstands – each claiming to offer the most minutes for the fewest dollars.
But two FTC studies conducted in March and May found that phone cards purchased from Alternatel Inc., a Florida company, delivered an average of 50 percent of the minutes advertised, while cards from New Jersey-based Clifton Telecard Alliance (CTA) delivered only 43 percent.
Many users had minutes subtracted when phone calls didn't connect, or when they got a busy signal. They also had hidden connection charges tacked on. And some cards simply didn't work.
What's more, disclosures were often in small, illegible print and included charges – such as ​"hang up," ​"maintenance fees" and ​"destination surcharges" – that reduced the cards' values.
"Such fees are disclosed in tiny font and in vague terms that are mostly incomprehensible in any language," the FTC said in a statement.
Calling card use has gone up in the United States, and it is projected to keep climbing. In 2000, 30 million households used calling cards. By 2005, the number had increased to 50 million, according to industry estimates.
According to Gus West, president of the Hispanic Institute, a nonprofit group, Latinos make up more than 70 percent of U.S. calling card consumers.
Says West: ​"Nearly everyone that we talked to in the Hispanic community … felt they've been cheated out of minutes using these cards."
The Hispanic Institute's own study found that calling cards it tested delivered only 60 percent of the minutes advertised.
West says that many immigrants face language barriers that prevent them from filing a complaint. Cumulatively, the group estimates that fraudulent calling cards cost Latinos $1 million a day.
With little federal oversight, state officials have started to crack down on the companies.
In May, Texas Attorney General Greg Abbott sued telecommunication provider Next‑G Communications Inc., for allegedly failing to provide the number of minutes advertised, and accused the company of providing vague disclosures on terms and conditions. The case is pending.
In Florida, Attorney General Bill McCollum reached a settlement with nine phone companies in June. The businesses are now required to cease false advertising, provide the minutes allotted, submit to an audit for three years and reimburse the attorney general's office $1 million for investigative and enforcement costs.
"The calling card industry has long been targeting non-English speakers and cheating consumers for whom these cards are often a lifeline to loved ones," McCollum said in a June 11 statement.
In late September, the U.S. House passed the Calling Card Consumer Protection Act. The measure would require phone companies to state clearly all terms and fees, and to provide the number of minutes advertised.
The bill also enables the FTC to enforce the rules and gives states power to pursue civil actions. A similar measure is being considered in the Senate.
Sen. Bill Nelson (D‑Fla.), the sponsor of that bill, says that in the last few years, the prepaid calling card market has seen ​"an influx of scam artists that are only interested in ripping consumers off." He says, ​"We need national standards to push the bad actors out of this market, and ensure that consumers get the calling minutes they are paying for."
Be a Sustainer
We surveyed thousands of readers and asked what they would like to see in a monthly giving program. Now, for the first time, we're offering three different levels of support, with rewards at each level, including a magazine subscription, books, tote bags, events and more—all starting at less than 17 cents a day. Check out the new Sustainer program.