'Reel Profits, Real Poverty': Security Guards Organize in Hollywood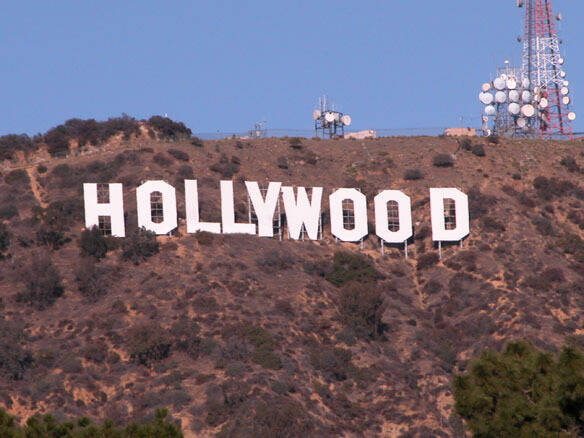 Reader donations, many as small as just $1, have kept In These Times publishing for 45 years. Once you've finished reading, please consider making a tax-deductible donation to support this work.
It's been a fat year for Hollywood. Last year the industry set a record for box-office sales, with domestic sales soaring to $10.7 billion and shattering 2008 records by 10 percent.

That bodes well for workers in the film industry, where average wages surpass those of the rest of Los Angeles, much of it due to the strength and proud tradition of Hollywood unions.

But security guards, many of whom are African-American and Latino and who protect the industry's workers and property 24 hours a day, work at poverty wages. Andrews International, which is the industry's favored choice for providing security pay their workers as little as $10 to $12 per hour.

But workers are now organizing to win a living wage and decent healthcare.
SEIU spokesperson Kevin O'Donnell said workers in several states have been organizing since late summer.

Andrews, headquartered in Los Angeles, earns hundreds of millions of dollars in annual revenues, provides security for four of the ​"big six" film studios as well as other, smaller studios. It is one of the largest privately held security firms in the United States.

While the film industry receives government subsidies and support, security guards are being left out of the loop. According to a new report issued by the SEIU-United Services Workers West, ​"Reel Profits, Real Poverty: How Major Hollywood Studios are Leaving Security Officers Behind":
Irresponsible contractors such as Andrews International leave security officers that protect the studios to make difficult choices between paying their rent, getting necessary medications and feeding their families.
Four years ago, janitors who clean the studios organized and won decent wages and health insurance.

Two years ago, 4,000 security officers in Los Angeles commercial office buildings negotiated with leading building owners and responsible security contractors, creating a historic agreement that brought them healthcare, decent wages, and sick days.

According to the report, they joined 30,000 guards across the nation who have won similar agreements in New York, Boston, San Francisco and Washington, D.C. In California, 8,500 security officers are members of SEIU.

Security guards for Andrews are hoping to someday reap the same benefits that should be a right that the labor movement fought long and hard for.

Randy Andrews, chairman and CEO of Andrews International, sent out a letter to clients to deflect charges by SEIU-United Service Workers West of repeated, widespread, and ongoing complaints of wage theft, including a new investigation by the Massachusetts attorney general of complaints by employees. Workers in that state said they had to work more than 40 hours without pay as a condition of participating in the application process, which included a week-long unpaid ​"training course."
The company also faces several wage-and-hour suits and two pending class actions, as well as investigations by the National Labor Relations Board in Boston and New York for alleged unfair labor practices.

Andrews' letter said, in part, that SEIU was intent on a ​"smear campaign" against Andrews: "[W]e are not anti-union. Our subsidiary, Advanced Tech Security has and will continue to recognize unions when lawful, appropriate and in the best interests of our customers and employees."

He closed by saying he could not recognize SEIU nor any other union just to stop a negative publicity campaign, ​"when such recognition is not in your best interests or the interests of my employees."

​"They are in denial about the growing number of employees who want to form a union," said Mike Chavez, an SEIU spokesman. ​"they just want to change the focus away from security officers who want to raise their standards of living and improve their lives."

Meanwhile in Boston, the entire City Council signed a letter sent to clients of Andrews expressing their concern regarding the firm's track record and the alleged illegal firing of a security officer for participating in union organizing campaign.

The letter also expressed their concern about the firm's failure to pay sick days or provide adequate health insurance for security officers.

Cynthia Rincón works on the Fox studio lot and says she has experienced a policy of no meal or rest breaks as required by state and federal law. ​"Sometimes filming lasts 10 hours and we don't get breaks," she said.

John Macias has been a security offers at the Sony lot for 12 years. ​"With the low income from this company" Macias said, ​"I've learned to live basically a poverty lifestyle."
Your donation makes In These Times possible
Rose Arrieta
was born and raised in Los Angeles. She has worked in print, broadcast and radio, both mainstream and community oriented — including being a former editor of the Bay Area's independent community bilingual biweekly El Tecolote. She currently lives in San Francisco, where she is a freelance journalist writing for a variety of outlets on social justice issues.