In Freezing Chicago Winter, Protesters Stage Camp-In to Protest Unaffordable Rents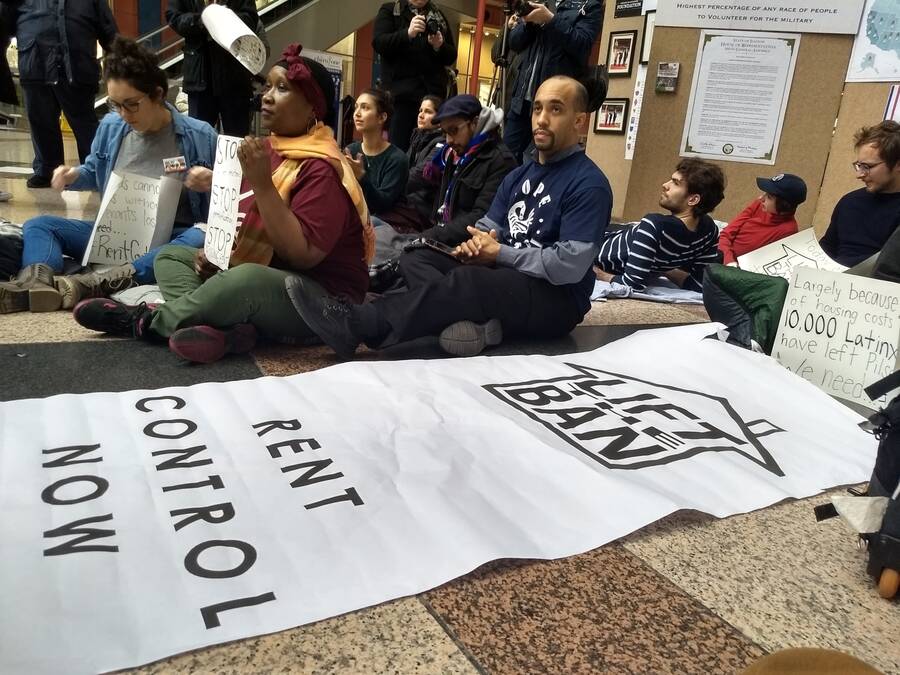 "Where are we going to go when we ain't got nowhere to live?" asked Casimiro Peña, a hous­ing orga­niz­er with North­side Action for Jus­tice in Chica­go. ​"It's get­ting cold out­side folks. Bet­ter lay down."
With that, Peña and a group of approx­i­mate­ly 50 oth­er pro­test­ers with the Lift the Ban coali­tion — a pro-rent-con­trol group — pulled out blan­kets, pil­lows and sleep­ing bags, set­ting up a makeshift camp inside the James R. Thomp­son Cen­ter, an Illi­nois gov­ern­ment office, on the morn­ing of Jan. 31. With hun­dreds of thou­sands of Chicagoans fac­ing a hous­ing afford­abil­i­ty cri­sis, the group demand­ed that Repub­li­can Gov. Bruce Rauner and Illi­nois leg­is­la­tors hear their frus­tra­tions about the dis­place­ment that low-income com­mu­ni­ties face as rents climb ever higher.
"Folks are fac­ing increas­es in rent every year, and it's pric­ing peo­ple out," Peña said. ​"These folks built the city to where it is today, this cul­tur­al­ly rich city, and they're being pushed out of the city they made."
Chicagoans, like res­i­dents in most cities in the Unit­ed States, have plen­ty of rea­son to raise hell over ris­ing rents. Accord­ing to the 2017 State of Rental Hous­ing report pro­duced by DePaul Uni­ver­si­ty, Cook Coun­ty has a grow­ing ​"afford­abil­i­ty gap." As of 2015, there were approx­i­mate­ly 514,000 house­holds seek­ing afford­able hous­ing, while only 326,000 afford­able units were avail­able. For low- and very low-income renters, that's meant a high like­li­hood of being rent bur­dened: More than 85 per­cent of both groups pay at least 30 per­cent of their incomes towards rent.
With the per­cent­age of renter-occu­pied house­holds grow­ing steadi­ly, from 37.7 per­cent in 2007 to 44.2 per­cent in 2015, these trends are like­ly to wors­en, leav­ing low-income com­mu­ni­ties more vul­ner­a­ble to rent hikes and threats of eviction.
In the face of these increas­es, the Lift the Ban coali­tion has emerged in the last year as a grow­ing force to con­test Illi­nois' rent con­trol ban.
Rent con­trol has been out­lawed in Illi­nois since 1997. As the Chica­go Read­er​'s Maya Duk­maso­va has writ­ten, the Illi­nois Rent Con­trol Pre­emp­tion Act, as the bill is known, is a direct copy of rent con­trol leg­is­la­tion draft­ed by the Amer­i­can Leg­isla­tive Exchange Coun­cil (ALEC), the right-wing group that's been cen­tral to craft­ing mod­el bills on issues rang­ing from vot­ing rights to envi­ron­men­tal reg­u­la­tion and immi­gra­tion laws. Ele­ments of ALEC's rent con­trol leg­is­la­tion have been imple­ment­ed in a num­ber of oth­er states, includ­ing Michi­gan, South Dako­ta, Ten­nessee and Arkansas.
The Lift the Ban coali­tion includes 20 mem­ber orga­ni­za­tions, includ­ing groups rep­re­sent­ing neigh­bor­hoods with severe afford­abil­i­ty gaps such as Pilsen Alliance and Somos Logan Square. The coali­tion has host­ed a num­ber of events since for­mal­ly launch­ing the cam­paign last year, such as bring­ing in hous­ing attor­neys to describe how rent con­trol would actu­al­ly work. While rent con­trol has been demo­nized in the media and con­test­ed by the real-estate lob­by, coali­tion mem­bers feel that their com­mu­ni­ties under­stand its necessity.
"Every­body is strug­gling right now to pay their rent," said Jawan­za Mal­one, exec­u­tive direc­tor for Ken­wood Oak­land Com­mu­ni­ty Orga­ni­za­tion. ​"If you go to work every day, you should be able to afford your rent, but the real­i­ty is that those places are few and far between."
Orga­niz­ers still have a long road ahead before rent con­trol could see the light of day in Illi­nois. After months of can­vass­ing, the coali­tion man­aged to put the ques­tion of whether to lift the rent con­trol ban on the bal­lot in 9 Chica­go wards and near­ly 100 precincts, encom­pass­ing neigh­bor­hoods across the city. While the non-bind­ing ref­er­en­dum, to be vot­ed on dur­ing the upcom­ing March pri­ma­ry, is large­ly sym­bol­ic, the cam­paign has already made itself felt in the Demo­c­ra­t­ic guber­na­to­r­i­al pri­ma­ry: Can­di­dates J.B. Pritzk­er and Daniel Biss have both endorsed lift­ing the rent con­trol ban.
Last year, Demo­c­ra­t­ic state rep­re­sen­ta­tive Will Guz­zar­di intro­duced leg­is­la­tion that would lift the state's rent con­trol ban. The cam­paign has been work­ing with Guz­zar­di on draft­ing fur­ther leg­is­la­tion to increase the pres­sure on Demo­c­ra­t­ic lead­er­ship in the state, hop­ing that the March ref­er­en­dum in Chica­go will make it clear that vot­ers expect their rep­re­sen­ta­tives to act quick­ly. Still, any action to enact rent con­trol is like­ly to face swift oppo­si­tion from the state's pow­er­ful real-estate lobby.
With rent con­trol orga­niz­ing on the rise nation­wide, the Lift the Ban cam­paign is yet more proof that peo­ple are grow­ing tired of hous­ing dis­place­ment and unjust evictions.
Pro­test­ers may have only camped out for under an hour, long enough for two cam­paign rep­re­sen­ta­tives to deliv­er a list of con­cerns to Gov. Rauner's office, but the action was hard­ly the finale for those assem­bled. The crowd made its inten­tions known as the protest con­clud­ed. ​"We'll be back! We'll be back! We'll be back!" the group chanted.
Tan­ner Howard
is a free­lance jour­nal­ist and In These Times edi­to­r­i­al intern. He's also a mem­ber of the Demo­c­ra­t­ic Social­ists of Amer­i­ca, orga­niz­ing pri­mar­i­ly around hous­ing and edu­ca­tion justice.