Renters Rise Up for National Day of Action
Events are taking place across the country to raise awareness about America's affordable housing crisis.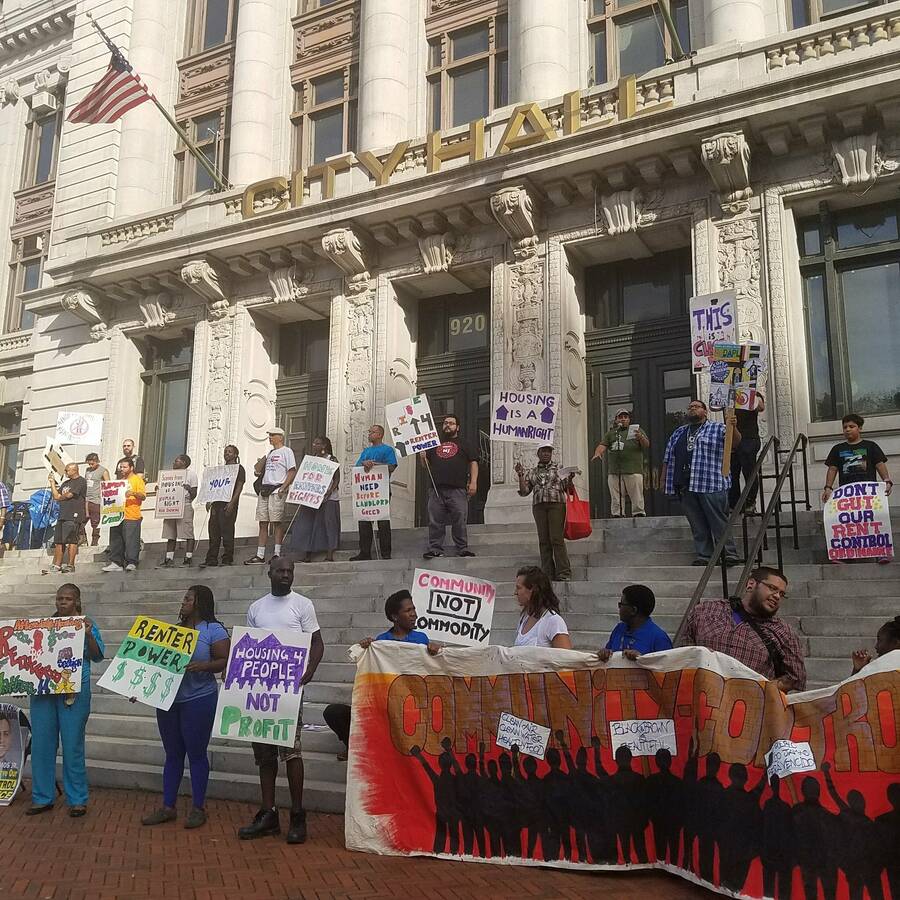 What if I told you about 110 mil­lion Amer­i­cans, the major­i­ty of them eli­gi­ble vot­ers, fac­ing one of the country's great­est chal­lenges, who have nev­er been for­mal­ly orga­nized on a mass scale? What if I told you that, if mold­ed into a polit­i­cal force, they could swing elec­tions, change state and local laws, and force action to resolve a crisis?
'It's wrong that you have to choose between a place to live and to have your basic needs met.'
And what if I told you that the first nation­wide effort to build this move­ment begins today?
Orga­niz­ers are call­ing it the Nation­al Renters Day of Action. Events are planned in some 46 cities, designed to raise aware­ness about America's afford­able hous­ing crisis.
"This is the largest mobi­liza­tion of renters in this gen­er­a­tion," says Mal­colm Chu of Right to the City Alliance, one of dozens of coali­tions sup­port­ing the action, under the ban­ner of Homes for All. ​"We're focus­ing on the need to guar­an­tee that all fam­i­lies can get afford­able housing."
The day of action came out of a nation­al con­fer­ence of hous­ing jus­tice orga­ni­za­tions this April in Chica­go. But, more broad­ly, it reflects the depths of a cri­sis that has reached epi­dem­ic pro­por­tions, par­tic­u­lar­ly since waves of fore­clo­sures dur­ing the Great Reces­sion cre­at­ed mil­lions of new renters.
Research by the Har­vard Joint Cen­ter for Hous­ing Stud­ies has found that half of all renters spend over 30 per­cent of their income on rent, and 1 in 4 — about 11.2 mil­lion fam­i­lies — spends over 50 per­cent. Even low-income hous­ing has become unaf­ford­able to many low-income fam­i­lies, with prices increas­ing faster than wages and gov­ern­ment assis­tance withering.
"The major­i­ty of our mon­ey goes to pay­ing the rent — 70 per­cent goes to the rent," says Lynn Jones, a for­mer home­own­er from New Orleans who lost her home in Hur­ri­cane Kat­ri­na and moved to Nashville, Ten­nessee. Jones claims that rents in the Nashville area have risen dra­mat­i­cal­ly in the last four years, and data from the site Rent Jun­gle, show­ing that the aver­age two-bed­room apart­ment has gone from $920 a month in 2012 to $1,572 today, bear that out.
"We have med­ical bills that my hus­band accrued because of heart attacks," says Jones, who is her­self on dis­abil­i­ty. ​"It's wrong that you have to choose between a place to live and to have your basic needs met, I can't fath­om it."
But afford­abil­i­ty isn't the only con­cern. Many below-mar­ket rental prop­er­ties are sub­stan­dard, with land­lords neglect­ing need­ed repairs. In a dri­ve to max­i­mize prof­its, entire build­ings get evic­tion notices when land­lords want to con­vert units to attract high­er rents. We don't even know how preva­lent evic­tions are because they are rou­tine­ly under­count­ed. Gen­tri­fi­ca­tion has torn fam­i­lies away from com­mu­ni­ties where they've lived for decades. Land­lords have grown in size and influence.
The cri­sis, what orga­niz­ers call a renter state of emer­gency, inter­twines with a severe pow­er imbal­ance. Renters are dis­pro­por­tion­ate­ly poor and peo­ple of col­or, groups whose voic­es bare­ly reg­is­ter in pub­lic pol­i­cy debates. They can be vic­tim­ized by unlaw­ful evic­tions and preda­to­ry rents with­out local, state, or nation­al offi­cials man­ag­ing to notice. They have lit­tle expec­ta­tion of gov­ern­ment aid or pro­tec­tion from unjust actions through ten­ant laws on the books.
"I don't think they care. I don't think any­body cares, they just wor­ry about mon­ey," says LaSharn Brown, a grill cook at Long Beach City Col­lege in California.
Brown says he was evict­ed from his home of nine years after receiv­ing a 60-day notice in Feb­ru­ary, after new own­ers decid­ed to ren­o­vate the units for high­er-income res­i­dents. After get­ting a new apart­ment in April, this week he received anoth­er 60-day evic­tion notice, for the same reason.
"It's stress­ful. I have to be out a week before Thanks­giv­ing, that's not right," Brown says.
Out of this chaos, hous­ing jus­tice groups have rec­og­nized the need for col­lec­tive action. Ten­ants unions have sprung up across the coun­try, offer­ing resources and coun­sel­ing to renters with prob­lems, and orga­niz­ing for bet­ter aware­ness and out­comes. The day of action seeks to inspire more engage­ment, orga­niz­ing com­mu­ni­ties of apart­ment-dwellers the way unions orga­nize workplaces.
"When peo­ple get rent increas­es, or an entire build­ing gets an evic­tion notice, you can use that as a point of entry," says Tony Sama­ra of Right to the City Alliance and author of ​"Rise of the Renter Nation: Solu­tions to the Hous­ing Afford­abil­i­ty Cri­sis," a solu­tions-based guide to the afford­able hous­ing crisis.
Some events have already tak­en place. Yes­ter­day, Seat­tle activists occu­pied space out­side a city coun­cil meet­ing on afford­able hous­ing, giv­ing renters an oppor­tu­ni­ty to tell their sto­ries of strug­gle and evic­tion. Also this week, in Newark, New Jer­sey, ten­ant groups held a 36-hour ral­ly, con­nect­ed to a city coun­cil meet­ing. Renters in Lynn, Mass­a­chu­setts inter­vened in a ​"Trol­ley Tour for Devel­op­ers," to protest a pro­posed lux­u­ry devel­op­ment along the city's water­front. And pro­test­ers gath­ered for a ​"Hous­ing is a Human Right" ral­ly at Katz Plaza in down­town Pitts­burgh, where orga­niz­ers claim rents have increased 59 per­cent since 2000, while renter income has remained flat.
Today's sched­ule includes march­es tar­get­ing evic­tion courts in Atlanta, city hall in Chica­go and a land­lord lob­by trade show in Port­land, Ore­gon. Oth­er events will fea­ture ban­ner drops strate­gi­cal­ly placed out­side the offices of devel­op­ers and land­lords and open mics where renters can speak direct­ly about con­di­tions on the ground.
"We need a bold shift in the way we talk about hous­ing," says Chu. ​"We're mobi­liz­ing peo­ple who are renters to take action together."
Renter-based orga­niz­ing presents unique challenges.
"I had to get over the invis­i­ble bar­ri­er that sep­a­rates us from our neigh­bors and say, ​'I'm ask­ing you to do some­thing,'" says Dar­ren Tay­lor, an orga­niz­er with Long Beach Res­i­dents Empowered.
Tay­lor became a renter activist after his apart­ment caught fire in July. The same day he and his part­ner inquired with the city health depart­ment about whether the blaze exposed res­i­dents to mold and asbestos, he says he found an evic­tion notice on his door.
The dis­place­ment was ille­gal, but before Tay­lor knew that, he and his part­ner moved out. But instead of walk­ing away, he went back to the prop­er­ty, knock­ing on every door and explain­ing what was hap­pen­ing with ille­gal evic­tions and retaliation.
"Three peo­ple were will­ing to meet with a lawyer," Tay­lor says. ​"Every­body else in the apart­ment told me they didn't want any trou­ble because they need a place to live."
Tay­lor hopes that draw­ing atten­tion through mass mobi­liza­tion can help focus the long-term goals of the move­ment. These include a mora­to­ri­um on evic­tions with­out a just cause, the rights of ten­ants to orga­nize togeth­er, con­ver­sion of unused land into com­mu­ni­ty land trusts and coop­er­a­tives to remove hous­ing from spec­u­la­tive mar­kets, and the con­cept of a ​"liv­able rent," fixed at 30 per­cent of fam­i­ly income.
Point­ed­ly, the activists do not share the opin­ion of econ­o­mists who believe that relax­ing zon­ing rules and build­ing new units would solve the prob­lem. First of all, they say, while this argu­ment is typ­i­cal­ly focused on high-demand coastal cities, the cri­sis is nation­al in scope. Even areas with dereg­u­lat­ed hous­ing mar­kets, like Hous­ton, Texas, have seen rents jump in the past cou­ple years.
Sec­ond, activists argue that a build­ing boom would do noth­ing to halt unlaw­ful evic­tions and neigh­bor­hood turnover.
"The only hous­ing being built is lux­u­ry hous­ing," says Chu, sug­gest­ing that the free mar­ket won't cre­ate afford­able rental units on its own.
Orga­niz­ers hope that a renter-led mass move­ment will bring change. Sev­er­al cities in Cal­i­for­nia have bal­lot ini­tia­tive cam­paigns for Novem­ber to insti­tute rent con­trol and man­date that evic­tions must not hap­pen with­out a just cause. A just cause evic­tions ordi­nance is also being debat­ed in Boston and Chica­go. In Salem, Ore­gon, a Renters Day of Action event will launch a statewide cam­paign for both just cause evic­tions and rent control.
Even pres­i­den­tial can­di­date Hillary Clin­ton addressed the afford­able hous­ing cri­sis yes­ter­day, pledg­ing to increase low-income hous­ing tax cred­its for devel­op­ers that cre­ate afford­able units. But the Renters Day of Action has much more rad­i­cal goals in mind.
More than any­thing, the mobi­liza­tion could spark a new polit­i­cal iden­ti­ty: the renter activist. Tay­lor expe­ri­enced that trans­for­ma­tion first-hand.
"I real­ized that all of us are in the mid­dle of the same thing, no mat­ter if we don't know each oth­er or don't like each oth­er," says Tay­lor, who now helps run a sup­port group for renters in Long Beach, pro­vid­ing legal resources and emo­tion­al aid. ​"If I don't offer help to peo­ple then nothing's going to change. We'll all get kicked out and prices will con­tin­ue to go up."