Resister's Digest: How to Join the Fight Against the GOP's Trumpcare
Events are taking place all over the country this week.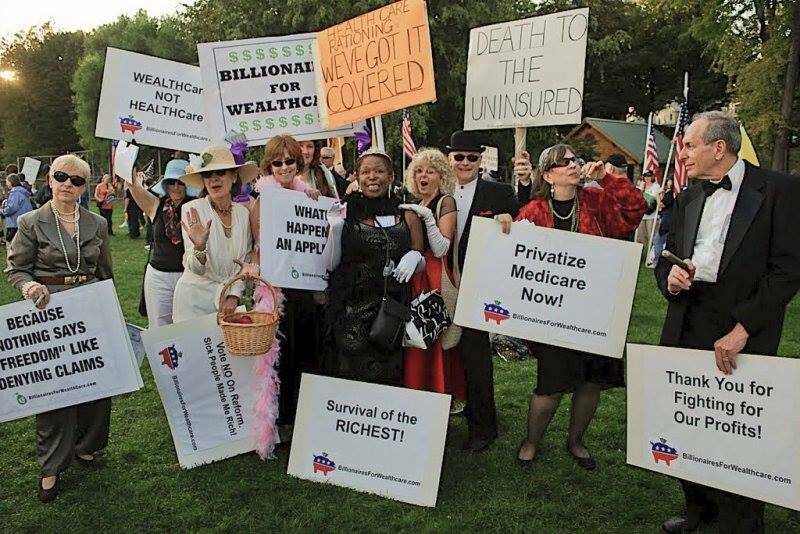 Wel­come to the debut edi­tion of Resister's Digest, a week­ly roundup spot­light­ing ways read­ers can con­nect with and learn about cam­paigns to oppose Pres­i­dent Don­ald Trump's agen­da, pro­tect human rights and pro­mote equal­i­ty. Have ques­tions or tips? Con­tact writer Theo Ander­son at theo@​inthesetimes.​com.
"We are facing a regime that has no regard for American values, and does not hesitate to fly in the face of the law to benefit the immature antics of an unhinged leader and his moneyed friends."
This week will mark an ear­ly show­down over the new GOP health­care bill. House Speak­er Paul Ryan said last week that Repub­li­cans will spend five weeks push­ing through their repeal and replace­ment of Oba­macare, the ​"Amer­i­can Health Care Act." The bill's pro­posed cuts to the Med­ic­aid pro­gram, alone, would ​"put at risk the health and safe­ty of 17.4 mil­lion chil­dren and adults with dis­abil­i­ties and seniors," accord­ing to AARP. If the bill doesn't pass, Ryan said, it would be a ​"blood­bath" for the par­ty in the 2018 election.
Here are ways to con­nect with the pro­gres­sive groups that aim to block the GOP's health­care agen­da, along with oppor­tu­ni­ties to get involved with oth­er campaigns.
Resist Trump Tuesdays
People's Action, in col­lab­o­ra­tion with MoveOn​.org and the Work­ing Fam­i­lies Par­ty, spon­sors resis­tance events every Tues­day. This week, the coali­tion is focus­ing on ​"telling the House to reject the … plan to take a wreck­ing ball to our health care." Events are sched­uled in cities across the nation, includ­ing Indi­anapo­lis, Nashville, Phoenix and Los Ange­les, where a ral­ly is planned at Sen. Dianne Feinstein's office. Go to this page for a full list and for more infor­ma­tion on all events.
Share your Oba­macare story
Fam­i­lies USA offers sev­er­al resources to fight the Oba­macare repeal, includ­ing a list of talk­ing points about the effects of the GOP plan and spe­cif­ic actions to take and events to attend. Resources at the site include a ​"social media toolk­it" and a form that allows peo­ple who've ben­e­fit­ed from Oba­macare to share their sto­ry. Fam­i­lies USA match­es some of the peo­ple who con­tribute a sto­ry with oppor­tu­ni­ties to share it with media out­lets and lawmakers.
Con­tact your representative
The Amer­i­can Civ­il Lib­er­ties Union (ACLU) is also engaged in the fight against Oba­macare repeal. Go here for cus­tomiz­able emails that can be auto­mat­i­cal­ly sent to your Con­gres­sion­al representative.
There are also var­i­ous tools for inform­ing your oppo­si­tion to the GOP plan, find­ing out where your rep­re­sen­ta­tives in Con­gress stand and fol­low­ing the progress of the fight. Con­tact­ing Con­gress has data on how many peo­ple in a House dis­trict ben­e­fit from Oba­macare, along with con­tact infor­ma­tion and email links. Go to the local reps page for a com­plete list of state and fed­er­al rep­re­sen­ta­tives. NPR is track­ing where each mem­ber of Con­gress stands on the GOP's health­care bill, based on pub­lic state­ments and oth­er data. And Bill​Moy​ers​.com has post­ed a list of pub­li­ca­tions that offer high-qual­i­ty cov­er­age of the ongo­ing bat­tle, includ­ing Repeal and Replace Watch by Kaiser Health News and ​"Off the Charts," a blog by the Cen­ter on Bud­get and Pol­i­cy Priorities.
Mov­ing toward sin­gle-pay­er healthcare?
Mean­while, some states are mak­ing grad­ual progress toward a sin­gle-pay­er health­care sys­tem. The New York State Assem­bly, for exam­ple, has passed a sin­gle-pay­er reform plan twice, to be financed by a pro­gres­sive income tax sur­charge, but the bill died both times in the Sen­ate. Cal­i­for­nia and Ore­gon are also con­sid­er­ing var­i­ous forms of a sin­gle-pay­er sys­tem. See this piece for an overview.
"

Free­dom Cities" campaign

On Sat­ur­day, the ACLU launched its ​"Free­dom Cities" cam­paign, which ​"encour­ages and sup­ports grass­roots activism" that aims ​"to gen­er­ate tan­gi­ble and last­ing pol­i­cy change." The campaign's ini­tial focus is immi­gra­tion, and it has ​"devel­oped mod­el local poli­cies that we hope to see adopt­ed in every city and town nation­wide." It aims to ​"dis­able Trump's depor­ta­tion machine." Watch a livestream and sign up to con­nect with future events, through the ACLU's ​"Peo­ple Pow­er" plat­form here.
GetE­QUAL action
Wednes­day is a Nation­al Day of Action to ​"cel­e­brate the lives of Black trans women and pro­tect all trans women and femmes." The action is spon­sored by the orga­ni­za­tion GetE­QUAL, which notes that ​"we must rise with urgency and con­vic­tion to sup­port the resis­tance led by those most on the mar­gins and pro­tect trans women and femmes of col­or by any means nec­es­sary." Go to this page for a list of local actions, as well as a dig­i­tal tool­box to con­nect with — or orga­nize — an action.
Trump's tax returns
On its Face­book page, the activist group Indi­vis­i­ble has issued a call to action on Trump's tax returns. Last week, Rep. Bill Pascrell, a Demo­c­rat from New Jer­sey, intro­duced a ​"res­o­lu­tion of inquiry" that aims to force the Trea­sury Sec­re­tary to release 10 years' worth of the returns. Indi­vis­i­ble believes that every mem­ber of the House should be co-spon­sor­ing the res­o­lu­tion and is encour­ag­ing peo­ple to call their rep­re­sen­ta­tives. Learn more about the res­o­lu­tion here and find Con­gres­sion­al con­tact infor­ma­tion here.
Defeat­ing Trump's Supreme Court nominee
A broad range of groups — includ­ing Peo­ple for the Amer­i­can Way, Ser­vice Employ­ees Inter­na­tion­al Union, and MoveOn​.org — are col­lab­o­rat­ing on a new project, The People's Defense. It's ​"a hub of action" ded­i­cat­ed to defeat­ing Trump's Supreme Court nom­i­nee, Neil Gor­such. This page has infor­ma­tion on call­ing your sen­a­tor or send­ing a post­card. Click here to sign up for infor­ma­tion on upcom­ing People's Defense events. Learn more about the project here.
Chica­go advo­ca­cy fair
Bet­ter Togeth­er is co-spon­sor­ing Chica­go Engaged!, an advo­ca­cy fair designed to con­nect poten­tial vol­un­teers with immi­gra­tion, health­care, vot­er engage­ment, LGBT, envi­ron­men­tal and oth­er orga­ni­za­tions. The fair will be Sat­ur­day, March 18, 2 to 4 p.m. CST. Find details here.
Protest­ing the revised Mus­lim ban
On Thurs­day, the day that Trump's revised Mus­lim ban goes into effect, the Arab Amer­i­can Action Net­work will hold a protest in down­town Chica­go, from 4:30 to 7:30 p.m. CST. The Net­work notes that ​"the new ban is cloaked in the same xeno­pho­bic, Anti-Arab, and Anti-Mus­lim lan­guage of the first" and ​"it is clear that the goal is to fur­ther tar­get and crim­i­nal­ize our com­mu­ni­ties through racism." Details here.
Demo­c­ra­t­ic Social­ists rising
The L.A. Times reports that ​"the surge of activism sweep­ing the U.S. since Don­ald Trump's elec­tion has ener­gized the nation's largest social­ist orga­ni­za­tion," the Demo­c­ra­t­ic Social­ists of Amer­i­ca. Its dues-pay­ing mem­ber­ship has tripled to about 19,000 peo­ple — the high­est num­ber in its 35-year his­to­ry. See recent cov­er­age here.
Stand­ing Rock
Last week, the chair­man of the Stand­ing Rock Sioux Tribe, Dave Archam­bault II, said that a fed­er­al court's rejec­tion of its ear­ly efforts to stop the Dako­ta Access Pipeline wasn't the last word, and ​"the big­ger legal bat­tle is ahead — we stand strong." The Stand­ing Rock Sioux Tribe and allied groups marched on Wash­ing­ton, D.C., late last week. ​"Now we are all in the same boat. We are fac­ing a régime that has no regard for Amer­i­can val­ues, and does not hes­i­tate to fly in the face of the law to ben­e­fit the imma­ture antics of an unhinged leader and his mon­eyed friends," Archam­bault said at the march. The tribe's web­site is here. The ACLU's ​"take action" page is here.
Call­ing all attorneys
The South­east­ern Immi­gra­tion Free­dom Ini­tia­tive, a project led by the South­ern Pover­ty Law Cen­ter, seeks attor­neys to pro­vide pro-bono legal rep­re­sen­ta­tion to immi­grants detained in the south­east­ern Unit­ed States. It notes that ​"many immi­grants, split from their fam­i­lies, are detained indef­i­nite­ly in geo­graph­i­cal­ly iso­lat­ed facil­i­ties — some oper­at­ed for prof­it by pri­vate cor­po­ra­tions — and live under cru­el con­di­tions with no tri­al, con­vic­tion or abil­i­ty to post bond." Find out more and sign up here.
Have ideas, tips or ques­tions? Con­tact Theo Ander­son at theo@​inthesetimes.​com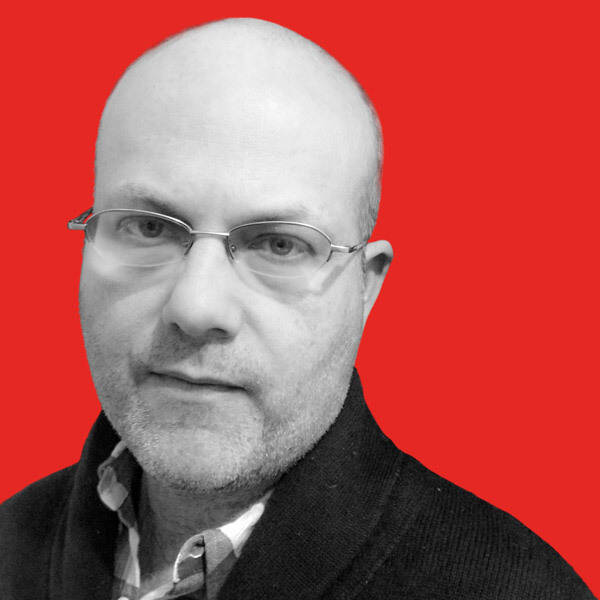 Theo Ander­son
is an In These Times con­tribut­ing writer. He has a Ph.D. in mod­ern U.S. his­to­ry from Yale and writes on the intel­lec­tu­al and reli­gious his­to­ry of con­ser­vatism and pro­gres­sivism in the Unit­ed States. Fol­low him on Twit­ter @Theoanderson
7
.