Restorative Justice: A Much-Needed Alternative to Mass Incarceration
Courts and schools across the country are looking beyond punishment.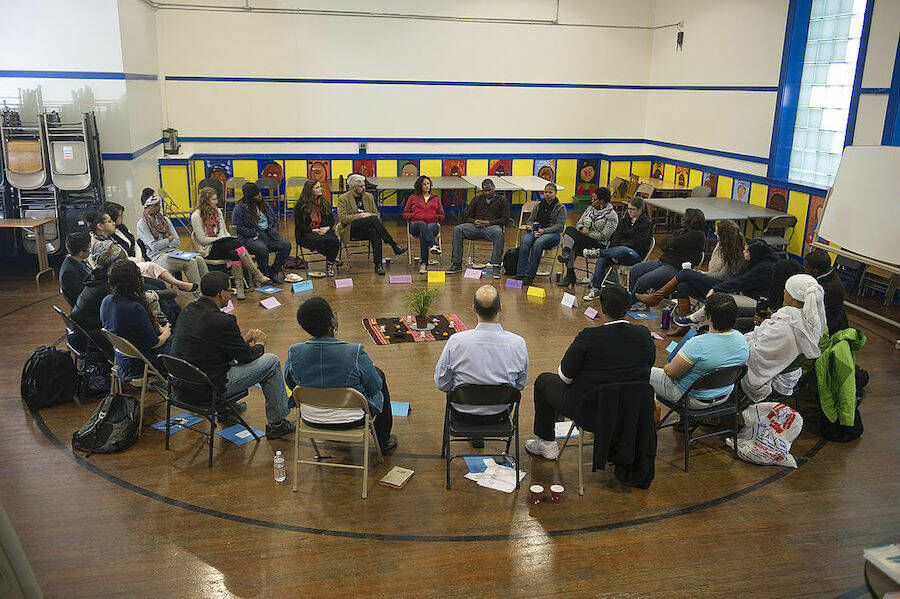 re•stor•a•tive jus•tice
noun
A response to crime or rule-break­ing that pri­or­i­tizes repair­ing the harm done to vic­tims and communities
"When will our con­sciences grow so ten­der that we will act to pre­vent human mis­ery rather than avenge it?" —Eleanor Roosevelt
What does that actu­al­ly look like?
Restora­tive jus­tice pro­grams are increas­ing­ly com­mon with­in schools and non­prof­its, and 35 states have adopt­ed leg­is­la­tion encour­ag­ing the prac­tice. Men­tal health and drug courts aim to con­nect offend­ers with the treat­ment they need. Diver­sion pro­grams allow young peo­ple to avoid the con­ven­tion­al juve­nile jus­tice sys­tem and meet with those affect­ed by a crime (which can include the broad­er com­mu­ni­ty, fam­i­ly of a vic­tim or, if they so choose, the vic­tim them­selves) for a process of learn­ing, medi­a­tion and resti­tu­tion. Out­comes are non-puni­tive, and can include some form of direct assis­tance to the vic­tim as well as com­mit­ments from the offend­er to var­i­ous forms of com­mu­ni­ty engage­ment (includ­ing but not lim­it­ed to con­ven­tion­al com­mu­ni­ty service).
This sounds touchy-feely.
Maybe. But restora­tive jus­tice is also an urgent­ly need­ed alter­na­tive to lock­ing peo­ple up. In the U.S., one out of every 38 peo­ple is under some form of cor­rec­tion­al super­vi­sion, a cost­ly sys­tem that exac­er­bates racial and eco­nom­ic inequal­i­ty with­out actu­al­ly stop­ping crime. In 2015, the school dis­trict of Jef­fer­son Parish, La., made head­lines when a Black eighth-grade stu­dent was arrest­ed and hand­cuffed in front of his class after throw­ing some Skit­tles. The dis­trict com­mit­ted to a new dis­ci­pline code and restora­tive jus­tice train­ing for teach­ers and staff, and in one school, sus­pen­sions — which are sta­tis­ti­cal­ly four times more like­ly to be giv­en to Black stu­dents — are down 56%.
So does restora­tive jus­tice work?
It's look­ing good! There's sol­id evi­dence that drug courts and alter­na­tive juve­nile jus­tice courts are more effec­tive at reduc­ing recidi­vism than tra­di­tion­al approach­es. In a num­ber of stud­ies, vic­tims of crimes pre­fer restora­tive jus­tice over the tra­di­tion­al court process, which can trig­ger the trau­ma of the crime all over again. This method does not require vic­tims to for­give any­one — and they often do not — but, unlike con­ven­tion­al tri­als, the process is designed to heal, address root caus­es and pre­vent offens­es from hap­pen­ing again. Pro­grams labeled as restora­tive jus­tice aren't always a step in the right direc­tion. There are con­cerns that fee-based or pri­vate­ly oper­at­ed pro­grams may actu­al­ly exac­er­bate inequities. Viewed as part of a larg­er move­ment against mass incar­cer­a­tion and for a more peace­ful soci­ety, how­ev­er, restora­tive jus­tice is an impor­tant philosophy.
This is part of ​"The Big Idea," a month­ly series offer­ing brief intro­duc­tions to pro­gres­sive the­o­ries, poli­cies, tools and strate­gies that can help us envi­sion a world beyond cap­i­tal­ism. For recent In These Times cov­er­age of restora­tive jus­tice in action, see, ​"To End Mass Incar­cer­a­tion, We Must Rethink How We Respond to Vio­lence" and ​"Tri­al by Peace Cir­cle: How a Chica­go Com­mu­ni­ty Is Pur­su­ing Jail-Free Justice."