A 'Bill of Rights' for San Francisco's Retail Workers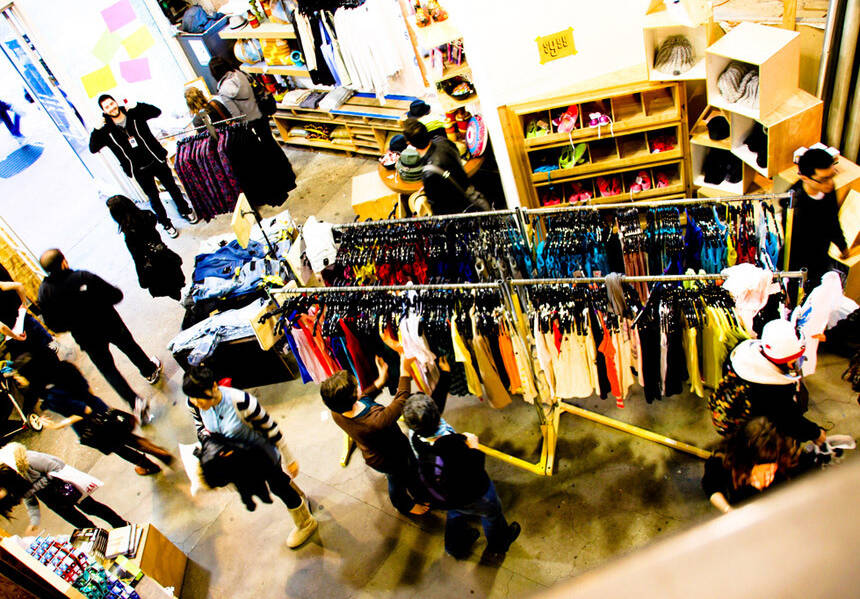 In April 2011, Jessy Lan­cast­er, then 28, was hired as a part-time cashier for the dis­count cloth­ing store Ross Dress for Less in San Fran­cis­co. At the time, the city's hourly min­i­mum wage was $9.92 an hour; in one of the most expen­sive areas of the coun­try, Lan­cast­er want­ed to work as many hours as pos­si­ble. Unfor­tu­nate­ly, even mak­ing her­self avail­able six days out of the week — includ­ing Sat­ur­day and Sun­day — wasn't enough.
​"It did­n't make a dif­fer­ence," Lan­cast­er says. Most weeks, she would be sched­uled for 12 to 20 hours, despite telling a man­ag­er that she was will­ing and able to do more. ​"It was piece­meal," she says. ​"I would usu­al­ly work four to six hour shifts. Four hours here. Four hours there."
As some­one who want­ed to work 40 hours a week but was unable to do so, Lan­cast­er was what San Fran­cis­co Super­vi­sor Eric Mar calls an ​"invol­un­tar­i­ly part-time work­er." The lack of suf­fi­cient hours does­n't just force such indi­vid­u­als to strug­gle to pay their bills; the unpre­dictabil­i­ty of work sched­ules makes it dif­fi­cult to plan the rest of one's life. Lan­cast­er says she nev­er knew if she was going to be work­ing first thing in the morn­ing or late at night. For work­ers with fam­i­ly care­tak­ing respon­si­bil­i­ties or health con­cerns, this can make sched­ul­ing child­care or med­ical appoint­ments almost impos­si­ble. It also cre­ates dif­fi­cul­ties for peo­ple try­ing to work more than one job or attend classes.
On Tues­day, July 29, Mar intro­duced the first half of a ​"Retail Work­ers Bill of Rights," which aims to help Lan­cast­er and peo­ple like her attain sta­ble employ­ment, to the San Fran­cis­co Board of Super­vi­sors. Super­vi­sor David Chiu will intro­duce the sec­ond half of the bill in Sep­tem­ber. The two bills only apply to what San Fran­cis­co defines as ​"for­mu­la retail": stores, restau­rants, hotels and banks with 11 or more out­lets nation­wide. Accord­ing to Jobs with Jus­tice San Fran­cis­co, a coali­tion of labor unions and com­mu­ni­ty orga­ni­za­tions that helped craft the bills, there are about 1,250 such busi­ness­es in San Fran­cis­co, employ­ing about 100,000 peo­ple. (San Fran­cis­co is also cur­rent­ly con­sid­er­ing mod­i­fi­ca­tions to the def­i­n­i­tion of for­mu­la retail, which would expand the bills' scope to include gyms, insur­ance com­pa­nies and check-cash­ing outlets.)
Many of these work­ers, like Lan­cast­er, suf­fer the con­se­quences when employ­ers attempt to pri­or­i­tize cut­ting costs over improv­ing staff wel­fare. Accord­ing to a report in the New York Times, some retail­ers now use sophis­ti­cat­ed sched­ul­ing tech­nol­o­gy to tar­get the pre­cise num­ber of work­ers required at each hour of the day. It's more cost-effi­cient, then, to bring dif­fer­ent work­ers in for short shifts than to keep a full-time employ­ee on the clock dur­ing slow times.
Accord­ing to Lan­cast­er, this was the method Ross man­age­ment appeared to favor. ​"I was always pissed off that they would hire more part-time work­ers, but not give us more hours," she says. ​"I didn't under­stand why they would do that. They would do inter­views in the break room. You would walk in and see them doing inter­views and think, ​'Why are you hir­ing more people?'"
To com­bat prac­tices like these, the Mar bill would require for­mu­la retail com­pa­nies — which include stores such as Tar­get, Lowe's, The Gap, McDonald's and Star­bucks — to offer more hours of work to cur­rent employ­ees before hir­ing addi­tion­al work­ers. The bill also pro­vides job secu­ri­ty for work­ers in the event of a change in fran­chisee or cor­po­rate own­er­ship by man­dat­ing that employ­ees be kept on for at least a 90-day tri­al peri­od afterward.
Mean­while, the Chiu bill will aim to cur­tail what Jobs with Jus­tice San Fran­cis­co calls ​"abu­sive sched­ul­ing prac­tices" by requir­ing employ­ers to pay a to-be-deter­mined pre­mi­um amount to work­ers who are required to be on-call or have their shifts can­celled with few­er than 24 hours' notice. The bill will also pro­hib­it dis­crim­i­na­tion against part-time employ­ees with regard to pay scale, access to time off and pro­mo­tion oppor­tu­ni­ties. In oth­er words, they'll accrue paid time off at the same rate as full-time col­leagues, and if they per­form sim­i­lar labor, they'll make com­pa­ra­ble wages.
Mar says that togeth­er, these ​"ground­break­ing poli­cies" pro­vide an oppor­tu­ni­ty for ​"San Fran­cis­co to once again lead the way in cre­at­ing inno­v­a­tive pol­i­cy mod­els to sup­port work­ing families."
With its goals of pro­mot­ing steady work­ing con­di­tions, the pro­posed ordi­nance is sim­i­lar to the Sched­ules That Work Act intro­duced to Con­gress by Rep­re­sen­ta­tives George Miller (D‑Calif.) and Rosa DeLau­ro (D‑Conn.), and Sen­a­tors Tom Harkin (D‑Iowa) and Eliz­a­beth War­ren (D‑Mass.) Like the ordi­nance in San Fran­cis­co, the bill would require guar­an­teed pay for can­celled, short­ened, or on-call shifts for employ­ees; it would also com­pen­sate them for ​"split shifts." The act is broad­er in scope than San Francisco's, though it does not require employ­ers to offer more hours to part-time work­ers before hir­ing addi­tion­al ones: Beyond ​"for­mu­la retail" stores, its afore­men­tioned pro­tec­tions would extend to every­one in the retail, jan­i­to­r­i­al, and food ser­vice sectors.
More­over, ana­lysts report that the leg­is­la­tion would grant all work­ers, regard­less of pro­fes­sion, the right to request a ​"flex­i­ble, pre­dictable, or sta­ble" sched­ule with­out fear of retal­i­a­tion — a right already cod­i­fied by law in San Francisco.
Unfor­tu­nate­ly, in today's polit­i­cal cli­mate, the Sched­ules that Work Act is unlike­ly to pass the Repub­li­can House or achieve a fil­i­buster-proof major­i­ty in the Sen­ate. But back­ers of San Francisco's Retail Work­ers Bill of Rights are opti­mistic about its chances of becom­ing law, point­ing to the city's track record of enact­ing pro-work­er poli­cies ahead of the rest of the country.
After all, San Francisco's labor laws already include a min­i­mum wage pegged to infla­tion, manda­to­ry paid sick leave, the Health Care Secu­ri­ty Ordi­nance, which brought the city close to uni­ver­sal health cov­er­age, and the Fam­i­ly Friend­ly Work­place Ordi­nance, which is sim­i­lar to the ​"right to request" pro­vi­sion of the Miller bill. Despite these pro­gres­sive poli­cies, how­ev­er, a recent study by the Brook­ings Insti­tute found that San Fran­cis­co is still the city with the fastest-grow­ing income gap between the rich­est and poor­est res­i­dents in the coun­try — so ordi­nances enabling work­ers in low-wage sec­tors to earn more mon­ey could help fight such an imbal­ance. Chiu, who is co-spon­sor­ing the bill with Mar, said at a press con­fer­ence Tues­day that pas­sage of this bill will again show that San Fran­cis­co is ​"a nation­al leader in how we treat workers."
In a press con­fer­ence, Super­vi­sor John Ava­l­os, anoth­er sup­port­er of the bill, com­pared the cur­rent plight of retail employ­ees trapped in the ​"race-to-the-bot­tom Wal­mart mod­el" to those of work­ers 100 years ago, before the rise of 20th-cen­tu­ry union­iza­tion and work­place pro­tec­tion laws. In kind, he likened the Retail Work­ers Bill of Rights to the Pro­gres­sive Era reforms that reined in abus­es by giant monop­o­lies, estab­lished the eight-hour work­day, and banned child labor, among oth­er reforms.
The ordi­nance will be vot­ed on by Board of Super­vi­sors in the fall. It requires a major­i­ty of six out of 11 votes to pass the Board with the sup­port of the may­or, or eight votes to over­ride a may­oral veto. San Fran­cis­co May­or Ed Lee has not yet weighed in on the pro­pos­al. Ava­l­os is con­fi­dent, how­ev­er, that the pro­po­nents of the bill will prevail.
​"We will make this pass," he promised.
Julia Car­rie Wong is a free­lance jour­nal­ist liv­ing in San Fran­cis­co. You can fol­low her on Twit­ter @juliacarriew or email her at julia.carrie.wong [at] gmail​.com.