Robin Hood Goes To Capitol Hill
Will Congress get serious about taxing financial transactions?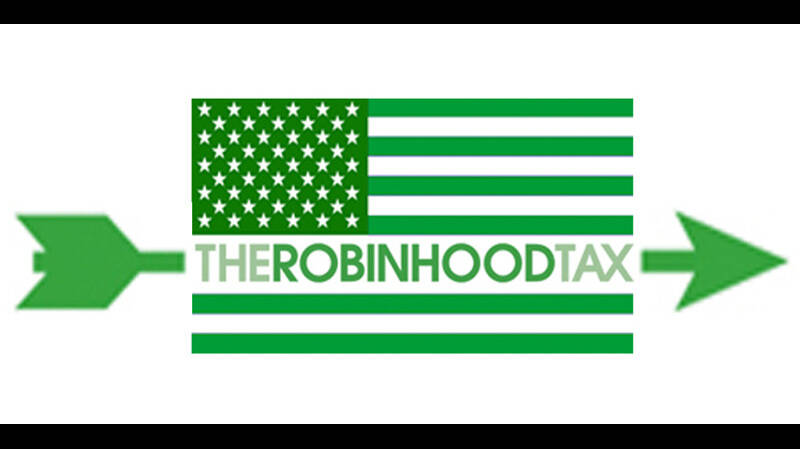 Take from the rich, give to the poor. The leg­endary robber's cre­do found new expres­sion in U.S. law on Sep­tem­ber 14, when Rep. Kei­th Elli­son (D‑Minn.) intro­duced the ​"Robin Hood tax" bill. For­mal­ly known as the Inclu­sive Pros­per­i­ty Act, it pro­pos­es a small finan­cial trans­ac­tion tax on Wall Street to ease the eco­nom­ic bur­den on the rest of us — a mea­sure that has the back­ing of econ­o­mists such as Paul Krug­man.
The bill calls for a 0.5 percent tax on all stock trades. Advocates estimate that such a tax could generate up to $350 billion in annual revenue.
The bill calls for a 0.5 per­cent tax on all stock trades. Advo­cates esti­mate that such a tax could gen­er­ate up to $350 bil­lion in annu­al rev­enue. The bill spec­i­fies that this mon­ey go toward edu­ca­tion, job train­ing, Medicare, Med­ic­aid and hous­ing assis­tance. On a glob­al lev­el, it will con­tribute to HIV/AIDS treat­ment and research.
The Robin Hood Tax Cam­paign has ral­lied com­mu­ni­ty activists across the nation who work on issues as diverse as health­care, labor, the envi­ron­ment, faith, HIV/AIDS and con­sumer pro­tec­tion. Nation­al Nurs­es Unit­ed (NNU) has been at the fore­front of the move­ment. NNU spokesper­son Charles Idel­son says that nurs­es began to real­ize the coun­try need­ed a ​"com­pre­hen­sive solu­tion to reframe and reignite our econ­o­my … when they were see­ing more and more patients with prob­lems in direct cor­re­la­tion to the eco­nom­ic cri­sis — poor nutri­tion, job loss, inad­e­quate hous­ing, out-of- pock­et costs — and they were see­ing this in their own fam­i­lies, too."
Fit­ting­ly, the bill was intro­duced one day before the first anniver­sary of Occu­py Wall Street. Along with pro­vid­ing a safe­ty net for poor and mid­dle-class fam­i­lies, the tax could help rein in the ram­pant spec­u­la­tion that cat­alyzed the Great Reces­sion, by forc­ing traders to weigh the cost of each transaction.
The Robin Hood tax isn't actu­al­ly new — a levy on the trans­fer or sale of stocks was in place for more than five decades dur­ing the ear­ly 20th cen­tu­ry, a peri­od of thriv­ing eco­nom­ic growth. France just imple­ment­ed its own finan­cial trans­ac­tion tax in August, and Spain and Ger­many are poised to do the same thanks to pres­sure from a grow­ing glob­al move­ment. Idel­son pre­dicts that the move­ment will ​"prob­a­bly be Euro­zone-wide with­in a mat­ter of months."
It remains to be seen whether the bill can pass in a large­ly hos­tile Con­gress that feeds from the hand of the finan­cial indus­try. Cur­rent­ly, there are only 10 cospon­sors. But Idel­son takes a long-term view of the cam­paign, assert­ing that ​"the pres­sure will con­tin­ue to rise … we are opti­mistic that the bill will move for­ward, gain more sup­port­ers and will one day become a real­i­ty in the U.S."