San Francisco Protesters Take Aim at Twitter's Tax Breaks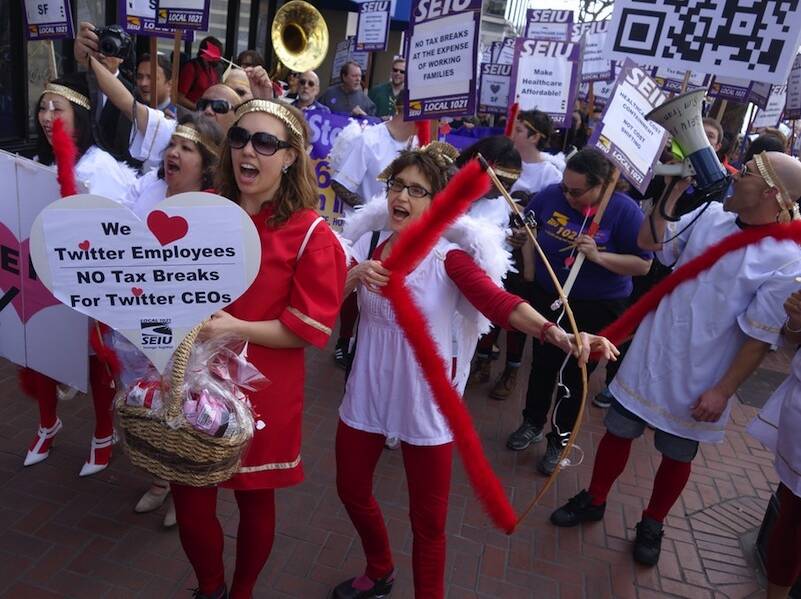 Last Wednes­day, more than 400 San Fran­cis­co city employ­ees — many dressed as Cupid with wings and gold­en head­dress­es — marched from the city's Depart­ment of Human Resources to Twit­ter head­quar­ters a few blocks away. The pro­test­ers were mem­bers of Ser­vice Employ­ees Inter­na­tion­al Union Local 1021, which is cur­rent­ly nego­ti­at­ing with the city over con­tracts cov­er­ing more than 13,000 work­ers. As the work­ers chant­ed, ​"Twit­ter, you're no good. Pay your tax­es like you should," they left a Valen­tine of sorts on the company's doorstep at Ninth and Mar­ket streets.
​"We, the under­signed, the work­ers and res­i­dents of San Fran­cis­co, ask that Twit­ter and oth­er cor­po­ra­tions do the right thing and end their tax breaks and sweet­heart deals," read the pro­test­ers' card.
Like the pri­vate bus­es that trans­port tech work­ers from San Fran­cis­co to cor­po­rate cam­pus­es in Sil­i­con Val­ley, Twitter's head­quar­ters have become a sym­bol of gen­tri­fi­ca­tion and dis­place­ment for hous­ing activists and com­mu­ni­ty orga­ni­za­tions in the city. On Nov. 7, 2013 — the same day the com­pa­ny held its Ini­tial Pub­lic Offer­ing on the New York Stock Exchange — local groups held a #ThrownOut­ByTwit­ter day of protest in down­town San Fran­cis­co to draw atten­tion to what they see as the tech industry's con­tri­bu­tion to the city's grow­ing class divide. San Fran­cis­co should be try­ing to advo­cate for all its res­i­dents, activists feel — not just the ones with start­up funding.
Now, the SEIU, the largest pub­lic sec­tor union in San Fran­cis­co, is tak­ing renewed aim at Twit­ter over the major tax break it received from City Hall in 2011.
At the time, the cor­po­ra­tion — which employs thou­sands of work­ers, many of them city res­i­dents — was threat­en­ing to leave San Fran­cis­co for the sub­urbs in order to avoid pay­ing the city's pay­roll tax. Faced with the prospect of los­ing a major employ­er, the city agreed to estab­lish a six-year pay­roll tax exclu­sion area around Twitter's offices in the Cen­tral Market/​Tenderloin neigh­bor­hood. In the three years since, the so-called ​"Twit­ter tax break" has drawn numer­ous tech com­pa­nies to the area, though Twit­ter is by far the largest ben­e­fi­cia­ry. Accord­ing to an analy­sis by the San Fran­cis­co Chron­i­cle, San Fran­cis­co will lose $56 mil­lion on Twit­ter alone over the six-year life of the tax break — far above the city's orig­i­nal esti­mate of $22 million.
That's a fig­ure that doesn't sit well with city work­ers, who have accept­ed con­ces­sions in their past two con­tracts due to the reces­sion. This fis­cal year, the city is fac­ing a $69 mil­lion pro­ject­ed bud­get deficit, a short­fall that SEIU claims would dis­ap­pear if the city would stop mak­ing what the union calls ​"sweet­heart deals" with tech com­pa­nies. Accord­ing to union offi­cials, the tax breaks for the Cen­tral Mar­ket tech com­pa­nies could total tens of mil­lions of dol­lars this year. Add to that the $6 mil­lion tax break the near­by Zyn­ga received in 2011 and the $500 mil­lion in fines San Fran­cis­co chose not to levy against Sil­i­con Val­ley com­pa­nies whose pri­vate shut­tles ille­gal­ly use pub­lic bus stops, and the frus­tra­tion felt by work­ers like Lar­ry Brad­shaw, a para­medic and vice pres­i­dent of Local 1021, begins to become more clear.
​"If we made the tech cor­po­ra­tions that are not pay­ing their tax­es pay their tax­es, we would have more mon­ey in the city bud­get and we could rebuild the social safe­ty net that we've seen being erod­ed for the last four or five years," Brad­shaw said in an inter­view with Truthout Wednes­day. ​"Twit­ter is emblem­at­ic of the whole prob­lem with giv­ing tax breaks to these large cor­po­ra­tions. The oth­er cor­po­ra­tions are on our tar­get list as well, but we're start­ing with Twit­ter today."
But Susan Gard, spokesper­son for the city's Depart­ment of Human Resources, which is respon­si­ble for bar­gain­ing with SEIU 1021, says in an email to In These Times, ​"I don't think you can say nego­ti­a­tions will be impact­ed by Twit­ter (or any oth­er) tax breaks." Despite the bud­get deficit, Gard main­tains the city is in a much bet­ter finan­cial sit­u­a­tion this year, in part due to con­ces­sions from SEIU 1021 and oth­er labor orga­ni­za­tions in past contracts.
Though the state of the city's finances will be a part of the dis­cus­sion, ​"we're not try­ing to bal­ance the bud­get at the nego­ti­a­tion table," she says. She claims the city will not be seek­ing eco­nom­ic con­ces­sions; instead, its focus will be on ​"stream­lin­ing work rules."
City work­ers, how­ev­er, are not con­vinced. Karen Jou­bert, a 17-year city employ­ee and vice pres­i­dent of rep­re­sen­ta­tion with the union, says in recent con­tracts, work­ers made the dif­fi­cult deci­sion to accept fur­loughs, increased con­tri­bu­tions to pen­sions, wage freezes and lay­offs. Hun­dreds of work­ers were also tem­porar­i­ly reas­signed to clas­si­fi­ca­tions with low­er rates of pay. This time around, now that nego­ti­a­tions have start­ed again, Jou­bert says, ​"We're real­ly con­cerned about health­care." Although no pro­pos­al has been made yet, Jou­bert and the union believe the city wants to increase the cost of cov­er­age for employ­ees with families.
And for work­ers like Brad­shaw and Jou­bert, the priv­i­lege gap in San Fran­cis­co doesn't end with tax breaks. Brad­shaw also points to the cost of liv­ing increase that has accom­pa­nied the tech boom. ​"City work­ers have fall­en behind since the Great Reces­sion. Our wages have not kept up with the cost of liv­ing, and with the arrival of big tech in San Fran­cis­co, many of our mem­bers are unable to afford to live in the city. Every year, more and more of our mem­bers are being forced to leave the city they love," he told Truthout. Twit­ter did not respond to requests for comment.
The Twit­ter action was just the lat­est of SEIU 1021's efforts to fight what union mem­bers see as tech's gen­tri­fy­ing effects on their home­town. In Decem­ber, the local orga­nized a protest at the down­town head­quar­ters of Sales­force, where May­or Ed Lee was hold­ing an invi­ta­tion-only meet­ing with tech CEOs. Work­ers felt the meet­ing itself was indica­tive of major com­pa­nies' spe­cial access to the city's higher-ups.
And the union isn't going to stop the fight any­time soon. ​"As a pub­lic sec­tor union and pro­gres­sive stake­hold­er, 1021 is real­ly posi­tioned well to be at the fore­front of this issue," Chris Daly, the local's polit­i­cal direc­tor and a for­mer mem­ber of San Francisco's Board of Super­vi­sors, tells In These Times.
Accord­ing to Daly, SEIU 1021 also plans to sup­port an anti-spec­u­la­tion tax aimed at min­i­miz­ing the preda­to­ry prac­tice of buy­ing real estate in the hopes of reselling soon there­after at a high­er price, which hous­ing activists blame for the rash of evic­tions San Fran­cis­co has seen over the past few years. In addi­tion, the local says it's ready­ing a legal chal­lenge to the deal reached by tech com­pa­nies and the San Fran­cis­co Munic­i­pal Trans­porta­tion Agency to charge tech shut­tles just $1 per stop for the use of pub­lic bus stops, which oppo­nents say harms the city's envi­ron­ment and has a dis­crim­i­na­to­ry impact on low-income communities.
Anoth­er idea local offi­cials are dis­cussing with SEIU Inter­na­tion­al lead­ers is invest­ing the 1021's reserves in com­mu­ni­ty land trusts to cre­ate afford­able hous­ing in San Fran­cis­co or Oak­land. The con­cept may sound rad­i­cal, but it has a long his­to­ry in San Fran­cis­co, where the Inter­na­tion­al Long­shore and Ware­house Union built a coop­er­a­tive hous­ing project for low-income work­ers in 1963.
San Francisco's afford­abil­i­ty cri­sis is also of increas­ing con­cern to many of San Francisco's oth­er labor unions, which are see­ing grow­ing num­bers of mem­bers pushed out of the city by out-of-con­trol hous­ing costs and ram­pant evic­tions. In turn, they say, work­ers do not have the time or resources to stand up for their rights.
Mike Casey, the pres­i­dent of UNITE HERE Local 2, the hotel and restau­rant work­ers' union in San Fran­cis­co, has been voic­ing con­cerns about the impacts of gen­tri­fi­ca­tion and dis­place­ment on the ​"pol­i­tics of protest" for at least a year. Ear­li­er this month, at a grass­roots ten­ant con­ven­tion orga­nized by the San Fran­cis­co Anti-Dis­place­ment Coali­tion, Casey warned, ​"When our work­ers have to trav­el an hour and a half to get home, they can't afford to come back and be on the streets."
With dis­place­ment threat­en­ing the polit­i­cal pow­er of unions and the diver­si­ty of the city, SEIU 1021's cur­rent strug­gle goes beyond a sim­ple con­tract bat­tle. On the same day as the ten­ant con­ven­tion, labor and com­mu­ni­ty coali­tion Jobs With Jus­tice orga­nized a spe­cial meet­ing of union mem­bers. About six­ty staffers, elect­ed lead­ers, and rank-and-file mem­bers from var­i­ous locals gath­ered to dis­cuss the effects of the hous­ing cri­sis on their mem­ber­ships and strate­gize about ways labor can fight to main­tain San Francisco's sta­tus as a ​"union town."
As one union mem­ber at the meet­ing put it, ​"If we don't fight now, in two years, none of us will be here."
Julia Car­rie Wong is a free­lance jour­nal­ist liv­ing in San Fran­cis­co. You can fol­low her on Twit­ter @juliacarriew or email her at julia.carrie.wong [at] gmail​.com.