Sanders Backers Plant Left-Wing Flag in the Massachusetts Democratic Party
The state's party just passed an incredibly progressive platform.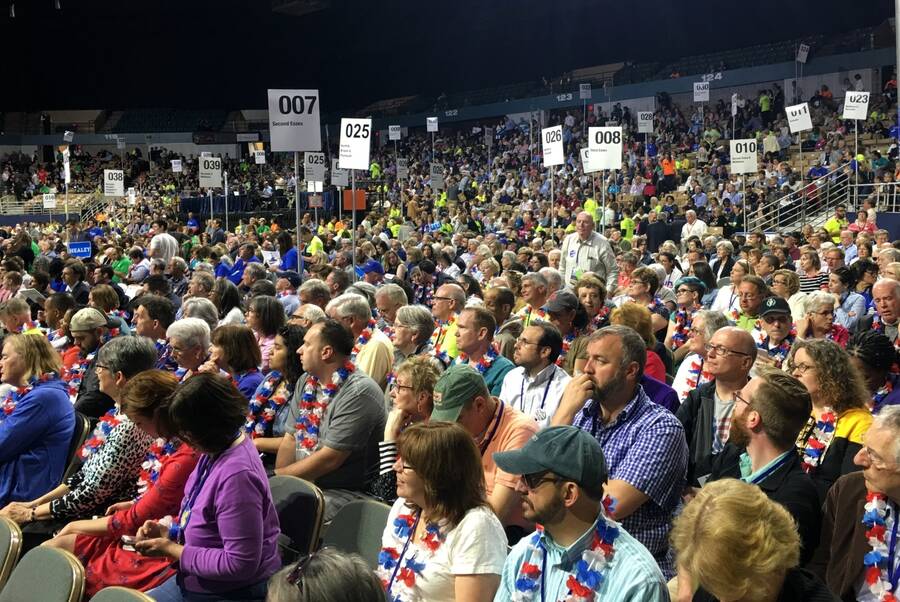 At the Mass­a­chu­setts Demo­c­ra­t­ic con­ven­tion over the week­end, the nor­mal­ly sober event had an unruly and rau­cous vibe. It took some strange twists.
'It's a great opportunity, but it's also a great challenge. Certainly the momentum is strong. I don't see it fading. But we need concrete steps to push it forward.'
Even­tu­al­ly, the jour­ney result­ed in a plat­form that is among the most pro­gres­sive ever passed by a state par­ty. It's like­ly the most pro­gres­sive plat­form by a major par­ty in the nation's his­to­ry, peri­od. It calls for sin­gle-pay­er health­care, a $15 min­i­mum wage, paid fam­i­ly leave, for­give­ness of stu­dent loan debt, a ranked-choice vot­ing sys­tem, an inde­pen­dent com­mis­sion to draw the state's con­gres­sion­al dis­tricts, the abo­li­tion of Mass­a­chu­setts superdel­e­gates, an end to for-prof­it pris­ons, a car­bon tax, more account­abil­i­ty for police offi­cers who use exces­sive force, and more.
But get­ting there was a long, tor­tured process. It began ear­ly this year, when activists with the Mass­a­chu­setts chap­ter of Our Rev­o­lu­tion (OR) — the orga­ni­za­tion that emerged from Bernie Sanders' pres­i­den­tial cam­paign — began orga­niz­ing peo­ple to take part in the process by becom­ing delegates.
There were about 750 del­e­gates orga­nized by OR at the con­ven­tion, out of more than 4,500 reg­is­tered del­e­gates. In April and May, many of them attend­ed meet­ings devot­ed to draft­ing the party's plat­form. In part because of that work, the plat­form draft called for sin­gle-pay­er health­care and a $15 min­i­mum wage.
But OR and oth­er pro­gres­sive del­e­gates want­ed it to go much fur­ther, and they pressed their agen­da through amend­ments to the plat­form at the con­ven­tion. That's why, ear­ly Sat­ur­day morn­ing, activists pre­sent­ed a stack of peti­tions — call­ing for votes on their pro­posed amend­ments — to par­ty offi­cials. They deliv­ered them by wheel­ing a stack of doc­u­ments, sev­er­al feet tall, on a bell­hop's lug­gage cart through a series of hall­ways and ​"about eight freight ele­va­tors," says Andrew Shel­ton, a del­e­gate and mem­ber of Young Demo­c­ra­t­ic Social­ists. ​"Then we showed up at the desk, and peo­ple had no idea what we were doing. Because it had nev­er been done before."
Walk the walk
The vote on the plat­form is usu­al­ly a for­mal­i­ty and inspires lit­tle debate. The work is done behind the scenes, at the pre-con­ven­tion plat­form ses­sions. But pro­gres­sives were ready and eager for a vig­or­ous air­ing of dif­fer­ences. That clash came to a head when a series of speech­es by par­ty offi­cials and politi­cians stretched on for hours. At about the four-hour mark, the OR con­tin­gent revolt­ed and began drown­ing out the speak­ers with chants of ​"Vote! Vote!"
In the end, pro­gres­sives got most of what they sought from the process, though they nar­row­ly lost a vote on an amend­ment that called for an end to the statewide ban on local rent-con­trol mea­sures. And, after much con­tentious back and forth, the con­ven­tion chair ruled that two pro­pos­als, relat­ing to for­eign pol­i­cy and peace in the Mid­dle East, were out of order, on the basis that the state par­ty doesn't take a stance on fed­er­al-lev­el pol­i­cy questions.
A pro­pos­al designed to make Demo­c­ra­t­ic can­di­dates more account­able to the plat­form was also ruled out of order. It would have giv­en pri­or­i­ty, in dis­trib­ut­ing par­ty resources, to can­di­dates who sup­port a major­i­ty of the party's offi­cial positions.
The final pro­pos­al summed up OR's frus­tra­tion with Democ­rats who know the words to say, espe­cial­ly when talk­ing to pro­gres­sives, but lack the courage of their pro­fessed con­vic­tions. At the con­ven­tion, for exam­ple, ​"the rhetoric from all the speak­ers was pret­ty left-wing," says Rand Wil­son, a labor orga­niz­er for SEIU Local 888 and mem­ber of OR. ​"But there was no intro­spec­tion. They don't want to reflect on their own cul­pa­bil­i­ty in the lurch to the right, and how that evolved from the aus­ter­i­ty agen­da and the neolib­er­al con­sen­sus from Democ­rats and Repub­li­cans alike."
No joke
Pro­gres­sives viewed the party's maneu­ver­ing on Sat­ur­day — notably, the four-plus hours of speechi­fy­ing before the vot­ing began — as a trans­par­ent attempt to sap the ener­gy of the insur­gency. Wil­son says it felt like the par­ty reg­u­lars were con­fi­dent they could fil­i­buster the chal­lenge from the left, because it would like­ly be fleeting.
That reluc­tance to embrace or even engage much with dis­sent was ​"a mat­ter of peo­ple being set in their ways and not tak­ing advan­tage of a great oppor­tu­ni­ty to build the par­ty," says Shel­ton, who viewed the con­ven­tion as ​"an oppor­tu­ni­ty to meet peo­ple, build bridges, advo­cate for my ideas, and speak up for what I believe in. Peo­ple were moti­vat­ed in a way that I don't think would have hap­pened a year ago."
It's an open ques­tion whether the left­ist turn in the party's 2017 plat­form is the end of the mat­ter, or just an open­ing sal­vo. As Matt Miller — a lead orga­niz­er for OR Mass­a­chu­setts, and a mem­ber of Demo­c­ra­t­ic Social­ists of Amer­i­ca — notes, ​"One of the key goals was to have a big, pro­gres­sive show of force, so that the estab­lish­ment and the more con­ser­v­a­tive Democ­rats, pri­mar­i­ly in our state­house, see that we are active and we are not a joke. And we def­i­nite­ly achieved that."
Trans­lat­ing that suc­cess into an effec­tive bal­lot-box strat­e­gy will be the test of the movement's long-term pow­er. Achiev­ing a more pro­gres­sive plat­form was all well and good, Shel­ton says, but ​"now it's a mat­ter of fig­ur­ing out ways to get peo­ple who will rep­re­sent those val­ues into office. Ten years from now, I hope we're not going to be talk­ing about Bernie Sanders. I hope we'll be talk­ing about the 10,000 peo­ple who ran for office [based on his val­ues] and are sit­ting on city coun­cils and in state assemblies.
"I real­ly hope that an elec­toral, cam­paign-based strat­e­gy comes out of it, to solid­i­fy this momen­tum. It's a great oppor­tu­ni­ty, but it's also a great chal­lenge. Cer­tain­ly the momen­tum is strong. I don't see it fad­ing. But we need con­crete steps to push it forward."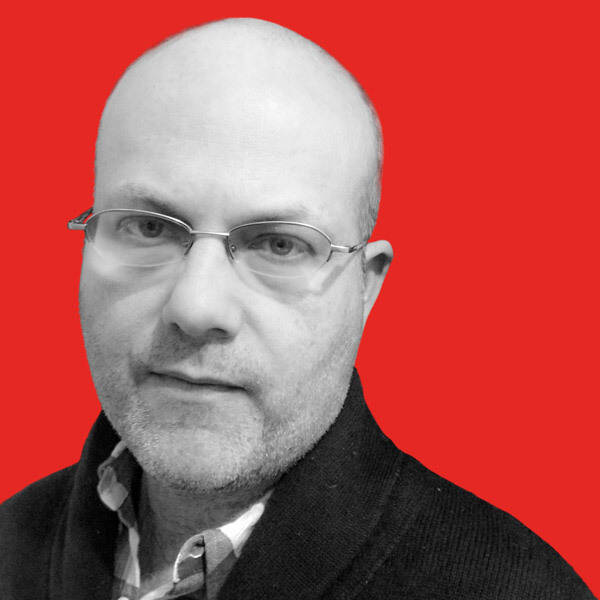 Theo Ander­son
is an In These Times con­tribut­ing writer. He has a Ph.D. in mod­ern U.S. his­to­ry from Yale and writes on the intel­lec­tu­al and reli­gious his­to­ry of con­ser­vatism and pro­gres­sivism in the Unit­ed States. Fol­low him on Twit­ter @Theoanderson
7
.