The U.S. and Saudi Arabia Have Been Getting Away With Murder for Years
Saudi Arabia's alleged killing of journalist Jamal Khashoggi has forced the kingdom's brutality into the media spotlight. Meanwhile, the war on Yemen has taken a back seat.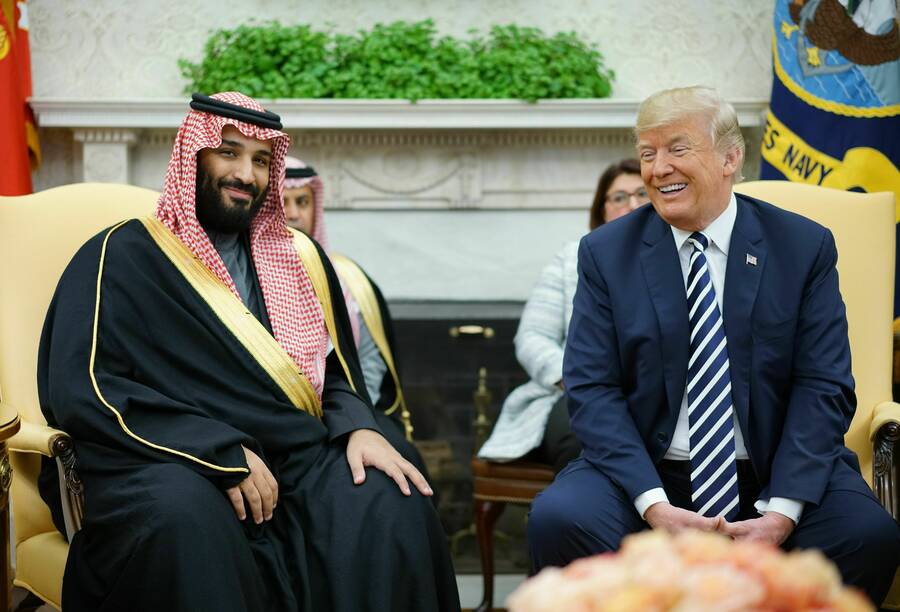 March 2015 marked a deci­sive phase in what is now a more than three-year war in Yemen. Sau­di Ara­bia, in coor­di­na­tion with mem­bers of the Gulf Coop­er­a­tion Coun­cil, ini­ti­at­ed a mil­i­tary oper­a­tion against Yemen's cap­i­tal of Sana'a in an effort to dis­lodge any frag­ment of Houthi pres­ence while also foment­ing a tide of psy­cho­log­i­cal war­fare that would sig­nal the ruth­less course of action to come. Yemen's infra­struc­ture was so thor­ough­ly upend­ed by coali­tion attacks that with­in a year and a half of the ini­tial sal­vo, the local pop­u­la­tion was struck by the worst cholera out­break ever record­ed in mod­ern his­to­ry. Today, with an aer­i­al and naval block­ade chok­ing off aid sup­plies, the num­ber of Yeme­nis who are entire­ly depen­dent on human­i­tar­i­an assis­tance is over 22 mil­lion. The cat­a­stroph­ic impact on men­tal health in Yemen has result­ed in psy­cho­log­i­cal trau­ma, includ­ing a surge in sui­cide rates. Despite world­wide con­dem­na­tion, U.S.-backed coali­tion airstrikes have con­tin­ued — tar­get­ing hos­pi­tals, med­ical facil­i­ties, reli­gious sites, and even gath­er­ings of mourn­ers.
The humanitarian crisis in Yemen is a deliberate and orchestrated blaze fueled by petrodollars and the U.S. military.
While the media land­scape is sat­u­rat­ed with con­cern for the where­abouts and like­ly demise of Sau­di jour­nal­ist Jamal Khashog­gi, whose report­ed dis­ap­pear­ance has thrown the Kingdom's advo­ca­cy cam­paign into over­drive, con­cern for Sau­di Ara­bi­a's mil­i­tary offen­sive in Yemen has tak­en a back­seat. Still, the blood­shed in Yemen has not abat­ed for a moment, with Amer­i­can weapons light­ing the way.
In August, after strik­ing a school bus in Yemen's Saa­da province — result­ing in the deaths of 44 Yemeni chil­dren—the Sau­di-led coali­tion apol­o­gized and admit­ted — to some extent — that ​"there were mis­takes made in abid­ing by the rules of engage­ment." This admis­sion, while rare, was made in an effort to thwart inter­na­tion­al pres­sure against Sau­di Ara­bi­a's mil­i­tary oper­a­tions — a fee­ble exer­cise of pro­pa­gan­da that is incon­se­quen­tial as its war machine rages on.
The human­i­tar­i­an cri­sis in Yemen is a delib­er­ate and orches­trat­ed blaze fueled by petrodol­lars and the U.S. mil­i­tary. With­out the prof­itable rela­tion­ship that Sau­di Ara­bia and its Gulf allies have had with the Unit­ed States, with exchanges of mil­i­tary pack­ages cross­ing all par­ti­san lines, what is unfold­ing in Yemen would not have been pos­si­ble. The laser-guid­ed bomb used in the school bus attack that drew, arguably, some of the most strik­ing oppro­bri­um against Sau­di Ara­bia, was made by none oth­er than U.S. weapons-man­u­fac­tur­er Lock­heed Mar­tin. In 2016, after the inten­tion­al bomb­ing of a com­mu­ni­ty hall in Sana'a filled with mourn­ers, frag­ments of a 500-pound bomb pro­duced by Raytheon were found amongst the debri. At the time, Human Rights Watch report­ed that ​"at least two air-dropped muni­tions pen­e­trat­ed the roof of the hall and det­o­nat­ed a few min­utes apart." At least 140 were killed, and 525 were injured.
While the response of the Unit­ed States to the actions of Sau­di Ara­bia, under this admin­is­tra­tion and those before it, has been con­fined to a mix­ture of either bureau­crat­ic silence or mourn­ful, yet decep­tive neu­tral­i­ty, the gov­ern­men­t's mate­r­i­al inter­ests have been clear from the begin­ning: The road to war in Yemen is paved with U.S. muni­tions and direct mil­i­tary assis­tance. In the war on Yemen, coali­tion yets are refu­eled in the air by Amer­i­can planes and weapons pro­vid­ed by U.S. arms sales. A month after coali­tion strikes pound­ed a Médecins Sans Fron­tières hos­pi­tal and destroyed a pota­to fac­to­ry in 2016, then-Pres­i­dent Oba­ma stood before the Unit­ed Nations Gen­er­al Assem­bly and stat­ed that "[a]cross the region's con­flicts, we have to insist that all par­ties rec­og­nize a com­mon human­i­ty and that nations end proxy wars that fuel dis­or­der." This was­n't mere­ly a dis­play of impe­r­i­al sanc­ti­mo­ny but anoth­er show of Amer­i­can cal­lous­ness; impen­e­tra­ble, and unwavering.
The inves­tiga­tive author­i­ty of the Sau­di-led mil­i­tary coali­tion — after task­ing itself with prob­ing the school bus attack in August — made an unam­bi­tious request in Sep­tem­ber that ​"coali­tion forces should ini­ti­ate legal action" against those respon­si­ble. Pock­marks from air raids and clus­ter bombs—the lat­ter of which are pro­hib­it­ed by the Con­ven­tion on Clus­ter Muni­tions, which the Unit­ed States and Sau­di Ara­bia nev­er signed — lit­ter Yemen and fur­ther inten­si­fy con­di­tions of human-made dev­as­ta­tion. Sau­di Ara­bi­a's ​"Deci­sive Storm" in Yemen is being fought by air, sea and land, with crit­i­cal sup­port from the Unit­ed States, beyond sim­ple logis­tics and weapon­ry. In May it was revealed that Amer­i­can Spe­cial Forces, which now oper­ate in 70 per­cent of the world's coun­tries, are assist­ing Sau­di Ara­bia in a secret mis­sion designed to help bring an end to the coali­tion's stale­mate. In Sep­tem­ber, U.S. Sec­re­tary of State Mike Pom­peo cer­ti­fied to Con­gress that ​"the gov­ern­ments of Sau­di Ara­bia and Unit­ed Arab Emi­rates are under­tak­ing demon­stra­ble actions to reduce the risk of harm to civil­ians and civil­ian infra­struc­ture result­ing from mil­i­tary oper­a­tions of these gov­ern­ments." Near­ly one month lat­er a coali­tion airstrike killed four civil­ians at a bee farm in al-Huday­da, Yemen's fourth largest city.
Sau­di Ara­bia and the Unit­ed States are putting on a duplic­i­tous show of regret and mod­er­ate assur­ance in order to under­mine even the most short-lived occa­sions of pub­lic dis­ap­proval. Tak­ing to The Wash­ing­ton Post, Chris Mur­phy, junior Demo­c­ra­t­ic Sen­a­tor for Con­necti­cut and mem­ber of the Sen­ate For­eign Rela­tions Com­mit­tee, cou­pled his denun­ci­a­tion of Sau­di Ara­bi­a's actions in Yemen with the argu­ment that has been used time and time again to under­mine crit­i­cism of the coun­try's actions: that the King­dom is ​"an impor­tant coun­tert­er­ror­ism part­ner," one whose rela­tion­ship the Unit­ed States should not aban­don. And yet, there is no dog and pony show that can dis­tract from the whole of these crimes, each one climb­ing in feroc­i­ty. The apolo­gies and inves­ti­ga­tions buy time between mil­i­tary oper­a­tions and a tight­en­ing block­ade that threat­ens to fur­ther iso­late Yemen and destroy what­ev­er infra­struc­ture remains. So long as the war con­tin­ues, with­out mate­r­i­al con­se­quences for both Sau­di Ara­bia and its allies, the pro­pa­gan­da efforts will follow.
Roqayah Chamsed­dine
is a writer, researcher, and host of the Delete Your Account pod­cast. Her work has appeared in The Syd­ney Morn­ing Her­ald, ELLE Mag­a­zine, Splin­ter, Over­land Jour­nal, among others.