How Unions Can Grow Stronger in the Wake of Right To Work
Now that the former union bastion of Wisconsin has become the 25th 'right to work' state, labor must seriously address the question: How to organize under these conditions?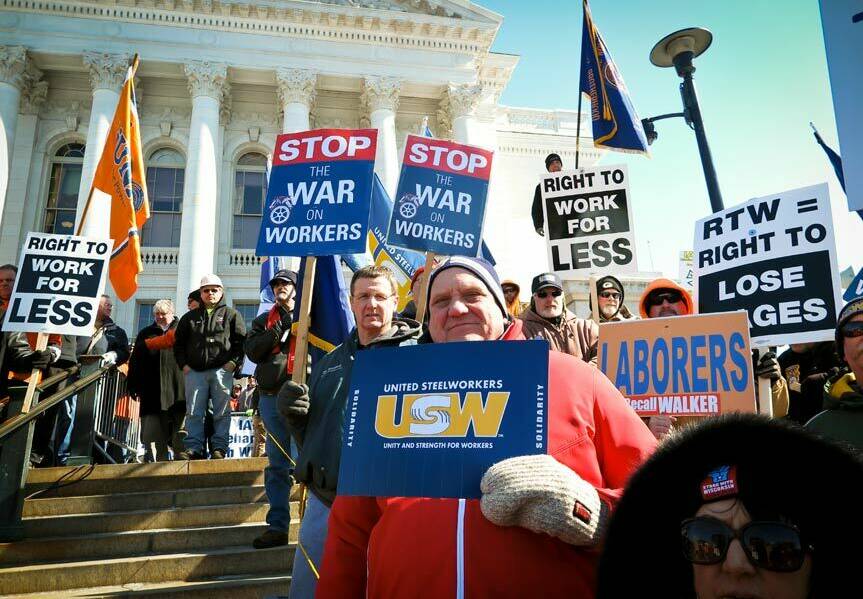 The late February snow fell lazily on several thousand Wisconsin union members as they gathered on the steps of the capitol building in Madison to protest what picket signs denounced as ​"the war on workers." The scene was a smaller replay of the protest four years ago when tens of thousands assembled to oppose Republican Gov. Scott Walker's Act 10. Despite a broad, fervent uprising, that act passed and stripped public employees of their collective bargaining rights.
Hopefully this is a wake-up call for labor to do more internal organizing, says retired Wisconsin AFL-CIO president David Newby. If we don't, we're dead.
This time, even the protesters saw little hope of defeating the latest attack by Walker and Republican legislators. The deceptively named ​"right-to-work" law, aimed primarily at private-sector unions, prohibits labor contracts from requiring all employees to pay their share of union dues. While the Right denounces such payments as ​"forced unionism," labor says that it's only fair for all workers to chip in, because they all benefit from the union's work.
Republican leaders called an ​"extraordinary session" to address the proposal. The Senate voted 17 to 15 in favor (with only one Republican joining Democrats in opposition). Assembly approval and Walker's signature quickly followed, to make Wisconsin the twenty-fifth ​"right to work" state.
As the Badger state was taking another blow to its reputation as a union stronghold, one disgusted union member at the rally shouted: ​"Walker's a weasel, not a Badger."
Ironically, Walker, a right-to-work advocate for more than two decades, said just three years ago that he opposed the legislation even ​"getting to my desk," since private-sector unions ​"overwhelmingly come to the table to be my partner in economic development." And during his re-election campaign last fall, he promised that right-to-work legislation was not part of his agenda. But in February, Walker changed his tune and pledged to sign such a bill.
Why the change? Perhaps the denials were a stealth tactic to keep union supporters off guard. Perhaps he thought attacking unions again would bolster his entry into the ranks of potential presidential candidates. At this year's Conservative Political Action Conference, where he came in second in a 2016 presidential straw poll, he said that standing up to thousands of Wisconsin citizens who supported union rights showed how he could stand up to terrorists like ISIS around the world.
The impetus for right-to-work in Wisconsin came from the Republican Right, often with corporate funding. Robert Kraig, executive director of Citizen Action of Wisconsin, says the state's chamber of commerce, the Wisconsin Manufacturers & Commerce, made it ​"their top priority, and Walker was their ally." They were joined by a number of right-wing foundations, including the Wisconsin-based Bradley Foundation, whose director was Walker's campaign co-chair. Most of the players, however, were a familiar national cast of characters. As the Madison-based watchdog group PR Watch reported, the text of the bill came straight from the American Legislative Exchange Council. And Koch-funded think tanks such as the National Right-To-Work Committee (NRTWC) and the Heritage Foundation flew in experts to testify in favor.
These groups are also involved in right-to-work efforts in other states, including Colorado, Connecticut, Maryland, New Mexico, Washington, New Hampshire, West Virginia and Missouri. Meanwhile, in Kentucky and Illinois, where statewide laws are unlikely to pass, union opponents — including Illinois' new governor, Bruce Rauner — are pursuing county-level right-to-work laws. This new strategy has rightwing groups divided: Heritage supports it, but the NRTWC is skeptical that county-level laws will hold up in court. Still, as of late February, 10 Kentucky counties had approved ordinances and another four had introduced them. It's not a favorable sign for labor that Democrats account for nearly half of local officials voting for the laws.
History of an anti-worker movement
The right-to-work movement emerged in the South in the 1940s, with Arkansas passing the first law in 1944. The name may have emerged as a conservative rejoinder to workers' claims for a ​"right to strike" or as an expression of ​"the right of contract." In any case, it was deeply misleading, since it had nothing to do with the right to employment.
Although advocates sell right-to-work laws as promoting jobs and economic growth, the movement has always been ideological, writes Colorado State University professor Raymond Hogler in a new book, The End of American Labor Unions: The Right-to-Work Movement and the Erosion of Collective Bargaining. He explains that the debate over right to work reflects a division of views — largely rooted in the existence of slavery in the South — about basic notions of community, liberty, freedom and property. The political culture of the South emphasized liberty as emancipation of the individual (except, of course, for black slaves) within a strongly hierarchical system, while the culture of the North valued freedom as a self realization of individuals by means of collective action, rooted in communities. ​"The South doesn't like unions or collective activity, anything that interferes with the hierarchical world view," Hogler writes.
After sweeping most of the South and Great Plains states from the late 1940s through the 1970s, the right-to-work movement slowed down until 2012, when it scored victories in two industrial heartland states. After saying he wasn't interested in passing right to work, Indiana Gov. Mitch Daniels suddenly signed it into law. Then Michigan labor unions were caught off guard when Gov. Rick Snyder suddenly went back on his word and did the same. Those precedents, combined with many states turning red in the 2012 elections, opened the floodgates for the new multi-state push.
Right-to-work laws have definite effects. A 1987 study of 21 right-to-work states found that the passage of such laws reduced union membership — by 5 to 10 percent in the first five years. As a result, the wealth of corporate shareholders grows — by 2 to 4 percent, according to one study. Apparently, this comes out of workers' pockets: An Economic Policy Institute study found that in right-to-work states, average wages were about 3.2 percent lower (or $1,500 a year) than in other states.
Yet no studies conclusively demonstrate that right-to-work laws create more jobs or a more vibrant economy. Surveys of both large corporations and small manufacturers about their location decisions have found that right to-work had little to no bearing — more influential factors included highway accessibility and construction costs. And although low-wage, right-to-work states had some success in luring manufacturing to the South in the mid-20th century, today such jobs are likely to head overseas from both the North and the South.
Despite this, Americans tend to say they like right to work. Gallup found last year that while only 53 percent of national respondents approved of unions, 71 percent still favored right-to-work laws, even though they weaken unions. Based on this and other surveys, Americans appear to agree more readily with the argument that no one should be required to pay organizational dues than with the argument that people should not freeload.
Those views, however, can change. In 1978, unions waged a grassroots campaign against a right-to-work referendum in Missouri, flipping the electorate from strong support to a sound defeat. And after a similar mobilization in 2011, Ohioans voted solidly to overturn a state law to outlaw strikes and limit bargaining by public employees.
But in most cases today, the public has no direct voting option, and right-to-work proponents sneak votes in through subterfuge, as in Walker's pretense that he did not want legislators to raise the issue.
Unions begin to fight back
Yet even in the darkest circumstances, there are alternatives. Unions hope that they can appeal to current public concern with inequality to heighten opposition to right-to-work laws, since they shift power and wealth from workers to the rich. ​"We're very focused on income inequality and wage stagnation," says Geoff Wetrosky, director of the AFLCIO's national campaign against right to work. ​"Workers are fed up."
The problem is that when ​"fair share" dues requirements are eliminated through right-to-work laws or measures that focus on cutting public workers' rights, unions often quickly lose members, money and the power to save themselves and protect remaining members. After Wisconsin approved Walker's Act 10, for example, the union share of the public workforce dropped from 50 percent to 37 percent in the first year (a decline of about 50,000 members). By the end of the second year, public union losses ranged from about 30 percent of teachers to 88 percent of security employees. In just over a year, under Michigan's right-to-work law, which affected only workers under new and renegotiated contracts, union membership had dropped by 7.5 percent, or 48,000 members.
"Hopefully this is a wake-up call for labor to do more internal organizing," says retired Wisconsin AFL-CIO president David Newby. ​"If we don't, we're dead." ​"Internal organizing" usually includes stepping up efforts to sign up workers who aren't union members — especially important when dues become voluntary. It also means educating workers more intensively on politics and workplace issues. Newby advocates these steps and more: He argues that unions should also train workers to collectively address problems through direct action rather than grievance procedures, thus freeing staff for building the union and empowering workers. All of this can rebuild solidarity and combat the disillusionment that sets in when union members see their coworkers opting out.
The American Federation of State, County and Municipal Employees (AFSCME) has begun ramping up internal organizing around the country. A six-month campaign last year resulted in almost 100,000 new dues-paying members at already unionized workplaces. AFSCME is now embarking on an internal organizing campaign in Illinois, after Gov. Rauner issued an executive order ending fair share fees for the state's public-sector unions.
"We are implementing a member-to-member plan to speak personally with every fair share fee payer about the importance of a strong union and to urge them to join," says Illinois AFSCME Council 31 spokesperson Anders Lindall. ​"We are also continuously working to inform all members about the true nature of Gov. Rauner's obsession with wiping out the unions that advocate for the middle class."
AFSCME has joined with the Illinois AFL-CIO and 25 other unions to challenge the executive order in court, arguing that Rauner overstepped his powers. Rauner, meanwhile, has filed his own suit asking the courts to confirm his view that fair share fees violate workers' First Amendment rights — perhaps hoping to offer Supreme Court conservatives their best opportunity to overturn the Court's 1977 Abood v. Detroit Board of Education decision, which permitted public-sector fair share fees.
Ultimately, the labor movement needs to mount a philosophical, as well as a legal, defense of collective bargaining as a public good, increasing both democracy and equality. Union defenders need to argue that meaningful freedom of association at work requires having an institution that is democratically run by workers, who can participate as much as they like, but may be required to support it, much as they have to pay taxes.
To do this, unions will need allies. Citizen Action's Kraig argues that community- based groups such as his own must assume responsibility for rebuilding the labor movement. ​"Community groups have everything to do with changing opinion," he says. ​"Labor now is swimming upstream against legal and public opinion. There's a battle for the public mind that must take place."
It is possible that Democrats might finally recognize that it is in their interest to defend unions, given that right-to-work Republicans are often more motivated by political than economic aims — that is, destroying unions to weaken the Democratic Party.
Non-union worker organizations — from OUR Walmart to worker centers to the Fight for 15 — could also play a larger role in shifting public opinion. They have more freedom than unions, if less power, and they provide an entry point for engaging both the public and workers unfamiliar with unions.
In the long run, some union organizers believe that unions can regain ground even in right-to-work states with long-range, committed organizing. For example, Metal Trades Department president Ron Ault, a veteran Southern organizer, argues that if unions are steadfast, they can organize anywhere, including the South. ​"I've never seen in my lifetime the pent-up demand and need for labor unions [that I see now]," he says — especially among younger workers. ​"People want what we have to offer."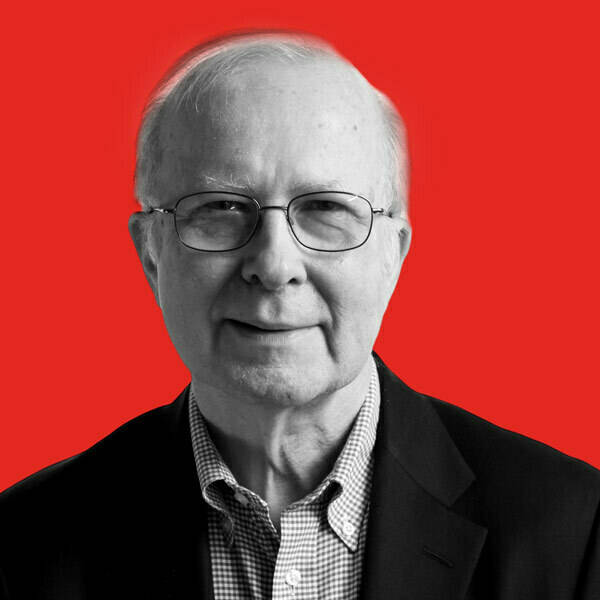 David Moberg, a former senior editor of In These Times, was on staff with the magazine from when it began publishing in 1976 until his passing in July 2022. Before joining In These Times, he completed his work for a Ph.D. in anthropology at the University of Chicago and worked for Newsweek. He received fellowships from the John D. and Catherine T. MacArthur Foundation and the Nation Institute for research on the new global economy.