How Unions Can Grow Stronger in the Wake of Right To Work
Now that the former union bastion of Wisconsin has become the 25th 'right to work' state, labor must seriously address the question: How to organize under these conditions?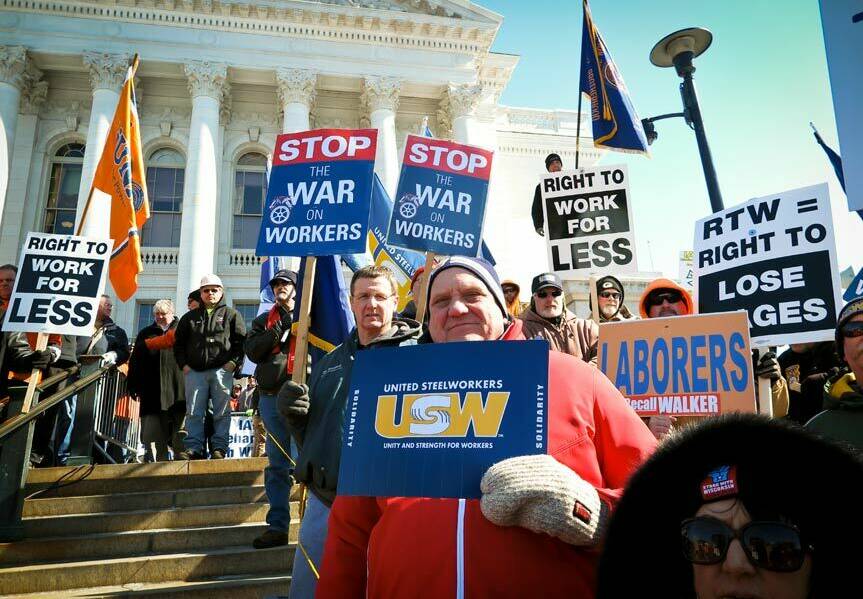 The late Feb­ru­ary snow fell lazi­ly on sev­er­al thou­sand Wis­con­sin union mem­bers as they gath­ered on the steps of the capi­tol build­ing in Madi­son to protest what pick­et signs denounced as ​"the war on work­ers." The scene was a small­er replay of the protest four years ago when tens of thou­sands assem­bled to oppose Repub­li­can Gov. Scott Walker's Act 10. Despite a broad, fer­vent upris­ing, that act passed and stripped pub­lic employ­ees of their col­lec­tive bar­gain­ing rights.
Hopefully this is a wake-up call for labor to do more internal organizing, says retired Wisconsin AFL-CIO president David Newby. If we don't, we're dead.
This time, even the pro­test­ers saw lit­tle hope of defeat­ing the lat­est attack by Walk­er and Repub­li­can leg­is­la­tors. The decep­tive­ly named ​"right-to-work" law, aimed pri­mar­i­ly at pri­vate-sec­tor unions, pro­hibits labor con­tracts from requir­ing all employ­ees to pay their share of union dues. While the Right denounces such pay­ments as ​"forced union­ism," labor says that it's only fair for all work­ers to chip in, because they all ben­e­fit from the union's work.
Repub­li­can lead­ers called an ​"extra­or­di­nary ses­sion" to address the pro­pos­al. The Sen­ate vot­ed 17 to 15 in favor (with only one Repub­li­can join­ing Democ­rats in oppo­si­tion). Assem­bly approval and Walker's sig­na­ture quick­ly fol­lowed, to make Wis­con­sin the twen­ty-fifth ​"right to work" state.
As the Bad­ger state was tak­ing anoth­er blow to its rep­u­ta­tion as a union strong­hold, one dis­gust­ed union mem­ber at the ral­ly shout­ed: ​"Walker's a weasel, not a Badger."
Iron­i­cal­ly, Walk­er, a right-to-work advo­cate for more than two decades, said just three years ago that he opposed the leg­is­la­tion even ​"get­ting to my desk," since pri­vate-sec­tor unions ​"over­whelm­ing­ly come to the table to be my part­ner in eco­nom­ic devel­op­ment." And dur­ing his re-elec­tion cam­paign last fall, he promised that right-to-work leg­is­la­tion was not part of his agen­da. But in Feb­ru­ary, Walk­er changed his tune and pledged to sign such a bill.
Why the change? Per­haps the denials were a stealth tac­tic to keep union sup­port­ers off guard. Per­haps he thought attack­ing unions again would bol­ster his entry into the ranks of poten­tial pres­i­den­tial can­di­dates. At this year's Con­ser­v­a­tive Polit­i­cal Action Con­fer­ence, where he came in sec­ond in a 2016 pres­i­den­tial straw poll, he said that stand­ing up to thou­sands of Wis­con­sin cit­i­zens who sup­port­ed union rights showed how he could stand up to ter­ror­ists like ISIS around the world.
The impe­tus for right-to-work in Wis­con­sin came from the Repub­li­can Right, often with cor­po­rate fund­ing. Robert Kraig, exec­u­tive direc­tor of Cit­i­zen Action of Wis­con­sin, says the state's cham­ber of com­merce, the Wis­con­sin Man­u­fac­tur­ers & Com­merce, made it ​"their top pri­or­i­ty, and Walk­er was their ally." They were joined by a num­ber of right-wing foun­da­tions, includ­ing the Wis­con­sin-based Bradley Foun­da­tion, whose direc­tor was Walker's cam­paign co-chair. Most of the play­ers, how­ev­er, were a famil­iar nation­al cast of char­ac­ters. As the Madi­son-based watch­dog group PR Watch report­ed, the text of the bill came straight from the Amer­i­can Leg­isla­tive Exchange Coun­cil. And Koch-fund­ed think tanks such as the Nation­al Right-To-Work Com­mit­tee (NRTWC) and the Her­itage Foun­da­tion flew in experts to tes­ti­fy in favor.
These groups are also involved in right-to-work efforts in oth­er states, includ­ing Col­orado, Con­necti­cut, Mary­land, New Mex­i­co, Wash­ing­ton, New Hamp­shire, West Vir­ginia and Mis­souri. Mean­while, in Ken­tucky and Illi­nois, where statewide laws are unlike­ly to pass, union oppo­nents — includ­ing Illi­nois' new gov­er­nor, Bruce Rauner — are pur­su­ing coun­ty-lev­el right-to-work laws. This new strat­e­gy has rightwing groups divid­ed: Her­itage sup­ports it, but the NRTWC is skep­ti­cal that coun­ty-lev­el laws will hold up in court. Still, as of late Feb­ru­ary, 10 Ken­tucky coun­ties had approved ordi­nances and anoth­er four had intro­duced them. It's not a favor­able sign for labor that Democ­rats account for near­ly half of local offi­cials vot­ing for the laws.
His­to­ry of an anti-work­er movement
The right-to-work move­ment emerged in the South in the 1940s, with Arkansas pass­ing the first law in 1944. The name may have emerged as a con­ser­v­a­tive rejoin­der to work­ers' claims for a ​"right to strike" or as an expres­sion of ​"the right of con­tract." In any case, it was deeply mis­lead­ing, since it had noth­ing to do with the right to employment.
Although advo­cates sell right-to-work laws as pro­mot­ing jobs and eco­nom­ic growth, the move­ment has always been ide­o­log­i­cal, writes Col­orado State Uni­ver­si­ty pro­fes­sor Ray­mond Hogler in a new book, The End of Amer­i­can Labor Unions: The Right-to-Work Move­ment and the Ero­sion of Col­lec­tive Bar­gain­ing. He explains that the debate over right to work reflects a divi­sion of views — large­ly root­ed in the exis­tence of slav­ery in the South — about basic notions of com­mu­ni­ty, lib­er­ty, free­dom and prop­er­ty. The polit­i­cal cul­ture of the South empha­sized lib­er­ty as eman­ci­pa­tion of the indi­vid­ual (except, of course, for black slaves) with­in a strong­ly hier­ar­chi­cal sys­tem, while the cul­ture of the North val­ued free­dom as a self real­iza­tion of indi­vid­u­als by means of col­lec­tive action, root­ed in com­mu­ni­ties. ​"The South doesn't like unions or col­lec­tive activ­i­ty, any­thing that inter­feres with the hier­ar­chi­cal world view," Hogler writes.
After sweep­ing most of the South and Great Plains states from the late 1940s through the 1970s, the right-to-work move­ment slowed down until 2012, when it scored vic­to­ries in two indus­tri­al heart­land states. After say­ing he wasn't inter­est­ed in pass­ing right to work, Indi­ana Gov. Mitch Daniels sud­den­ly signed it into law. Then Michi­gan labor unions were caught off guard when Gov. Rick Sny­der sud­den­ly went back on his word and did the same. Those prece­dents, com­bined with many states turn­ing red in the 2012 elec­tions, opened the flood­gates for the new mul­ti-state push.
Right-to-work laws have def­i­nite effects. A 1987 study of 21 right-to-work states found that the pas­sage of such laws reduced union mem­ber­ship — by 5 to 10 per­cent in the first five years. As a result, the wealth of cor­po­rate share­hold­ers grows — by 2 to 4 per­cent, accord­ing to one study. Appar­ent­ly, this comes out of work­ers' pock­ets: An Eco­nom­ic Pol­i­cy Insti­tute study found that in right-to-work states, aver­age wages were about 3.2 per­cent low­er (or $1,500 a year) than in oth­er states.
Yet no stud­ies con­clu­sive­ly demon­strate that right-to-work laws cre­ate more jobs or a more vibrant econ­o­my. Sur­veys of both large cor­po­ra­tions and small man­u­fac­tur­ers about their loca­tion deci­sions have found that right to-work had lit­tle to no bear­ing — more influ­en­tial fac­tors includ­ed high­way acces­si­bil­i­ty and con­struc­tion costs. And although low-wage, right-to-work states had some suc­cess in lur­ing man­u­fac­tur­ing to the South in the mid-20th cen­tu­ry, today such jobs are like­ly to head over­seas from both the North and the South.
Despite this, Amer­i­cans tend to say they like right to work. Gallup found last year that while only 53 per­cent of nation­al respon­dents approved of unions, 71 per­cent still favored right-to-work laws, even though they weak­en unions. Based on this and oth­er sur­veys, Amer­i­cans appear to agree more read­i­ly with the argu­ment that no one should be required to pay orga­ni­za­tion­al dues than with the argu­ment that peo­ple should not freeload.
Those views, how­ev­er, can change. In 1978, unions waged a grass­roots cam­paign against a right-to-work ref­er­en­dum in Mis­souri, flip­ping the elec­torate from strong sup­port to a sound defeat. And after a sim­i­lar mobi­liza­tion in 2011, Ohioans vot­ed solid­ly to over­turn a state law to out­law strikes and lim­it bar­gain­ing by pub­lic employees.
But in most cas­es today, the pub­lic has no direct vot­ing option, and right-to-work pro­po­nents sneak votes in through sub­terfuge, as in Walker's pre­tense that he did not want leg­is­la­tors to raise the issue.
Unions begin to fight back
Yet even in the dark­est cir­cum­stances, there are alter­na­tives. Unions hope that they can appeal to cur­rent pub­lic con­cern with inequal­i­ty to height­en oppo­si­tion to right-to-work laws, since they shift pow­er and wealth from work­ers to the rich. ​"We're very focused on income inequal­i­ty and wage stag­na­tion," says Geoff Wet­rosky, direc­tor of the AFLCIO's nation­al cam­paign against right to work. ​"Work­ers are fed up."
The prob­lem is that when ​"fair share" dues require­ments are elim­i­nat­ed through right-to-work laws or mea­sures that focus on cut­ting pub­lic work­ers' rights, unions often quick­ly lose mem­bers, mon­ey and the pow­er to save them­selves and pro­tect remain­ing mem­bers. After Wis­con­sin approved Walker's Act 10, for exam­ple, the union share of the pub­lic work­force dropped from 50 per­cent to 37 per­cent in the first year (a decline of about 50,000 mem­bers). By the end of the sec­ond year, pub­lic union loss­es ranged from about 30 per­cent of teach­ers to 88 per­cent of secu­ri­ty employ­ees. In just over a year, under Michigan's right-to-work law, which affect­ed only work­ers under new and rene­go­ti­at­ed con­tracts, union mem­ber­ship had dropped by 7.5 per­cent, or 48,000 members.
"Hope­ful­ly this is a wake-up call for labor to do more inter­nal orga­niz­ing," says retired Wis­con­sin AFL-CIO pres­i­dent David New­by. ​"If we don't, we're dead." ​"Inter­nal orga­niz­ing" usu­al­ly includes step­ping up efforts to sign up work­ers who aren't union mem­bers — espe­cial­ly impor­tant when dues become vol­un­tary. It also means edu­cat­ing work­ers more inten­sive­ly on pol­i­tics and work­place issues. New­by advo­cates these steps and more: He argues that unions should also train work­ers to col­lec­tive­ly address prob­lems through direct action rather than griev­ance pro­ce­dures, thus free­ing staff for build­ing the union and empow­er­ing work­ers. All of this can rebuild sol­i­dar­i­ty and com­bat the dis­il­lu­sion­ment that sets in when union mem­bers see their cowork­ers opt­ing out.
The Amer­i­can Fed­er­a­tion of State, Coun­ty and Munic­i­pal Employ­ees (AFSCME) has begun ramp­ing up inter­nal orga­niz­ing around the coun­try. A six-month cam­paign last year result­ed in almost 100,000 new dues-pay­ing mem­bers at already union­ized work­places. AFSCME is now embark­ing on an inter­nal orga­niz­ing cam­paign in Illi­nois, after Gov. Rauner issued an exec­u­tive order end­ing fair share fees for the state's pub­lic-sec­tor unions.
"We are imple­ment­ing a mem­ber-to-mem­ber plan to speak per­son­al­ly with every fair share fee pay­er about the impor­tance of a strong union and to urge them to join," says Illi­nois AFSCME Coun­cil 31 spokesper­son Anders Lin­dall. ​"We are also con­tin­u­ous­ly work­ing to inform all mem­bers about the true nature of Gov. Rauner's obses­sion with wip­ing out the unions that advo­cate for the mid­dle class."
AFSCME has joined with the Illi­nois AFL-CIO and 25 oth­er unions to chal­lenge the exec­u­tive order in court, argu­ing that Rauner over­stepped his pow­ers. Rauner, mean­while, has filed his own suit ask­ing the courts to con­firm his view that fair share fees vio­late work­ers' First Amend­ment rights — per­haps hop­ing to offer Supreme Court con­ser­v­a­tives their best oppor­tu­ni­ty to over­turn the Court's 1977 Abood v. Detroit Board of Edu­ca­tion deci­sion, which per­mit­ted pub­lic-sec­tor fair share fees.
Ulti­mate­ly, the labor move­ment needs to mount a philo­soph­i­cal, as well as a legal, defense of col­lec­tive bar­gain­ing as a pub­lic good, increas­ing both democ­ra­cy and equal­i­ty. Union defend­ers need to argue that mean­ing­ful free­dom of asso­ci­a­tion at work requires hav­ing an insti­tu­tion that is demo­c­ra­t­i­cal­ly run by work­ers, who can par­tic­i­pate as much as they like, but may be required to sup­port it, much as they have to pay taxes.
To do this, unions will need allies. Cit­i­zen Action's Kraig argues that com­mu­ni­ty- based groups such as his own must assume respon­si­bil­i­ty for rebuild­ing the labor move­ment. ​"Com­mu­ni­ty groups have every­thing to do with chang­ing opin­ion," he says. ​"Labor now is swim­ming upstream against legal and pub­lic opin­ion. There's a bat­tle for the pub­lic mind that must take place."
It is pos­si­ble that Democ­rats might final­ly rec­og­nize that it is in their inter­est to defend unions, giv­en that right-to-work Repub­li­cans are often more moti­vat­ed by polit­i­cal than eco­nom­ic aims — that is, destroy­ing unions to weak­en the Demo­c­ra­t­ic Party.
Non-union work­er orga­ni­za­tions — from OUR Wal­mart to work­er cen­ters to the Fight for 15 — could also play a larg­er role in shift­ing pub­lic opin­ion. They have more free­dom than unions, if less pow­er, and they pro­vide an entry point for engag­ing both the pub­lic and work­ers unfa­mil­iar with unions.
In the long run, some union orga­niz­ers believe that unions can regain ground even in right-to-work states with long-range, com­mit­ted orga­niz­ing. For exam­ple, Met­al Trades Depart­ment pres­i­dent Ron Ault, a vet­er­an South­ern orga­niz­er, argues that if unions are stead­fast, they can orga­nize any­where, includ­ing the South. ​"I've nev­er seen in my life­time the pent-up demand and need for labor unions [that I see now]," he says — espe­cial­ly among younger work­ers. ​"Peo­ple want what we have to offer."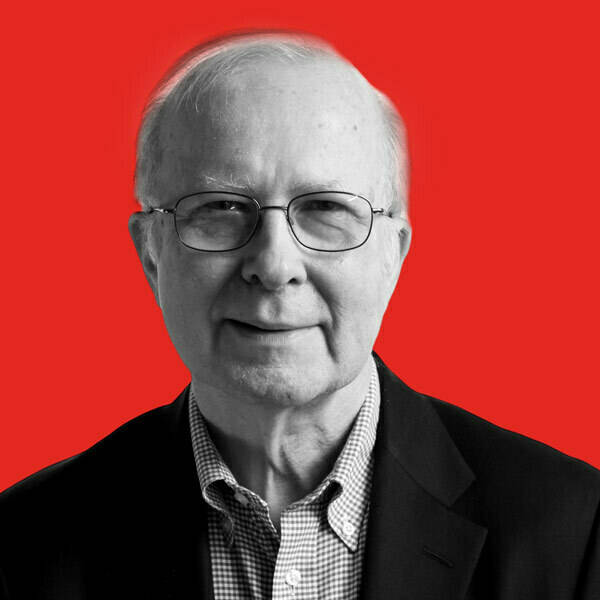 David Moberg, a senior edi­tor of In These Times, has been on the staff of the mag­a­zine since it began pub­lish­ing in 1976. Before join­ing In These Times, he com­plet­ed his work for a Ph.D. in anthro­pol­o­gy at the Uni­ver­si­ty of Chica­go and worked for Newsweek. He has received fel­low­ships from the John D. and Cather­ine T. MacArthur Foun­da­tion and the Nation Insti­tute for research on the new glob­al economy.