Security Guards from Chicago's O'Hare Airport Join One-Day Nationwide Airport Worker Strike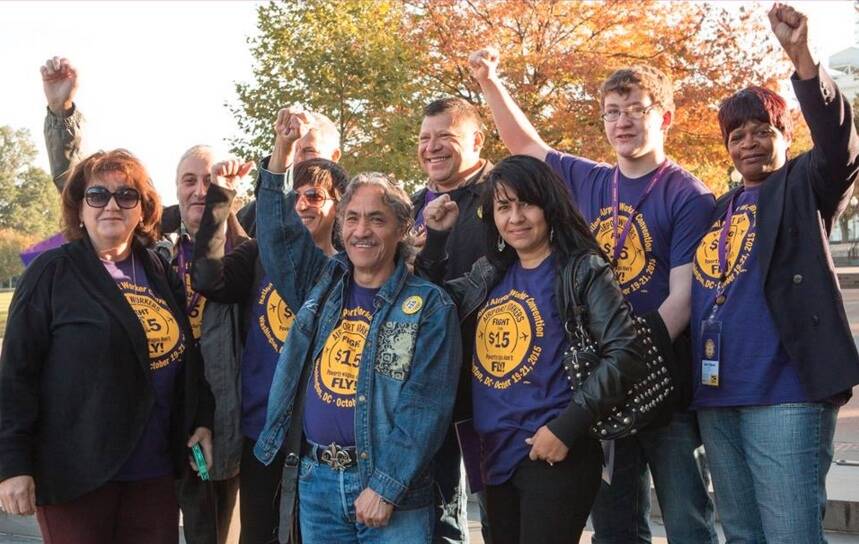 Security guards at O'Hare International Airport in Chicago walked off the job yesterday as part of a wave of labor actions at 11 major American airports this week. The Service Employees International Union (SEIU), the union backing the workers, says over 2,000 plane cleaners, wheelchair attendants, baggage handlers and other airport workers have walked out to demand the $15 hourly wage that they say is their due, with many striking to also demand union representation.
Several of the 14 striking Universal Security employees spoke out at a rally outside O'Hare. One of the workers, Marcy Barnett, laid down the strike's motivations: ​"Two former employees were fired for speaking out. No worker should be treated this way. No employee should work in constant fear of losing their job." In response to the two firings, which the striking workers say was in response to their union organizing efforts, the group has filed unfair labor practice charges against the company.
Standing amid a huddle of news cameras and supportive signs in a chill wind in front of O'Hare's Terminal 3, Barnett appealed to fundamental values: ​"The universal code is declared by the Almighty that every human being has a right to their basic needs."
In addition to standing against their employer's retaliations and demanding better pay, the striking workers are also calling for more hours and more thorough job training. Frank Kennebrew, who has worked for Universal for the past three months, complained that he receives less than 40 hours a week and wants a union because ​"we don't get benefits, … we don't get sick days, holiday pay or anything." He hopes that union representation will ultimately ​"make this company and the airport do right by us."
Doreen Chapman, another striking worker, voiced concerns about the safety of the airport, noting that workers needed better training if they are to protect travelers. ​"In case a real serious situation, an emergency, was to come about," Chapman said, ​"bombs, terrorists, anything, we need to be trained for that and we're not." Though guards working for Universal are auxiliary to law enforcement and TSA officials, they play an important role in screening the airport for suspicious activity.
In addition to the striking workers themselves, several fast food workers from the Fight for $15 came to O'Hare to rally in solidarity. Anthony Kemp, a KFC employee who joined tens of thousands of Fight for $15 employees in taking to the streets on November 10, explained that he came to O'Hare because he identified with the guards' struggle. ​"We know that the airport workers work very hard to protect all of the visitors that come to the city of Chicago, and they're trying to make a fair decent living wage for their family, so we're here to give them our support and our respect. … We're struggling for the same rights, and the same benefits, and the same privileges."
In addition to seeking to gain union representation, improving safety and achieving better pay and benefits, the workers placed a call for basic dignity at the core of their demands. Speaking during the rally, Doreen Chapman said that the workers were ​"tired of being treated like we don't matter. We do matter. Our work matters. We're here to tell O'Hare that we're not going to take it anymore."
Tom Ladendorf
is an American writer and musician who lives in Cologne, Germany, and a former In These Times editorial intern.