Service Workers Elbow-to- Elbow in Battle for Healthcare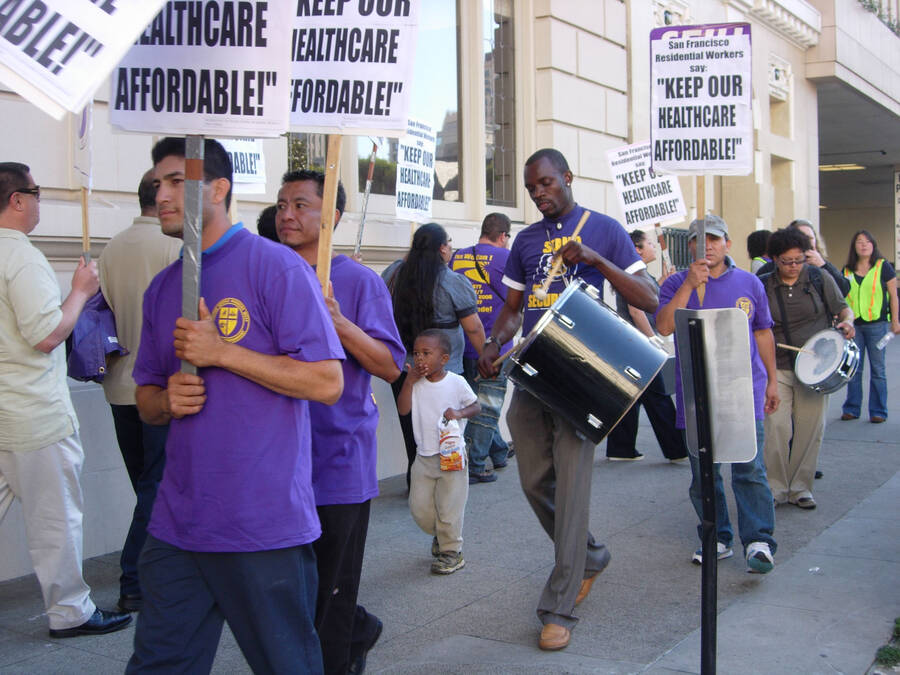 More than 300 residential service workers, including janitors, handymen, and door attendants are hammering out an agreement with the Condominium Cooperative Employers Council of San Francisco – which represents the owners of 50 buildings mostly located in the city's upper-crust neighborhoods of Nob Hill and Russian Hill.

The contract with members of SEIU Local 1877 United Service Workers West is set to expire September 30.

​"Our fight is for healthcare," said Emmanuel Eric, worker representative for Local 1877. Eric has been a doorman at a Russian Hill apartment for 20 years and has raised five children on the wages and benefits from that job.
The Condo Council originally proposed some takeaways in their health coverage, but workers strongly oppose the measure.

​"Most of us are family people with medium to large size families. That's why we must maintain affordable healthcare," Eric said.

Sergio Borrero, a doorman at a Nob Hill apartment building for 13 years, is also a member of the negotiating team. He said the Condo Council
is asking us to take a cuts in medical benefits and wages and they want a five-year contract. Most of our members are older and have families. We are trying to negotiate a three-year contract because if the economy gets better, we don't want to be locked in a five-year contract where we've taken a big cut.
The lead negotiator for the Condo Council, Chris Thomas, said a number of proposals have been exchanged. ​"We've agreed that the union can continue the current health plan," Thomas said. ​"The only dispute is how much the employer will contribute to future health-care cost increases."

San Francisco has traditionally offered top industry standards that allow residential workers and their families to gain a foothold in the middle class, according to SEIU spokeswoman Rachel Huennekens.

Hunnekens said that recently, a handful of building owners bypassed the negotiating process by using companies who subcontract apartment service jobs to workers who are paid less and receive fewer health benefits.

Five long-time janitors at 101 Lombard Street, for instance, were recently fired when the Homeowners Association – who were part of the Condo Council but opted out and pulled out of the contract process – contracted with a small company, Luis Janitorial. One of the laid-off janitors, Jose Bonilla, had worked at the building for 19 years.

Luis Janitorial pays lower wages and offers little if any healthcare coverage. One of the units at 101 Lombard recently sold for $830,000.

Several calls to Luis Janitorial from In These Times went unreturned.

Building 1001 California also stepped away from the negotiation process – subcontracting the work of door attendants to a security contractor who pays several dollars an hour less and cut affordable healthcare and pension benefits, according Huennekens.
One condo in that building is on the market for $7.2 million. Another is on the market for over $1 million and the listing on Trulia real-estate search site reads: ​"This is the perfect Nob Hill penthouse home in one of SF's most distinctive full-service beaux arts buildings."
SEIU says the firings are an effort to disrupt industry standards.

Last week, Local 1877 workers rallied outside of 101 Lombard and 1001 California to send a loud message of displeasure at what they said were unscrupulous actions by the building owners.
They were joined from all divisions of SEIU United Service Workers West including janitors, security officers, stadium and area workers.
Rose Arrieta
was born and raised in Los Angeles. She has worked in print, broadcast and radio, both mainstream and community oriented — including being a former editor of the Bay Area's independent community bilingual biweekly El Tecolote. She currently lives in San Francisco, where she is a freelance journalist writing for a variety of outlets on social justice issues.