The Colonial Roots of Gun Culture
The origins of the U.S. gun obsession lie in the violent dispossession of Native Americans.
This text is adapt­ed from Loaded: A Dis­arm­ing His­to­ry of the Sec­ond Amend­ment.
That is the way of settler-colonialism, and that is the way of the gun—to kill off and control enemies.
In the sum­mer of 1970, while I was liv­ing and orga­niz­ing in New Orleans with a women's study-action group, we became caught up in a cur­rent of repres­sion and para­noia. After a week of heavy police sur­veil­lance, we began receiv­ing tele­phone calls from a man claim­ing to be a mem­ber of the Ku Klux Klan. The man threat­ened to burn down our build­ing, and, of course, we didn't trust the police, so we did not report it. Instead, we decid­ed to arm our­selves. We saw it as a prac­ti­cal step, not a polit­i­cal act, some­thing we need­ed for self-defense in order to con­tin­ue work­ing, not at all embrac­ing armed strug­gle. In real­i­ty, once armed, our mind­sets changed to match the new reality.
Gun-love can be akin to non-chem­i­cal addic­tions like gam­bling or hoard­ing, either of which can have dev­as­tat­ing effects, but mur­der, sui­cide, acci­den­tal death and mass shoot­ings result only from guns. While near­ly any­thing may be used to kill, only the gun is cre­at­ed for the spe­cif­ic pur­pose of killing a liv­ing crea­ture. The sheer num­bers of guns in cir­cu­la­tion, and the loos­en­ing of reg­u­la­tions on hand­guns espe­cial­ly, facil­i­tate dead­ly spur-of-the-moment reflex acts.
Sev­en­ty-four per­cent of gun own­ers in the Unit­ed States are male, and 82 per­cent of gun own­ers are white. The top rea­son U.S. Amer­i­cans give for own­ing a gun is for pro­tec­tion. What are the major­i­ty of white men so afraid of?
Instead of dis­miss­ing the Sec­ond Amend­ment as anti­quat­ed and irrel­e­vant, or as not actu­al­ly mean­ing what it says, under­stand­ing the orig­i­nal pur­pose of the Sec­ond Amend­ment is key to under­stand­ing gun cul­ture, and pos­si­bly the key to a new con­scious­ness about the con­tin­u­ing effects of set­tler-colo­nial­ism and white nationalism.
One argu­ment that runs through his­tor­i­cal accounts of the think­ing behind the Sec­ond Amend­ment is ide­al­iz­ing Anglo set­tler-farm­ers as fierce­ly inde­pen­dent and right­ly fear­ing Big Broth­er gov­ern­ment, insist­ing on set­tlers' right to over­throw oppres­sive regimes. But, what colonists con­sid­ered oppres­sive was any restric­tion put on them in regard to obtain­ing land. In the instances of Bacon's Rebel­lion in 1676, the War of Inde­pen­dence itself, and many cas­es in between, the set­tlers' com­plaint was the refusal of the British colo­nial author­i­ties to allow them to seize Native land periph­er­al to the colonies.
Tak­ing land by force was not an acci­den­tal or spon­ta­neous project or the work of a few rogue char­ac­ters. Male colo­nial set­tlers had long formed mili­tias for the pur­pose of raid­ing and raz­ing Indige­nous com­mu­ni­ties and seiz­ing their lands and resources, and the Native com­mu­ni­ties fought back. Vir­ginia, the first colony, for­bade any man to trav­el unless he was ​"well armed." In 1658, the colony ordered every set­tler home to have a func­tion­ing firearm, and lat­er even pro­vid­ed gov­ern­ment loans for those who could not afford to buy a weapon.
These types of laws stayed on the books of the ear­li­est colonies and were cre­at­ed in new colonies as they were found­ed. The Sec­ond Amend­ment, rat­i­fied in 1791, enshrined these rights and oblig­a­tions as con­sti­tu­tion­al law: ​"A well reg­u­lat­ed Mili­tia, being nec­es­sary to the secu­ri­ty of a free State, the right of the peo­ple to keep and bear Arms, shall not be infringed." The Sec­ond Amend­ment thus reflects this depen­dence on indi­vid­ual armed men to take and retain land.
The con­tin­u­ing sig­nif­i­cance of that ​"free­dom" spec­i­fied in the Bill of Rights reveals the set­tler-colo­nial­ist cul­tur­al roots of the Unit­ed States that appear even in the present as a sacred right. Set­tler-mili­tias and armed house­holds were insti­tu­tion­al­ized for the destruc­tion and con­trol of Native peo­ples, com­mu­ni­ties and nations. With the expan­sion of plan­ta­tion agri­cul­ture, by the late 1600s they were also used as ​"slave patrols," form­ing the basis of the U.S. police cul­ture after emancipation.
That is the way of set­tler-colo­nial­ism, and that is the way of the gun — to kill off and con­trol ene­mies. Vio­lence per­pe­trat­ed by armed set­tlers, even geno­cide, were not absent in the oth­er British set­tler-colonies — Aus­tralia, Cana­da and New Zealand — but the peo­ple of those poli­ties nev­er declared the gun a God-giv­en right. And the peo­ple of the oth­er Anglo set­tler-colonies did not have economies, gov­ern­ments and social orders based on the enslave­ment of oth­er human beings. The Unit­ed States is indeed ​"excep­tion­al."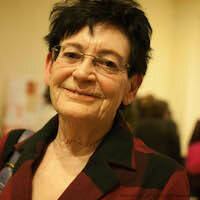 Rox­anne Dun­bar-Ortiz
grew up in rur­al Okla­homa, the daugh­ter of a ten­ant farmer and part-Indi­an moth­er. She has been active in the inter­na­tion­al Indige­nous move­ment for more than four decades and is known for her life­long com­mit­ment to nation­al and inter­na­tion­al social jus­tice issues. After receiv­ing her PhD in his­to­ry at the Uni­ver­si­ty of Cal­i­for­nia at Los Ange­les, she taught in the new­ly estab­lished Native Amer­i­can Stud­ies Pro­gram at Cal­i­for­nia State Uni­ver­si­ty, Hay­ward, and helped found the Depart­ments of Eth­nic Stud­ies and Women's Stud­ies. Her
1977
book
The Great Sioux Nation
was the fun­da­men­tal doc­u­ment at the first inter­na­tion­al con­fer­ence on Indige­nous peo­ples of the Amer­i­c­as, held at the Unit­ed Nations' head­quar­ters in Gene­va. Dun­bar-Ortiz is the author or edi­tor of sev­en oth­er books, includ­ing
Roots of Resis­tance: A His­to­ry of Land Tenure in New Mex­i­co
. She lives in San Francisco.