Democracy's Fascism Problem
Europe has a 'democracy deficit' on both the Left and the Right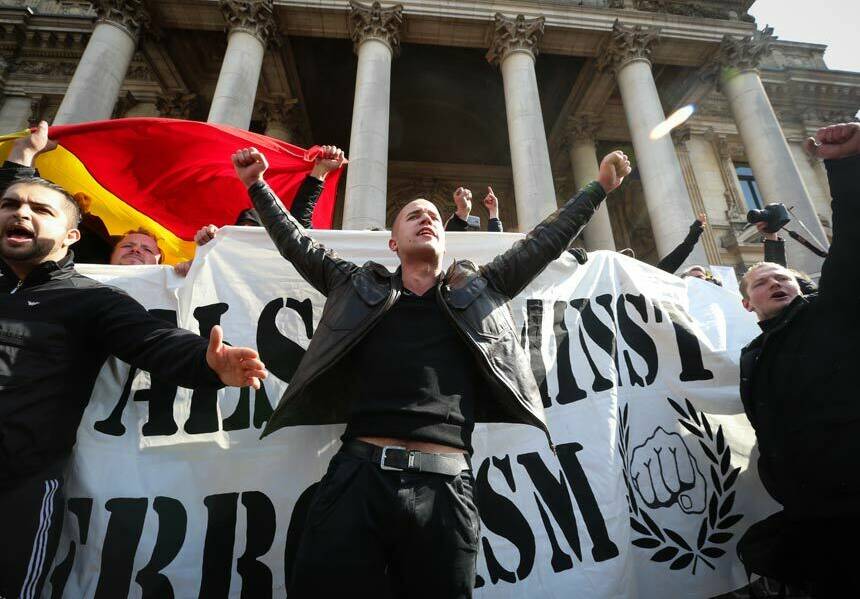 Some­times faces become sym­bols of the anony­mous forces behind them. Was not the stu­pid­ly smil­ing face of Eurogroup Pres­i­dent Jeroen Dijs­sel­bloem the sym­bol of the Euro­pean Union's bru­tal pres­sure on Greece? Recent­ly, the Transat­lantic Trade & Invest­ment Part­ner­ship (TTIP) — the Euro­pean cousin of the Trans-Pacif­ic Part­ner­ship — acquired a new sym­bol: the cold face of E.U. trade com­mis­sion­er Cecil­ia Malm­ström, who respond­ed to mas­sive pub­lic oppo­si­tion to TTIP this way: ​"I do not take my man­date from the Euro­pean people."
The usual Left-liberal critique of the European Union is that it's basically okay, just with a 'democracy deficit.'
Now a third such sym­bol has emerged: Frans Tim­mer­mans, the first vice pres­i­dent of the Euro­pean Com­mis­sion, who, on Dec. 23, 2015, scold­ed the Pol­ish gov­ern­ment for adopt­ing a new law that sub­or­di­nates Poland's con­sti­tu­tion­al court to the author­i­ty of gov­ern­ment. Tim­mer­mans also con­demned the law that allows the Pol­ish par­lia­ment to replace all exec­u­tives at the country's pub­lic tele­vi­sion and radio com­pa­nies. In an imme­di­ate rebuke, Pol­ish nation­al­ists warned Brus­sels ​"to exer­cise more restraint in instruct­ing and cau­tion­ing the par­lia­ment and the gov­ern­ment of a sov­er­eign and demo­c­ra­t­ic state."
From the stan­dard left-lib­er­al view, it is inap­pro­pri­ate to put these three names into the same series: Dijs­sel­bloem and Malm­ström per­son­i­fy the pres­sure of the Brus­sels bureau­crats (with­out demo­c­ra­t­ic legit­imiza­tion) on demo­c­ra­t­i­cal­ly elect­ed gov­ern­ments, while Tim­mer­mans inter­vened to pro­tect basic demo­c­ra­t­ic insti­tu­tions (judi­cial inde­pen­dence and a free press). It may appear obscene to com­pare the bru­tal neolib­er­al pres­sure on Greece with the jus­ti­fied crit­i­cism of Poland, but did the Pol­ish government's reac­tion not hit the mark? Tim­mer­mans did indeed pres­sure a demo­c­ra­t­i­cal­ly elect­ed gov­ern­ment of a sov­er­eign state.
Recent­ly, when I was answer­ing ques­tions from the read­ers of Süd­deutsche Zeitung about the refugee cri­sis, the ques­tion that attract­ed the most atten­tion con­cerned democ­ra­cy — but with a right-wing pop­ulist twist. When Angela Merkel famous­ly invit­ed hun­dreds of thou­sands of refugees into Ger­many, what gave her the right? My point here is not to sup­port anti-immi­grant pop­ulists, but to point out the lim­its of demo­c­ra­t­ic legit­imiza­tion. The same goes for those who advo­cate the rad­i­cal open­ing of the bor­ders: Are they aware that, since our democ­ra­cies are nation-state democ­ra­cies, their demand equals a sus­pen­sion of democ­ra­cy — in oth­er words, that a gigan­tic change should be allowed with­out demo­c­ra­t­ic consultation?
We encounter here the old dilem­ma: What hap­pens to democ­ra­cy if the major­i­ty is inclined to vote for racist and sex­ist laws? It's easy to imag­ine a democ­ra­tized Europe with a much more engaged cit­i­zen­ry in which the major­i­ty of gov­ern­ments are formed by anti-immi­grant pop­ulist par­ties. I am not afraid to con­clude that eman­ci­pa­to­ry pol­i­tics should not be bound a pri­ori by for­mal-demo­c­ra­t­ic pro­ce­dures of legitimization.
Of course, no priv­i­leged polit­i­cal agent knows inher­ent­ly what is best for the peo­ple and has the right to impose its deci­sions on the peo­ple against their will (as the Stal­in­ist Com­mu­nist Par­ty did). How­ev­er, when the will of the majoity clear­ly vio­lates basic eman­ci­pa­to­ry free­doms, one has not only the right but also the duty to oppose that major­i­ty. This is not rea­son to despise demo­c­ra­t­ic elec­tions — only to insist that they are not per se an indi­ca­tion of Truth. As a rule, elec­tions reflect the con­ven­tion­al wis­dom deter­mined by the hege­mon­ic ideology.
Left crit­ics of the Euro­pean Union thus find them­selves in a predica­ment: They deplore the ​"democ­ra­cy deficit" of the Euro­pean Union and pro­pose plans to make the deci­sion mak­ing in Brus­sels more trans­par­ent, but they sup­port the ​"non-demo­c­ra­t­ic" Brus­sels admin­is­tra­tors when they exert pres­sure on demo­c­ra­t­i­cal­ly legit­imized ​"fas­cist" ten­den­cies. What lies behind this con­tra­dic­tion is the Big Bad Wolf of the Euro­pean lib­er­al Left: the threat of a new Fas­cism embod­ied in anti-immi­grant right-wing pop­ulism. This straw­man is per­ceived as the prin­ci­pal ene­my against which we should all unite, from (what­ev­er remains of) the rad­i­cal Left to main­stream lib­er­al democ­rats (includ­ing E.U. admin­is­tra­tors like Tim­mer­mans). Europe is por­trayed as a con­ti­nent regress­ing toward a new Fas­cism that feeds on the para­noiac hatred and fear of the exter­nal eth­nic-reli­gious ene­my (most­ly Mus­lims). While this new fas­cism is dom­i­nant in some post-Com­mu­nist East Euro­pean coun­tries (Hun­gary, Poland, etc.), it is get­ting stronger in many oth­er E.U. coun­tries where the view is that the Mus­lim refugee inva­sion pos­es a threat to Euro­pean civilization.
But is this real­ly fas­cism? The term is all too often used to avoid detailed analy­sis. The Dutch politi­cian Pim For­tuyn, killed in ear­ly May 2002, two weeks before he was expect­ed to gain one-fifth of the vote, was a para­dox­i­cal fig­ure: a right-wing pop­ulist whose per­son­al attrib­ut­es and opin­ions (for the most part) were almost per­fect­ly ​"polit­i­cal­ly cor­rect": He was gay, had good per­son­al rela­tions with many immi­grants and pos­sessed an innate sense of irony, etc. — in short, he was a good, tol­er­ant lib­er­al with regard to every­thing except his basic polit­i­cal stance. He opposed fun­da­men­tal­ist immi­grants because of their lack of tol­er­ance toward homo­sex­u­al­i­ty, women's rights, reli­gious dif­fer­ences, etc. What he embod­ied was thus the inter­sec­tion between right­ist pop­ulism and lib­er­al polit­i­cal cor­rect­ness. Per­haps he had to die because he was liv­ing proof that the dichoto­my between right-wing pop­ulism and lib­er­al tol­er­ance is a false one — that we are deal­ing with two sides of the same coin.
Many left­ist lib­er­als, like Jür­gen Haber­mas, ide­al­ize a ​"demo­c­ra­t­ic" Euro­pean Union that nev­er exist­ed. Recent E.U. pol­i­cy is noth­ing more than a des­per­ate attempt to make Europe fit for glob­al cap­i­tal­ism. The usu­al Left-lib­er­al cri­tique of the Euro­pean Union — it's basi­cal­ly okay, just with a ​"democ­ra­cy deficit" — betrays the same naïveté as those crit­ics of for­mer-Com­mu­nist coun­tries who sup­port­ed the Com­mu­nists but bemoaned the lack of democ­ra­cy. In both cas­es, the democ­ra­cy deficit is a nec­es­sary part of the structure.
In a ref­er­ence to the like­ly elec­tion of Syriza in Greece, in Decem­ber 2014, the Finan­cial Times pub­lished a col­umn head­lined: ​"Eurozone's weak­est link is the vot­ers." In the Pink Lady's ide­al world, Europe gets rid of this ​"weak­est link" and experts gain the pow­er to direct­ly impose eco­nom­ic mea­sures. If elec­tions take place, their func­tion is to con­firm the con­sen­sus of experts.
As Euro­crat and for­mer prime min­is­ter of Italy Mario Mon­ti put it: ​"Those who gov­ern must not allow them­selves to be com­plete­ly bound by parliamentarians."
The only way to coun­ter­act the ​"demo­c­ra­t­ic deficit" of glob­al cap­i­tal­ism would be through some transna­tion­al enti­ty. But the nation-state can­not serve as a demo­c­ra­t­ic bul­wark against glob­al cap­i­tal­ism for two rea­sons: First, it is a pri­ori in a weak posi­tion at a time when the econ­o­my func­tions as a glob­al force; sec­ond, to do so, a sov­er­eign nation-state is oblig­ed to mobi­lize nation­al­ist ide­ol­o­gy and thus opens itself up to right­ist pop­ulism. Poland and Hun­gary are today two such nation­states oppos­ing globalization.
This brings us to what is the prin­ci­pal con­tra­dic­tion of glob­al cap­i­tal­ism: Impos­ing a glob­al polit­i­cal order that would cor­re­spond to a glob­al cap­i­tal­ist econ­o­my is struc­tural­ly impos­si­ble, and not because it is empir­i­cal­ly dif­fi­cult to orga­nize glob­al elec­tions or to estab­lish glob­al insti­tu­tions. The rea­son is that the glob­al mar­ket is not a neu­tral, uni­ver­sal machine with the same rules for every­body. It requires a vast net­work of excep­tions, vio­la­tions of its own rules, extra-eco­nom­ic (mil­i­tary) inter­ven­tions and so forth. So while our econ­o­my is more and more glob­al, what is ​"repressed" from the anony­mous glob­al econ­o­my returns in pol­i­tics: archa­ic fix­a­tions and par­tic­u­lar (eth­nic, reli­gious, cul­tur­al) iden­ti­ties. This ten­sion defines our predica­ment today: The glob­al, free cir­cu­la­tion of com­modi­ties is accom­pa­nied by grow­ing social divi­sions. Com­modi­ties cir­cu­late more and more freely, but peo­ple are kept apart by new walls, from phys­i­cal walls (such as in the West Bank and between the Unit­ed States and Mex­i­co) to reassert­ed eth­nic and reli­gious identities.
Does this mean that we should bypass the top­ic of democ­ra­tiz­ing Europe as a blind alley? On the con­trary, it means that, pre­cise­ly because of its cen­tral sig­nif­i­cance, we should approach it in a more rad­i­cal way.
The prob­lem is more sub­stan­tial: How do we trans­form the basic coor­di­nates of our social life, from our econ­o­my to our cul­ture, so that democ­ra­cy as free, col­lec­tive deci­sion-mak­ing becomes actu­al — not just a rit­u­al of legit­imiz­ing deci­sions made elsewhere?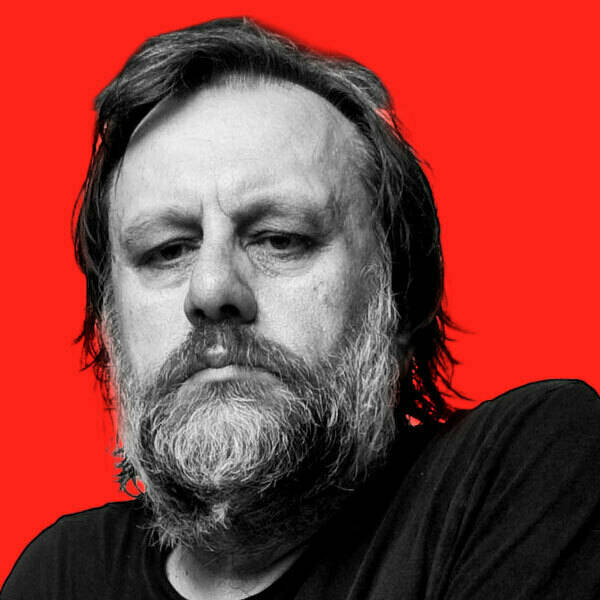 Slavoj Žižek
, a Sloven­ian philoso­pher and psy­cho­an­a­lyst, is a senior researcher at the the Insti­tute for Human­i­ties, Birk­beck Col­lege, Uni­ver­si­ty of Lon­don. He has also been a vis­it­ing pro­fes­sor at more than
10
uni­ver­si­ties around the world. Žižek is the author of many books, includ­ing Liv­ing in the End Times, First As Tragedy, Then As Farce, The Year of Dream­ing Dan­ger­ous­ly and Trou­ble in Paradise.