With Donald Trump as President, Americans Are Flocking to Socialism
Membership in the Democratic Socialists of America has surged since the election.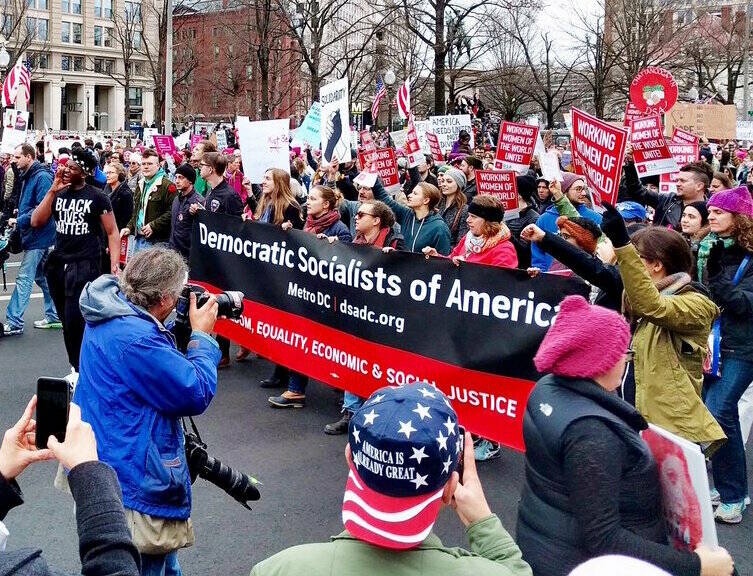 One evening the week before Christ­mas, about 100 peo­ple squeezed into a room in the Brook­lyn Free School, locat­ed on one of cen­tral Brooklyn's posh­er streets. The pri­vate school's chair col­lec­tion exhaust­ed itself with­in min­utes as atten­dees packed the room for the month­ly meet­ing of the Brook­lyn chap­ter of the Demo­c­ra­t­ic Social­ists of Amer­i­ca (DSA) — which, just a month ear­li­er, had fit eas­i­ly into the same space.
For now, DSA is proving an on-ramp for those frustrated with Trump and the Democratic establishment alike.
Since Nov. 8, 2016, thou­sands have joined DSA. The orga­ni­za­tion has bal­looned to over 14,000 mem­bers, more than dou­bling in size from 6,500 mem­bers in May 2016. DSA Nation­al Direc­tor Maria Svart says of new sign-ups, ​"You could lit­er­al­ly see the moment when Trump was declared the winner."
Orga­ni­za­tions such as the ACLU and Planned Par­ent­hood are report­ing a sim­i­lar spike in new mem­bers and dona­tions in the wake of Trump's elec­tion. But inter­est in social­ist groups, grown accus­tomed to being small and iso­lat­ed in U.S. pol­i­tics, appears to be surg­ing in a way it hasn't in decades. Many of those join­ing are young peo­ple who don't have their par­ents' Cold War hangups about social­ism. Politi­cians like Bernie Sanders — an avowed social­ist whom many sup­port­ers are look­ing to for an effec­tive counter to Trump — have fur­ther sparked their inter­est in a pol­i­tics out­side main­stream Democ­rats and Republicans.
That puts DSA in a promis­ing, if uncer­tain, posi­tion in the wake of Trump's elec­tion. ​"Peo­ple … are look­ing to DSA as an orga­ni­za­tion that full throat­ed­ly sup­port­ed Bernie Sanders in the pri­ma­ry and has the poten­tial to be a seri­ous part of the fight­back, both to Trump and to the neolib­er­al wing of the Demo­c­ra­t­ic Par­ty," says Svart.
Found­ed in 1982 out of the rem­nants of the ​'60s New Left, DSA also has roots in Eugene Debs' Social­ist Par­ty of Amer­i­ca, which at its height in 1912 boast­ed 113,000 dues-pay­ing mem­bers. Eager to avoid the pit­falls of insu­lar ide­o­log­i­cal squab­bles, DSA strives to work with com­mu­ni­ty orga­ni­za­tions and social move­ments. Fol­low­ing the elec­tion, DSA chap­ters have mobi­lized to sup­port orga­niz­ing by com­mu­ni­ties threat­ened by Trump and his sup­port­ers, includ­ing local mosques and immi­grant rights orga­ni­za­tions. DSA is also work­ing on build­ing a mul­tira­cial mem­ber­ship — its cur­rent mem­bers are pre­dom­i­nant­ly white — while sup­port­ing exist­ing orga­niz­ing by com­mu­ni­ties of col­or. Brook­lyn DSA's Racial Jus­tice work­ing group, for exam­ple, is part­ner­ing with the New York-based group Com­mu­ni­ties Unit­ed for Police Reform to help pass the Right to Know Act, aimed at increas­ing trans­paren­cy and account­abil­i­ty on the part of the NYPD.
Ulti­mate­ly, says Svart, there's agree­ment with­in the orga­ni­za­tion about ​"the need for a mul­ti-racial, anti-cap­i­tal­ist move­ment that is in touch with the grassroots."
For now, DSA is prov­ing an on-ramp for those frus­trat­ed with Trump and the Demo­c­ra­t­ic estab­lish­ment alike. The Brook­lyn meet­ing on Dec. 22, 2016, was the first for Han­nah Sil­ver­man, a New York native who worked on local Demo­c­ra­t­ic cam­paigns in high school but grew dis­il­lu­sioned with pol­i­tics before head­ing off to Brown Uni­ver­si­ty, where she grad­u­at­ed in 2015.
"I was afraid [the meet­ing] would feel futile," she said as chairs were being col­lect­ed toward the end. Instead, she was pleas­ant­ly sur­prised by the tai­lored facil­i­ta­tion — after a dis­cus­sion of the impor­tance of orga­niz­ing ​"open­ly as social­ists" at the local lev­el, the meet­ing broke out into small­er com­mit­tees on every­thing from afford­able hous­ing fights to cli­mate jus­tice — and the high atten­dance. ​"Look­ing at Trump's elec­tion, the only way to spin it pos­i­tive­ly is that it com­pelled a lot of peo­ple to become polit­i­cal­ly active," she not­ed. ​"It cre­at­ed a sense of urgency that was miss­ing." She plans to attend next month's meet­ing. In New York City alone, DSA now has 1,000 members.
But deep-blue Brook­lyn isn't the only place where demo­c­ra­t­ic social­ism is under­go­ing a resur­gence. Local orga­niz­ers are in the process of get­ting six new chap­ters off the ground in Flori­da and four in Ohio, both of which went for Trump in Novem­ber. DSA's tiny nation­al staff, fund­ed entire­ly by dues and small dona­tions, has been over­whelmed by requests to cre­ate new chap­ters around the coun­try and is look­ing for ways to expand accordingly.
Tom Tilden, 59, is among those DSA mem­bers set­ting up shop for social­ism deep in Trump coun­try. Tilden is a DSA vet­er­an, hav­ing joined when he lived in Chica­go in the late ​'80s. But when he moved to Nebras­ka in 1993, Tilden says, he didn't con­sid­er start­ing a new chap­ter there, though he remained a mem­ber of the nation­al orga­ni­za­tion. When peo­ple talk about ​"the Left" in con­ser­v­a­tive Nebras­ka, Tilden explains, they're refer­ring to ​"peo­ple in the mid­dle of the Demo­c­ra­t­ic Par­ty left­ward. ​'The Left' is pro­gres­sive. Peo­ple don't usu­al­ly think in terms of socialist."
But that may be chang­ing after Sanders' pri­ma­ry run, which ​"changed the nature of the Demo­c­ra­t­ic Par­ty in the state" while strip­ping away some of the taboos that plague social­ist pol­i­tics, says Tilden. In Nebraska's March 2016 cau­cus, Clin­ton won just 10 of the state's pledged del­e­gates to Sanders' 15, and he suc­cess­ful­ly won over some of the state's most rur­al coun­ties. Since the cau­cus­es, Tilden has been work­ing to get a new chap­ter off the ground in Oma­ha, and anoth­er has sprung up in near­by Lin­coln. About 30 peo­ple attend­ed the first meet­ing in Decem­ber 2016.
Like many oth­er DSA mem­bers around the coun­try, Tilden sees poten­tial in build­ing insti­tu­tions out­side the Demo­c­ra­t­ic Par­ty, but is also a firm believ­er in try­ing to stage a takeover from the inside. This fall, he joined Key­stone XL pipeline oppo­nent Jane Kleeb on the tick­et to run Nebraska's Demo­c­ra­t­ic Par­ty. She's now the party's state chair. Tilden is sec­ond asso­ciate chair, and has sim­i­lar goals for his work in this posi­tion as he does as a local DSA orga­niz­er: Reach­ing work­ing-class vot­ers, espe­cial­ly those who went for Trump but might yet be won over to the kind of anti-racist, anti-cap­i­tal­ist move­ment that DSA hopes to build.
"Peo­ple in rur­al Nebras­ka are more pro­gres­sive than they real­ize," Tilden rea­sons. While door-knock­ing dur­ing the Sanders cam­paign, he and oth­er vol­un­teers found that many rur­al vot­ers took firm stands against cor­po­rate agri­cul­ture and attacks on pub­lic edu­ca­tion. ​"I think once we work with them on their issue, they'll see that the peo­ple on their side are not the Republicans."
Instead, Tilden hopes, they just might embrace an entire­ly dif­fer­ent shade of red.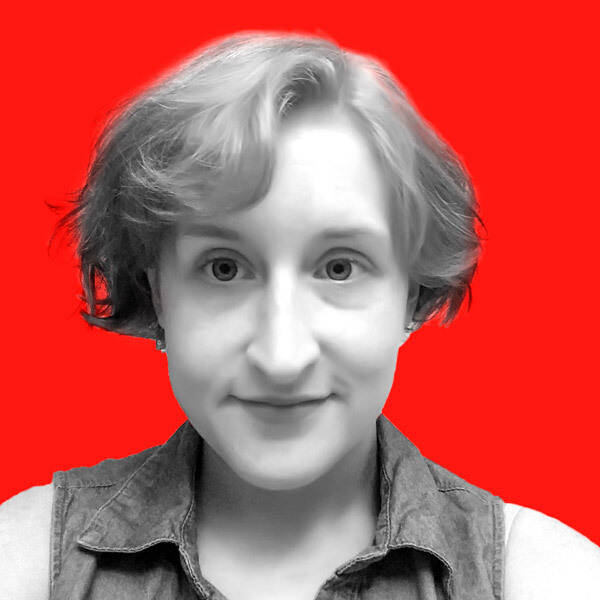 Kate Aronoff
is a Brook­lyn-based jour­nal­ist cov­er­ing cli­mate and U.S. pol­i­tics, and a con­tribut­ing writer at The Inter­cept. Fol­low her on Twit­ter @katearonoff.