Socialists Versus Landlords
Los Angeles DSA is harnessing anger over skyrocketing rent to get nonvoters to the polls in November.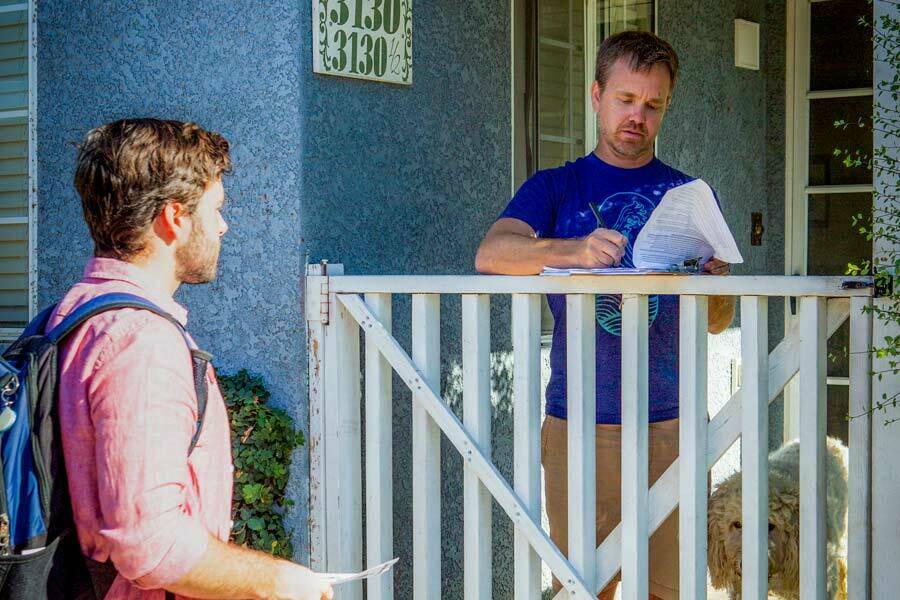 CUL­VER CITY, CALIF. — Media Park, a small scrub of land wedged bet ween two major streets, doesn't have bench­es or pic­nic tables. For Demo­c­ra­t­ic Social­ists of Amer­i­ca (DSA) mem­bers, this made assem­bling stacks of fly­ers and walk lists dif­fi­cult. Andy Per­rine, one of the par­tic­i­pants, had a the­o­ry for the lack of seat­ing: ​"It's so the home­less have nowhere to sit."
DSA-L.A pushes for Proposition 10, a measure on the California ballot this November to repeal the 1995 Costa Hawkins Act, which prevents cities and counties from establishing rent control laws.
End­ing home­less­ness was part of DSA's mis­sion on this bright Sun­day after­noon. The Los Ange­les chap­ter was can­vass­ing for Propo­si­tion 10, a mea­sure on the Cal­i­for­nia bal­lot this Novem­ber to repeal the 1995 Cos­ta Hawkins Act. The Act pre­vents cities and coun­ties from estab­lish­ing new rent con­trol laws for most apart­ments and all sin­gle­fam­i­ly homes or con­do rentals. Cos­ta-Hawkins also incen­tivizes evic­tions, allow­ing land­lords to raise rents to mar­ket rates when units become vacant.
Prop 10 sup­port­ers blame Cos­ta-Hawkins for con­tribut­ing to California's hous­ing afford­abil­i­ty cri­sis. In every met­ro­pol­i­tan area in the state, between 30 and 60 per­cent of the pop­u­la­tion can­not afford local rents. Home­less­ness has spiked, 90-minute com­mutes are increas­ing­ly com­mon, and the state has lost half a mil­lion res­i­dents in a decade, which many attribute to high hous­ing costs. ​"We believe hous­ing is a human right that shouldn't be left to mar­ket forces," said Blake Roberts, a DSA mem­ber from Cul­ver City, lead­ing a training.
Prop 10 is the first for­ay into state pol­i­tics for DSA‑L.A., one of at least six state DSA chap­ters can­vass­ing for the ini­tia­tive; they began knock­ing on doors in June, before it even had a bal­lot num­ber. ​"It's very clear that this is the most urgent issue fac­ing Los Ange­les," says DSA‑L.A.'s Arielle Sal­lai. In addi­tion to notch­ing a win for the hous­ing jus­tice move­ment, Sal­lai feels it match­es DSA's goal of build­ing a work­ing­class pow­er base. More than 50 vol­un­teers show up to each can­vass, and she expects DSA‑L.A. to reach thou­sands of doors.
The West­side can­vass ini­tial­ly con­gre­gat­ed in Palms, an apart­ment-heavy area. But to win statewide against the mil­lions of dol­lars real­tors and prop­er­ty man­agers plan to throw into defeat­ing Prop 10, you have to vis­it home­own­ers, too, like those on the leafy res­i­den­tial streets of near­by Cul­ver City.
Roberts asked one Cul­ver City home­own­er if he knew any­one cop­ing with high rents. ​"Every­body in L.A.!" the man replied, tak­ing a flyer.
Even in Cul­ver City, Roberts found the occa­sion­al renter. Sin­gle-fam­i­ly home rentals became more wide­spread after the finan­cial cri­sis, when financiers scooped up fore­closed prop­er­ties. The CEO of Wall Street giant Black­stone, America's largest sin­gle-fam­i­ly land­lord, has shelled out $4.2 mil­lion to the ​"No on Prop 10" cam­paign.
DSA‑L.A. has walk lists, like any door knock­ing cam­paign, with one key dif­fer­ence — theirs are made up of infre­quent Demo­c­ra­t­ic and inde­pen­dent vot­ers. ​"Peo­ple who are unlike­ly to vote make up 50 per­cent of the pop­u­la­tion," Roberts said. ​"They're not vot­ing because they feel like there's no voice in pol­i­tics respon­sive to their interests."
Tar­get­ing unlike­ly vot­ers stands the con­ven­tion­al wis­dom of elec­tion strate­gists on its head. It also mir­rors the tac­tics of Alexan­dria Ocasio-Cortez's upset con­gres­sion­al vic­to­ry in New York. Oca­sio-Cortez has often said that swing vot­ers for demo­c­ra­t­ic social­ists are not red to blue, but non­vot­er to voter.
On this day, can­vass­ing non­vot­ers yield­ed a lit­tle wari­ness. Roberts aimed to pro­voke con­ver­sa­tions — ​"the per­son at the door should be talk­ing 80 per­cent of the time," he told can­vassers — but sev­er­al res­i­dents said they were busy or polite­ly thanked him and shut the door.
But DSA‑L.A. insists on bring­ing new voic­es into the process.
Even Prop 10's oppo­si­tion admits there is a hous­ing cri­sis, but argues that rent con­trol would exac­er­bate it by halt­ing need­ed con­struc­tion. Experts are divid­ed on this point, but the Los Ange­les Times and Sacra­men­to Bee have endorsed Prop 10, argu­ing it would give cities tools to mit­i­gate soar­ing rents.
Over­all, can­vassers report­ed a pos­i­tive response. ​"It's some of the eas­i­est can­vass­ing I've ever done," Sal­lai says. ​"We're here to talk about how unaf­ford­able the neigh­bor­hood has got­ten. And they're like, ​'Yes.'"
At one of the last homes on Roberts' can­vass, the recep­tion was cool­er. ​"I'm a land­lord, I don't want rent con­trol," said an old­er man. ​"You don't want to talk to me, because I get nasty."
Blake tried to be diplo­mat­ic, say­ing, ​"It's still impor­tant to have conversations."