SOSing the Vote
Secretaries of State are essential to making free and fair elections possible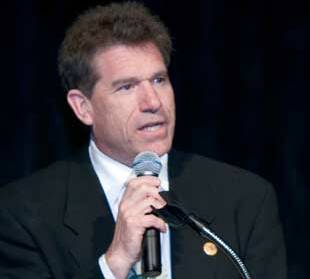 Mark Ritchie knows how to get people to the polls. In 1986, he founded the League of Rural Voters and in 2004, he founded November 2, a nonpartisan voter registration that registered 5 million voters. So this year, instead of returning to his job at the Institute for Agriculture and Trade Policy, in Minneapolis, Minnesota, he decided to run for secretary of state.
"I became aware that free and fair elections are the way we pick policymakers who really matter," says Ritchie. ​"The secretary of state in my state, like in other states, had transformed her office into a partisan arm of the Republican Party. Nonpartisan administration of voting, he says, is the only way to guarantee ​"free and fair elections to pick the policy makers who then make the rules about food and agriculture and trade."
An elected office in 38 states – secretaries of state implement election-related legislation, such as the Help America Vote Act (HAVA), hire and train poll workers and vet new voting technologies. The mechanics of voting are increasingly a concern for Americans. In August, a Zogby poll found that 60 percent of those surveyed were aware of reported problems with electronic technology and 92 percent supported election transparency.
Ritchie is one of four secretary of state candidates supported by the political action commitee 21st Century Democrats. Their new secretaries of state campaign, says 21st Century President Kelly Young, came about when the group reviewed its election strategy in the wake of the 2004 election. They found that although they'd met all of their tactical electoral goals, the country still lacked a strong progressive leadership.
They drafted new goals, including an ambitious target: to have 98 percent of the country voting by 2024. In light of the group's concerns about campaign financing, redistricting and access to polls, secretary of state races were a natural focal point. So far, Young says, the campaign has been well-received by voters, in part because it focuses on strong candidates, not red state/​blue state politics. ​"Democrats or Republicans will care about secretary of state races in the states that they don't control. Cleary, that's not our focus, or we wouldn't be in Minnesota or Massachusetts. Our real goal is to find secretaries of states who really want to do innovative work, who can be models for the whole country."
Young says secretary of state races offer a chance to restore faith in the voting process. ​"If people are left with the taste of Ohio and Florida, and frankly, they are, they lose faith in the whole process. The very minimum should be ​'Are we protecting people's right to vote?' Then it should be ​'How do we engage people civically, so they are voting?' That's what these candidates are about."
Ritchie's plan to transform the Minnesota secretary of state's office begins with eliminating partisan staffing of the office. It's a government-wide problem he sees across the nation. ​"It's the Katrina effect," Ritchie says. ​"It's not just that political appointees are partisan, and try to make decisions that help one party, they often don't have the skills, expertise and knowledge to be good at their jobs." If elected, he plans to combat selective implementation of legislation, like HAVA, that should be protecting voters. Ritchie also hopes to link up voting registration to drivers' licenses, create voting centers to eliminate problems with incorrect polling places and provide early voting options for those with multiple jobs. ​"These reforms are important to make sure that in an independent-minded state like Minnesota that all the citizens feel the office is representing their interests on a nonpartisan basis, not just a bi-partisan basis."
The other three candidates in 21st Century Democrat's campaign have similar backgrounds in promoting citizen involvement and voting rights. Debra Bowen, running in California, is campaigning on her work with consumer protection and government openness. As a member of the state legislature, she has authored bills that provided citizens with electronic access to the legislative process. In Ohio, Jennifer Brunner is a former judge, who has served on a county board of elections and served as legal council for several campaigns. John Bonifaz, who, on Sept. 19, lost an uphill primary race against a Democratic incumbent in Massachusetts, is one of the founders of the National Voting Rights Institute, which helped lead the fight for a recount in Ohio following the 2004 presidential election.
Other PACs are getting in on the action as well. The Secretary of State Project, founded by former MoveOn staffer James Rucker, is pushing seven secretary of state races around the country, and providing an online donation portal to funnel money to the campaigns. In early September, Democracy For America, the group founded by Howard Dean, announced its support for four secretary of state candidates. Mark Ritchie and Jennifer Brunner are the only two candidates to be promoted by all three groups.
"The only means we have of defending ourselves is the vote, and if you want to throw out or hold accountable leaders who are not doing what you want around Katrina, or the Iraq war, the vote is your only mechanism," says Ritchie. ​"When you begin to perceive that your vote is being manipulated, it's a sign of worry."
Phoebe Connelly
, a former managing editor at In These Times, is Web Editor at The American Prospect.