After Largest School Shutdown in History, Spared Schools See Few Financial Benefits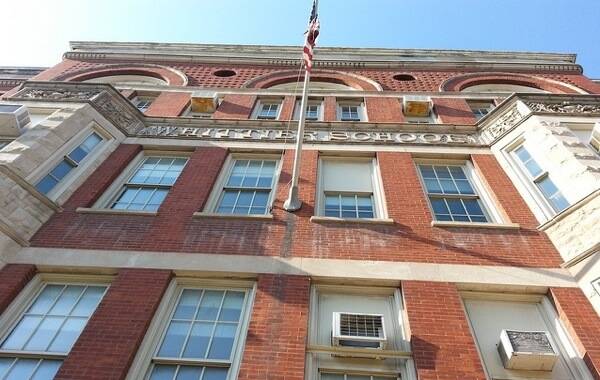 In push­ing through the clo­sures of 50 neigh­bor­hood Chica­go schools this sum­mer over the vocif­er­ous objec­tions of the teach­ers union and com­mu­ni­ty groups, May­or Rahm Emanuel and his hand­picked school board argued that the shut­downs would make up for bud­get short­ages and direct more resources to oth­er neigh­bor­hood schools.
But a week into the school year, the remain­ing schools appear to be receiv­ing no imme­di­ate finan­cial ben­e­fits from the closings.
The school year start­ed on Mon­day for all 403,000 Chica­go Pub­lic Schools stu­dents. Media cov­er­age has large­ly focused on the ​"safe pas­sage" routes that the dis­trict drew up to help the 12,500 stu­dents affect­ed by the clos­ings walk to their new schools. The clos­ings prompt­ed wide­spread con­cern that dis­placed stu­dents would have to cross gang lines to arrive at their new class­rooms, expos­ing them to vio­lence. But after five school days, there have been no report­ed vio­lent inci­dents involv­ing stu­dents trav­el­ing to their new schools.
Chica­go Teach­ers Union Vice-Pres­i­dent Jesse Sharkey says that, after the first few days of class, he is most wor­ried about bud­get cuts, not safe passage.
​"The ques­tion of whether the kid can walk safe­ly for the sev­er­al blocks to the new envi­ron­ment is the most basic of ques­tions," Sharkey says. The CTU has long argued that cuts to ​"wrap­around" ser­vices such as coun­sel­ing will broad­ly harm student's safe­ty and well-being.
​"We laid off 50 coun­selors," Sharkey says. ​"Coun­selors are sort of the ear­ly warn­ing in the pre­ven­tion sys­tem. They're the ones who talk to the kids about con­flict before they become fights."
Although the Chica­go Board of Edu­ca­tion did not offi­cial­ly approve the $5.6 bil­lion bud­get for the 2013 – 14 school year pro­posed by Emanuel and CPS Chief Exec­u­tive Offi­cer Bar­bara Byrd-Ben­nett until this Wednes­day, most of the budget's $185 mil­lion in cuts to neigh­bor­hood schools had already gone into effect when doors opened on Mon­day. These includ­ed some 1,500 cuts in teach­ing posi­tions and anoth­er 1,500 staff lay­offs, as well as the 50 school closings.
Some begin­ning-of-the-year ben­e­fits to the remain­ing schools have been report­ed, such as upgrad­ed air con­di­tion­ing (long a demand of the CTU), new libraries and com­put­er labs, and the intro­duc­tion of full-day kinder­garten at all ele­men­tary schools. But with dis­trict-wide stu­dent enroll­ment hold­ing steady this year while teach­ing posi­tions declined, some class sizes have swelled, says Sharkey. Par­ents have called him to com­plain about kinder­garten class­es with more than 30 stu­dents, he says.
Cuts to neigh­bor­hood schools come amid greater invest­ment in most­ly non-union char­ter schools, despite research show­ing mixed results at Illi­nois char­ter schools. Char­ters are expect­ed to receive about an $80 mil­lion, or 17 per­cent, bump in fund­ing this year, accord­ing to a report by the Chica­go-based Cen­ter for Tax and Bud­get Accountability.
A school-by-school bud­get analy­sis by the Chica­go parent's advo­ca­cy group Raise Your Hands found that 68 ele­men­tary schools lost an art posi­tion, 47 ele­men­tary schools lost a music posi­tion, and 51 ele­men­tary schools and 28 high schools lost a librar­i­an for the 2013 – 2014 year.
Many schools are turn­ing to pri­vate fundrais­ers to pay for arts pro­grams. Amy Rosen­wass­er, a 5th grade teacher at Pritzk­er Ele­men­tary in the city's Wick­er Park neigh­bor­hood, said that her school is lean­ing on neigh­bor­hood fundrais­ers and rent­ing the school's audi­to­ri­um to local church­es in order to make up for bud­get cuts.
Deb­o­rah Koller, the par­ent of a child at Bur­ley Ele­men­tary in the Lake­view neigh­bor­hood, tes­ti­fied about her school's bud­get trou­bles before the Board of Edu­ca­tion on Wednes­day. ​"We're pay­ing high­er than ever school fees and con­tin­u­al­ly hav­ing to fundraise … just to con­tin­ue basic pro­grams like art, music, gym and dra­ma," Koller told board mem­bers dur­ing the meeting's pub­lic com­ments period.
Wendy Kat­ten of Raise Your Hands asserts that the bud­get sit­u­a­tion is per­haps most dire at schools in poor­er com­mu­ni­ties like Austin on Chicago's far West Side, where there are less pri­vate fundrais­ing options. ​"I'm hear­ing every­day from par­ents in McNair ele­men­tary in Austin," Kat­ten says. ​"They cut library and lan­guages and have no music."
One poten­tial­ly sig­nif­i­cant, but hard to dis­cern, area of bud­get cuts is to spe­cial edu­ca­tion. A report unveiled Tues­day by the Chica­go dis­abil­i­ty rights group Access Liv­ing sim­ply could not deter­mine the reduc­tion in over­all staffing for spe­cial edu­ca­tion instruc­tion. Chid­ing CPS for ​"inter­nal con­fu­sion," Access Liv­ing says that the fis­cal year bud­get may result in either a 2.5 per­cent or 7.6 per­cent reduc­tion of last years' 6,446 spe­cial edu­ca­tion positions.
The big­ger ques­tion raised by groups like Access Liv­ing, as well as more polit­i­cal­ly cen­trist orga­ni­za­tions like the Chica­go Civic Fed­er­a­tion, is if CPS will ever devel­op a long-term plan to finance the nation's third-largest school sys­tem. Over the last few months, in sell­ing the bud­get to the pub­lic, Emanuel and his appoint­ed school offi­cials have repeat­ed­ly argued that CPS is in the throes of a bud­get cri­sis. The cri­sis is due to esca­lat­ing teacher pen­sion pay­ments, Emanuel and CPS offi­cials say, and the prob­lem can only be solved through state leg­is­la­tion cut­ting teacher retire­ment benefits.
​"The future lies in Spring­field," said CPS Chief Admin­is­tra­tive Offi­cer Tim Caw­ley said at Wednes­day, ref­er­enc­ing the Illi­nois state capitol.
But any block­buster state leg­is­la­tion cut­ting pen­sion ben­e­fits would result in an almost cer­tain law­suit from CTU, and prob­a­bly every oth­er pub­lic sec­tor union in Illi­nois. The state con­sti­tu­tion express­ly pro­hibits the reduc­tion of con­trac­tu­al­ly oblig­at­ed pen­sion payments.
Going for­ward, there are rev­enue gen­er­a­tion options that Emanuel and CTU could con­ceiv­ably work togeth­er on, includ­ing more pro­gres­sive state tax­a­tion, lift­ing the cap on Chica­go prop­er­ty tax­es, and lob­by­ing for more gen­er­al state edu­ca­tion fund­ing. ​"I hope they could do that — I would stand with them to advo­cate for edu­ca­tion fund­ing," Kat­ten say. ​"But I wor­ry that the rela­tion­ship between the may­or and CTU … is just too toxic."
Matthew Blake
is a free­lance jour­nal­ist based in Chica­go. He has writ­ten for the
Chica­go Jour­nal, Wash­ing­ton Month­ly, Wash­ing­ton Inde­pen­dent
and
The Nation
, among oth­er publications.