Squatters' 60-Year War Against Private Property
How propertied classes team up with the state to forcibly evict urban squatters.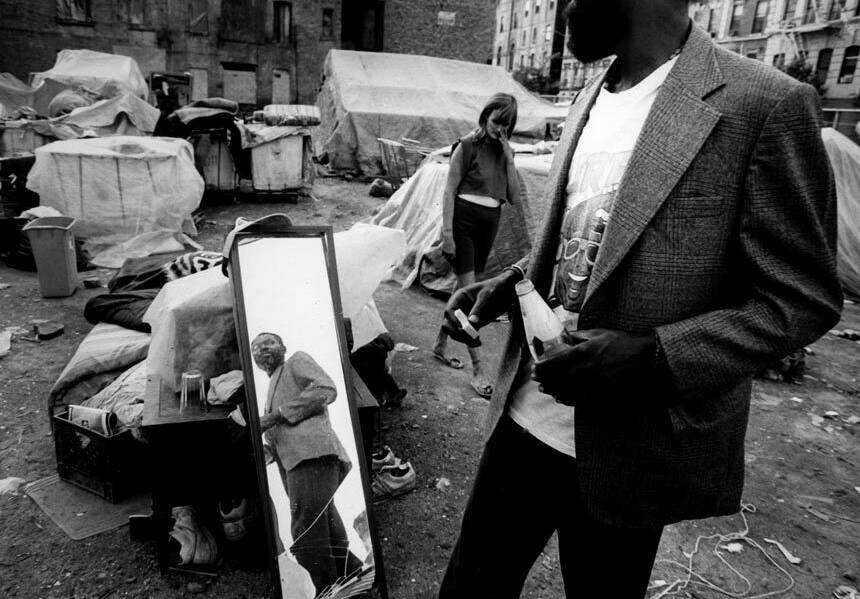 Around 12:30 a.m. on August 7, 1988, a small army of police offi­cers in riot gear cov­ered their badges, raised their batons and charged on foot and on horse­back into Tomp­kins Square Park on New York's Low­er East Side. The artists, punks, squat­ters, anar­chists and evictees gath­ered there had expect­ed a con­fronta­tion. With real estate devel­op­ers cir­cling the neigh­bor­hood, the local com­mu­ni­ty board had imposed a 1:00 a.m. cur­few on the park to try to clear out the home­less. But no one expect­ed the cal­lous vio­lence, the armored police pha­lanx thun­der­ing down on bot­tle-throw­ing pro­test­ers. By day­break, when the police retreat­ed, 53 peo­ple were injured, includ­ing 14 police offi­cers. Four­teen offi­cers were lat­er tried on bru­tal­i­ty charges; none were con­vict­ed. The vio­lence that sum­mer night marked a turn­ing point in the street bat­tles over pub­lic space and hous­ing in the postin­dus­tri­al, rapid­ly gen­tri­fy­ing city.
In Hamburg in 1973, a police commando unit equipped with machine guns stormed a building and "viciously attacked" squatters.
Over the past 60 years, when­ev­er squat­ters claimed homes in West­ern Euro­pean and U.S. cities, even build­ings long aban­doned, the state used force to pro­tect pri­vate prop­er­ty. After police vio­lent­ly removed squat­ters on the Low­er East Side, some build­ings were set on fire and oth­ers left decay­ing and emp­ty. Prop­er­ty rights, not build­ings — and cer­tain­ly not hous­ing for the home­less — were preserved.
The forced evic­tion of urban squat­ters is just one piece of Alexan­der Vasudevan's The Autonomous City: A His­to­ry of Urban Squat­ting. But in Vasudevan's account, which leaps from New York City to Berlin, Ams­ter­dam, Copen­hagen, Lon­don and Van­cou­ver, vio­lence erupts again and again. Squat­ters — young and old, the des­per­ate­ly poor along with the utopi­an — are dragged from their homes by local police. Even as squat­ters sought the pro­tec­tion of court orders, non­prof­it orga­niz­ing and direct nego­ti­a­tion, vio­lence proved the stan­dard and sav­age response to the chal­lenge to the cap­i­tal­ist prop­er­ty régime.
Vasude­van is a geo­g­ra­ph­er and recent­ly appoint­ed fel­low at Oxford Uni­ver­si­ty. The Autonomous City is dense and live­ly, culled from news accounts, court cas­es and inter­views. This is not a bal­anced account of a con­test over urban space (I did not see a sin­gle inter­view with a police offi­cer). Rather it is an anec­dote-filled essay on the pol­i­tics and com­mu­nal aspi­ra­tions of var­i­ous groups who took pos­ses­sion of urban build­ings with­out hold­ing the titles. For the work of a geo­g­ra­ph­er, the specifics of each place are strange­ly miss­ing— there's lit­tle of what it felt like to live in a squat in 1970s Lon­don, say, or 1980s Copen­hagen. Vasude­van is more con­cerned with the polit­i­cal than the mate­r­i­al. That's all right. Squat­ting demands to be under­stood as more than a refuge for the home­less. Instead, to con­dense Vasudevan's analy­sis, it is polit­i­cal action designed to dis­pute the lib­er­al (or neolib­er­al) state.
Some squat­ters, espe­cial­ly those in 1980s Lon­don and New York, need­ed afford­able hous­ing. But most, com­ing in the wake of 1960s-era stu­dent protests and the anti-war move­ment, aimed to pro­duce a new kind of urban com­mu­ni­ty. ​"The very choice to squat," Vasude­van writes, ​"was also pred­i­cat­ed on a refusal to accept the cat­e­gories and struc­tures imposed on them."
Squat­ters formed protest cul­tures, or micro­cul­tures. There were squats orga­nized by fem­i­nists, anti-racists and anti-con­sumerists. Many had ties to rad­i­cal polit­i­cal move­ments, such as the Black Pan­thers or the Provos, a rad­i­cal art col­lec­tive in mid-1960s Ams­ter­dam. (The group had launched smoke bombs at the 1966 wed­ding of Princess Beat­rice.) They opened cafés and orga­nized art exhibits. They issued man­i­festos and urban plans, remak­ing and reimag­in­ing the city as a place for demo­c­ra­t­ic, egal­i­tar­i­an com­mu­ni­ties. The ​"right to the city," Hen­ri Lefebvre's famous slo­gan, was to many of the squat­ters a lived prac­tice, an asser­tion of rights to res­i­den­tial space and to alter­na­tive iden­ti­ties. Squat­ters in New York, Vasude­van writes, were ​"recover[ing] the dis­ap­pear­ing use val­ue of their neighborhood's housing."
Squat­ters, though unable to cre­ate cities free of cap­i­tal­ism, achieved some vic­to­ries. In Ams­ter­dam, where as many as 70,000 peo­ple lived in squats between 1964 and 1999, squat­ting became a broad polit­i­cal move­ment. A flash­point came in 1975 when the city issued mass evic­tion notices as part of a plan to tear down Nieuw­markt, a work­ing-class neigh­bor­hood in the old Jew­ish quar­ter, and replace it with a sub­way, a four-lane high­way and a busi­ness dis­trict. The neigh­bor­hood had stood near-emp­ty since WWII, when the vast major­i­ty of the city's Jews were deport­ed and killed. The squat­ters who had occu­pied the build­ings suc­cess­ful­ly pres­sured the city to scale back its plans, con­struct social hous­ing and include res­i­dents in future plan­ning. Squat­ting was no longer ​"a sym­bol­ic act of protest" but a move­ment able to alter the city's hous­ing market.
In 1970s Ger­many, by con­trast, the expe­ri­ence of squat­ting proved vio­lent and mar­gin­al­iz­ing. Squat­ters in Ham­burg and Frank­furt were caught up in an intense strug­gle known as Häuserkampf (hous­ing war) which end­ed with a ​"bru­tal clam­p­down." In Ham­burg in 1973, a police com­man­do unit equipped with machine guns stormed a build­ing and ​"vicious­ly attacked" squat­ters. That trau­ma­tiz­ing expe­ri­ence upend­ed a non­vi­o­lent squat­ting movement.
Although squat­ters won occa­sion­al bat­tles, they grad­u­al­ly lost the real estate war. On New York's Low­er East Side, squat­ters were fol­lowed by artists and punks, soon trailed by white hip­sters and devel­op­ers. By the night of the Tomp­kins Square Park riot, near­by ten­e­ments were being rehabbed and sold as high-end con­dos to the young elite. From New York to Van­cou­ver to Ams­ter­dam, ris­ing prop­er­ty val­ues have turned for­mer­ly decrepit squats into lux­u­ry condos.
The Tomp­kins Square Park riot was an expres­sion of a dis­ap­pear­ing Man­hat­tan cul­ture of work­ing-class com­mu­ni­ties of artists, activists and hard­work­ing fam­i­lies. It was, in addi­tion, a pow­er­ful demon­stra­tion of an age-old cap­i­tal­ist weapon — state-sanc­tioned vio­lence — and a reminder of the insid­i­ous bond between the urban prop­er­tied class­es and the lib­er­al state.
Mar­garet Garb
is the author of
Freedom's Bal­lot: African Amer­i­can Polit­i­cal Strug­gles in Chica­go from Abo­li­tion to the Great Migra­tion.
. She is work­ing on a his­to­ry of pover­ty and work in the U.S. from the Civ­il War to the Rea­gan era.